Check Into The Most Exclusive New Resort In Mexico's Riviera Maya
La Casa de la Playa offers an unparalleled hospitality experience on Mexico's famed Riviera Maya.
Sensational headlines may come and go, but savvy visitors to Mexico's ravishing Riviera Maya know that to avoid the crowds and the feedback loop, head south of Cancun and book into one of the handful of truly secluded, upscale resorts that offer a posh escape from reality. Isn't that the point of a vacation, after all?
Luckily for discerning travelers, there's a new reason to book those tickets right now: La Casa de la Playa, the most exclusive new resort to open in the region in years. The $85 million boutique luxury property is located on the legendary Xcaret property, and has several layers of security to ensure you won't be troubled by anything during your stay.
It's also adults only, making for an even more peaceful sojourn. Nestled deep in the Mayan jungle, on a stretch of picture-perfect beach, the beautifully-designed retreat features just 63 ocean-view suites measuring at least 1,000 square feet of indoor and outdoor space, an unheard-of figure. And each suite has its own butler and private plunge pool overlooking the ocean to boot.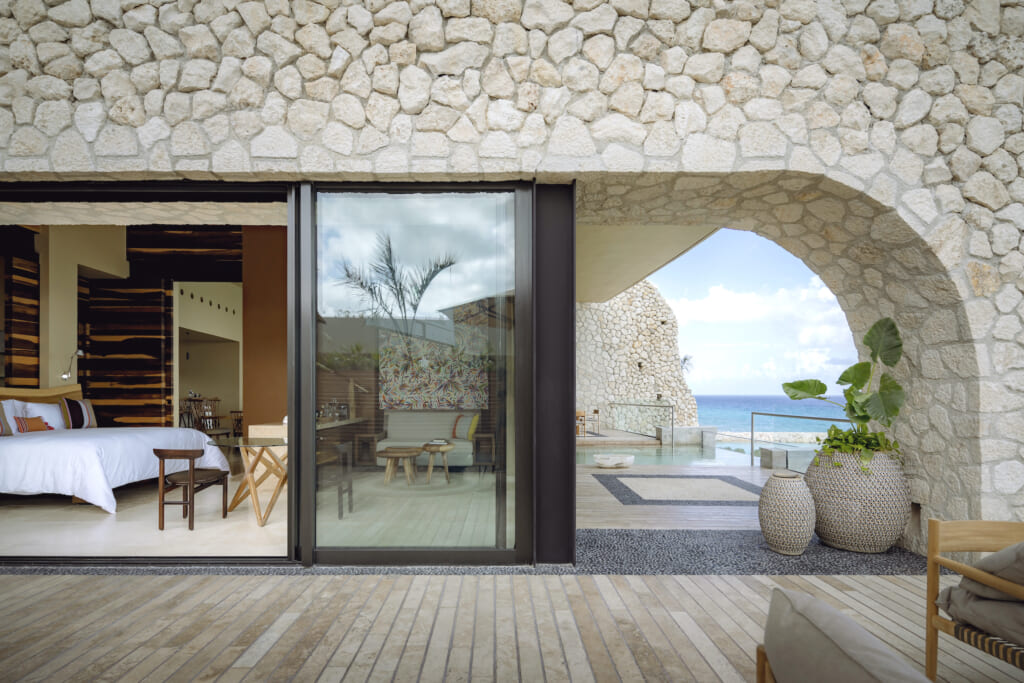 The suites go up to 4,630 square feet for the top-class Presidential category, and are located in three different buildings: Wellness, Natural and Fiesta and are separated into two different categories: Suites and Master Suites. There are six different Suite options in all. Master Suites are the largest and come in three styles: Ocean Front Master Suite, Wellness Ocean Front Master Suite and the Presidential Suite.
That's in addition to an award-winning spa, four world-class restaurants, an ocean-view library, wine cave, and a 24-hour tequila and mezcal bar, and a chocolate shop, adding a new dimension to the concept of barefoot luxury. It's an eco-friendly design concept from award-winning architect David Quintana, meant to blend it to its natural surroundings.
The hotel was conceived to be a nothing less than a "living sculpture," and it is indeed straight out of a high-end architecture magazine. Literally no detail has been overlooked, from the free mini bar stocked with with top-shelf brands like Flor de Caña rum, Hendricks gin, and Belvedere vodka, plus a fridge complete with splits of Möet, to the butlers who communicate via WhatsApp making sure your every whim is catered to.
The massive cantilevered infinity pool that extends out over the beach is a true feat of engineering and one of the most Instagrammable hotel pools in all of the Caribbean. A smaller version with hydrotherapy zones can be found in the lavish spa, and there's another pool at the rooftop skybar for chilling out on top of the world.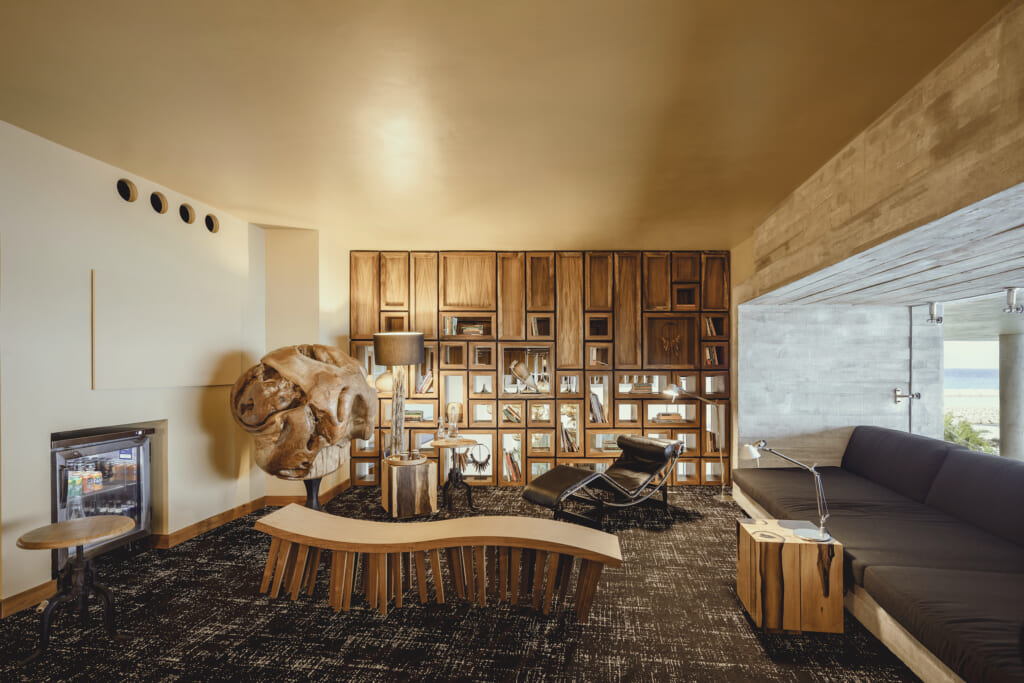 Dotted around the property are stylish little oases both in and out of doors, including the aforementioned library stocked with adult beverages, Le Corbusier lounge chairs, and and windows looking out to sea. The seaside bar is another favorite hangout offering easy access to the infinity pool and prime vistas.
It's the perfect place to grab a small bite, as long as you don't fill up before lunch or dinner. Because La Casa de la Playa also has some of the best restaurants of any resort in Mexico. It defies the notion that you're missing out on the best of Mexican cuisine if you're not in Mexico City.
Offerings include Tuch de Luna, from celebrity chef Martha Ortiz, named one of the top 100 most influential personalities in Mexico, our favorite spot for breakfast with pool and sea views. And the playfully nautical Estero, at beachfront level, led by the equally-celebrated Virgilio Martínez, founder of the "author cuisine" style, who has frequently headlined the list of the 50 Best Chefs in Latin America.
Then there's culinary duo, the Rivera-Río Brothers, who have been honored by the Gourmet Awards, Millesime-GNP and S. Pellegrino awards, showcasing contemporary flavors from the northern and southern regions of Mexico in two restaurants, Lumbre and Centli, complete with a resident DJ and master mixologists.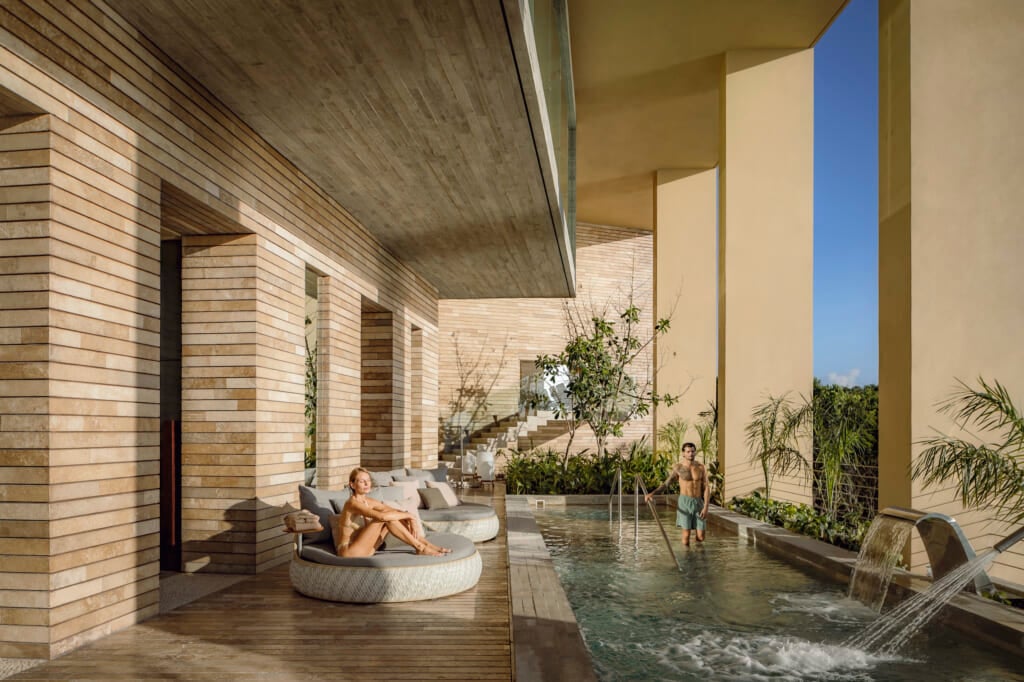 After all that indulgence you'll want to check out the Muluk Spa, designed to immerse you in "healing and peace during a true sensory experience." Like every space in the resort it has stunning ocean views, and the lounge area by the spa pool is one of the best places to relax.
It offers 13 spa treatment cabins, two salt rooms, two mudrooms, hydrotherapy rituals, sauna, steam and cold rooms, relaxation areas, and an Alchemist's Studio where guests can create their own scents. And the carved stone tubs, which you can also find versions of on the private deck of your suite, are works of art.
Throughout the property design materials used are natural wood, stone and woven upholstery. The suites even feature miniature aquariums set into the walls with bioluminescent jellyfish that glow in the dark at the flip of a switch. They are of course sustainably raised and kept unharmed.
Returing to a traditional luxury resort will be tough after your stay at La Casa de Playa. But you can always come back….