Check Into This Famed 5-Star Hotel In Cannes, France
The Hotel Barrière Le Majestic Cannes is a favorite of celebs who attend the seaside resort's annual film festival.
In the legendary French seaside resort of Cannes, one luxury hotel lords it over them all: Hotel Barrière Le Majestic Cannes. The palatial five-star property, originally constructed in 1926, epitomizes the movie-star style of the seaside town known for its annual A-list film festival. While you don't need to be famous to stay there, it's a sure bet that some of the glamour will attach itself to you from the moment you check in.
This is everything you picture when you think of Cannes, from the Porsches, Ferraris and Aston Martins lined up outside the iconic red awnings, to the sultry actress types sipping spritzes by the pool. The suites are the epitome of elegance, the restaurants are world class, the Veuve Clicquot flows like water, and at night the beautiful beach club transforms into the coolest seaside party this side of Tulum.
Le Majestic as it's known offers marquee views of the Mediterranean Sea from every suite. It features 349 rooms and suites in all, along with five restaurants and four bars, including the posh pool terrace. That's in addition to the Spa Diane Barrière, private beach, fitness centre, and screening room.
Like every luxury hotel in Europe, Le Majestic had to adapt to survive the challenges of the pandemic. However, the property's General Manager Charles Richez tells us that they were able to pivot and provide ways to keep guests coming back in lieu of the usual social gathering scenes the hotel is famous for.
His chief innovation was to launch Majestic Expériences, which range from helicopter-flying lessons and an introduction to scuba diving, to big-game fishing, culinary workshops and more designed for smaller groups of guests. "The entire hotel team has put in a huge amount of effort and hard work in order to welcome back our customers in the manner to which they have become accustomed and in order to meet their needs to the full," Richez says.
To be sure, the hotel's suites always remained in high demand. Le Majestic is home to one of the most coveted suites in Europe, the Christian Dior Suite, created by Nathalie Ryan for the famed French couture house. Located on the hotel's sixth floor, it spans 4,845 sq. ft. and features an interior inspired by Dior's historic Paris headquarters.
The suite boasts unparalleled 180° panoramic views of the Mediterranean from its terrace, two supermodel-worthy bedrooms, an in-suite cinema, a Louis XVI-style dining room, and private butler service. The latter is a feature of the hotel's other specialty suites including The Riviera Suite, the Mélodie Suite, and the Michèle Morgan Suite.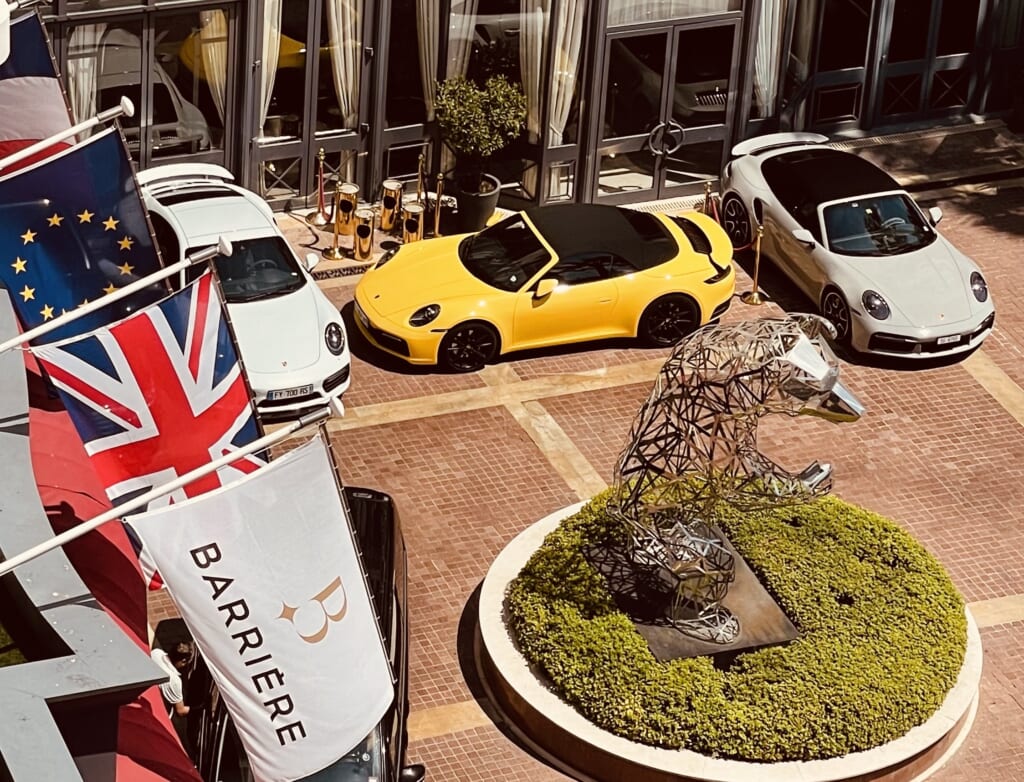 Each spring the hotel truly shines during the legendary Cannes Film Festival. The property, a partner of the festival since it first began in 1946, is booked out months in advance for the A-list event; regulars include the likes of Matthew McConaughey, Jane Fonda, and Robert De Niro, who stays there nearly every year.
And the top draw of all is Le Majestic's private cinema, Cinémathèque Diane, which can now also screen 3D films, with many events held there and in the various private function and dining rooms. During the Festival the hotel typically goes through two tons of lobster, 110 pounds of caviar, 750 pounds of foie gras, and 18,500 bottles of wine, more than half of it champagne.
Le Majestic's private beach, La Plage Barrière Le Majestic, is the largest private beach along the Croisette, Cannes' iconic promenade. At night the bar on the sand side turns into quite the party scene complete with DJs and bottle service, definitely the place to see and be seen during the Festival, but a major attraction other times of the year as well.
As are the bars and restaurants and its numerous and accomplished chefs and mixologists. Head Bartender Emanuele Balestra, who maintains two on-site gardens of 70 plant species to use in his concoctions, and has "unique, scientific methods for inventing aromatic cocktails including the use of an industrial-grade rotary evaporator, and even an ultrasound machine.
Chef Mauro Colagreco of BFire restaurant at the hotel's Beach Club is another standout talent. Voted the World's Best Chef 2020 by his peers on the world's "100 Best Chefs" list, he uses seasonal ingredients and old-school techniques to create his signature dishes at BFire, including octopus grilled over a wood fire with potato cream, pesto, wild garlic, Peruvian olives, and Sicilian capers.
That's in addition to Paradiso Nicole & Pierre, helmed by Nicole Rubi and Pierre Gagnaire, "paying homage to the Mediterranean, Italy and the world of cinema." It features an extensive terrace on three floors and décor straight from the Amalfi Coast, designed by Italian architects Vudafieri-Saverino Partners. Menu highlights include lobster salpicon gnocchi, whole grilled sea bass with fennel, and a frozen Amalfi lemon desert.
And then there's Fouquet's Cannes, outpost of Fouquet's in Paris, one of the world's most famous restaurants, located in Le Majestic owner Groupe Barrière's Hotel Barrière Le Foquet located just off the Champs-Elysées. Both locations of the 120-year-old brasserie, famous for its celebrity clientele, are helmed by 3-Michelin-star Chef Pierre Gagnaire.
His food is deceptively simple, with extremely gourmet versions of burgers and fish and chips among the many standouts, along with grilled fish, loads of caviar, lobster salad, fresh oysters, and of course oceans of champagne, Veuve Clicquot brut and rosé being the top choices. You can't go wrong with any dish or table at Foquet's, which has views of both the pool and Le Majestic's front entrance—just try not to get whiplash from craning your neck around to look at all the beautiful people.