Why Italy's Amalfi Coast Should Be On Your Travel Bucket List
There's never been a better time to visit the epically beautiful Italian destination.
"Twisting clifftop roadways, precariously-perched picturesque hillside villages and sparkling sea views." Author Colin Salter encapsulated everything we love about the Amalfi Coast in this one sentence. The Amalfi Coast is of course legendary as one of the most beautiful places in the world.
Sophia Loren, Roberto Rossellini, Elizabeth Taylor and Richard Burton, Winston Churchill, Humphrey Bogart, Jaqueline Kennedy and Aristotle Onassis—who famously proclaimed that, "If you take a woman to the Amalfi Coast and fail to seduce her, you are not a man at all"—are just some of the names who spent a considerable amount of time on its shores, for obvious reasons.
While we'd always had Amalfi in our sights, what spurred us to actually plan a trip is the book Amalfi Coast from French luxury publisher Assouline's awe-inspiring Travel Series and Classics Collection. The Salter and Agnelli quotes can be found within its pages, along with an orgy of gorgeous images, and it features text and photography by Carlos Souza and Charlene Shorto. If you're on the fence about taking the trip, Assouline's voluptuous volume will have you picking up the phone post haste.
And the people you should call are Perillo Tours. Since 1945, three generations of the Perillo family have been perfecting the art of traveling to Italy, establishing themselves as the leading operator of tours to the country for clients in the USA. Through Perillo's ItalyVacations.com portal, independent travelers can "design and book a customized vacation to meet their individual needs and desires." The recently launched the Perillo's Travel Planner also allows travelers and travel advisors to "effortlessly create and book complex multi-city itineraries" throughout Italy.
Using Perillo's Travel Planner you can book everything from international flights to rail tickets, car rentals, and chauffeur services, as well scores of Perillo's privately contracted, and perfectly curated collection of hotels, villas, day tours and activities. The Amalfi Coast is of course one of their most requested destinations, and their most popular choice is a nine-day Rome & the Amalfi Coast Experience, which covers everything you need so see in both locales, as well as the chic island of Capri.
"Visitors to Italy, of course, want to see the iconic spots—the Vatican and Colosseum, but what they are really craving is authentic experiences," Steve Perillo, third-generation owner of Perillo Tours, tells us. "Cultural connections are important to today's traveler, they want to immerse themselves in Italian culture, meet and interact with locals and explore off-the-beaten path places and hidden gems." Even within well-traveled destinations, they can show you things most tourists rarely get to experience.
Steve Perillo notes that, "On April 1, Italy emerged from its two-year state of emergency, dropped its pre-arrival testing requirement for vaccinated travelers, and has begun easing the last of its COVID-19-related restrictions." Meanwhile, Perillo Tours has made group sizes smaller to make people feel more comfortable. "Italy is a destination that will always be in demand," Perillo says. "And despite the challenges of the last few years, we're confident that Italy tourism will snap back to what it once was and grow more robustly. "
"Italy is beloved for so many reasons," he adds. "The incredible food, art, historical sites, charming small towns, beautiful coastlines—and after a long pause in travel, there is a lot of pent-up demand for this famously popular destination. Most travelers think Florence, Venice and Rome when it comes to Italy, but there are so many other beautiful, less traveled destinations within Italy, giving visitors a reason to go back again and again. " Starting with parts of the Amalfi Coast.
While we weren't able to embark upon the whole nine-day journey, Perillo Tours gladly arranged a three-day itinerary to suit our schedule. While we had only a vague idea of the lay of the land, with surefooted expertise they crafted a daily agenda to make the most of our limited time and our avowed areas of interest. As we were flying into Naples, we requested a quick tour of that city as well, with a stop at a couple of the town's famous tailoring establishments, which they gladly obliged.
They also booked us into one of the coolest and most interesting hotels in all of Europe, Sorrento's Parco dei Principi. Not as well known as some hotels in the area, it is worth seeking out. These days the concept of design hotels is well established, but the Parco dei Principi was one of the very first, designed by Gio Ponti, the extremely influential Italian architect, industrial designer, furniture designer, artist, and publisher. It opened in 1962 in a modern building constructed on the cliffside site of an unfinished Gothic castle on the grounds of an 18th-century villa, and has been maintained in perfect order ever since.
Entirely designed in blue and white, with Ponti employing an endless variation of forms, shapes and furnishings—each of the 100 rooms has a different pattern of tile—it is a true design masterpiece, and probably should be a museum. Ponti custom crafted every single item in the hotel, from the furniture to the dishes and the light switches, all still in perfect condition, restored and maintained to the highest standards. The fact that you can eat, stay and play there is nothing short of astounding.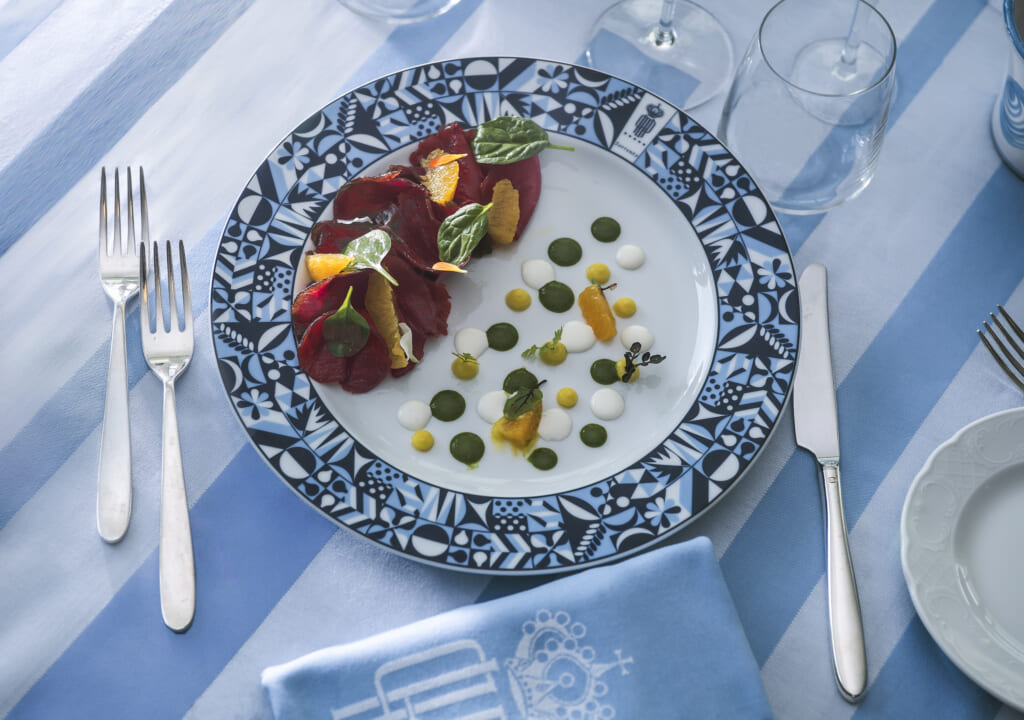 It's a bastion of excellent taste in all respects, from the rooms to the bar and restaurant, the latter designed to "magnify the view of the sea with its wide spaces and the absence of walls." The food is both somewhat avant-garde and rooted in local tradition, with of course makes the most of the bounty of the ocean as well as other notable products of the region, all presented with a beauty suitable to the surroundings, plus a perfectly-curated wine list.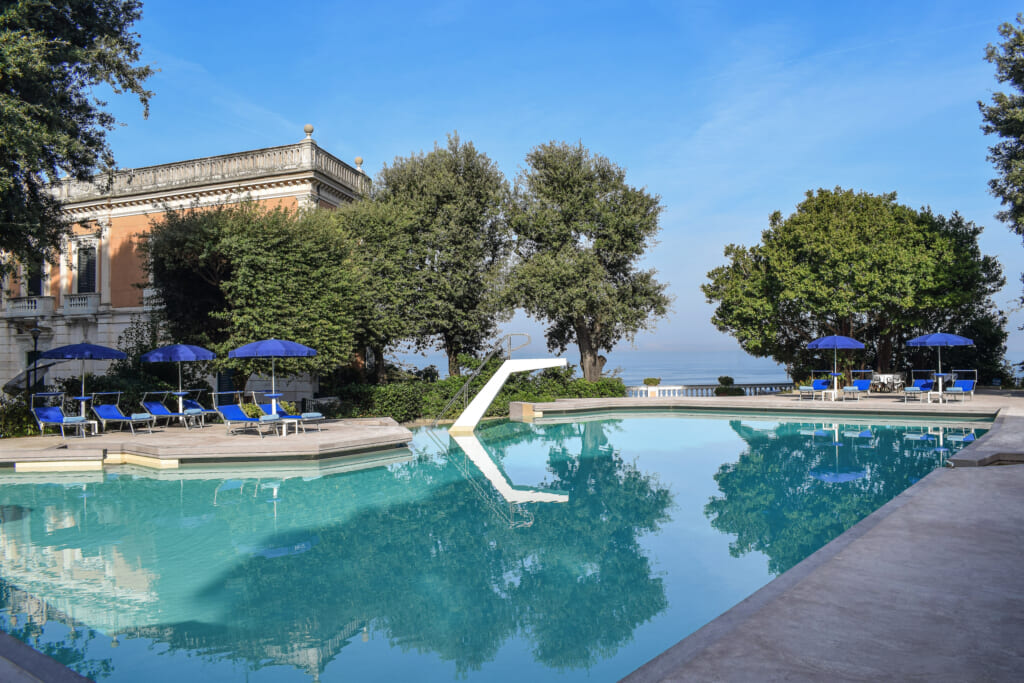 The hotel is surrounded by extensive, lush gardens, including several rare botanical specimens that date to the earlier beginnings of the property, and there is a salt water pool designed by Ponti that echoes the angular forms he liked so much. A path through tunnels in the rock leads from the hotel to the private beach-sunbathing area suspended over the sea on a boulder-strewn jetty. During the summer, the beach deck is home to the al fresco Poggio Siracusa restaurant as well.
"The historical legacy [of the property], the extraordinary location, and natural colors inspired Ponti to create a structure rooted in the Earth," perched on the cliff with its commanding view of the sea, as the hotel puts it. Once again we were in a privileged position thanks to Perillo, which had of course booked us one of the best rooms, with a balcony overlooking the wide expanse of ocean and the island of Capri offshore—the perfect perch for breakfast or an aperitivo after a long day sightseeing.
Speaking of which, a day trip to Capri, accessible by hydrofoil, was on the agenda, as were guided tours of Sorrento, and an epic drive along the iconic Strada Statale 163, the narrow, winding, cliff-hugging road that provides the only access to the famous towns of the Amalfi Coast. Every morning Perillo arranged for a black, late-model, chauffeur-driven Mercedes sedan to pick us up at the hotel, which then took us to rendezvous with our private tour guide for the day.
Perillo also hired a specific, local tour guide for each stop, choosing true local experts instead of one person who could hardly be expected to know everything about all the different places we visited. From private tours to restaurant recommendations, their experts had everything at their fingertips, and were also able to adapt the itinerary as our whims and the weather dictated.
Of particular interest was the Amalfi Lemon Experience, in the town of Amalfi, where the fruit for the region's famed Limoncello liqueur is grown, in astonishing vertical groves that seem to hang off the cliffs. This included a sumptuous lunch showcasing all the other uses to which the glorious citrus can be used, from pasta to desert, and pretty much anything else you can think of. And thanks to Perillo's efforts, the owner of the historic growing and harvesting operation himself showed us around—and made sure our wineglass was never less than half full.