How The Cayman Islands Finally Became A True Luxury Destination
The strikingly beautiful island chain is going from tax haven to tourist heaven.
The Cayman Islands, a British Overseas Territory in the Greater Antilles, has been making a big push to evolve from an endlessly pretty place where the rich can park their money offshore, to a bona fide luxury destination offering five-star hospitality on a par with the Turks and Caicos Islands and others of that ilk. And it is finally paying off, with two new boutique luxury resorts bringing a whole new crowd to its picturesque beaches, plus major updates at the iconic Ritz-Carlton, Grand Cayman.
It's been a long time coming, and certainly not for lack of funds. According to Michael Wheaton, Managing Director of the islands' H&C Corporate Services Ltd., the Cayman Islands is the world's fifth largest financial center, amazing when you consider that it encompasses only about 100 square miles, and has "some of the world's highest levels of (tax-free) personal income." Wheaton, writing in Destination Cayman magazine, noted that according to the CIA, "Caymanians enjoy a standard of living comparable to that of Switzerland," which has the highest SOL in the world.
The Cayman Islands are "globally recognized for its world-class legal, financial and corporate services," Heaton notes, "along with a "broad range of professionals to assist and staff their offices" for groups that "require substantive offshore operations." The islands are "becoming increasingly attractive to those who have nothing to gain from residing and working"—or opening accounts—"in a tax-neutral environment," he adds.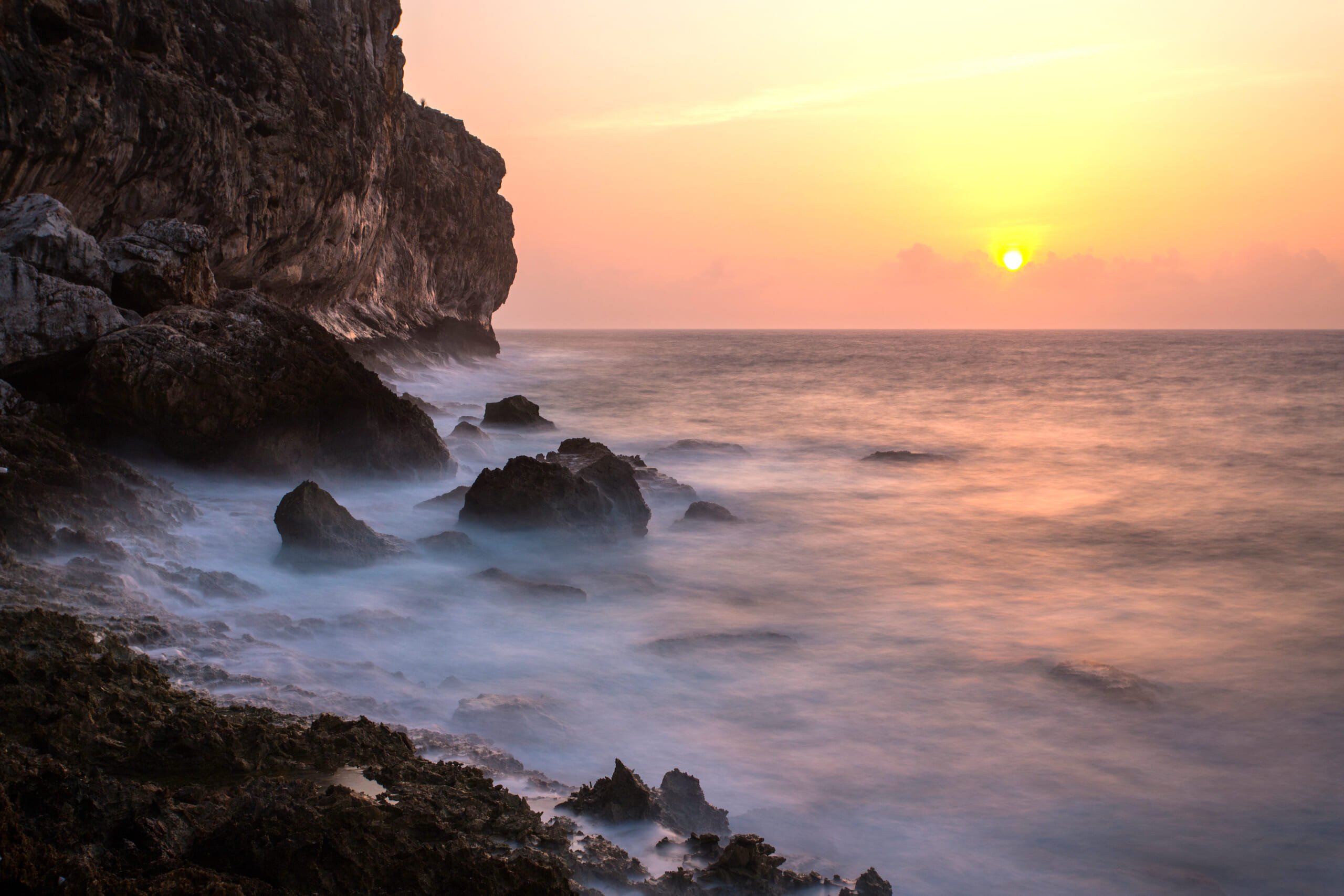 As Heaton notes, the Cayman Islands is now well-placed to become a top tourist destination, "thanks to its powder-white beaches, crystal-clear waters, famous diving, five-star resorts, fine dining, and welcoming local population."
With multiple direct flights on major carriers from 25 international airports, it is well poised to welcome discerning travelers who love the unspoiled, ultra-safe environment, want a tropical experience free of potential pitfalls, and who have no desire to become newspaper headlines (hello Tulum).
Business travel is still much in evidence; during our stay at Palm Heights, the newest and coolest of main island Grand Cayman's boutique luxury resorts, a group called The International Women's Insolvency and Restructuring Confederation, with placards placed at the entrance, took over the restaurant one night; and much of the talk at neighboring tables wherever we dined was about the the pros and cons of various financial instruments and tax strategies. But the tide is turning.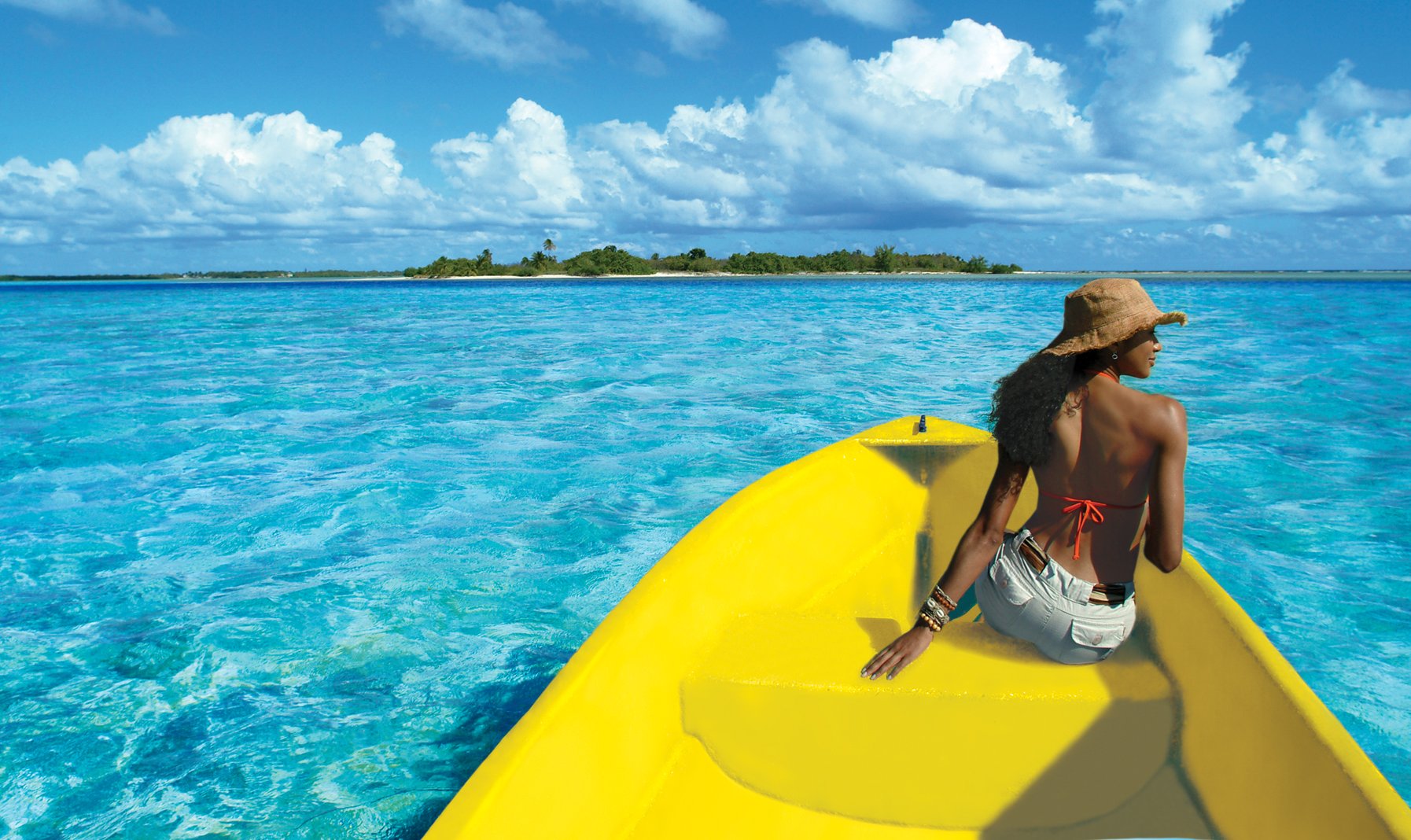 There seemed to be plenty of people in town merely there to take in the sights, including the world-famous Stingray City sandbar, where you can play with and pet the surprisingly frolicsome cartilaginous creatures. The Cayman Islands' waters are also home to more than 365 dive sites including numerous notable shipwrecks, and the "pristine underwater environment continues to entice divers from around the globe," as Destination Cayman puts it.
When we picked up our open-top, UK-built Moke at Hertz Grand Cayman after stepping off a plane from the East Coast, there was none of the chaos that often attends landing in some beautiful, if less than perfectly organized, locale. The staff were incredibly helpful, and the other visitors collecting their cars—and wondering who the hell was the bloke who ordered a glorified golf cart—did not seem to be merely bankers on busman's holiday (look it up).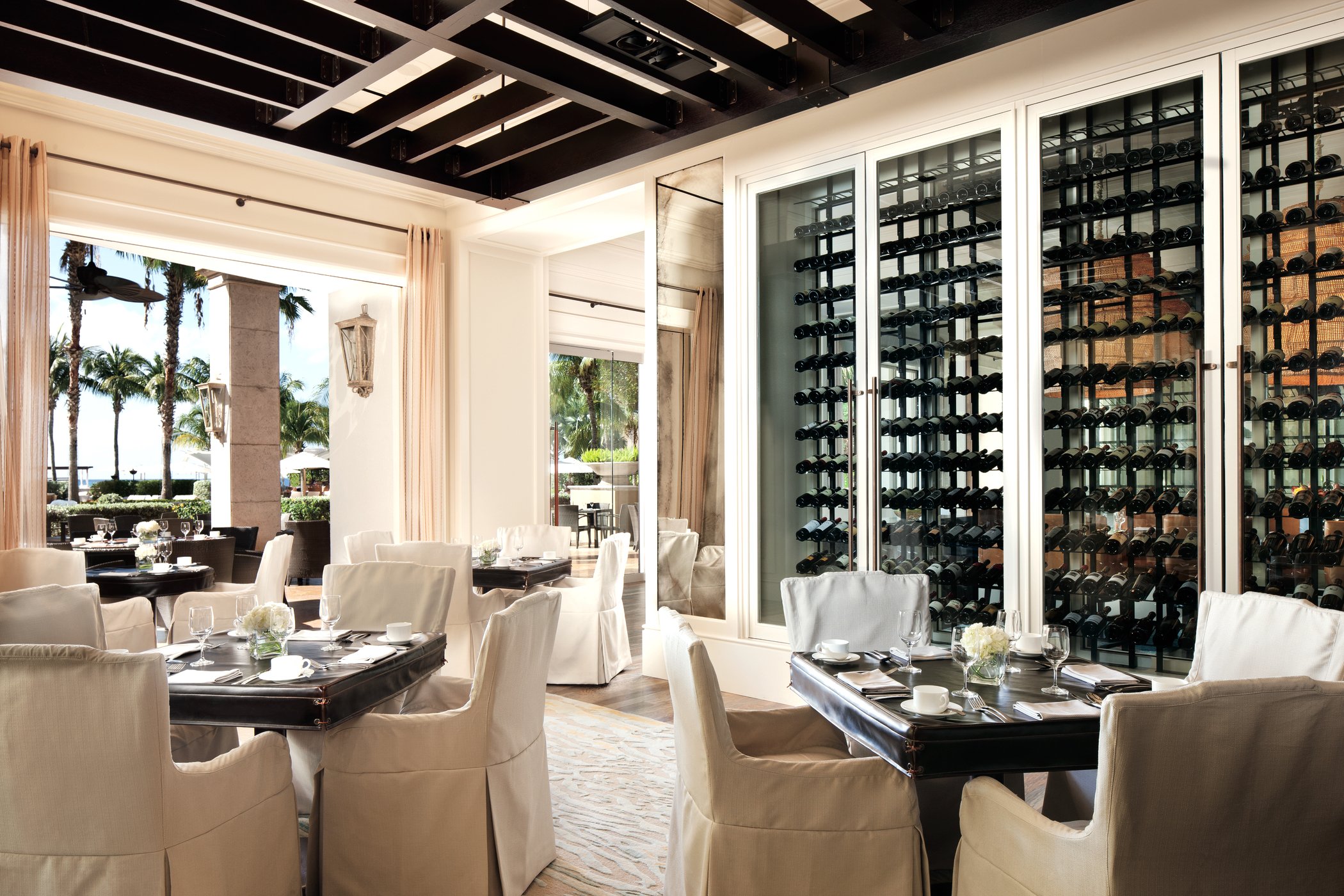 Seven Mile Beach, which is as impressive as it sounds, is Grand Cayman's main attraction, and of course The Ritz-Carlton, for years the only game in town, occupies a good chunk of the idyllic oceanfront. The Forbes Five-Star resort, on 144 acres stretching from Seven Mile Beach to North Sound on the other side of the island, recently debuted a multimillion-dollar renovation, which has brought it up to par with the grand Ritz-Carlton properties in similarly situated locales.
The Ritz-Carlton was already widely known for Blue by Eric Ripert, which it calls "the Caribbean's only AAA Five-Diamond restaurant." Though Blue was unfortunately still undergoing renovations when we visited, Ripert has certainly helped put the Cayman Islands on the culinary map.
Traditionally, every January, the Michelin-starred chef, best known for New York's Le Bernardin, hosts the Cayman Cookout event. His chef pals, including the likes of Jose Andres and Emeril Lagasse, along with various other culinary masters and wine experts, convene for four days of "cooking demonstrations, fabulous dining excursions and adventures, and remarkable wine tastings" at the Ritz-Carlton.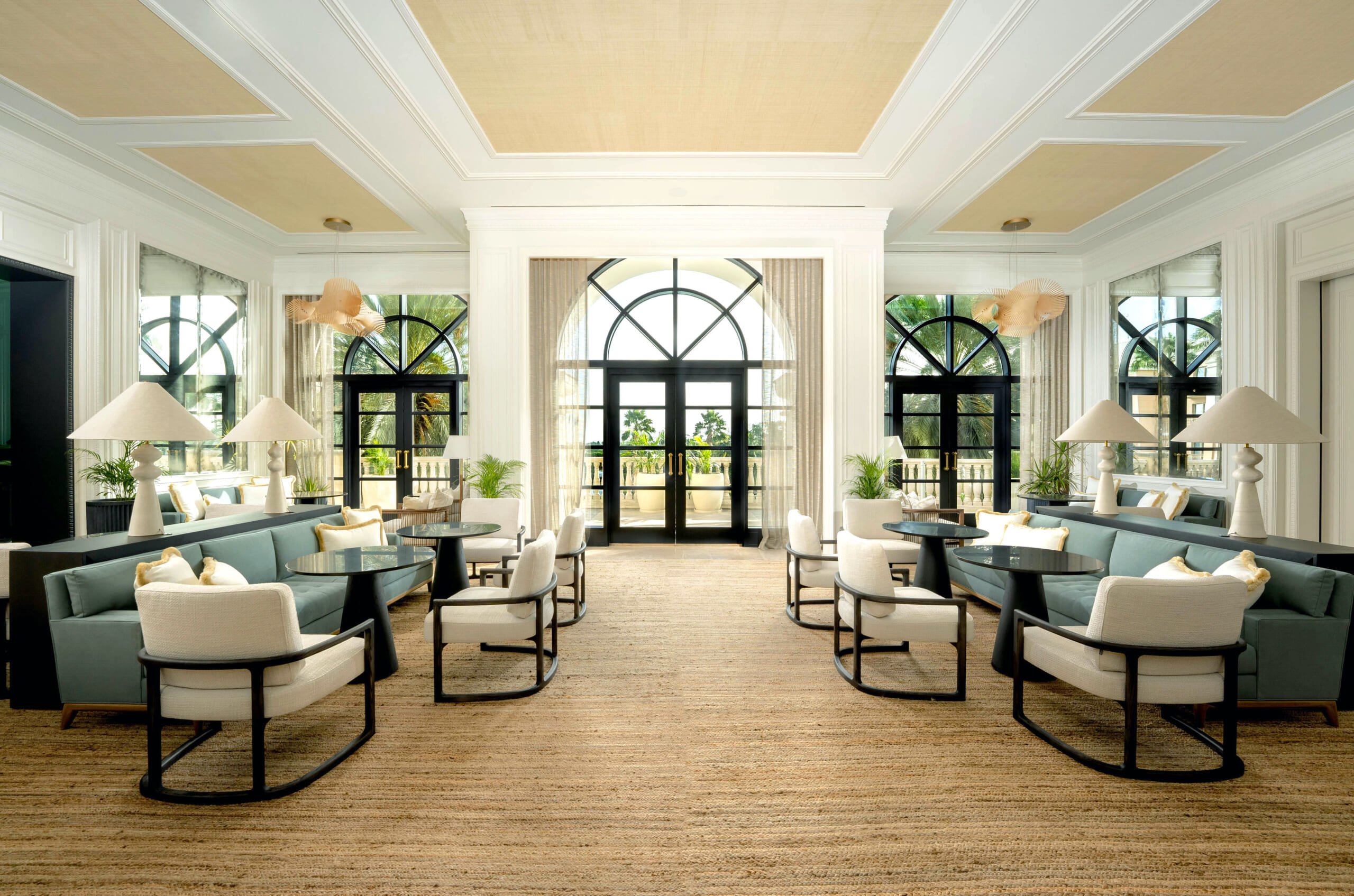 Though the Cayman Cookout did not take place this year, it is set to return in 2023 (barring any more global pandemics,) for its 15th season, and Ripert's restaurant at the Ritz-Carlton is slated to reopen this summer. Meanwhile there are plenty of other attractions at the Ritz-Carlton Grand Cayman, including an amazing pool and beach complex complete with posh private cabanas, a spectacular Greg Norman-designed nine-hole golf course, and various other dining venues both indoors and out.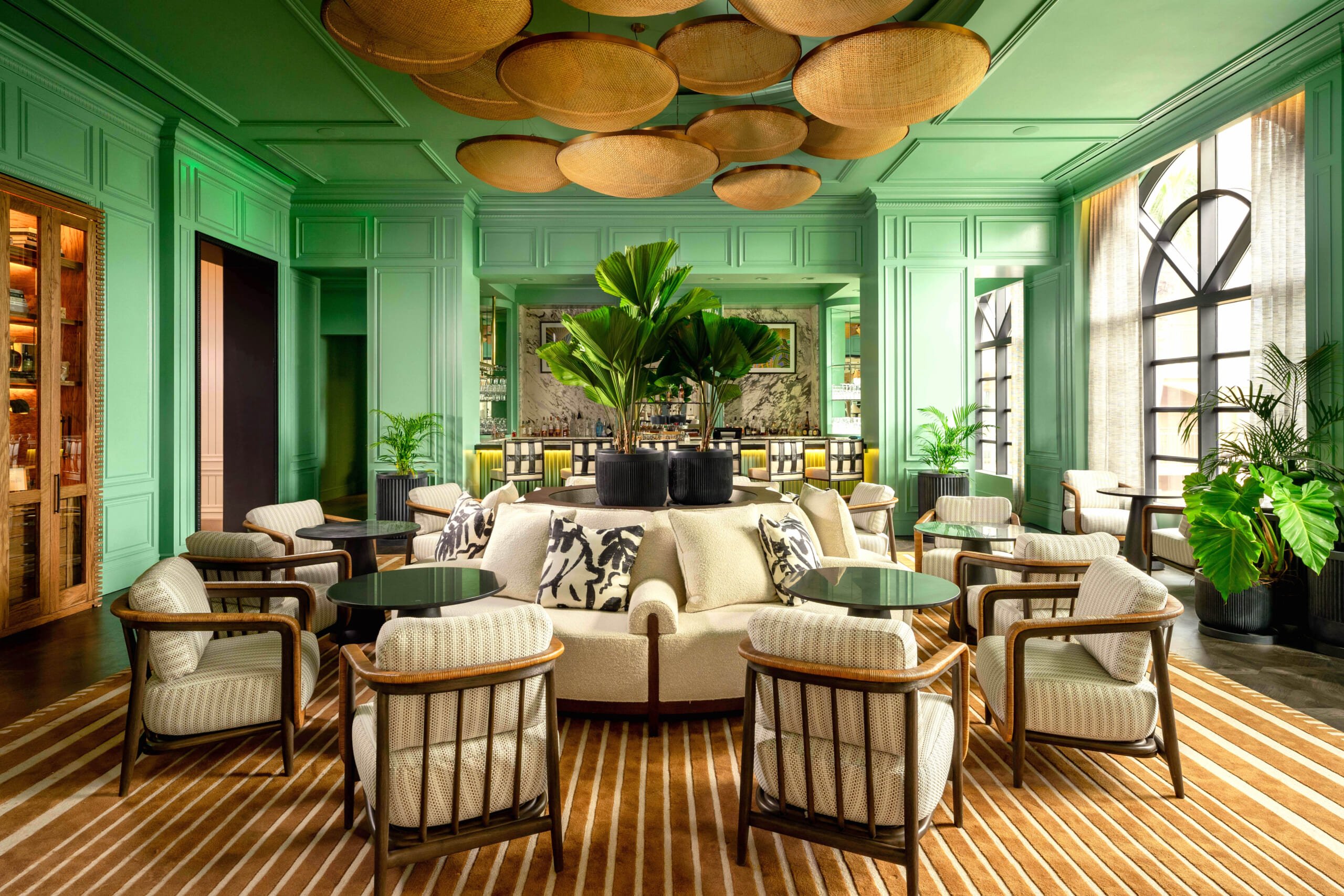 The revamped interiors at the resort, created by award-winning New York-based Champalimaud Design, fronted by Fashion Institute of Technology (FIT) Interior Design Hall of Fame member Alexa Champalimaud, artfully "blend modern coastal elegance with mid-century British Caribbean style." This is most attractively in evidence at the resort's reimagined Silver Palm Lounge, which features a custom-built cabinet for rare rums, brandies and whiskies, along with hand-rolled cigars, mostly from around the Caribbean.
Throughout the resort an updated color palette featuring the "deep blues of Cayman's night sky, lively shades of green inspired by the islands' botanical wonders, the whites and beiges of the island's smooth sands, and the sparkling shades of turquoise found in the Caribbean Sea," is showcased to charming effect. It's certainly a major upgrade for the acclaimed property, a top asset in the Ritz-Carlton portfolio.
In lieu of Ripert's Blue, we dined at the Ritz-Carlton's stunning new Japanese restaurant, Taikun, located just off the Silver Palm Lounge. The sushi, sashimi and other Japanese fare, prepared and presented with panache using the very finest and freshest ingredients, is offered both in the traditional style and with Caribbean flavors and influences for the more adventurous. Taikun also boasts the island's most extensive selection of sake, as well as a tableside presentation of actual fresh wasabi using a sharkskin grater, an offering rarely encountered outside of Japan.
The striking, colorful decor which cleverly incorporates asian design motifs, such as bamboo-accented paneling and rich lacquer, enhances the experience exponentially. And what's more we were feeling 1000 percent before we even sat down, thanks to an hour spent in the Ritz-Carlton's impeccable spa by La Prairie, the Swiss luxury skincare brand. You can get a facial with caviar or even real gold, if that's your thing; we opted for a deep-tissue massage, and it was one of the best we've had at any beach resort. Had we more time, one of their therapies that "harness the healing power of marine plants and other natural elements" might have been on the cards.
Before our visit to the Ritz-Carlton, we checked into Palm Heights a short distance away along Seven Mile Beach. As the London Evening Standard put it, upon walking into the revamped vintage property, "It feels as if you've been invited into Slim Aarons' world; a laid-back, sun-drenched vibe that is part Palm Springs, part French Riviera." With just 50 ocean-facing suites, it is intimate, and thanks to an eclectic mix of vintage and retro decor, it feels like a snapshot from a more glamorous era. It vibes Chateau Marmont before the decline and fall. And the Moke was the perfect ride to pull up in.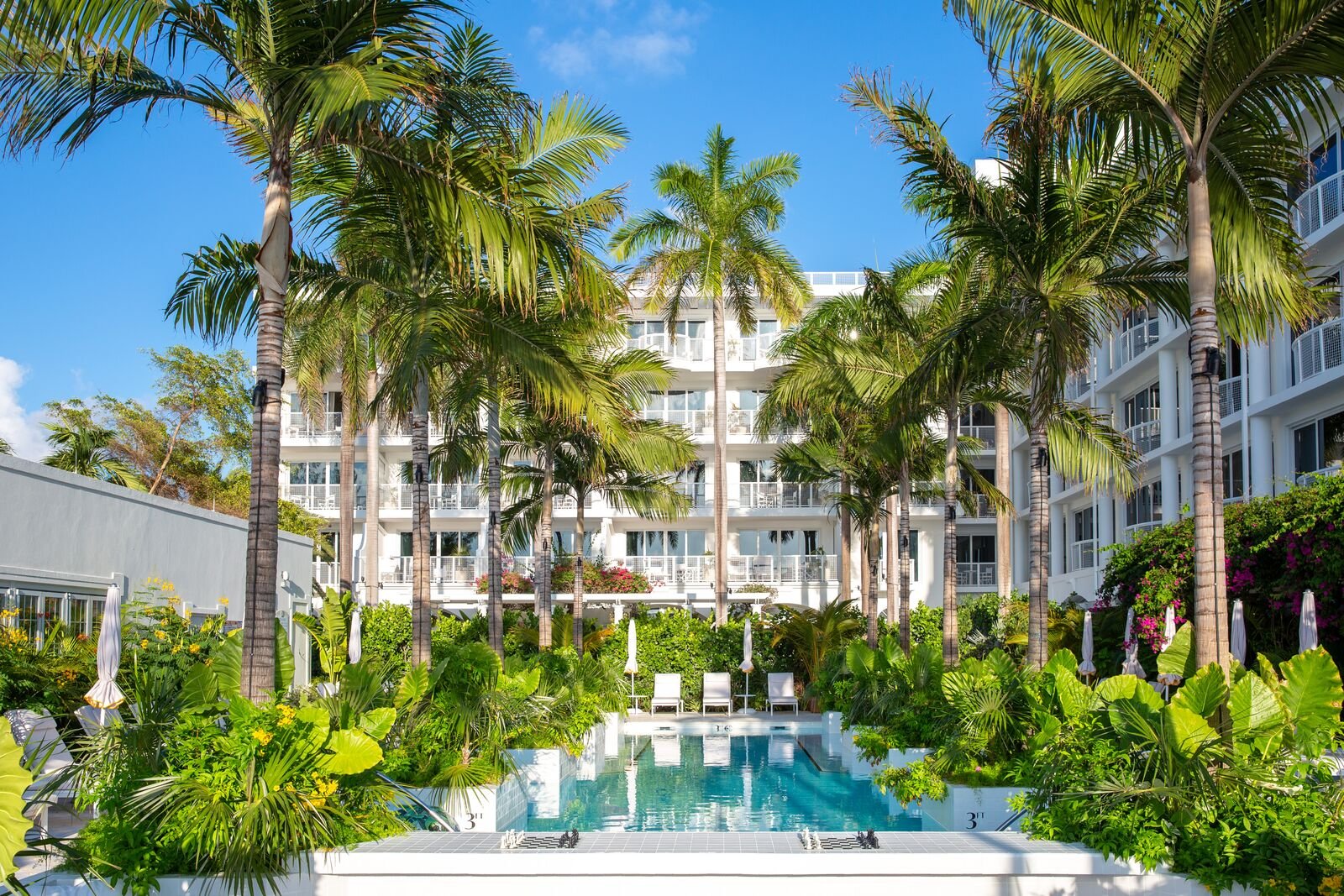 Each spacious suite has a glorious ocean view, and the indoor and outdoor spaces flow invitingly from one to the other. There are two swimming pools and all kinds of private nooks and crannies shaded by palm trees, tropical plants and cascading flowers. The net effect is movie star on vacation, and the amenities are first class, down to the Aesop bath products and the archive of vintage coffee table books, some of which are available for purchase.
The suites and the various public spaces, which include a library and a lounge, as well as two restaurants, is decorated with a number of authentic vintage items, mainly from the '60s and '70s, created by the likes of Ettore Sottass, Mario Bellini and Ingo Maurer. The Evening Standard reports this is the work of the hotel's founder and creative director, Gabriella Khalil, who has spent years collecting and curating them.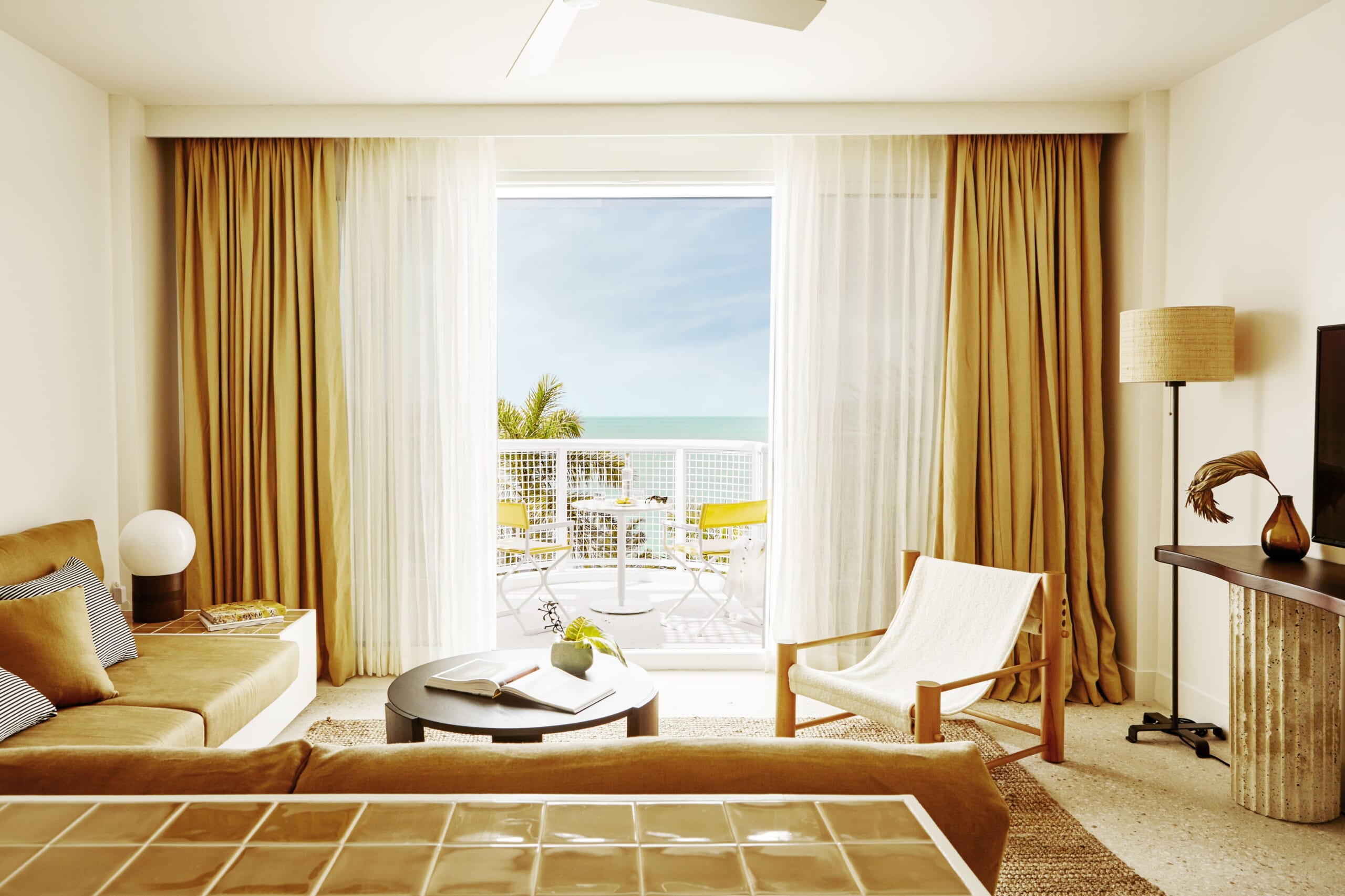 The color palette is natural and beachy with pops of -70s color and a general air of groovy glamour, laidback and easy, with a depth that only true vintage, from architecture to decor, can evoke. A younger, more stylish crowd has already taken up residence at the chic resort as a result; Emily Ratajkowski recently popped up on their Instagram feed, pouting by the pool, and no doubt more beautiful influencers will follow.
Service is incomparable throughout, and also thanks to Palm Heights, Ripert is no longer the only celebrity chef on Grand Cayman. Khalil brought on Chef Jake Tyler Brodsky, previously of NYC's iconic 11 Madison Park, to helm Tillies, its super-stylish beachfront restaurant. "With an appreciation of classic Caribbean dishes, inspired by the local produce and farms of Grand Cayman," Brodsky has created a casual but no less elegant alternative to Ripert's Blue, with indoor and outdoor dining and a delectable menu focused on seafood.
Palm Heights has plenty of other attractions in the works as well. It's currently constructing a massive jungle-themed spa, designed by architects FOOD-New York, who have done projects for Virgil Abloh and MoMA. The Evening Standard reports that it is "inspired by the ancient world and its social approach to rituals, and designed with maze-like greenery dotted with hot and cold plunge pools," as well as "an outdoor hammam, an infra-red sauna, a boxing area and even an athletics track," and other projects are in various stages of completion as well.
After reluctantly checking out of Palm Heights, we climbed in the Moke for a scenic drive along the coast towards Grand Cayman's East End and Black Urchin, a brand new, truly unique boutique luxury property comprised of enormous suites and private villas.
This part of the island is dotted with lavish private residences, including one reportedly owned by billionaire Mark Cuban just up the road, and a stay at Black Urchin feels like joining the club. It's already become popular with sports stars and celebrities, who demand more privacy than the typical luxury resort can offer.
Black Urchin has a number of swimming pools, and a private beach that is always peaceful and serene. The design here is ultra-high-end contemporary, and feels every inch the multimillion-dollar A-list residence. It is not yet widely known, adding to its escapist appeal. Each of the accommodations, which includes six and seven-bedroom private villas, as well as four-bedroom suites, is furnished with the utmost taste and luxurious fixtures. This is modern elegance at its best.
There is a dedicated and gregarious staff including a concierge who can cater to your every whim. There was a bottle of Möet on ice awaiting us on arrival, and the concierge kindly went out and got us some groceries to fill the high-end fridge. Want a cocktail by the picture-perfect pool? You have but to ask. Ditto any other request, from boat tours to barbecues. Our only regret was not bringing enough friends to fill all the spare bedrooms.
Another major attraction of Black Urchin is its on-site private chef, Chef Remy. The personable maestro has 27 years of culinary experience from numerous positions held at various international establishments. He will come to your villa and prepare your meal while you polish off that bottle of Möet, having sent you a long list of menu options in advance.
Chef Remy was featured in the first edition of The International Who's Who of Chefs among the best chefs of the world, and he made our already exceptional stay at Black Urchin even more special. It's easy to see why a certain superstar songstress who wanted to buy out the entire resort also wanted him on call 24 hours a day.
As for another great meals we enjoyed while on Grand Cayman, The Brasserie was truly a night to remember. This restaurant Brasserie exceeds any notion of "fresh seafood" you've heard of before; it has its very own fishing boat. Aside from the impeccable seafood they also grow a number of their own vegetables, bake their own bread, and have their own poultry to boot, making the experience truly farm to fork. The wine list is world class as well. Now that you've added the Cayman Islands to your bucket list, you'll want to book a table there first thing. Bon appétit.