Inside Fiji's Best Resorts and Private Island Retreats
Vacation goals.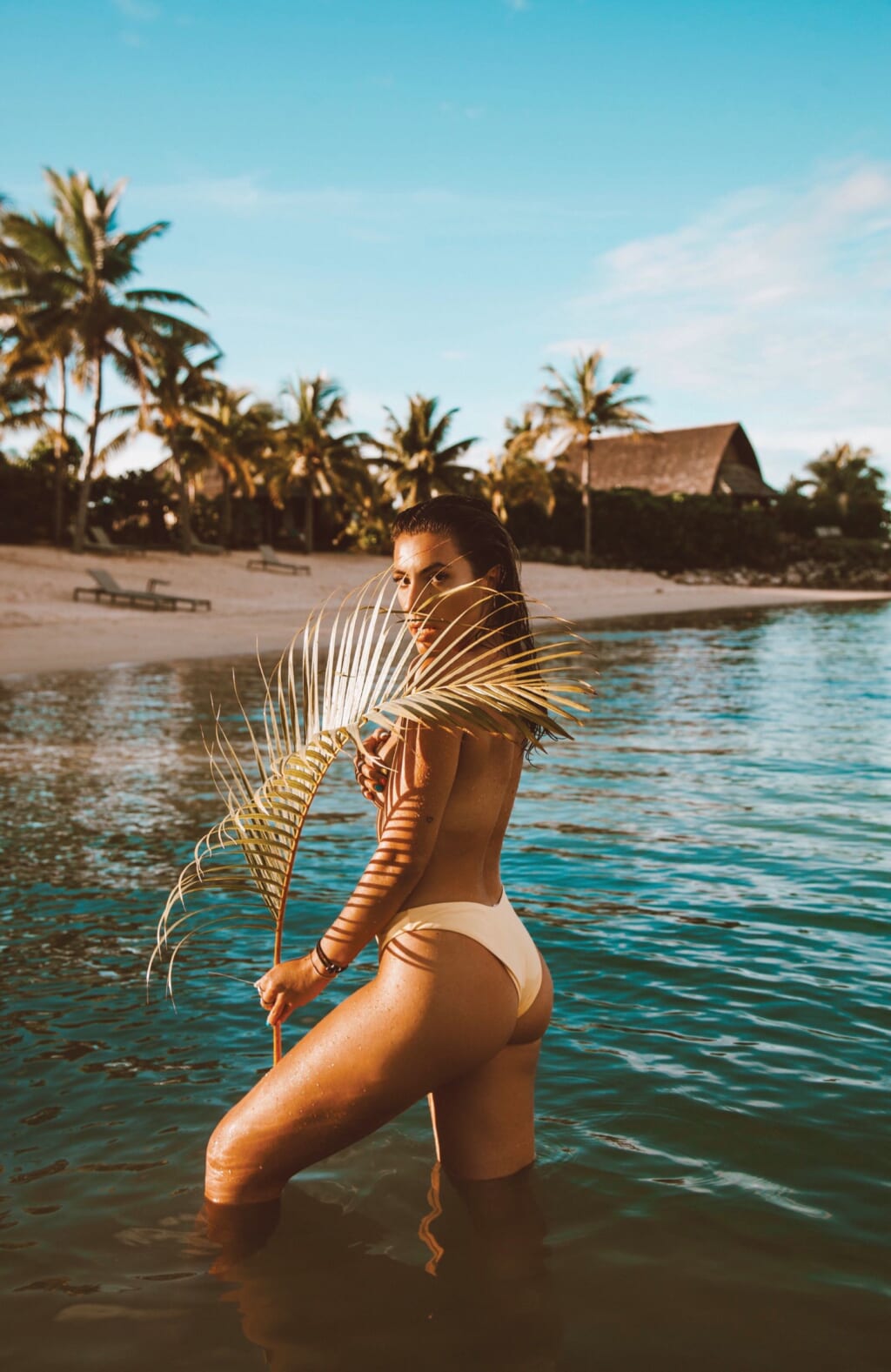 If jaw-dropping beauty tops your Fiji bucket list—as it should—verdant Vomo Island delivers on every level. It is fringed by three miles of pillowy, creamy sand beaches that drift into impeccably clear water.
As you tender to the island's shores for the first time and the mirage comes into focus, the sudden, inexplicable urge to turn cartwheels should not be repressed. If there was ever a place to unleash your inner child, this is it.
Think footprint-less stretches of sand and zero noise pollution. Hit the beach during low tide for the maximum in delicious stretches of cake-flour fine sand. By all means work from home, but be prepared to tune out the rest of the world when you trade FOMO for Vomo.
Featuring Majestic Mount Vomo rising at one end, sprawling private residences and luxury villas along hillsides or beachfront, this perfectly-designed luxury resort is popular with guests who take both style and seafood seriously. With its harmonious mix of minibars and meditation areas, the resort is a masterclass in seclusion. A few of the oversized private residences are endowed with massive private infinity pools that flow effervescently from the living areas.
Which begs the question, what's the record number of days a couple has spent at Vomo without ever leaving their villa? With a Mona Lisa smile, the concierge mouths, "Five."
Since expert chefs will serve most everything on the resort's restaurants' menus (and of course the wine list) directly to the room, staying in never felt so deliciously decadent. If you do venture out into the social areas, you'll find sparkling conviviality amongst guests drawn here, from Persol-wearing creative types to Manhattan moguls one monocle up from Mr. Monopoly.
Surrounded by coconut trees and coral reefs, Vomo even boasts its own little offshore island, Vomo Lailai, for romantic champagnesoaked picnics. Given the precarious logistical limitations of such a remote location, the sheer sophistication of alfresco dining setups is baffling.
By the end of a week, city slickers have typically succumbed fully to the no-one-here-but-me vibe—sliding doors left open to beach breezes overnight, iPhone casually left in a hammock while surrendering to a refreshing saltwater dip. For soul-stirring luxury, Vomo's Kui Spa beckons. Your seemingly inexhaustible desire to be rubbed, scrubbed and kneaded will finally meet its match. No matter your whim, Fiji rises to meet you where you are.
The impresario behind Kokomo Private Island, Fiji's shiniest and most exclusive new private-island resort, takes the whole notion of over-the-top luxury and pushes it even further into the stratosphere. Kokomo's billionaire owner Lang Walker, an Australian property tycoon, has adapted his bullish business sensibility towards steering hard into the headwinds of happiness.
Whether in the boardroom or kicking back barefoot on his 192-ft. sailing superyacht, also called Kokomo, he makes waves as the big Kahuna wherever he turns his attention. And these days, he's all-in on Kokomo.
"There is an enormous satisfaction in knowing our wonderful island staff [are] greeting guests with their warm friendly smiles again," Walker muses to Maxim. "Kokomo is all about the welcome, the experience and the everlasting memories and we are so happy to be sharing our private paradise along with that one-of-a-kind Fijian welcome."
In an Orson Welles-style sensibility, Kokomo is Walker's "Rosebud," his most beloved possession, named after his first dinghy—the most potent emblem of his childhood—which he christened at the tender age of 10.
From a cheekier point of view, one could argue Kokomo is a savvy storage solution for Walker. Pretty sweet digs for some of the superyacht aficionado's considerable collection of recreational toys, should he decide to keep them here, which includes a private jet, a flotilla of yachts and boats, barges, helicopters and seaplanes.
Katoa is the resort's own flashy new 51-ft. Bertram Flybridge, while the Kahala is a 40-ft. Riviera Express, both high-end game-fishing yachts boasting overnight accommodations for casual casting sessions-turned-swoon worthy marriage proposals.
The stylish livery aboard Fiji Airways—designed by renowned Fijian Masi artist Makereta Matemosi—gets you in the Kokomo mood on the tarmac; once landed at Nadi International Airport, the resort team can whisk you away in style on Walker's helicopter or seaplane. After closing for more than a year due to Covid-19, Kokomo reopened in December 2021—including to those with deep enough pockets to buy out the 140-acre resort for a minimum seven-day visit starting at $ 252,000. For the international jetset, not too steep, considering that includes meals, massages, and use of resort facilities.
Think latitude to sprawl your social set out amongst the 21 villas and five private residences on the property. And the indulging in Michelin-worthy midnight orders as light as yellowtail sashimi or as bender-worthy as a bottle of Two Paddocks Pinot Noir and a tomahawk ribeye are most welcome. Staff sincerely seem happy to see you living your best life.
Checking in guests after a global pandemic forced shuttering so soon after the debut has proved cathartic for Kokomo's General Manager Sean Flakelar, a hospitality legend in his own right, having helmed the acclaimed Aman resorts Amanjiwo, Amanoi, and Amangalla. "Our island home is once again filled, and bursting with life," he exudes with jubilation.
"The opportunity to showcase the changes we have made over the last two years is very fulfilling and makes us appreciate how lucky we are to have an owner [like Walker] so committed to Kokomo and to Fiji." It has taken a village of experts to bring the billionaire's vision to reality here.
"Head architect Keith Lambert and interior designer Phil Garner championed [Walker's] vision from day one," Flakelar explains. "Their selection of sustainable building materials, energy efficient designs and meticulously hand-picked furnishings has created an island paradise unlike any other."
Garner's monastic devotion to material texture surrounds you. Cinnamon hardwood sourced from nearby Mago Island (owned by neighbor Mel Gibson) is crafted into impossibly chic furniture; the many window and door louvres are made of locally sourced mahogany; while plantation pines soar above in the roofing.
When conditions are favorable, Kokomo sets the gold standard for PADI diving. With over 30 storied dive and snorkeling sites to choose from, the spectacle of marine life seems endless. The phenomenally clear waters of Kokomo's nearby Great Astrolabe Reef are a diver's dream and Fiji's claim to fame.
Imagine walls of spellbinding soft corals and schools of large pelagic fish like rainbow runners and barracuda. Unspoiled Kokomo boasts some of the most surreal snorkeling and diving in the country—akin to exploring a pre-industrial aquatic underworld. To make the most of it, Flakelar recommends booking between April and October, i.e. manta ray season, when "sightings of 20 or 30 mantas" are common just offshore.
A truly great Fijian holiday is an exercise in concierge calisthenics and soft storytelling, with guests poetically enveloped in an island's embrace and seamless service. "I remember the first time I arrived in the lobby, where over 20 staff greeted me with their traditional Fijian welcome song. It evoked such a strong sense of emotion and made me feel a dreamlike state of bliss," Flakelar recalls. "It was hard to hold back tears of joy, even for this hardened traveler."
Sail onto the Mamanuca Islands if you tend to favor places where the only threat to maximum chillaxing is a possible coconut concussion. A copious supply of fresh coconut water (add gin if you like à la Hemingway) and vitamin D awaits, every man of leisure's fantasy.
Six Senses Fiji is certainly mooring-worthy as well, tucked away on Malolo Island, boasting a full-service marina to cater to private yacht clientele. One of the prized spots in the Mamanuca archipelago, the resort features just 24 stylish pool villas and a handful of stunning residences with two to five bedrooms.
Island hopping is the ultimate way to experience the Mamanucas, a picturesque volcanic archipelago. The yacht-cruising grounds here are among the finest in the South Pacific. You'll want to devote a couple days floating through the mostly uninhabited cays of this captivating chain of islands. And if you can't tell your sheets from your slips, chartering a craft once you've landed is relatively hassle free— from zippy catamarans to fishing yachts, captain included.
Ocean Independence Managing Partner Nicholas Dean tells us yacht charters are the go-to option for affluent travelers to Fiji looking for privacy as the "offer the ultimate bubble," he says. "Clients have their own crew and chef; no need to go ashore. Heading to a deserted bay for swimming and enjoying the water toys involves no outside contact and delivers safety to those on board."
If you're the kind of traveler who likes to light a torch and burn high on the fitness front, Nanuku Resort, which offers up endless sporting frontiers, might be your jam. Go ballistic on your beer belly with a beach and jungle boot camp. Challenge yourself to an improved physique led by Nanuku's Wellness Coach, who represented Fiji in the Commonwealth Games and Olympics.
Run through thick mangrove forest, channel judo moves on white sand beaches and more. Sisilia Naisiga and her team of certified personal trainers make the most of the island's rich athletic traditions. Or cruise along an old sugarcane railway on a EcoTrax "Velocipede"—a battery-assisted bike mounted on a lightweight rail buggy—witnessing the vivid Coral Coast from an utterly unique vantage point.
HeliGolf is another option; lift off from Nanuku to Natadola Bay to play on the best championship golf course in the South Pacific.
No matter your whim, Fiji rises to meet you and then far exceeds expectations.