Inside the High-Octane Ski Resort That's Become One of Europe's Coolest Getaways
Stunning ski slopes, incredible views and a mountain-top automotive museum make this Austrian destination a must-visit.
"If my building had been completed in time, it would've been where Spectre was filmed. Instead, we were several months away from completion so James Bond was filmed across the valley."
I'm with Attila Scheiber at his mountain kingdom atop the Ötztal Alps of Austria, about an hour southwest of Innsbruck. He and his twin brother Alban rule over this breathtaking portfolio that includes the Timmelsjoch Pass connecting Austria to Italy, the massive Hochgurgl ski resort, the ski-in-ski-out Top Mountain Hotel—a five-star property that was named Austria's Best Ski Hotel at the 2019 World Ski Awards—and several restaurants and bars including the vertigo-inducing Top Mountain Star and the Top Mountain Crosspoint Motorcycle Museum.
"Top" is a theme with the Scheiber's properties for good reason.
Up here above the treeline, with endless views in every direction that frame glaciers, valleys and summits, the isolated, self-contained alpine fiefdom feels like the top of the world. Plus, with the luxury amenities, modern flourishes and emphasis on outdoor and motor sports, its atmosphere feels less like the The Sound of Music and more like Goldfinger.
 
Attila and Alban's family has been here since recorded history. They effectively controlled the Timmelsjoch Pass—a extreme mountain route that's been used since Neolithic times—and engaged in the profitable business of smuggling. Whether it was avoiding crown tax during medieval times or facilitating clandestine trade during world wars, business was good, and this bold independent streak runs in their blood to this day.
A friend of theirs told me a great story that illustrates this.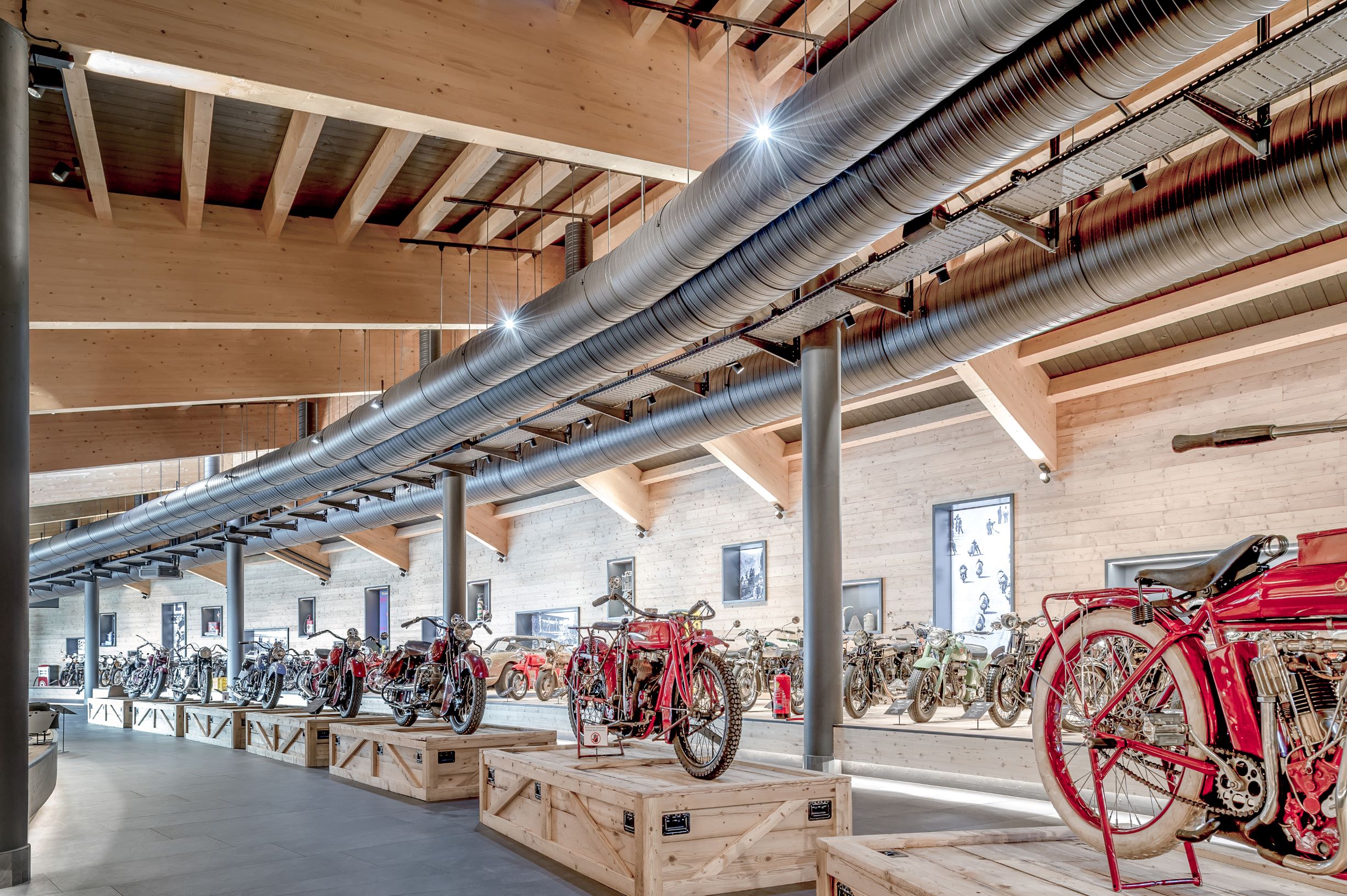 As lords of their domain and full of the confidence of youth, the brothers would famously race down the mountain in their exotic sports cars at breakneck speed. The police became aware of this and waited at the bottom. As Attila came zooming around the last corner, the police pulled him over, wrote him a speeding ticket, and proudly issued a fine of $250. Attila took out his wallet and gave them $500. "Why'd you give us double?" the cops asked. "Because," Attila said, "my brother is right behind me."
Now middle-aged, the twins are mature and loving family men, business-savvy, and well-respected throughout the Tyrol. But they still love to drive and ski fast.
The uber-modernist structure housing the museum is what Attila was referring to when talking about Spectre. And it's immediately understandable why the movie producers would want to film here. Dramatic, sleek, avant-garde and damn cool, the building and the setting exude the 007 lifestyle.
I arrive at the museum on my snowboard after a trek of who knows how many vertical miles. Attila meets me at the entrance where he's parked his Lamborghini Urus and walks me through the collection of more than 200 motorcycles of all makes, models and eras. It's mind-blowing. "This is the only example known to exist," he says of one bike. "This one broke a world speed record at Bonneville," pointing to another. "I took this on a thousand mile ride last summer from Tyrol to Bohemia and back," he says of a 1940s bike, casually indicating these are not simply artifacts for display.
We walk over to the adjoining restaurant, a hip alpine bar and grill adorned with more motorcycles, where we sit down with his wife, a former Miss Austria finalist, and talk more about their mountaintop realm.
"Here at Hochgurgl everything is according to season," says Attila. "The Timmelsjoch Pass (controlled by a toll booth) is open from May to October and attracts motorists and cyclists from across Europe. Whereas our ski resort and hotel is open from November to April. The museum, of course, is open year round." "What's unique about our ski resort," adds his wife, Sabine, "is that because of our elevation we're among the very first in the Alps to open and the very last to close. So we have guaranteed snow and a long season to enjoy it."
And enjoy it I do. I was here not along ago in the summer when I took an Aston Martin DB11 over the Scheiber's pass and had the time of my life. Now I'm here in the winter snowboarding one of the best and, as part of the Obergurgl-Hochgurl entity, biggest ski resorts in Europe.
That evening at their five-star hotel, I head to the spa where, in true James Bond style, the passage from the indoor pool to the heated outdoor pool is accessed by an automatic sliding glass door triggered by an underwater sensor. After a swim and a stint in the wet and dry saunas (where nudity is mandatory), I change and go to the cozy bar to wait before meeting Attila and Alban for dinner.
Among the suave multinational crowd enjoying aperitifs is an older couple from New York. "We ski in the Alps for two weeks every year," they say. "And while we try to visit two resorts each time, we make sure one of them is always Hochgurgl."
"With so much to choose from," I ask, "in Austria and Switzerland to France and Italy, why do you always return here?"
"Because it's the best there is," they say. "The combination of the mountain, the hotel, and the atmosphere is unlike anywhere else. Best of all, the Scheibers treat everyone like family."
And as if on cue, Attila and Alban, dressed for dinner in jackets and ties, enter the bar and begin to warmly greet all their guests.
It is like a family, I thought. That is, a family from a James Bond movie complete with supercars, ski resorts, motorcycle museums, luxury hotels, ancient history, modern design and dramatic landscapes connected by an international group of fascinating people.
No wonder the Spectre producers were drawn here. 
Jared can be found at the intersection of lifestyle, motoring, travel, and culture. Follow him on Instagram @jaredzaugg