Take A Virtual Tour Of This Stunning $26 Million, Japanese-Inspired 'Onin' Estate
This lavish Los Angeles property comes with a resort-style spa, movie theater, tennis and basketball courts, and secret passageways.
In L.A.'s exclusive Encino enclave sits Onin, a gorgeous 20,000-square-foot property designed by Jae Omar and architect Eran Gispan. This Japanese-inspired, ultra-modern farmhouse elevates ancient design codes with bespoke, contemporary elements to create a uniquely baller property with soothing, zen vibes.
The estate's name comes from the Onin Era of Japan during the mid-1400s—a period of hardship which ultimately encouraged a new era of art and design expression.
Surrounding the exterior, a traditional Japanese wood-torching process called 'shou-sugi-ban' creates the charcoal facade, combined with hand-applied plasterwork for added depth and richness.
Just past a water garden and 12-foot entry door, a double-height foyer features impressive book-matched slabs of intricately selected marble the designer calls the "Butterfly Pavilion" for its winged effect. A glass catwalk then connects you to the next wing of the home.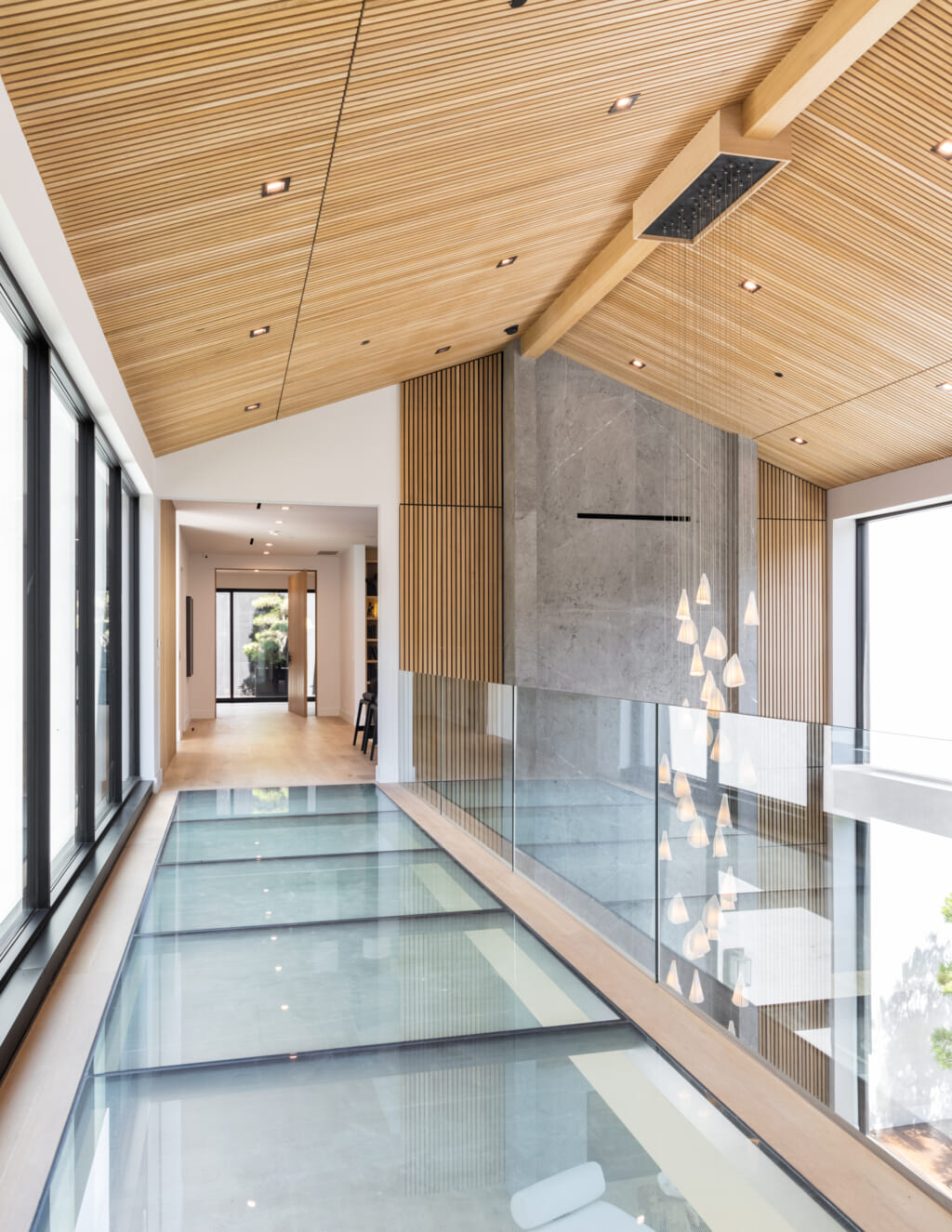 Solid wide-plank oak flooring spans nine-bedroom and thirteen-bathroom home, while handcrafted oak screening is stretched across the cathedral ceilings and walls, which essentially camouflages the doorways to create a sense of mystery.
In the sprawling primary bedroom, a live-edge slab of wood serves as the King bed frame built directly into the space, and behind secret doors lie the bathroom and walk-in closets. Dual powder rooms take on unique design personalities, but what's most impressive is a colossal 4,500-pound boulder around which the house was built.
The sun-soaked dining room sits adjacent to a glass and stone-clad wine showcase that can fit 120 bottles on each side—the ultimate way to show off your international vintages.
Dramatic walls of glass seamlessly blend the indoors with nature, leading to open-air atriums with bonsai trees and ultimately a 65-foot infinity pool with serene waterfalls at the back of the home.
The 1.3-acre property includes a tennis, bocce ball and basketball courts, alongside a one-bedroom and one-bathroom guest house that mimics the aesthetic of the main home.
This luxurious abode also comes complete with state-of-the-art wellness offerings including a functional gym as well as a resort-style spa boasting a steam room, sauna, walk-in whirlpool spa, and cold plunge pool.
For next-level entertaining, a deluxe movie theatre accommodating 15-plus people is outfitted with a marble and white oak bar in addition to a spacious game room. Dual three-car garages and an extended driveway offer ample space for a collection of whips, and parking when guests are over.
If you can handle the $26 million price tag, your new neighbors will include celebrities like Machine Gun Kelly, Megan Fox, Nick Jonas, Priyanka Chopra, Selena Gomez, and more. For more info on this jaw-dropping property, go here.