Inside The Westgate Las Vegas Hotel's Opulent Sky Villas
The Vegas megaresort is home to eye-popping penthouse suites and one of Sin City's best steakhouses.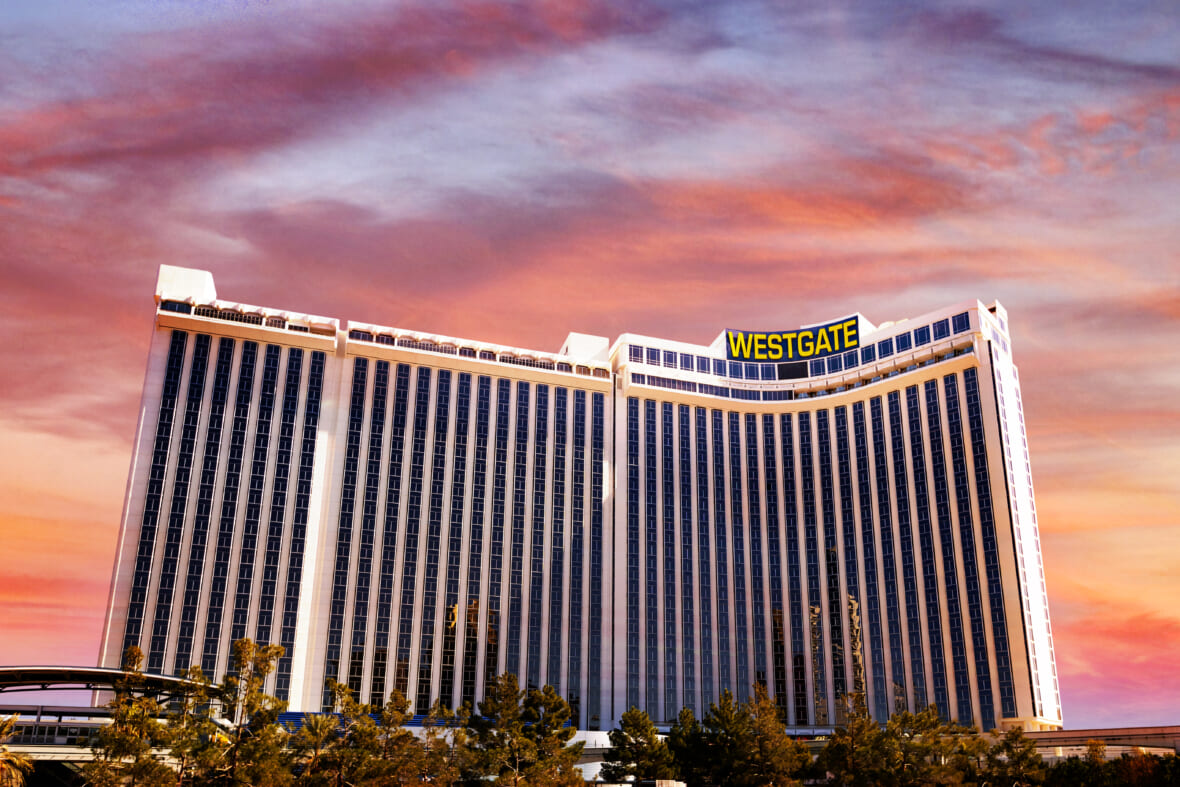 There are more casino hotels in Las Vegas than numbers on a roulette wheel, many of which tout low nightly rates and a position on the Strip as selling points to tourists. But repeat visitors looking for a more relaxed and refined experience should consider a stay at the Westgate Las Vegas, located a block away from the less-congested, northern section of the Strip.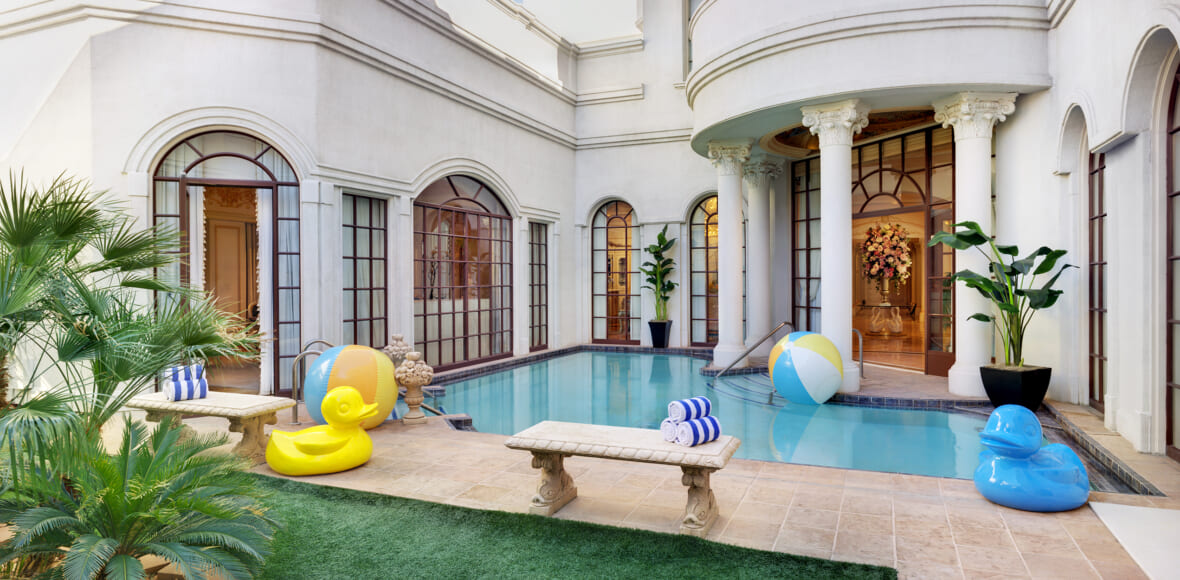 With over 2,900 rooms, the Westgate reigned as the world's largest hotel for nearly a decade from 1981 to 1990 and launched Sin City's megaresort era at its grand opening in 1969. There are accommodations to fit any budget, but perched atop the main tower are the Sky Villas—three of the largest and most lavishly appointed penthouses off the Strip, each with its own private courtyard and pool.
The Verona Sky Villa is the crown jewel, with a palatial 15,400-square-feet replete with Italian marble, rough-plastered columns, Renaissance-style murals, hand-painted ceilings and fine imported furniture. While it officially sleeps six in three king beds spread across a master bedroom and two guest rooms, the Verona Sky Villa's vast layout can host up to 250 guests in total seclusion—perfect for a private pregame event or afterparty.
Also with accommodations for six and space for 200 partygoers, the 13,200-square-foot Tuscany Sky Villa is decorated abundantly with natural motifs of flowers, vines, leaves and fruits that appear throughout its many frescos, tapestries and rugs, creating a luxe, verdant atmosphere without belying the grandeur of custom stonework, columns and marble floors.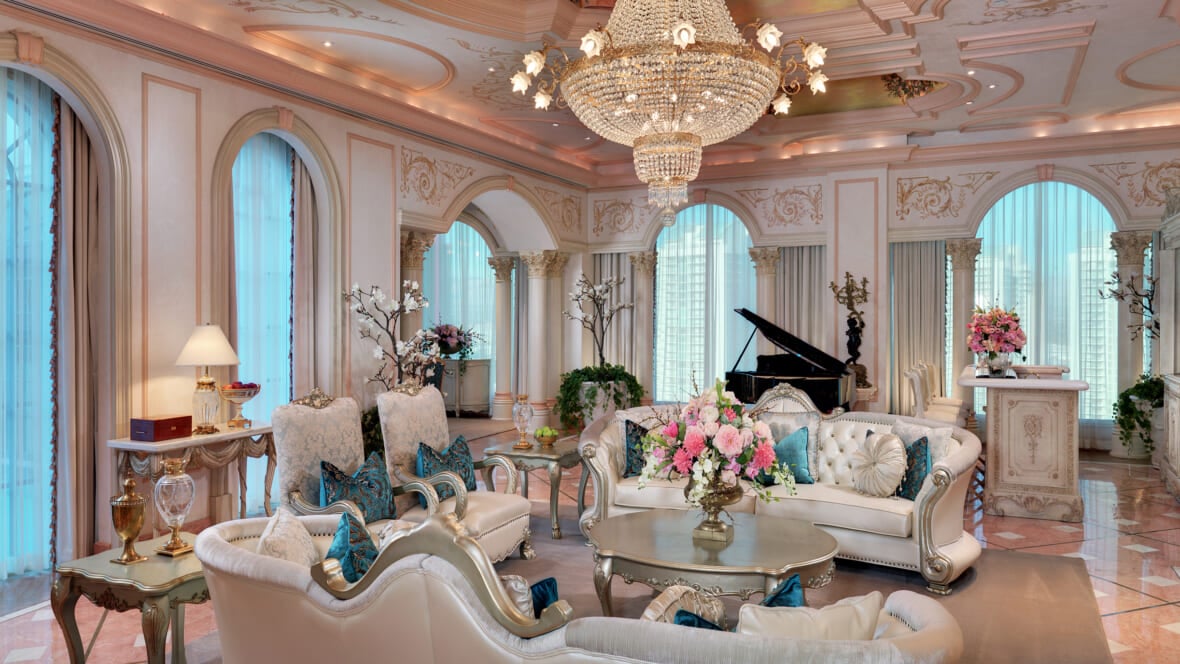 The 12,600-square-foot Versailles Sky Villa is a French-style showstopper marked by bright whites and gold molding throughout a main parlor and oversized formal dining room. But the literal pinnacle is the second-floor Master Retreat, featuring an outdoor terrace with sweeping views of the Strip.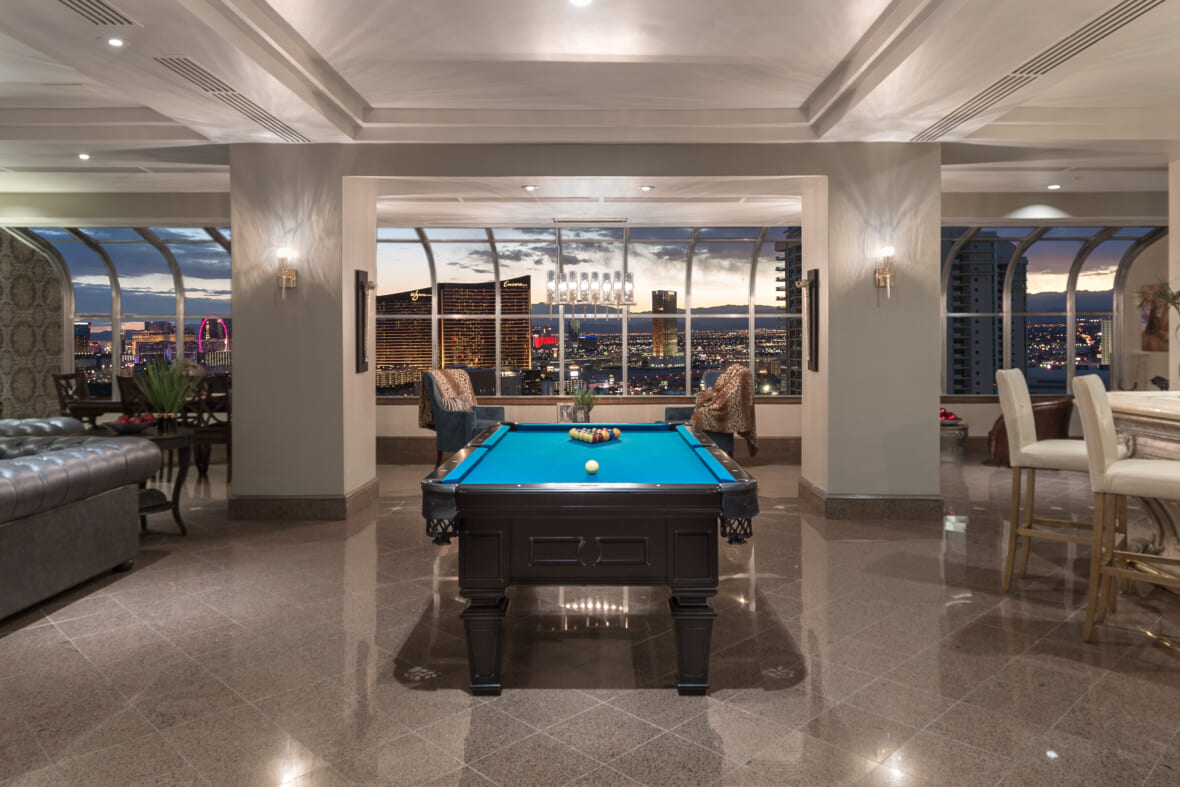 Prices for Westgate's three Sky Villas vary based on demand, but expect to pay at least $15,000 per night. Those who want a more budget-friendly way to ball out for under $5,000-per-night might opt for one of the Westgate's High Roller Suites. Whichever opulent room you check into, head to Edge Steakhouse for an appropriately over-the-top feast.
Edge is the culinary centerpiece of multiple Westgate properties, from the Westgate Resort Orlando Florida to the hotel brand's Park City location. But the Vegas Edge is truly a cut above the rest, beating out carnivorous Sin City staples like the Golden Steer and Oscar's at the Plaza to top Tripadvisor's list of best Las Vegas steakhouses for multiple years running.
Warm low light, wood paneling and a decidedly intimate dining room offer diners a welcome respite from crowds and clamor, all while setting the stage for the exquisite cuisine to shine. Start with popovers with Merlot-infused butter, oysters with mignonette sauce and wagyu beef tartare before moving to either a classic New York strip or Wagyu rib cap, both of which are dry-aged for 40 days and cooked to succulent perfection.
Crispy roasted brussels sprouts and Boursin-cheese stuffed Portobello mushrooms are recommended sides, and an appropriately paired vino from Edge's Wine Spectator Award-winning cellar is mandatory. A meal at Edge Steakhouse will almost certainly be the culinary high point of your stay, but the Westgate's 15-plus eateries also feature sushi, Tex-Mex, Italian, and elevated diner fare.
For its star-studded history alone, a show at the Westgate's International Theater is also recommended. The 1,600-seat venue was a main attraction during the resort's 1969 grand opening, when it was the International Hotel. The list of legacy artists who've headlined here include James Brown, Tina Turner, Barbara Streisand, Liberace, Nancy Sinatra, and Glen Campbell.
Most famously, Elvis Presley performed 636 sold-out concerts straight through the summer of 1976—the year before his death. This legendary residency has made the Westgate a destination for disciples of The King, and they'll know they're in the right place when they see his life-sized statue at the Westgate's front entrance.
Since 2018, Barry Manilow has been selling out the International Theater three nights per week for his The Hits Come Home show. A full band and backup singers accompany Manilow as he croons through his stacked catalog in a crowd-pleasing show that continues through 2023.
Feel free to spend your downtime at Westgate's dizzying 95,000-square-foot casino, which naturally features seemingly endless banks of slots and table games. Check out the 30,000-square-foot Westgate SuperBook, featuring Nevada's most expansive betting menu, to watch games on a massive 220-foot-by-18-foot 4K video wall. And don't sleep on the Superbook's Draft Sports Bar & Grill Express, which serves up a killer pastrami Reuben.
Whether you're partied out after a long weekend or need to unwind after a flight in, bookending a Westgate stay with a Himalayan Salt Stone massage or HydraFacial treatment at the resort's Serenity Spa is a solid move. Visit the Westgate Las Vegas' website to learn more.