Inside Virgin's Stylish New Manhattan Hotel
NYC locals can get 30 percent off a staycation at Virgin's luxe NoMad hotel.
The newest addition to the Manhattan skyline, the Virgin Hotel, opened in midtown last spring, injecting a dose of rock 'n' roll into the city's NoMad neighborhood, (North of Madison Square Park), on 29th Street and Broadway.
With stunning views of the Empire State Building, the new hotel designed by architecture firm MARKZEFF and Stantec joins the Ace a few blocks away in setting a trendy tone for this relatively subdued neighborhood centrally located to many of the city's attractions.
Tourists and locals intermingle at the hotel's Everdene, a 4,000-square-foot indoor/outdoor venue serving dinner and cocktails, and featuring live music nightly. Dance to beats by an ever-changing roster of the city's finest DJs and chill on terrace daybeds where stress melts away like the noise of the streets below.
If you plan to linger, all rooms offer floor-to-ceiling windows and range from 277 to 770-square-feet with prices starting at around $595 per night. Standard rooms include an entryway with vanity, closets and bathroom, and a bedroom just large enough to fit a bed and mini-fridge.
If you're interested booking a more baller suite, check into Sir Richard's Flat, a 2,800-square foot suite spanning the hotel's 35th and 36th floors. It features two bedrooms, a kitchenette, 24-foot windows and a curated art collection. And no need to leave the fur babies at home, pets are welcome. Locals get a markdown of 30 percent on a city staycation.
At the hotel restaurant, tuck into small plates like fritto misto and charcuterie or Nantucket Bay scallops ($15). Large plates include salmon, chicken, or flat-iron steak for $30 to $49, or go lighter with the chicken parm or prime rib sandwiches ($16 to $27), with salads and rice bowls starting at $17. Coming this fall to the 4th floor is fine dining courtesy of Chef Freddy Vargas offering a New York twist on a menu with Italian and Latin roots and an emphasis on South American dishes and ingredients.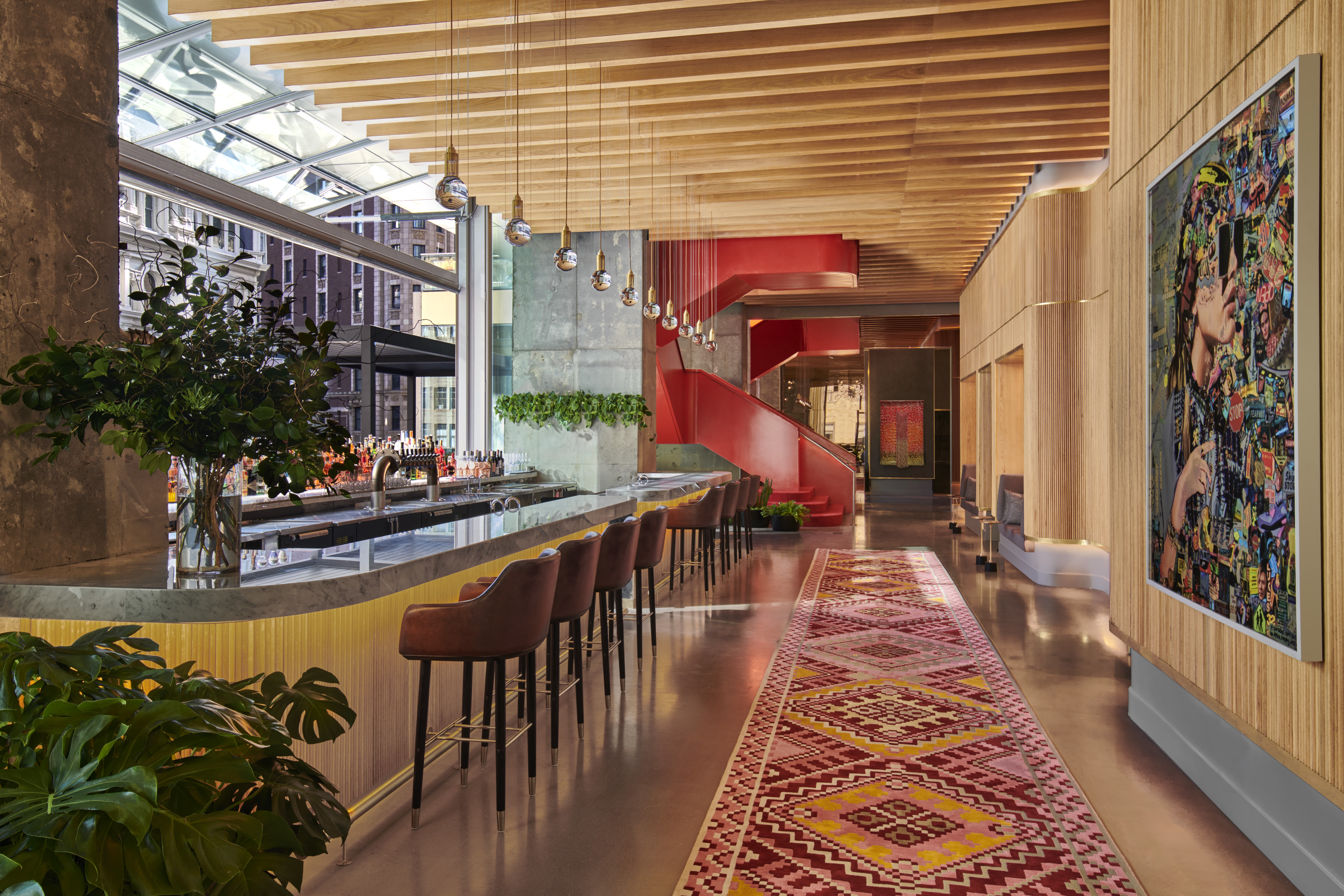 The bar offers strange brews stirred to perfection like "Cute, But Fights", a blend of Codigo Blanco Tequila, Ghost Tequila, lime and habañero, or try the "Holy Rickey" with Bombay Premier Cru Gin, Chartreuse Végétal, lime and seltzer.
The Shag Room, located in every Virgin Hotel, accommodates small parties for private events. And the Library is where to get serious before shedding stress with outdoor yoga classes in the Conservatory or taking a dip at the outdoor Pool Club, open to guests only. A slice of paradise amid the mayhem of Manhattan, it's where you can sit back with a smart cocktail and catch rays like you're on the beach in Cancun.
Worth skipping church for is the Sunday House of Yes "Queen Supreme" brunch cabaret, featuring live acts from the city's best in drag and burlesque. On the 39th floor, the Sky Lounge is an event space close to heaven with 30-foot glass walls showcasing the skyline while you sip drinks at the intimate cocktail bar on the outdoor observation deck.
The new hotel comes at a time when the brand is aggressively expanding into tourism with last Spring's launch of Virgin Voyages carrying upward of 2,700 passengers each in a fleet of three ships with more to come. The new outpost in New York brings the total of Virgin Hotels to six in the US, including cities like Chicago and Las Vegas. All are steady markets, but NYC is the number one tourist destination in the country.
Out of towners can arrive at Penn Station and walk the few blocks to the hotel for a weekend respite. And tourists will find themselves perfectly situated for visiting meccas like Times Square, Madison Square Garden and Chelsea, all a short walk away. Herald Square subway lines are just two stops from Greenwich Village, the Whitney Museum of American Art and the Skyline.
For locals, it's an opportunity to see Manhattan in a whole new light untethered to the daily grind. For tourists, it's a chance to experience the city in all its splendor.