Luxury Hotels Are Going Green With Unique Garden Experiences
Harvest the green space amenities at these upscale getaways.
Never mind renovated rooms, celebrity chef eateries and high-end spas—luxury hotels are increasingly utilizing gardens to elevate guest experiences. The eco-conscious trend has bloomed beyond merely growing veggies for farm-to-fork menus and harvesting cocktail herbs. Some hotels are using their green spaces for special in-garden meals, botanical classes, wellness activities, and other verdant gatherings.
Nick Cutsumpas—the plant coach, urban gardener, and landscaper from Netflix's Instant Dream Home—has collaborated with New York's 33 Seaport and 1 Hotels' Central Park and West Hollywood locations by offering seasonal classes, including decorative harvest workshops and wreath making. He expects garden programming to keep spreading through the hotel industry like a fast-growing weed.
"I think hotels are always looking for ways to engage the community in a different way," Cutsumpas says. "If they offer botanical-focused classes like we've been doing, it adds so much value for locals as well as tourists. It's just a really fun way to show a different side to their business."
Glenn Haussman, host of the hotel-focused No Vacancy News podcast, has likewise noticed more garden experiences sprouting up. "Hoteliers and chefs are doing a lot more with gardens," he confirms. "It started with herb gardens and taking care of bees, but it's becoming a lot more meaningful. As guests expect more, hotels need to make sure that the luxury experience continues to connect on an emotional level."
Here, a sampling of hotels that are going green with innovative garden activations.
The Peninsula | Paris
This five-star Parisian property is the latest Peninsula to launch the brand's experiential Academy program, highlighted by a culinary exploration of its rooftop garden with enviable views of the Eiffel Tower. Michelin-starred Executive Chef David Bizet livens up the tour with tasty garden appetizers (from eggplant tartlets to "beet origami") before an elegant, sustainably-sourced lunch at the top-floor L'Oiseau Blanc restaurant. "We built our Peninsula Academy program for guests to create memories beyond traditional luxury," Bizet says. "We want to offer the best to our customers, through tastings of plants taken from our garden, by magnifying different flavors for a cuisine respectful of seasonality and environment."
Anantara Convento di Amalfi | Italy
Anantara's recently-opened Amalfi Coast hotel is a former 13th-century Capuchin convent carved into a cliffside overlooking Amalfi Bay, offering spectacular views of the boats bobbing below. Booking a cruise along the iconic coastline is a must, but guests should also make time for Anantara's enjoyable "Spice Spoons" pasta tutorial. After visiting the lemon tree-lined garden with Executive Chef Claudio Lanuto, adjourn to a breezy terrace and learn how to make fresh cannelloni, paired with caprese salad, taglioni al limone, lemon delizia for dessert and a standout selection of local wines.
The vineyard-bedecked gardens at this wine country resort midway between Los Angeles and San Francisco notably features a Star Garden Trail with twelve meditation stations, each representing a Zodiac sign, with sculptures and benches where guests can take a break from Zinfandel tastings to reflect on their place in the cosmos. And the mystical fun doesn't stop there: The astrological garden also boasts its own labyrinthine sound bath and a "medicine wheel" constructed of stone sculptures. 
This luxe 27-room Bahamian getaway's monthly Chef's Table luncheon— once dubbed "The Secret Brunch Party Where Billionaires Let Loose" by Town & Country magazine—is offering a farm-to-table feast at a long communal table on its 100-acre coconut farm. Limited to 30 people on the first Saturday of every month, the lunch is conveniently situated near an organic garden and free-range chicken farm dubbed "Cluckingham Palace." Naturally, poultry and eggs are on the menu, along with seasonal herbs, fruits and vegetables, all paired with specialty cocktails and wines.
Located in the mountainous, mist-shrouded Sintra region, this elite Portuguese property—which has hosted David Bowie, Brad Pitt and Johnny Depp—offers a gourmet private picnic in a lush garden scented with naturally-occurring camelia flowers with views overlooking Pena Palace and a Moorish castle. The picnic menu serves up sandwiches, charcuterie, kebabs and fruit tarts, plus fresh-squeezed lemonade made from the garden's lemon trees.
Whether you're interested in communing with exotic butterflies or customizing your own tea blends, this 55-acre Catskills hotel with 22 guest rooms and 10 bungalows has got you covered. Kenoza Hall has been certified as a butterfly habitat by the North American Butterfly Association, so it's no surprise that guests can see and photograph Monarchs, Swallowtails, Painted Ladies, Spangled Fritillary, Clearwing Moths and more. The upstate property also cultivates a tea garden where you can clip leaves and create your own bespoke tea blend.
Turtle Island | Fiji
More than 80 percent of the food served at this eco-tourist South Pacific hideaway in the Yasawa island region of Fiji is grown on onsite gardens, sourced on its working farm or caught by local fishermen. Hosting a maximum of only 14 couples at a time, the property's five-acre garden also serves a venue for Turtle Island's "floating" communal dining table that pops up in various locations on the island—from the garden to the peak of the island's tallest mountain. Guests can join staff during daily harvest sand participate in cooking classes using garden produce to whip up regional specialties.
Set upon the striking shores of Lake Como, the gardens at this historic Italian hotel host yoga classes featuring a blissed-out blend of Hatha and Vinyasa styles. Strike limber poses while basking in breathtaking views of Bellagio and the center of the lake. The villa's venerable complex of buildings and gardens were built between 1400 and 1800, though the property underwent a complete renovation in 2018.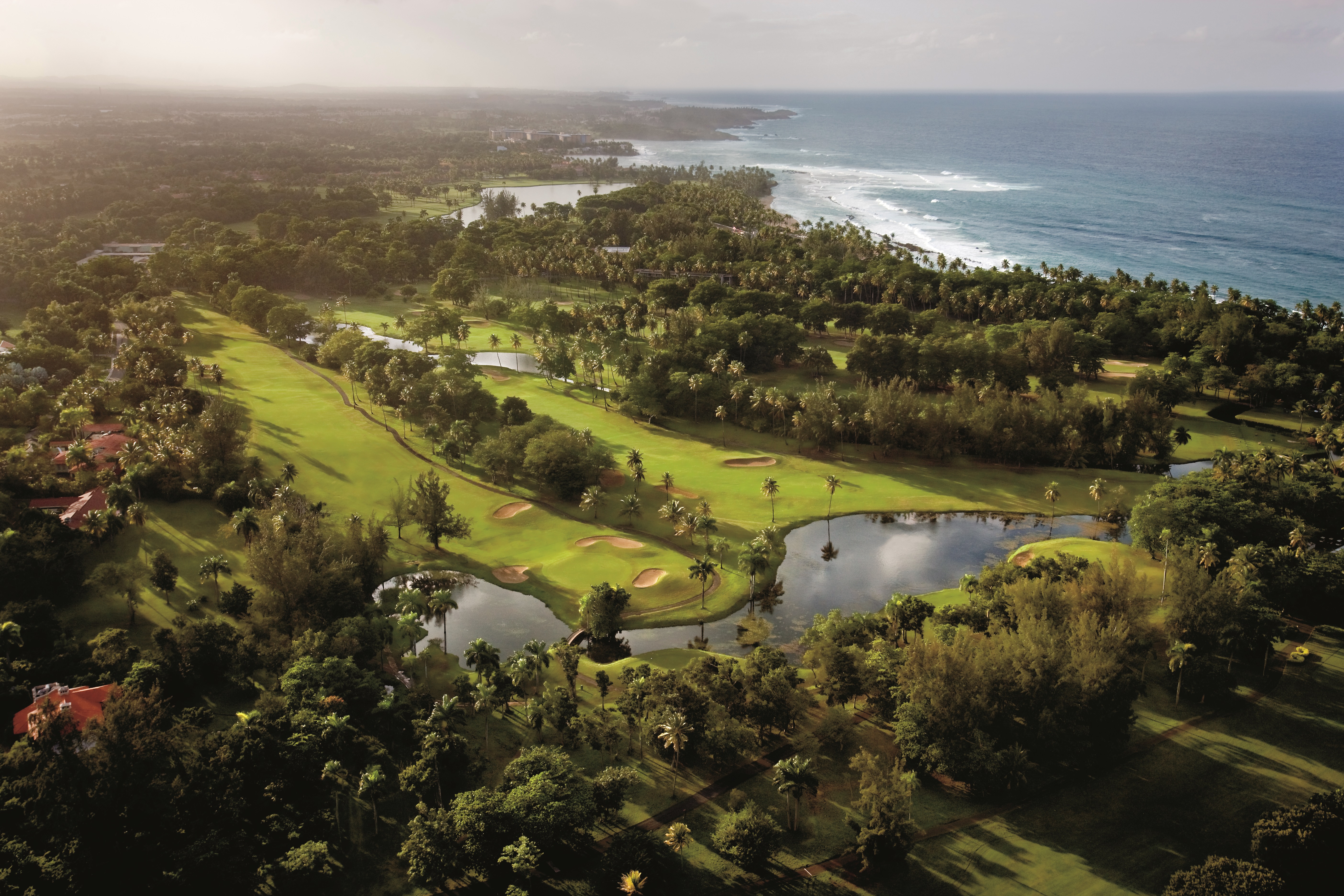 The 1,400-acre oceanfront golf resort on Puerto Rico's Atlantic Coast hosts a Gardening Gurus program in which guests plant seeds and sample seasonal herbs, fruits and veggies. Participants can learn about composting as well as local plants valued for their healing properties by the native Taino people. For kids, the hotel's Ambassadors in the Kitchen activity lets them decorate their own chef hats before cooking garden-derived snacks with solar ovens in an eco-friendly kitchen.
This Napa property boasts an Art Walk in the Sculpture Garden where guests can interact with more than 100 works by dozens of California artists, curated and maintained by ÆRENA Galleries & Gardens. Visitors can meander through manicured paths, luxuriate in terraced lavender scents and listen to a gurgling stream flowing through the center of the sculpture garden amid thickets of olive and oak trees.
Under the guidance of chef Peter Abarcar Jr., the 10,000-square-foot garden here grows authentic local ingredients like Hawaiian chili peppers, Ulu (aka breadfruit), Okra, Kalamungai and fresh honey from onsite beehives. Guests can catch a buzz by reserving a private beekeeping experience at the tiered garden, where they can learn about the complex ecosystems of honeybees and their chosen surroundings.