Margaritaville's New Mexican Beachfront Hotel Channels Laid-Back Luxury 
It's always 5 O'Clock Somewhere at St. Somewhere in Holbox, Mexico.
Ever since the first Margaritaville restaurant opened in Key West in 1987, the hospitality empire inspired by singer and entrepreneur Jimmy Buffett's enduring tropical standard has spawned a seemingly unstoppable lifestyle brand.
Aside from the restaurants and bars that litter airports and strip malls like so many discarded lime wheels, Margaritaville's lucrative portfolio now boasts all-inclusive resorts, vacation homes, time shares, senior living communities, RV parks, and even a cruise line called Margaritaville at Sea.
Buffett's chilled-out conglomerate currently has 30 properties, and aims to open four more by the end of 2022. The brand's latest hotel for wastin' away your next getaway is the Margaritaville St. Somewhere in Punto Coco on Holbox Island, a charming oceanside town in Mexico's Yucatan Peninsula that's accessible from Cancun via a three-hour journey by car and boat.
The 39-suite St. Somewhere features two open-air restaurants, a main pool and 3,000 square feet of pristine beachfront. It aims to channel a "boho-chic" vibe that's designed to be more intimate and elevated than Margaritaville's bigger, all-inclusive offerings.
Mandy Chomat, the Executive Vice President of Sales and Marketing for Karisma Hotels & Resorts, which oversees Margaritaville's new St. Somewhere brand, says the Holbox property is for travelers seeking a "laid-back luxury" aesthetic in an idyllic locale.
With easy access to a bustling strip of bars and restaurants in downtown Holbox via a 10-minute golf cart ride, Chomat says the first St. Somewhere hotel offers an entirely different experience than Margaritaville's signature all-inclusives.
"It's a beach resort that's upscale but laid back," Chomat says. "Holbox goes great with the St. Somewhere brand. You'll want to go to the bars and restaurants at night. If you're staying at an all-inclusive, you might think, 'Why do I want to do that if I've already paid for it?' But this gives you the ability to do that."
Here, some highlights of Margaritaville's first St. Somewhere hotel in Holbox, Mexico:
The Rooms
The hotel has 39 neutral-toned suites, all featuring rustic, ocean-inspired interiors designed by The McBride Company. Guests can pick from six suite types with a choice of plunge pools, terrace, or swim up suites that have direct access to the main pool and swim-up bar.
The pool suites are definitely the rooms to book. Not only do they provide a welcome respite from the scorching Yucatan sun, they're also a haven for the property's thriving population of whistling Mexican Grackles. The crow-like birds can often be seen perched on the edges of plunge pools, helping themselves to a cool drink.
The interior of every St. Somewhere room is brimming with beachy decor inspired by the island's natural surroundings. There are tree-trunk-inspired, parota wood coffee tables, tree branch table lamps and picture frames, hard-carved marble sinks, and Balinese-style hanging lamps flanking comfy king-sized beds with tufted headboards.
The soothing decor also includes rattan-and-wood adirondack chairs, an ocean-blue wood wardrobe cabinet, tile floors, and more adirondacks in swim-up pool areas. Bedrooms in the plunge-pool suites have a flatscreen TV mounted across from the bed and a Klipsch Bluetooth speaker on the nightstand, while the windowed showers feature a rain head and detachable showerhead.
The in-room refreshment center is stocked with Dock Master Provisions and a Nespresso Coffee & Tea maker for an additional charge. You'll also need to fill the minibar yourself–snacks and drinks can be sourced from the hotel's convenience store or shops in town.
The Beach
Aside from the Grackles heard whistling throughout the day, yellow-and-black Great Kiskadee birds are also seen in abundance at St. Somewhere, which is notably located near the Yum Balam Biosphere Reserve. Iguanas and smaller lizards can likewise be spotted skittering underfoot during walks around the property.
But the biggest wildlife draw in the blue-green waters surrounding Holbox is the world-class whale shark sightings from June to mid-September, during which many travelers book vacations for sightseeing boat tours. Chartered fishing expeditions, snorkeling excursions, sunset cruises and guided kayak tours of local bioluminescent waters are available year-round.
The beach also features an elevated wooden bridge over a mangrove garden that leads to an unspoiled stretch of white sand marked by a small wooden pier. That's where all boats arrive at the island to drop off hotel guests in front of a few rows of umbrella-shaded lounge chairs.
There may be a masseuse giving an outdoor massage under a gazebo, or a staffer handing out towels and delivering drinks to guests, but the beachfront is designed to never feel crowded. It can, however, be quite buggy during the day, so be sure to bring insect repellent along with sunscreen.
The Food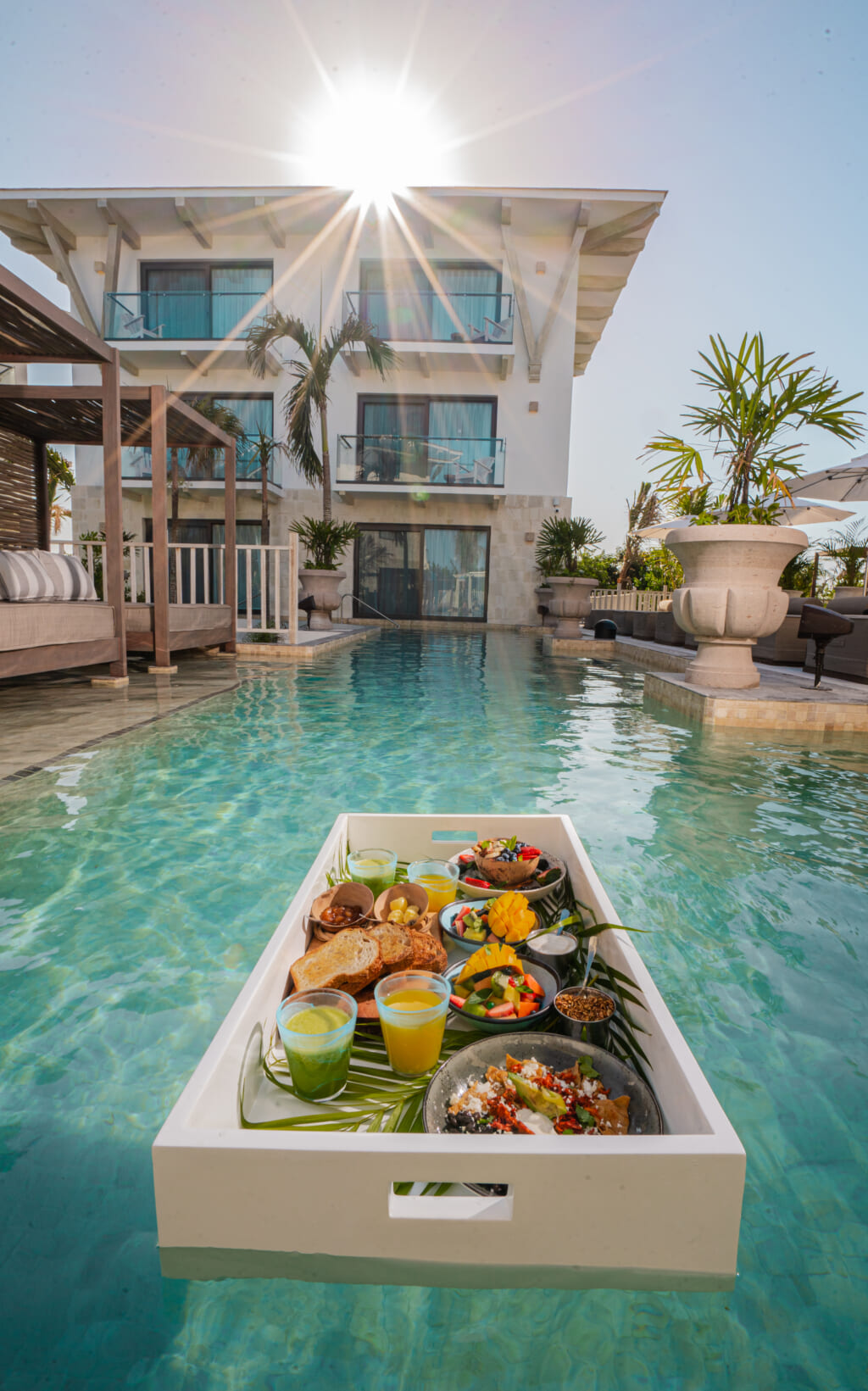 St. Somewhere's two open-air restaurants/bars–The Sandbar & Pan American Grill and The Harbour House Peninsular Cuisine & Wood Stove Bar–showcase both land and sea-based offerings from the Yucatán Peninsula.
Standout dishes include freshly-caught whole grilled red snapper, steak and octopus tacos, chipotle and sunflower seed hummus, Oaxacan-style guacamole with crispy chapulines (aka grasshoppers), and a refreshing grilled beet salad with seared tuna, red cabbage and smoked greek yogurt. The Wood Stove bar also churns out a popular garlic-roasted lobster and prawn-topped pizza, along with clay-baked mussels in a zesty guajillo chili sauce.
Most menu items are meant to be eaten on the beach or at a pool cabana with a cocktail or three at the Lone Palm Bar & Swim Up Bar, which naturally serves up a solid version of the hotel's namesake margarita.
Head into town to sample lively Holbox eateries including the sprawling restaurant/bar Viva Zapata, Mahi Holbox for upscale seafood and ceviche, Barba Negra for tasty street tacos and Temoc Tacos & Mezcal for eye-opening breakfast chilaquiles and huevos rancheros.
While St. Somewhere is a great place to relax and chill during a stay in Holbox, guests will want to head off property to explore the local nightlife, shops, street art and ocean views–if only to escape the possibility of hearing "Cheeseburger in Paradise" on the pool's soundtrack one more time.
Book here to score deals on rooms at Margaritaville St. Somewhere in Punto Coco on Holbox Island.