Morocco's Fairmont Tazi Palace Is A Modern Ode To Old-World Luxury
The newly-launched Tangier hotel brings a former 1920s Moroccan palace into the modern era.
To set foot in the recently opened Fairmont Tazi Palace Tangier is really like stepping into a distinct moment in time–one dating back about a century.
The property, owned by Accor Group and open since last November, blends the old world and the new in tasteful fashion. What was formerly a 1920s-era palace for the Moroccan king's advisor has been transformed into a bold preview of Morocco's luxurious future, bolstered by exceptional accommodations and a range of restaurant and bar offerings.
The site, which sits high over the rolling city of Tangier, has been updated and expanded in lavish fashion from its former palace layout, boasting 133 spirited, elegant rooms.
Fittingly, each is adorned with the sort of colorful, vivid tapestries and furniture one might have encountered a century ago in Tangier.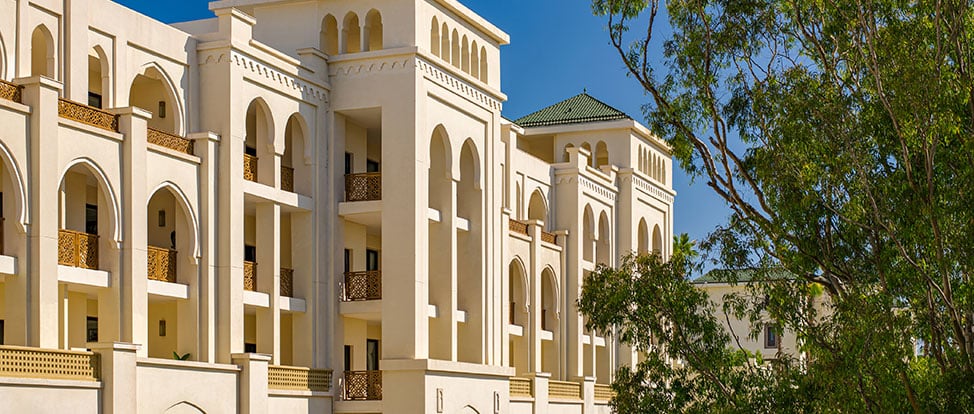 The property is impressive and sprawling, bounded by tiers of Andalusian-style gardens and a number of suites. Additional room options include Deluxe King, Queen and Twin bed offerings, with rates starting at about $370/night. A word to the wise: Late spring and early summer tend to be a hotbed of activity in Morocco, so plan your trip accordingly.
From virtually any spot on the property, breathtaking views of the city abound–especially at sunrise and sunset. Each room is adorned handsomely, often in shades of blue and gold, with an emphasis on distinctive photos of Tangier and the surrounding region.
There's also the rarified air that comes with sprawling penthouse accommodations intended for dignitaries and an international, jet-setting, who's-who crowd. Fairmont Tazi Palace Tangier also boasts a sprawling pool and terrace, the sort of quiet respite that makes for the perfect spot to sip Moroccan tea as you plot a tour of the city.
You might say that Tangier itself mirrors the Fairmont Tazi Palace in some ways–a respect for history and heritage, complete with a bridge between the modern and the ways of the past.
Locals say the city is a burgeoning tourist destination, especially for young people with a 21st century sensibility. This balance is certainly on display when exploring the Medina of Tangier and its historic cafes, or visiting windy bluffs where the Mediterranean meets the Atlantic.
Your day at the Fairmont Tazi Palace is best kicked into high gear though, with a visit to Crudo, an ultra-fresh Mediterranean and seafood-focused affair that represents Morocco's version of farm-to-table (or sea-to-table) dining.
The even better news is this: After a day spent exploring the winding cobblestone streets of old Tangier, an opulent evening is often on tap at Fairmont Tazi Palace Tangier. Find your way through marble-tiled hallways up a back staircase, and you've arrived at the hidden, swinging wall-entrance to Parisa. At first, it's a speakeasy in front — dubbed "Innocents" and boasting bold street art and a bar set atop a grand piano.
Step through the next room though, and you'll find yourself in a magnificent, Persian-inspired restaurant. Fairmont Tazi Palace, just like Tangier, contains multitudes.
The restaurant itself boasts an A-to-Z approach to Persian staples both familiar and exotic, complemented by a selection of Moroccan wines. No bite nor dish is unconsidered, and there's enough variety in the menu to dine at Parisa multiple times in one trip (just as with seafood restaurant Crudo at the resort).
Post-dinner, enjoy a nightcap at the property's mahogany-lined, green marble countertop bar and cigar lounge (we recommend sampling the selection of worldly Scotch, including Glenfiddich).
To really round out your stay, Fairmont Tazi Palace Tangier boasts an extensive gym and spa offering: The impossibly relaxing spa–complete with a fresh, flavorful adjoining restaurant–is built across three stories.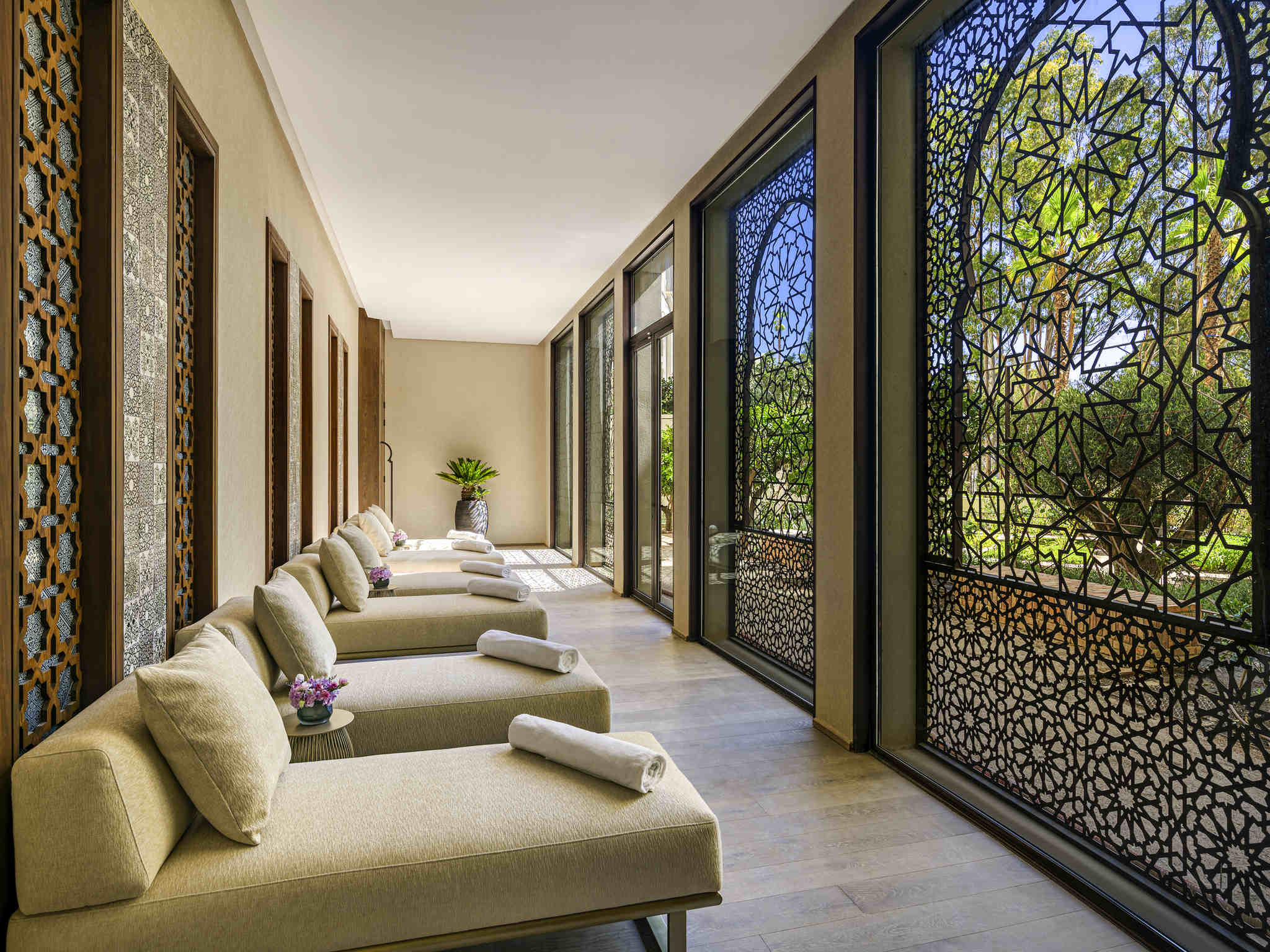 It's quite the three-for-one deal: Start your day with a training session, relax in a spa complete with premium amenities and traditional Moroccan touches, then cap things off with a light, airy and healthy lunch (your tour of Tangier calls for proper energy, after all).
For those new to Morocco, the destination and the journey are worth it: Visitors can see the sights and sounds of Casablanca off a direct flight from New York City, then make their way to Tangier via train.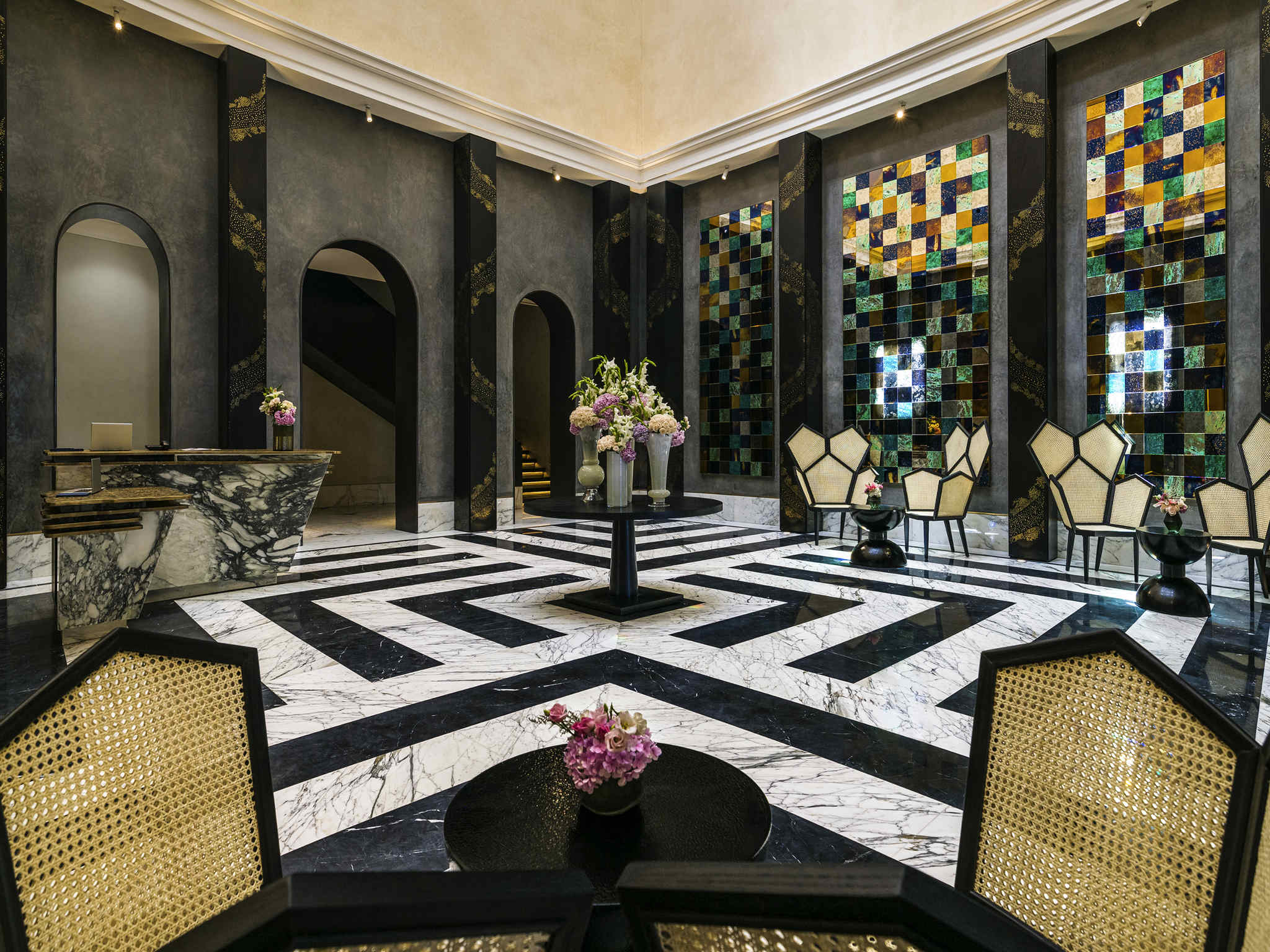 But with all that Tangier–and the Fairmont Tazi Palace–have to offer, the most advisable course of action might be devoting as much time as possible to the sprawling resort and the vibrant city above which it rests. The way of the future in luxury travel owes a great deal of inspiration to the past, and the Fairmont Tazi Palace Tangier sits quite handsomely at the intersection of the two.