These Are The Most Pet-Friendly Luxury Hotels Across the U.S.
Pack up your pooch and go.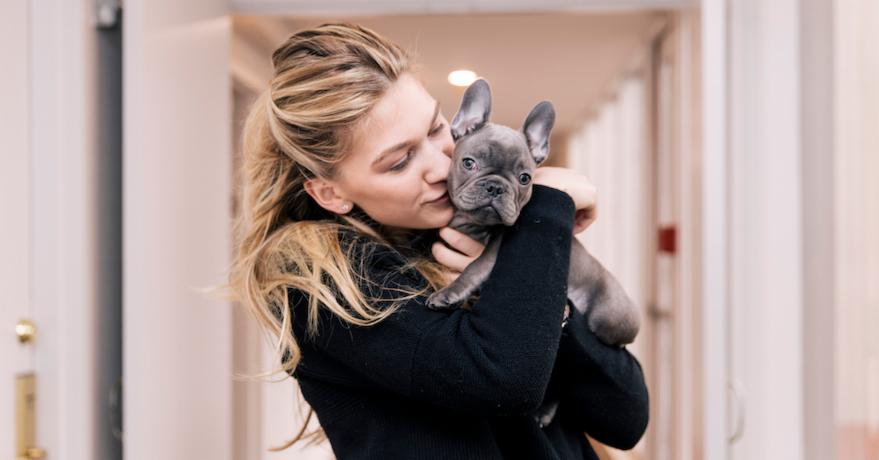 Courtesy
Planning on bringing your pup with you on vacation? We don't blame you. During the warmer months, in particular, bringing your pet with you while traveling can make a good vacation even better.
Below, we've pulled together a selection of some of the coolest pet-friendly hotels across the country—but this list goes beyond just allowing pets to stay in your room. 
These properties actually cater to your pup, making sure their vacation is just as luxurious as yours—from in-room treats, "yappy" hours, and even fido-sized bathrobes.
Plunge Beach Resort
At Plunge Beach Resort in Fort Lauderdale, not only can Fido join you in your room or by the pool, but at the bar as well. Every third Sunday of the month, Backflip Beach Bar hosts "Tails & Tinis," a pup-friendly event with martini specials for both guests and their furry friends, with 20% of all proceeds going to United Dog Rescue.
St. Regis Aspen
Heading to Colorado? Check out the St. Regis Aspen, where pets will receive a dog bed, dog bowl, and in-house dog sitting or walking. The St. Regis Aspen also hosts Bark'n'Brews, a monthly pup-friendly party at the hotel. Here, the local Aspen community, visitors, and hotel guests gather property's courtyard to raise money for Lucky Day Animal Rescue of Colorado.
W South Beach
The Pets Are Welcome (PAW) program at the W South Beach is a custom-designed effort to treat four-legged guests to the same level of luxurious service as their owners. Here, pups (and cats!) will receive a welcome package full of dog- or cat-friendly items including a pet toy, treat, W Hotels pet tag, clean-up bags and details about their Whatever/Whenever pet services. Pets will also receive an exclusive W Hotels pet bed, food and water bowl with floor mat, a 'pet in room' door sign, and even a special treat at turndown.
The Brown Palace Hotel & Spa
The oldest hotel in Denver, The Brown Palace Hotel & Spa is well-loved for its historic heritage fused with modern-day amenities. The property also extends its luxury features to four-legged visitors, offering a complimentary memory foam dog bed, stainless steel water and food bowls, biodegradable waste collection bags and readily available dog treats. The property is also next door to a handful of dog parks, pet-friendly parks, a dog spa and dog-friendly bars and restaurants.
Delamar Greenwich Harbor
Tucked into Gold Coast, Delamar Greenwich Harbor offers four-legged guests a PetServices Menu. Special services include walking, grooming, and even dog massage. Your pampered pup will also receive a comfortable bed, a personalized welcome kit, and bowls with bottles of water. Note that it does cost an extra $50.00 per night to bring a dog, a portion of that is donated to Adopt-a-Dog, a local non-profit placement service dedicated to finding permanent homes for many dogs in shelters or private homes awaiting adoption.
Tarrytown House Estate
Just 45 minutes north of Manhattan, Tarrytown House Estate in Tarrytown, NY recently launched their "Pet-Friendly Package," which includes a BarkBox welcome amenity upon arrival, and even a "yappy" hour in the spring. The pup-centric cocktail hour includes light bites and treats prepared by celebrity Chef Dale Talde for both pups and their owners.
The Lowell Hotel
The Lowell loves pets so much that they offer a special pet menu within their 24-hour in-room dining menu, as well as bespoke foods and snacks from the Chef de Cuisine and culinary team should your dog have special tastes or dietary restrictions. Pets will also receive a pet bed and special treats for their stay, dog walking services, and even veterinarian and grooming services upon request to ensure they have the most comfortable stay possible.
Lake Austin Spa Resort
Fortunately for your furry friend, It's not only the guests that will be wining and dining at this boutique destination wellness resort on the shores of Lake Austin. Fido is welcome to join you on a stand up paddle board on Lake Austin and afterwards he can dine on a curated canine cuisine. Your pup will be able to choose between a selection of dog-friendly meals like grilled chicken breast with fresh pasta or the bison burger over steamed rice.
Inn By The Sea
This luxury resort on the coast of Maine was one of the very first upscale hotels to warmly VIPs (that's Very Important Pets) over 25 years ago. Today, amenities include LL Bean sleeping blankets and beach towels, a personalized dog bed with your dog's name on it, locally made Growlin Gourmet dog treats at turn down, and of course dog walking and pet sitting services. The Inn By The Sea also boasts a curated canine pet menu, which pups can enjoy in the fireplace lounge while their owner sips a glass of wine.
Cypress Inn
Bringing your dog to the West Coast? The town of Carmel-by-the-Sea, in particular, is known as one of the most dog-friendly spots in the world and boutique property and a historic landmark Cypress Inn reflects that attitude. Run for more than 20 years by actress and animal activist Doris Day, every room in the boutique hotel is pet-friendly, with no size or breed restrictions in place. Amenities include special blankets/bedding available for dogs, a pet-friendly room service menu, and a daily "yappy" hour that includes free treats for Fido.
The Ben West Palm
This recently opened property reigns supreme when it comes to over-the-top pet-friendly amenities. Here, your dog will be suited up with a pup-sized bathrobe, spa amenities for the bath, and a curated menu specifically for dogs. What's more, the West Palm retreat also offers a "Proper Grit Pup Brunch" at the hotel's signature restaurant, which welcomes both local and visiting four-legged friends.