Test-Driving The 207-MPH Flying Spur Speed On The Ultimate Bentley Road Trip
We took the clear contender for world's fastest four-door on a gentlemanly route to the Blue Ridge Mountains.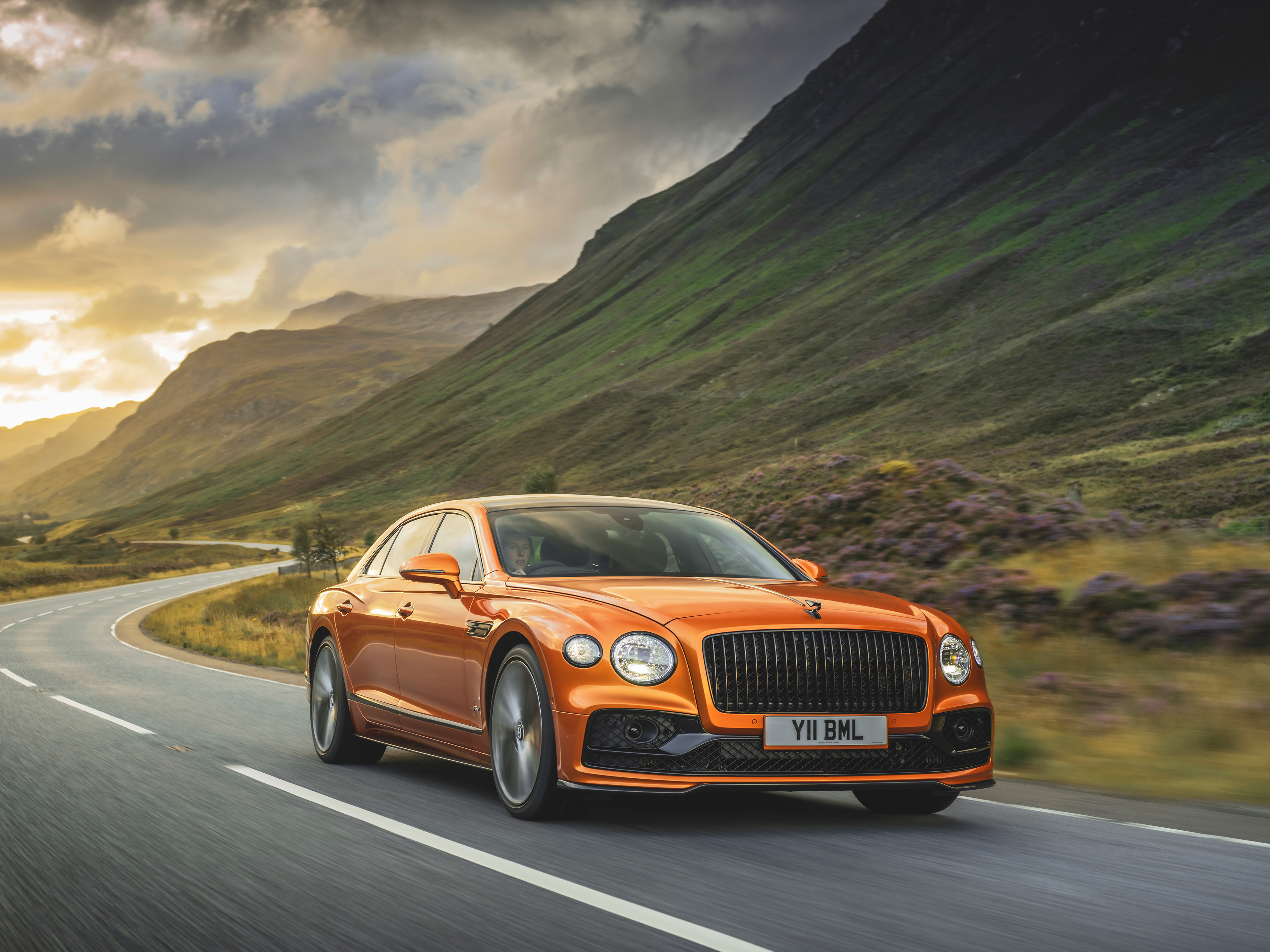 The 12-cylinder engine is something of an endangered species; by 2025 it may even be extinct. This is nothing short of a tragedy for performance-oriented automotive enthusiasts, as 12-cylinders have long represented the pinnacle of sports and luxury motoring.
This dates back to 1913 when they first helped set several world speed records, a legacy that eventually led to dominance in Formula One amongst other motorsports milestones; while the 12-cylinder engine came to be associated with the top marques worldwide including Rolls-Royce, Ferrari, and Lamborghini.
In the modern era perhaps no one has done more for the big 12 than Bentley, which debuted its W12 version in 2003 with the grand return of the Bentley Continental GT, declaring it the most advanced 12-cylinder engine in history. And an era has truly come to a close with the brand's announcement in February that it will cease all production of 12-cylinder petrol engines by April of next year as the marque transitions to all hybrid and electric powertrains.
As Bentley's Chairman and Chief Executive, Adrian Hallmark, commented, "When we first launched the W12 back in 2003, we knew we had a mighty engine that would propel both our cars and the brand forwards at speed. Twenty years and more than 100,000 W12s later, the time has come to retire this now-iconic powertrain," and "consign it to history."
Not of course, without a proper sendoff; the last of the W12 engines are being used for some special limited editions of each of its current models. While these are going to be extremely difficult to come by, we did manage to get our hands on one of the very last W12 sedans ever to roll off the production line at Bentley's famed factory in Crewe, England—the undeniably intimidating Flying Spur Speed.
Capable of doing 0 to 60 in 3.7 seconds with a top speed of 207 mph, it is nothing short of "the most powerful Flying Spur Bentley has ever built, and a clear contender for the fastest four-door car in the world." Christophe Georges, the dashing, French-born President and CEO of Bentley's operations in the Americas, notes that the four-door Flying Spur, which goes where GTs fear to tread, made up nearly 20% of Bentley's global sales in 2022. The Speed version is even more alluring.
"Speed has always been an important derivative in the Bentley model lineup," Georges tells us, dating back to the Speed 6 which debuted in 1926 and became Bentley's most successful racing model ever. "Speed has always stood for the most performance without any luxury compromise." Wisely, the Hybrid version shares a lot of the Speed's design cues, and cuts quite a dash on the road as well.
All of the above was front and center in our mind as we arrived at Bentley Washington D.C. in Ashburn, VA, the new 007-worthy, state-of-the-art dealership the marque opened last year, to pick up a Flying Spur Speed bedecked in Bronze paint with blacked-out trim and a two-tone Camel and Burnt Oak leather interior.
Equipped with Bentley's Touring Specification, top-of-its-class Naim for Bentley sound system, and black gloss illuminated Flying B mascot, among other bells and whistles, its price tag came to a cool $327,585; though since Georges tells us that the marque's final 12-cylinder machines are destined to eventually increase in value as collectors close in, this might come to represent something of a bargain.
Suitably enough, our itinerary for this history-making and perhaps last-of-its-kind excursion included some of the most storied and luxurious sporting retreats in the U.S., scattered throughout the rolling hills of Virginia foxhunting, fly-fishing and wine country; with our ultimate destination being the legendary Greenbrier resort in White Sulphur Springs, West Virginia, where Bentley was set to be one of the featured marques at the esteemed Greenbrier Concours d'Elegance.
Nothing we would encounter over the course of our weeklong road trip, or even at the Concours itself, could rival the Flying Spur Speed however in terms of its potent combination of power, prestige, pedigree and pulchritude. It's subtle, muscular opulence is a force to be reckoned with, and its aura sends waves out wherever it goes.
The bronze paint was subtle enough that it drew stares from the right sort of people, without attracting the antipathy of the rest. Gentlemanly Virginia is not the place to parade around in a bright orange Italian hypercar if you don't want to spend the whole time fielding dirty looks or getting pulled over; but an elegant, somewhat stealth-luxe bronze Bentley is in its element and perfectly at home in a locale where the priciest real estate cannot be seen from the road.
And keeping us in sublime comfort the whole way were the car's active all-wheel drive, all-wheel steering, and innovative Bentley Dynamic Ride system. After an overnight stop at one of Central Virginia's most historic havens, Prospect Hill Inn, set within an 18th-century gentleman's farm, we opened up the big W12 on our way to Primland, the incredible sporting estate originally built as a private retreat by the late oil billionaire Didier Primat, formerly one of France's richest men.
Now part of the impressive Auberge Resorts Collection, the 12,000 acre property—nearly as large as the country of Bermuda—in the Blue Ridge Mountains is a world-class, five-star, ruggedly elegant escape with a championship golf course, professional observatory, sporting club and more. Already legendary before the Auberge acquisition, Primland's next chapter is just beginning.
The property is so large that just traveling from the impressive main lodge to the sporting club constituted a scenic drive in its own right. Parking the Bentley by the rustic-looking, Orvis-endorsed field shop, we went in and selected a 20-gauge Beretta Silver Pigeon, our preferred gun for breaking clay pigeons. And there's no better place to do it than Primland.
Having done decently well on Primland's challenging clays course, we then repaired to the main lodge for a drink before dinner by one of the massive stone fireplaces that flank the great room looking out over the golf course. Dinner that night at Elements, the resort's first-class farm-to-table restaurant, was suitably celebratory.
A drink at the resort's 19th Pub—a reference to Primland's championship golf course—off the great hall, with its horsehair and leather barstools and outdoor terrace, is another must, either before or after dinner. The resort also has a private, world-class observatory where you can use their professional telescope to view the planets and Milky Way when conditions are right.
From there we climbed back in the Flying Spur and set the drive mode to Sport for a thrilling ride on windy country roads to Fort Lewis Lodge, a country getaway with history dating back to the 1750s, set on 3,300 acres with private fishing rights to a scenic three-mile stretch of the Cowpasture River. For a blend of historic charm and modern luxury this is the place to be.
It's also a working farm where much of what is produced is served in the property's restaurant in a converted mill building. After a visit to the riverside wood-fired sauna we retreated to our cabin and enjoyed a nightcap. We had been assigned one of the property's stunning new cottages, complete with a wood-burning fireplace, and there was no cozier spot to end the evening.
Fort Lewis Lodge's fishing draws enthusiasts from all over, especially because after a day on the river it's a short stroll back to your cabin and to drinks and dinner at the mill house. With a stop at the wood-fired sauna first of course. This is one property we cannot wait to return to.
During our stay at Fort Lewis Lodge we also motored over to The Preserve at Crooked Run to try out their award-winning, Orvis-designed sporting clays course, switching up on their advice to a Caesar Guerini shotgun of the type favored by the famed Vermont outfitters. With 475 acres and some impressive features including an infinity pool pavilion, we promised to return soon for some upland bird hunting and maybe a spot of fly-fishing as well.
Continuing on the next day, we traveled to Keswick Hall, which recently celebrated its 110th anniversary with a multimillion-dollar revamp. The elegant property, which has the feel of a private country estate, is located next to the home of the storied Keswick Hunt Club, where accomplished riders and gentlemen still practice the aristocratic sport in season.
With a championship golf course, multiple fireplaces, a library, beautiful marble-topped bar, and a dual-level infinity pool, among other luxe touches, it was a fitting place for the Flying Spur, which perfectly matched the air of sportsmanlike gentility pervading the place. And most appealing of all is the addition to the property of Marigold, the brand new restaurant from superstar chef Jean-Georges Vongerichten, which looks like it was transplanted from Napa Valley.
Jean-Georges has long been one of our favorite culinary masters, with his "simple to spectacular" ethos never failing to please in his restaurants from Soho to St Barths. Marigold mixes an elevated farm-to-table approach with masterful restaurant design, from the wood and stone exterior to the fieldstone fireplaces, wood-paneled ceiling, marble floors and insanely Instagrammable bar.
This place is bound to put Virginia on every true gourmet's map, and the Michelin Guide can't be far behind. The design is a "comfortable textural rustic chic'," with a visually arresting mix of wood and stone, a massive stone fireplace and hand-wrought lighting fixtures from L'Observatoire International.
From there it was on to our final destination, the incomparable, iconic, The Greenbrier resort in White Sulphur Springs, West Virginia. With history dating back 1778, the stately white-pillared mansion has played host to 28 U.S. presidents in the course of its many Gatsby-esque decades. Its landmarked interiors were designed by Dorothy Draper in the late 1940s, and The Greenbrier's grand reopening fête in April of 1948 drew the likes of the Duke and Duchess of Windsor, Bing Crosby, and various Kennedys.
Other notable guests have included Indira Gandhi and Prince Rainier and Princess Grace of Monaco, who likely enjoyed a glass of champagne under the massive crystal chandelier from the set of Gone With the Wind that hangs in the lobby bar. We certainly did, on more than one occasion.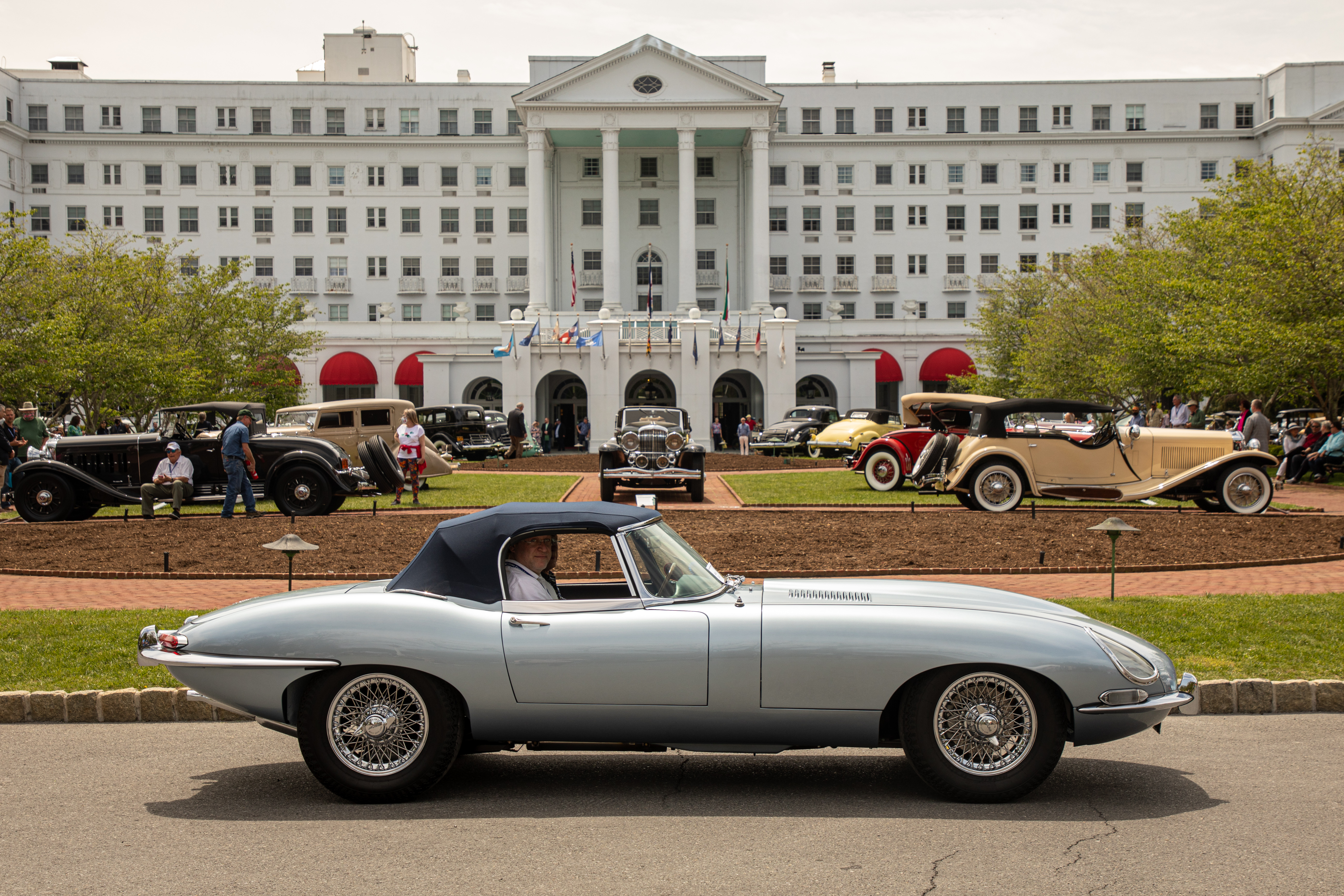 Here the Flying Spur was partly on duty, as the weekend we arrived The Greenbrier Concours d'Elegance was in full swing. Begun in 2018, the classic and luxury car event has "already gained a reputation for drawing out some of the finest cars and most interesting stories, while the elegant resort in West Virginia is the perfect backdrop for exceptional examples of motoring art," as Concours Year magazine put it.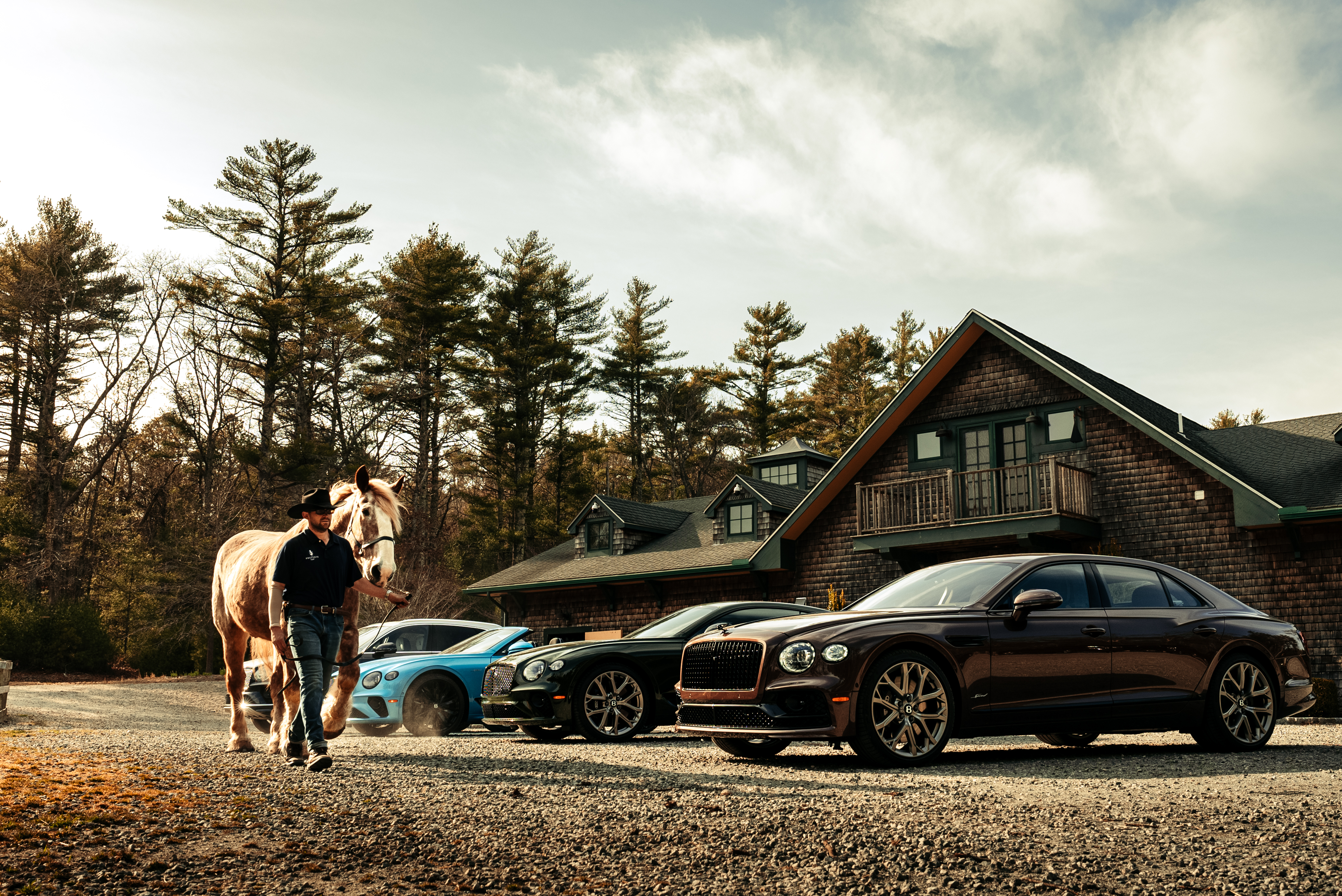 As one of the event's main sponsors, Bentley Washington D.C. had brought in a fleet of its newest and most beautiful vehicles, including a couple of other Flying Spurs in different trims—though we have to say ours was the most attractive, and was duly admired when we brought it to Bentley's Garden Party among other events.
As the resort encompasses some 11,000 acres, there is no shortage of gentlemanly, Bentley-worthy activities on property, from the championship golf course and croquet pitches to the Gun Club, where we honed our skills with the Beretta Silver Pigeon once more, opting this time for the five-stand setup.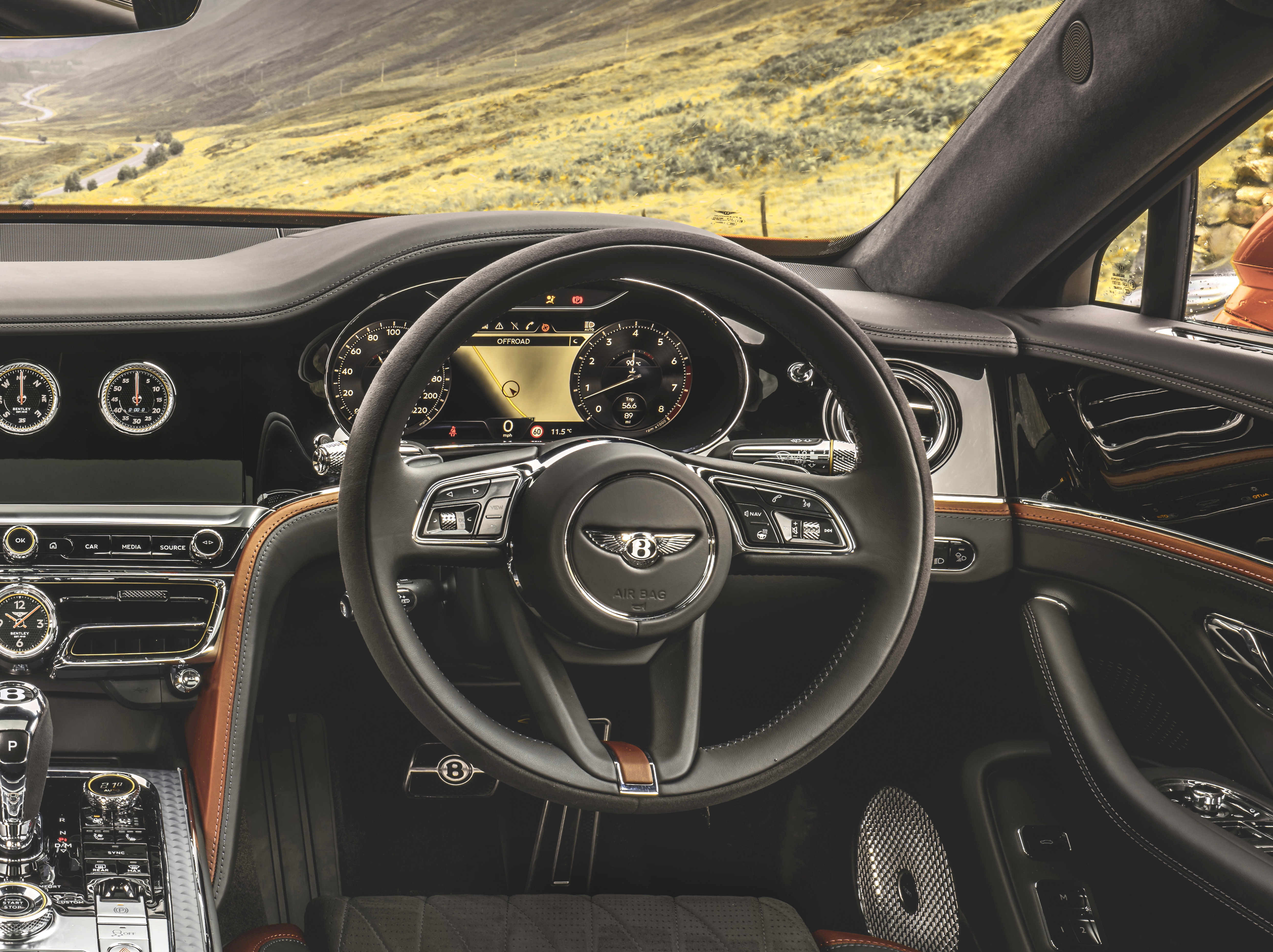 The Flying Spur was due back in D.C. the following day, but for one last afternoon it was ours and we made the most of it, whipping through the gears with the paddle-shifters on a drive alongside Concours entrants (and a few Ferraris) along for the ride as part of the Greenbrier weekend's Summit Drive.
Summit of course means the high point—and this, in essence, is the very definition of the W12 Flying Spur Speed.
This article originally appeared in the July/Aug 2023 issue of Maxim magazine.