This 5-Star Coastal Resort Outside Los Angeles is a Golfer's Paradise
The sprawling property boasts stunning views of Catalina Island, a championship golf course, world-class dining, and a superlative spa.
Hidden away about 40 minutes outside Los Angeles in the exclusive enclave of Rancho Palos Verdes is one of the most alluring and elegant coastal retreats in the country. Terranea, a 100-plus acre oasis on a private peninsula with the feel of a posh Mediterranean resort, is a five-star, eco-luxe property with views of Catalina Island, complete with world-class dining, a superlative spa, and a championship golf course.
Guests can get cozy at more than 228 outdoor fire pits and fireplaces located throughout the resort, which is peppered with swimming pools, gardens, private terraces, courtyards and scenic cliffside walks.
No wonder celebs like Mariah Carey, Ne-Yo, Usher, Orlando Bloom, Julia Garner, Selma Blair, Mariah Carey and Gwyneth Paltrow, among many others, have been flocking to the Mediterranean-inspired retreat since it first opened in 2009. And judging by the fleet of exotic vehicles parked in the front courtyard, a fair number of the movie biz's movers and shakers are also wise to it's charms.
Of particular note, guests can watch the sun rise and set over the Pacific Ocean all in a single day, thanks to Terranea's unique vantage point and panoramic coastal views. Accommodations range from hotel suites to red tile-roofed bungalows, oceanfront casitas and luxurious villas, adding to the Mediterranean feel.
One of the top-class suites which A-listers call home is the Shearwater Suite, which spans an incredible 1,800 square feet and features million-dollar ocean views with a spacious balcony. There's a library wall with a desk ideal for writing, a living room with 65" flat screen TV, a dining area for eight guests, a fully-equipped kitchenette, and even a telescope for spotting the marine life that frequently frolic just offshore.
Ralph Grippo, president of Terranea Resort, tells us that, "Our coastal location is unrivaled by any other throughout Southern California. Its 102 acres stretch across a peninsula surrounded by the Pacific Ocean, where you can see sunrises and sunsets in the same day while dolphins and whales are splashing at your doorstep."
He notes that, "We are very much focused on refining service levels and have committed a financial investment in service training at all levels, as well as enhancing luxury experiences." Those include "even more elevated water sport and land activities including a horseback trail ride through the Palos Verdes Peninsula followed by a picnic with scenic views of the mountains and coastline."
Terranea's buildings only occupy only one-quarter of its 102 aces, allowing guests to enjoy more than 75 acres of pristine—and priceless—natural landscape. The resort is home to extensive walking, hiking, and birdwatching footpaths along the scenic Discovery Trail, part of the Palos Verdes Peninsula trail system.
That's in addition to the Links at Terranea, a stunning nine-hole, par three golf course; an award-winning 50,000-square-foot oceanfront spa and fitness center; four ocean-view swimming pools and a 140-foot waterslide; a high-end luxury boutique; and eight dining venues including Mar'sel, one of the top restaurants in Southern California; the cliffside Nelson's; and the bravura Asian-inspired Bashi.
Mar'sel (a play on the Spanish word for "sea" and the French word for "salt") capitalizes on the bounty of Southern California from both land and sea, and locally-sourced ingredients including citrus and herbs from the resort's grounds, gardens and lemon groves; honey from its own bee hives; hand-ground chocolate; farm-fresh eggs; and fish fresh of the boats that ply the waters around the property.
The truly superb wine list reveals the reason for the multiple Awards of Excellence from Wine Spectator hanging on the wall, and the service is truly beyond compare. Champagne and caviar makes the perfect beginning to a menu from Michelin-starred chef Fabio Ugoletti, formerly Executive Chef at Cecconi's West Hollywood, who signed on as chef de cuisine last year, working with the Terranea's talented Executive Chef Andrew Vaughn, and tables can be had either in the rustic-luxe dining room or the expansive outdoor terrace.
The golf course meanwhile, designed by Todd Eckenrode of Origins Golf Design in Irvine, CA, has been named "Best Golf Course in the South Bay, Readers' Choice Awards" by the L.A. Times; "World's Best Golf Destination"by Departures magazine;"Development of the Year" by Golf Inc.; and was rated second in its class by Golf magazine, which noted that the collection of nine challenging par-3 holes "masterfully routes through the natural surroundings while integrating with one another."
The sprawling Spa at Terranea is a major draw for movie stars and others looking to leave stress behind. Designed to "embrace the natural beauty and energy of its Southern California oceanfront setting" while promoting wellness and restorative therapy, it features incredible views from both indoor and outdoor oceanfront relaxation areas.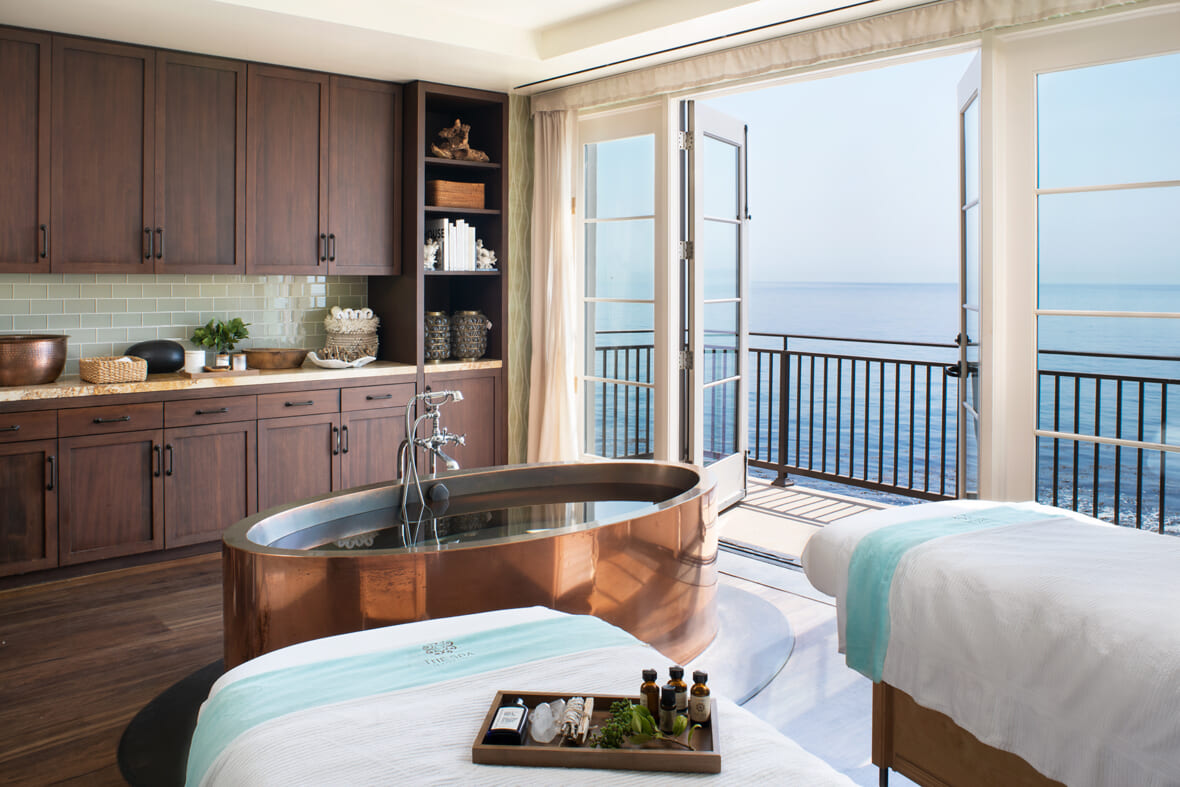 Featuring 25 treatment rooms including three VIP suites, along with a state-of-the-art fitness and wellness center, saunas, steam rooms, whirlpools, cold plunges, and fire pits. There are seaside yoga and cycling sessions in addition to a new sound-bath class and Sound Sleep treatments designed to help you regain your circadian rhythm and regain equilibrium.
California gray whales migrate just offshore from December through May, and blue whales take their place from May through November, making you feel miles away from the hustle and bustle of Los Angeles. Alongside the whales you can often spot pods of dolphins and other Pacific marine life from Terranea's picturesque coastal bluffs.
With it's considerable natural attractions and proximity to Hollywood, it's no wonder that the property has attracted film crews since the 1950s, when Lloyd Bridges starred as ex-Navy diver Mike Nelson in the TV adventure series, Sea Hunt. More recently scenes from Pirates of the Caribbean, The Aviator, Pearl Harbor and Charlie's Angels have captured the resort's dramatic landscape and oceanfront setting.
If golf isn't your thing, there are plenty of other cool activities including archery on the beach, and even a falconry program featuring encounters with falcons, Harris hawks, and Eurasian eagle owls. Expert falconers educate guests about the majestic creatures, from general identification to the important roles they play at Terranea and in the wild," the resort notes.
From birds of prey to boldface names, this is one resort that truly has something for everyone.