This 5-Star Paris Hotel Is A Luxe Left Bank Getaway
The revamped gem is situated in one of Paris' coolest neighborhoods.
To find a five-star hotel in Paris you often have to gravitate towards the Champs Elysées, which is usually too touristy for our tastes. We much prefer the super-stylish Saint-Germain-des-Prés, home to famed watering holes like Café de Flore and Les Deux Magots where the likes of Hemingway and Fitzgerald used to do their drinking, fighting, womanizing, and occasionally, writing.
One of the best-kept secrets in this neighborhood, which is also known as a fashion hotspot, is the Hotel Montalembert, a five-star boutique retreat with just 50 rooms and suites, famed as a luxe, intimate literary retreat.
Built in 1926, Montalembert was the very first five-star boutique hotel on the Left Bank and these days its history has been enhanced with contemporary design courtesy of its current owner, B Signature Hotels and Resorts. Located right next door to L'Atelier de Joël Robuchon, one of Paris' most famous Michelin-starred restaurants, it is also next to the renowned house of Gallimard, publisher of Proust, Kerouac, Steinbeck, and more recently, J.K. Rowling and Salman Rushdie.
Many authors and editors, journalists and fashion designers, as well as politicians who have their offices nearby, treat the Montalembert's bar and restaurant as a second home. Thus the restaurant and bar formed the key element of a major revamp to the property recently carried out by B Signature.
Jousse brought on architect and interior designer Pascal Allaman to renovate the restaurant as well as various other spaces in the hotel. His challenge was to maintain the Montalembert's storied atmosphere, "while writing a new chapter in an already rich history, in order to raise the hotel to the same level of the other establishments of the B. Signature Hotels & Resorts Group," Allaman says.
In the rooms and suites, Allaman "added warmth, to convey the feeling of staying at a friend's Parisian apartment," with cornices, moldings, and detailed doors added to "respect the aesthetic of the Parisian vocabulary."
The luxurious materials used include precious ebony wood, aged brass and bronze-patinated medal, orange and yellow leather, rich silk for the curtains, and lots of lacquer, while bathrooms abound in marble and teak.
The "Signature" Suites, including one with a view of the Eiffel Tower, are Jousse's work. She designed them as her "Parisian home base," with oak herringbone parquet floors, Utrecht armchairs by Gerrit Rietveld via Cassina, cushions and accessories from a favored Moroccan designer, and "many more objects she has discovered in her travels."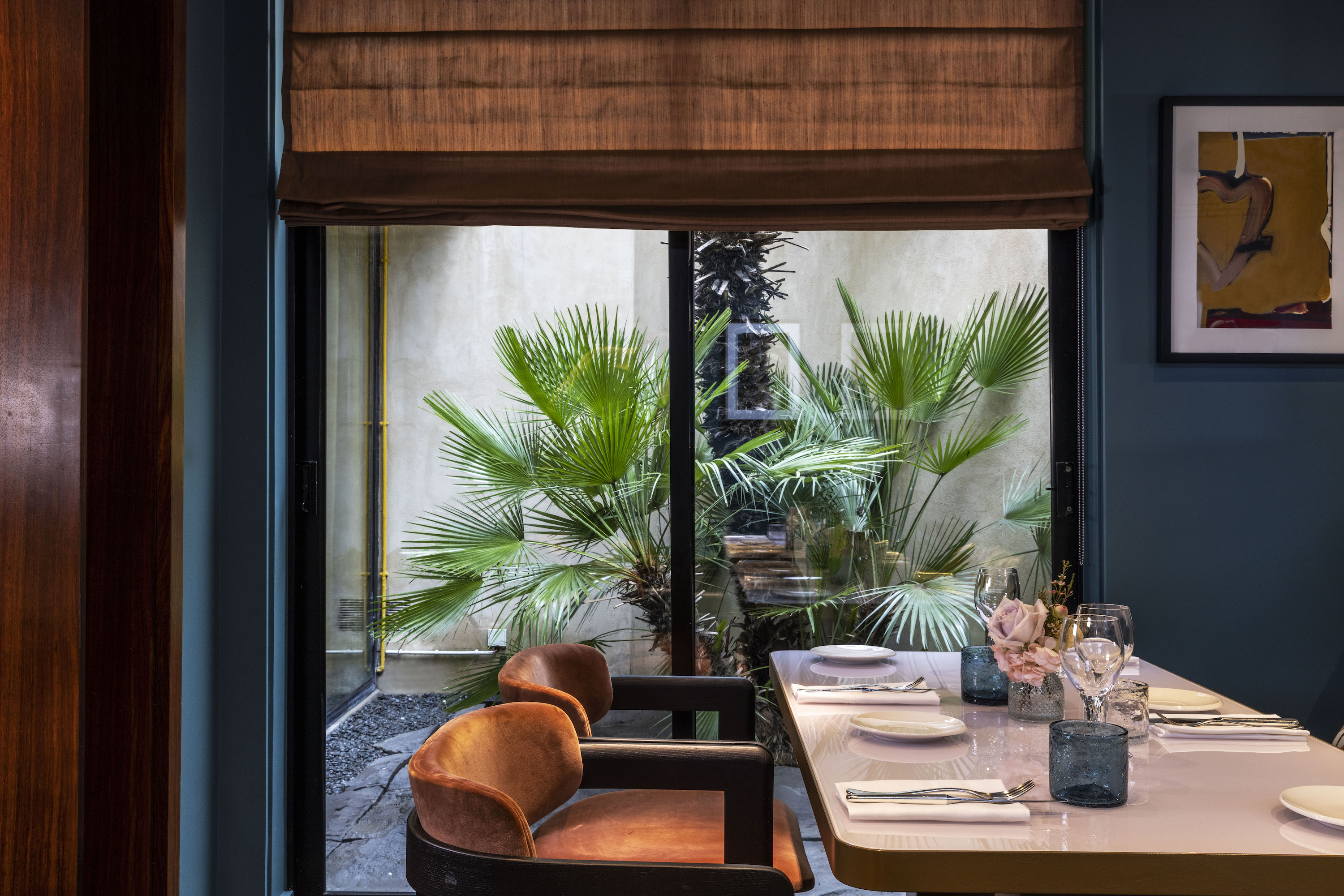 For the restaurant's renovation, Allaman and Jousse selected a white Carrara marble bar, set off by rosewood details. Allaman designed a sofa to position near the fireplace and library, while a sunny terrace evokes the neighborhoods café traditions. Chef Jérôme Jullion focuses on "seasonal products used in classic dishes, modernized in order to transport the diner to the present where they enjoy an incredible meal with family and friends."
"One of the most notable particularities of the Montalembert, is that it's a melting pot of three universes, political, artistic and literary," says Laurence Guinebretière, the hotel's General Director. "Political because our National Assembly (Congress) and many [ministers] are nearby, hence many politicians meet 'off the record' in our restaurant. Artistic, because many artists such as actors, singers, have chosen to live in Saint Germain des Prés. And writers because the famous publisher Gallimard is located on the same street as us."
"Every day in our restaurant and bar, there is a continuous intellectual exchange, everyone comes to seek discretion and yet they also hope to catch any indiscretion by someone they know," she adds, likening it to a French version of House of Cards.
As Jousse told Santé magazine, the hospitality ethos of B Signature "can be summarized in five phrases: Family Spirit; Generosity; Tailor Made; Elegance; and Dynamism." She states that, "you can be in the most beautiful place in the world, and if there is no emotion and you don't feel anything, you probably won't feel good. Emotion is very personal, but I think it can be transmitted in different ways."
She adds, "The most important one is the service which will be given by the staff, through the way they behave and by the way they are thinking about your needs. They have to work with their heart and not only with standards." To this end all B Signature Hotels & Resorts, which include seven hotels in Paris, Brittany, and St-Barths, adhere to the credo "luxury is an emotion, more than a product."