This Eco-Luxury Mexican Beach Resort Is Getting A Multimillion-Dollar Upgrade
Fairmont Mayakoba in Mexico's Riviera Maya is now on par with the world's top luxury retreats.
In the whole of the Caribbean, a handful of beach resorts have achieved truly iconic status for their privacy, luxury, and five-star features and amenities. These can be one-offs like the legendary Sandy Lane in Barbados, or pockets of exclusive properties that share a common dedication to excellence.
Among the latter, Mayakoba always ranks high on the list. The ultra-secure eco-luxe development on Mexico's Riviera Maya achieved its icon status long ago among elite travelers who treasure beautiful, natural surroundings as much as any A-list amenities. Mayakoba, Mayan for "city on the water", is comprised of four world-class resorts, some with private residences, and a Greg Norman-designed golf course on an impressive parcel of pristine oceanfront acreage, connected by a six miles of gorgeous lagoons and canals.
The very first luxury resort to open in Mayakoba, Fairmont Mayakoba, while still top drawer, had been beginning to show its age. Mayakoba is a natural fit for the storied Fairmont brand, which dates back to 1907 and has always had a strong connection to the land and communities. Now that's being revitalized in Mexico with a multimillion-dollar investment that set to make Fairmont Mayakoba one of the top beachfront luxury destinations in the world.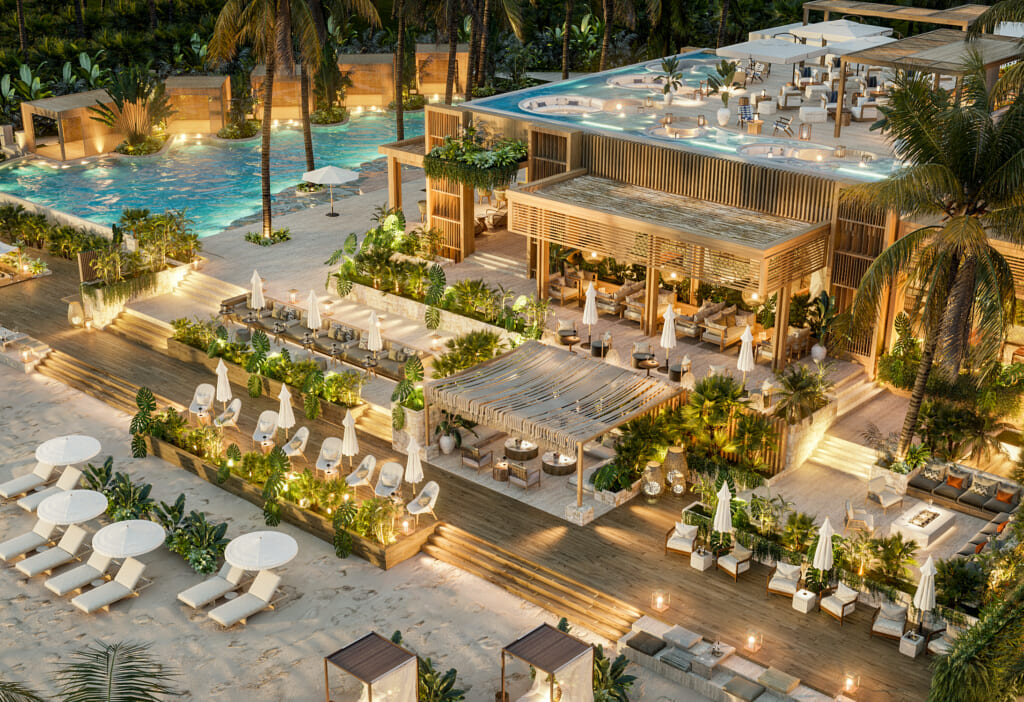 The 400-room property, set on 45 acres, already has AAA Five Diamond certification; and if they ever add a sixth diamond the revamped Fairmont Mayakoba should be first in line. The eight-figure upgrades include a full renovation of its public spaces and restaurants, as well as all 400 guestrooms and suites; and the addition of a new beach club, all to be completed by the end of this year.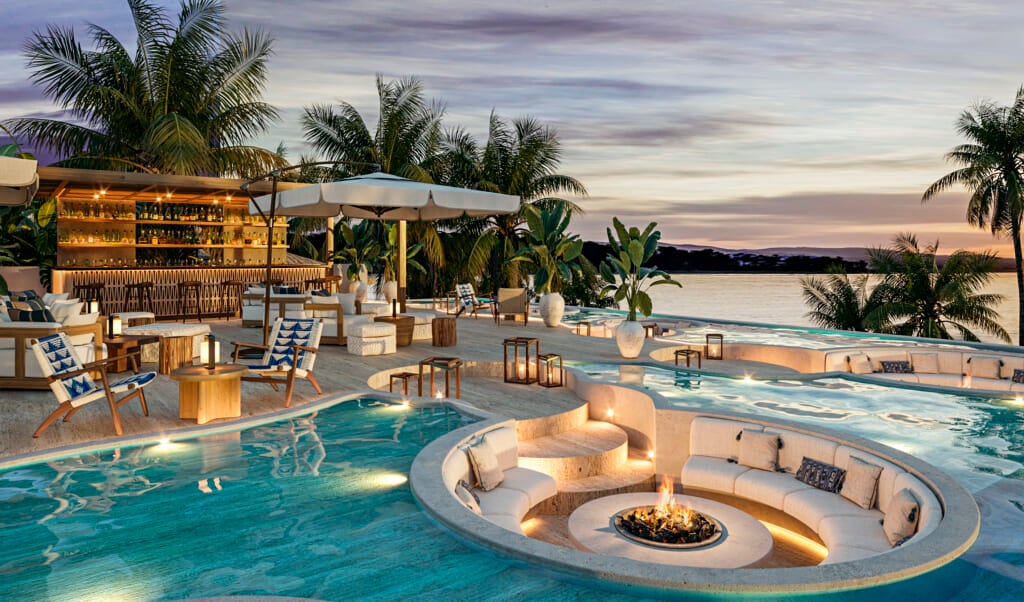 The beach club in particular is a design masterpiece. It will feature a main restaurant, various oceanfront terraces, and a rooftop with panoramic views and opulent private cabanas, among other highlights. To date, the main reception area, a total of 188 guestrooms, the new Hix Lobby Bar & Lounge, and new Tauro Steakhouse have been completed, and extremely well received.
Hix Bar & Lounge, located off the main lobby, features a relocated bar with a multilevel, 1,500-square-foot terrace, new custom furnishings, and new menu of cocktails and small plates, including sushi, fish crudo, and watermelon kampachi, making it the ideal spot for a drink upon check-in, after a dip in the main pool below, or to reconvene for a night cap. The vibe is that of a "modern Mexican hacienda set deep in the jungle."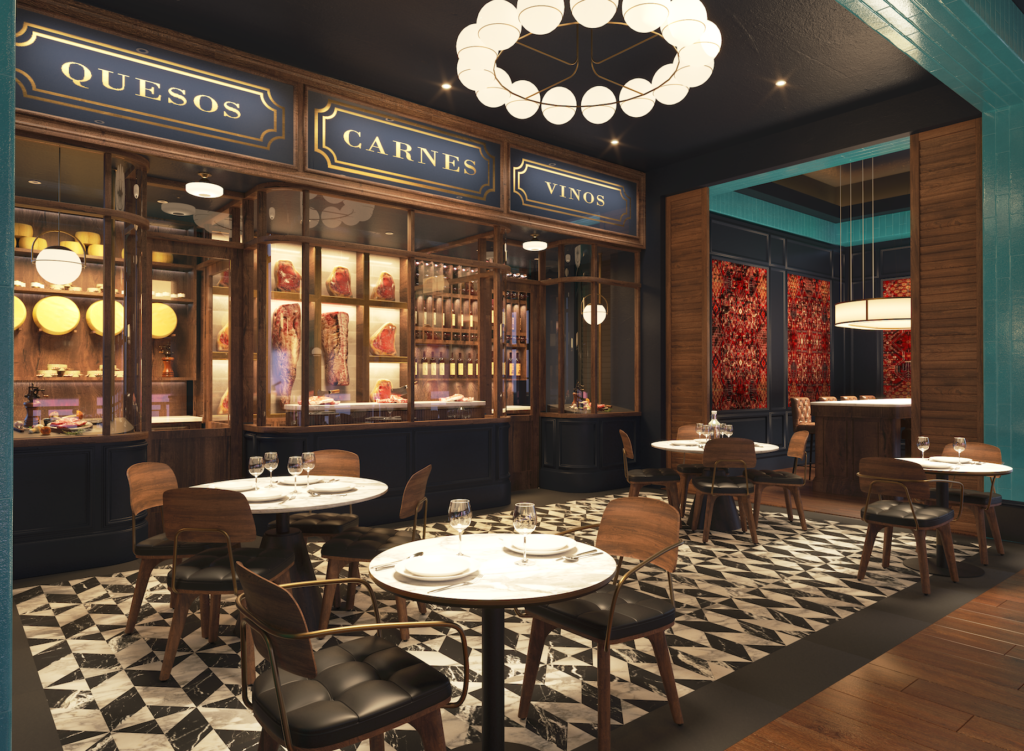 Tauro steakhouse is another culinary and design triumph, an elegant combination of "savage and sophistication"—i.e. classic steakhouse offerings but with Mexican ingredients and flavors. It features prime cuts, an in-house dry-aging program, a raw bar, and a Martini Bar, with an interior design scheme intended to "evoke a modern speakeasy with Parisian influences."
Natural and painted wood accents, along with richly-colored velvet and tile and retro-modern fixtures, all from Spain's Room 1804 Design, manage to evoke both the urban sophistication of Mexico City, and the lush jungle and oceanscape in which the resort is set.
Standout menu items include foie gras poêlé, a pan of foie gras with almond crumble, pineapple & aged rum; a dry-aged bluefin tuna steak sourced from Baja California; and a bison filet served with your choice of sauce and sides.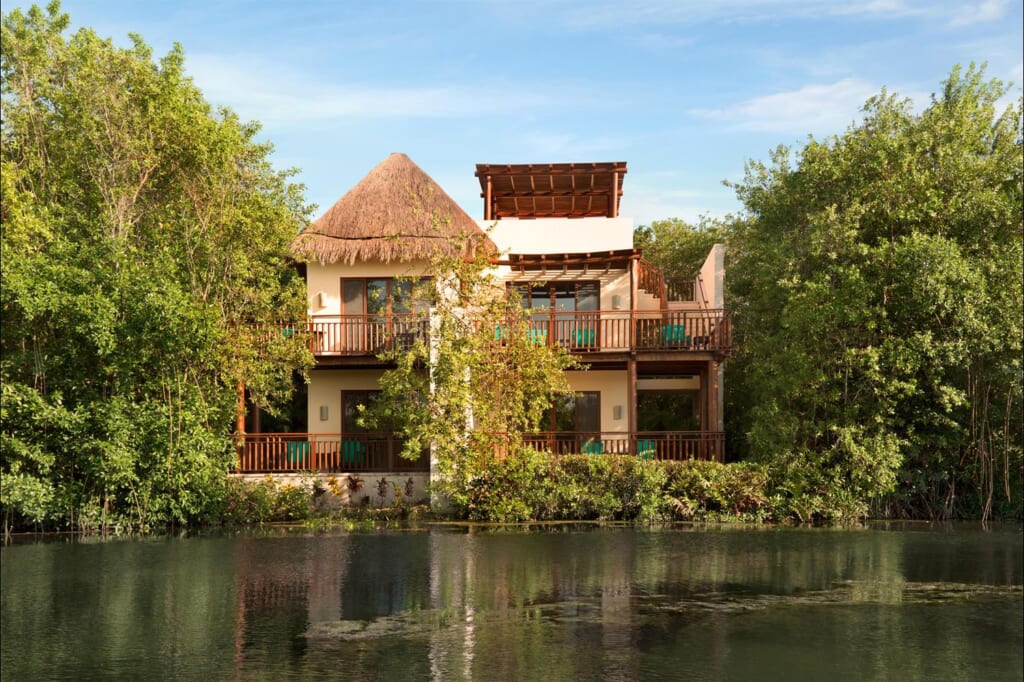 The property has several different room and suite categories, with the top-class accommodations akin to private villas, or casitas in local parlance. On the upper end of the spectrum are the Beach Front Casitas, at 587 square feet, the Beach Area Suites, at 1100 sq. ft., the Beach Front Suites and Beach Front Premium Suites, at 963 to 1,075 sq. ft..
At the very top, the Specialty Suite at 1,495 square feet, and two Presidential Suites, at 2,130 square feet and 2,205 square feet. All come with personal butler service, of course. And that's not including the property's luxury residences, which offer three or four bedrooms, at a massive 3,800 and 6,300 square feet, respectively, and are located in the main hotel building.
If you're a CEO, A-lister, or other boldface name and want to stick with the hotel's classic decor, the Presidential Suites and Residences are obviously the way to go. Both Presidential Suites are nestled on their own private islands, while the Specialty Suite, dubbed the Coral Suite, offers the hotel's new signature upscale beach look that will be echoed by the new beach club and attendant facilities.
The beach club's new restaurant, done completely in neutral tones for an upscale Tulum vibe, will be complemented with other F&B options including Trattoria, a stylish Italian eatery with a casual setting serving homemade pizzas and pasta; and Cafe Maya, a coffee shop with Mayan influences to satisfying cravings and caffeine fixes between meals.
The La Laguna restaurant meanwhile will be set directly on the lagoon, offering a dining experience where you'll feel as if you are literally floating on the water. That will be adjacent to the new main pool complex, while the beach club will offer three seaside pools of its own. And of course every new public space will have a picture-perfect bar near to hand.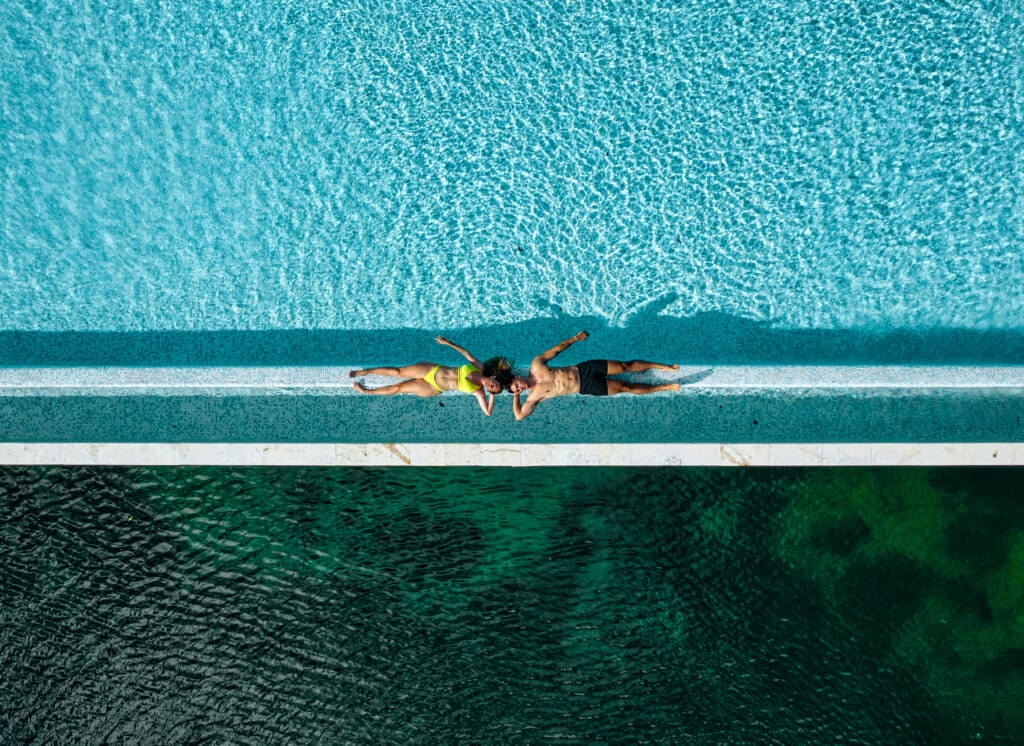 Relaxation has always been a key element of Fairmont Mayakoba. Its renowned Willow Stream Spa, with a jungle setting, is a designed to be a "mystical backdrop for an unforgettable spa experience that recalls the textures, colors and scents of ancient Mayan culture."
Willow Stream's ethos is centered on the five elements: air, water, earth, wood, and fire, whose characteristics are incorporated into all of its treatments "for optimum well-being, health, and energy."
And last but not least, many Fairmont guests take advantage of El Camaleón, the 18-hole, par 72 golf course designed by Greg Norman that's and home to Mexico's PGA Tour. Its fairways are lined with dunes and mangroves, while challenging elements like cenotes, the area's storied subterranean caves, and crystal clear lagoons make it anything but the usual links experience.
Whatever your handicap and your score, this is one excursion you're sure to boast about in the bar afterwards.