This Miami Wellness Resort Has A Top-Tier Spa & Unique Underwater Meditation Therapy
The Carillon Wellness Resort is renowned for its 70,000-square-foot spa and wellness center that's billed as the biggest on the East Coast.
Miami boasts a famously impressive array of luxury hotels, from South Beach stalwarts to downtown high-rises. But while many travelers come for Miami's beautiful beaches, vibrant nightlife and tropical energy, others seek a more relaxing and restorative experience.
The Carillon Miami Wellness Resort, nestled on a quiet stretch of Collins Avenue about 15 minutes north of South Beach, caters to such health-conscious guests with its signature "luxury wellness" concept.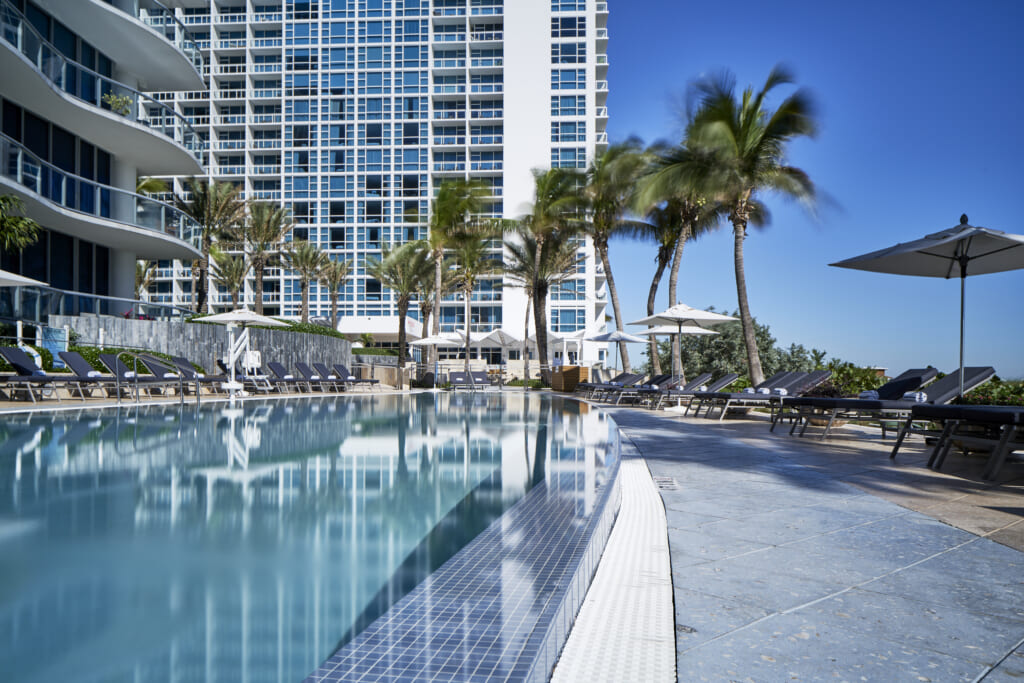 This all-suite, 150-room beachfront hotel is aimed at those who want to prioritize health over the hedonism of buzzier Miami hot spots. The Carillon's old-school neon signage overlooks a pristine white sand shoreline in North Beach with easy access to miles of paved running and walking paths.
The hotel opened in 1958 after being designed by Miami Modern architecture pioneer Norman Giller, and was a Canyon Ranch and Spa before being rebranded as the Carillon in 2015. The property is renowned for its world-class spa, touchless wellness treatments, Biostation health facility, and quirky events like a guided underwater meditation/piano concert in its rooftop saltwater pool.
Here, a closer look at five highlights of the Carillon Miami Wellness Resort.
The Spa & Gym
Open to all hotel guests, the award-winning, 70,000-square-foot Carillon spa and wellness center lays claim to being "the largest on the Eastern Seaboard." The sprawling spa boasts an expansive Thermal Hydrotherapy circuit with private men's and women's hot and cold areas. Spa amenities include a classic Finnish Spa lined with fragrant wood, a Crystal Steam Room with aromatic essential oils, Igloo showers, hot tub, foot spa, thermal loungers and invigorating rain showers.
It's the ideal place to relax after a spa treatment or workout at the hotel's two-story gym, stocked with state-of-the-art Technogym equipment, an indoor rock climbing wall and floor-to-ceiling windows with ocean views from the row of elliptical machines, treadmills and stationary bikes.
Guests can further detox by booking traditional and specialized spa treatments including cupping, acupuncture and a wide variety of singles and couples massages. Choose from deep-tissue, Himalayan Salt Stone, Quartz, Swedish, aromatherapy, maternity and reflexology for 50 or 80 minutes. There's also a 20-minute neck, back and shoulder massage if you're pressed for time, but when you're luxuriating in a spa as nice as this one, why rush?
Touchless Wellness Treatments
The Carillon's touchless wellness treatments are where the property really starts to distinguish itself, with unique options that are billed as providing a myriad of health benefits, ranging from reducing stress and stimulating circulation to improving concentration and creativity.
A whole body cryotherapy chamber called "Everest" uses arctic temperatures and artificial winds for a bracing icy blast–just be sure to wear the required shoes, socks, headphones and mask to prevent frostbite before stepping inside the soda machine-sized chamber.
While you're still buzzing from that bone-chilling adrenaline jolt, warm up in a private Halo Therapy sauna (a treatment two-fer known at the hotel as "Fire and Ice"), where therapeutic orange lighting and a fine mist of salt air provide added health benefits. The Halo Therapy sauna's actual hotness, however, can leave something to be desired, so dedicated heat seekers should be sure to hit the Finnish Sauna in the main spa.
The 20-minute Salt Bath Float treatment takes place inside a large clamshell-like contraption, in which you float effortlessly as your mind wanders and ambient lighting goes from blue to green to purple and back again.
The 20-minute Somadome is in a slightly smaller clamshell equipped with headphones allowing you to listen to a guided meditation while zoning out to yet more ambient light therapy. Other touchless offerings include Prism Light therapy, Vibration Therapy, and Sleep Therapy on a "Quantum Harmonic Sound Therapy" table.
Be sure to sign up for the hotel's monthly Mind Travel Underwater Floating Meditation and Live Piano Concert in the hotel's rooftop saltwater pool–one of four pools at the property. Float on your back and chill as atmospheric synth music is piped underwater before a soothing guided meditation and piano recital by multi-disciplinary artist Murray Hidary commences. Afternoon and evening sessions are available, both of which tend to sell out quickly.
The Biostation
Aside from an excellent spa and gym, The Carillon also features The Biostation, the hotel's signature anti-aging and medical wellness center. Guests can book a replenishing b12 IV therapy here while lounging on an overstuffed leather recliner in a well-appointed facility that's reminiscent of a really nice doctor's office.
Biostation staffers can measure more than 100 biomarkers–via diagnostic blood testing and a high-tech body measurement scale–before recommending a comprehensive health plan for clients. They also offer treatments focused on testosterone replacement, HGH and peptide therapy, hormone replacement therapy, and more. 
The Rooms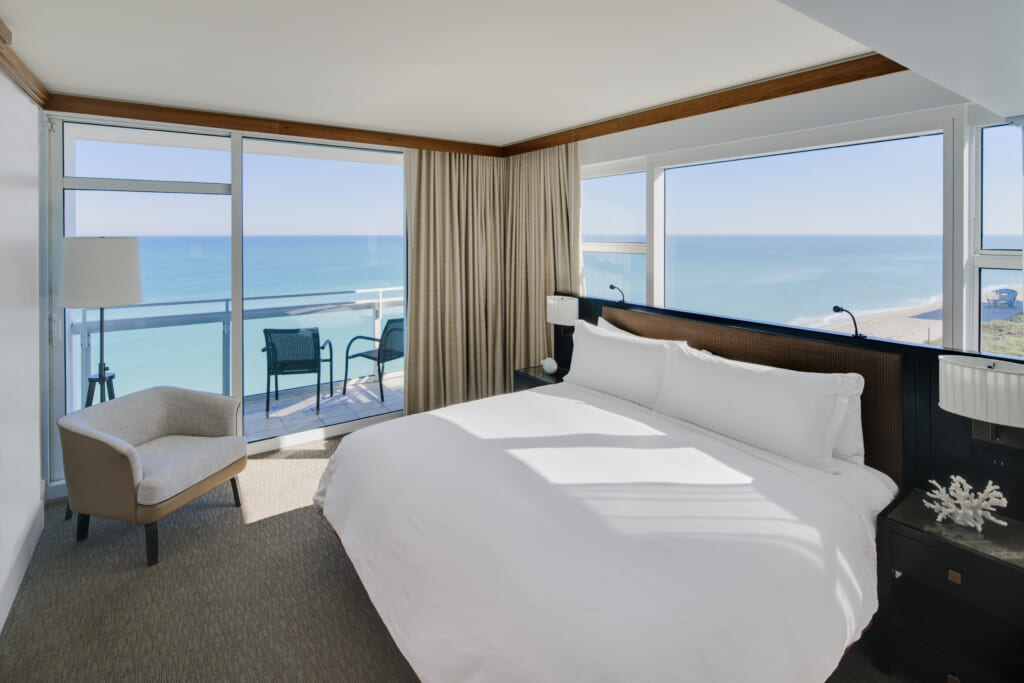 The Carillon's generously-sized, apartment-style suites range from 720 to 1,200 square feet and feature mini-fridges, kitchen sinks, ovens, dishwashers, dryers, coffee makers and kitchen islands with stools. Those islands come in handy if guests stock up on snacks from the Corner Store lobby coffee shop, or, better yet, at the full-sized Publix supermarket right across the street.
The rooms notably feature balconies overlooking the beach, the saltwater pool and Collins Avenue. There are also floor-to-ceiling windows, rainfall showers, deep soaking tubs, Geneva Green bath products, and wall-mounted flat screen TVs in living rooms and bedrooms. But, given that this is a wellness hotel, there's no minibar stocked with booze or junk food, and smoking on the balconies is strictly prohibited.
The Food
The Carillon's sole restaurant, The Strand, likewise adheres to a healthy lifestyle mindset while serving Mediterranean-inspired fare inside a neutral-toned dining room and a courtyard facing the beach. During a recent visit, the best bet may have been the "Wellness" special–a simple slab of grilled or pan-seared fish, chicken or beef paired with hulking sides of sauteed vegetables and rice or potatoes.
The well-seasoned branzino was a standout, and a 20-oz. cowboy steak, pizza and pastas were available if you veered off the wellness route. The closest thing to dessert offered was a bittersweet chocolate quinoa breakfast bowl with banana, strawberries and blueberries. However, it should be noted that The Carillon recently hired chef Tristan Brandt, a veteran of two Michelin-starred eateries, to launch a new restaurant that will hopefully elevate the hotel's cuisine to match its standout spa offerings.