Inside California's Stealth-Luxe 'O.G. Health Spa'
The exclusive Golden Door spa counts Howard Stern, Liev Schreiber and Rupert Murdoch among its famous fans.
Just outside San Diego lies one of the most exclusive spa retreats in the world—Golden Door. The stealth-luxe enclave occupies a priceless 377 acres and has been quietly hosting A-listers since it first opened in 1958. As the Hollywood Reporter put it, "Before there was SoulCycle and quickie Botox, there was Golden Door, the O.G. health spa that helped give rise to today's $4.2 trillion wellness industry."
In 1960, Golden Door staged its very first Men's Week, with the likes of Burt Lancaster and William Holden attending the inaugural edition. These days, Men's Week costs a cool $11,950—with 100 percent of net profits going to philanthropic causes courtesy of the current billionaire owner—and it's more popular than ever with movers and shakers from Hollywood and beyond, including Rupert Murdoch, Howard Stern, and Liev Schreiber (Golden Door never reveals the names of guests).
And the property, which has already been named the World's Best Destination Spa, is likely to attract even more boldface names now that it has unveiled a multimillion-dollar renovation that includes a complete overhaul of the bathhouse, aka the spa, and pools, as well as updates and enhancements to all 40 guest rooms and numerous gyms.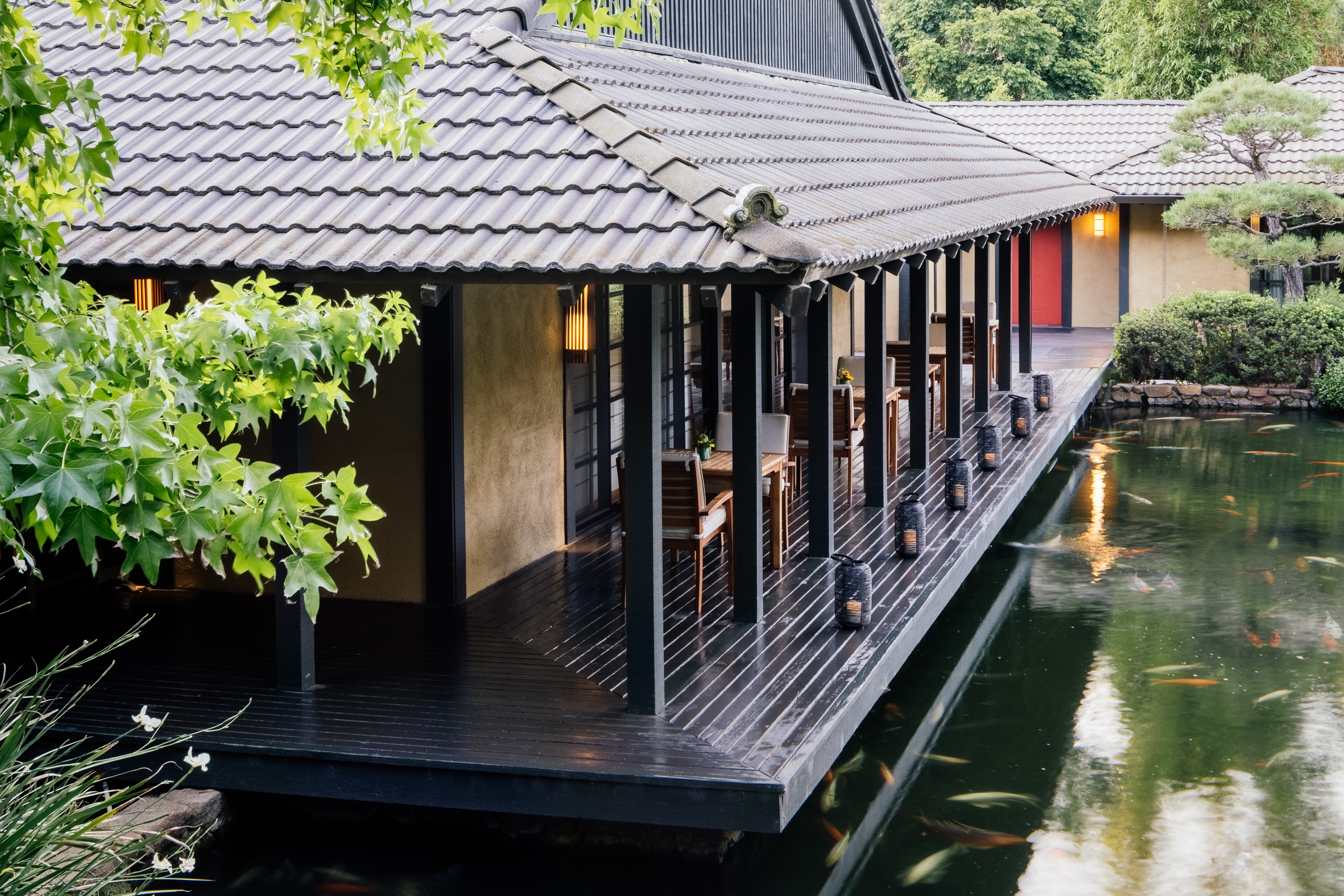 The Zen-like retreat feels like you've been transported to the Japanese countryside, as it's carefully modeled on a traditional ryokan, or Japanese inn, often located near hot springs. With its authentic Wayo Kenchiku buildings, (Japanese-style architecture), peaceful courtyards, dozens of fountains, koi ponds, 30 miles of hiking trails, and more, its a truly transportive experience. There is a 5:1 staff/guest ratio and a maximum occupancy of 40 guests per week.
Male bonding meets health, fitness, wellness and self-discovery during Men's Week. As Liev Schreiber told Leo, "There is a truly authentic culture of generosity and compassion at the Golden Door…. It felt like a really big part of the growth and rejuvenation we experienced in our week together." It's completely up to you whether you want to spend the week relaxing by the pool or working out in the gym, but daily massage sessions, foot treatments, and whatever else you desire are on tap.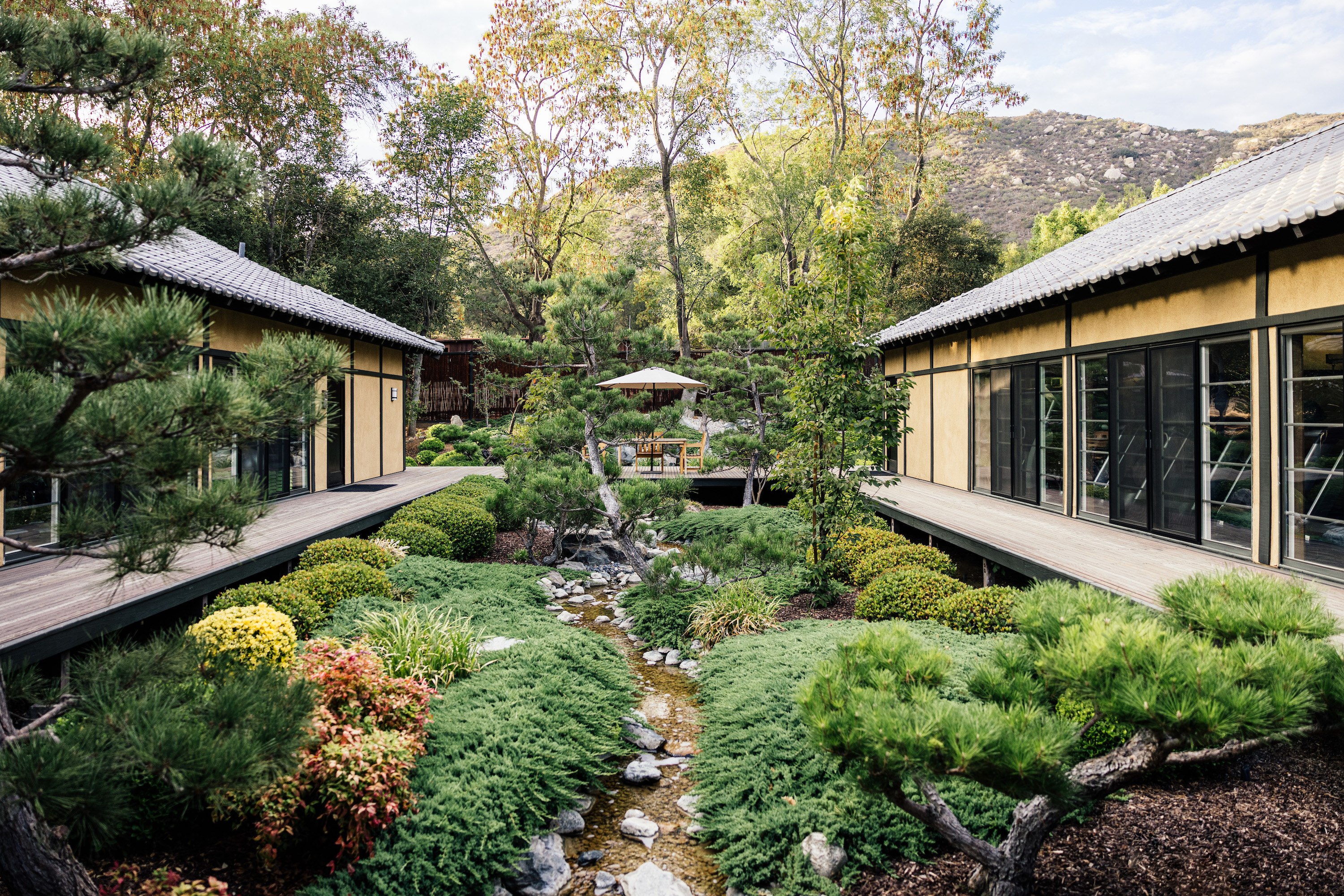 San Diego-based designer Kristine Smith oversaw the renovation project, "keeping true to Golden Door's rich history and Japanese aesthetic… [And] striking a balance between the inherent rustic nature of the traditional bathhouse and a more refined space." The bathhouse, or main spa building, now has private dressing rooms, new tile, flooring, and a new Jacuzzi, steam room and sauna.
"In the Jacuzzi area, the design challenge was to brighten up the space and bring the outdoors in," the property notes, "accomplished with lighting and a first-of-its-kind visual healing space that features time-lapse captures of nature directed by artist and renowned filmmaker Louie Schwartzberg," a Golden Door regular.
Other new amenities to the bathhouse include a soaking tub, "where you have a choice of soaking in a warm cherry blossom bath, used for its high antioxidant and skin soothing benefits or to take a cold mood boosting plunge soak with epsom salts to benefit faster muscle recovery, better sleep and to enhance your immune system."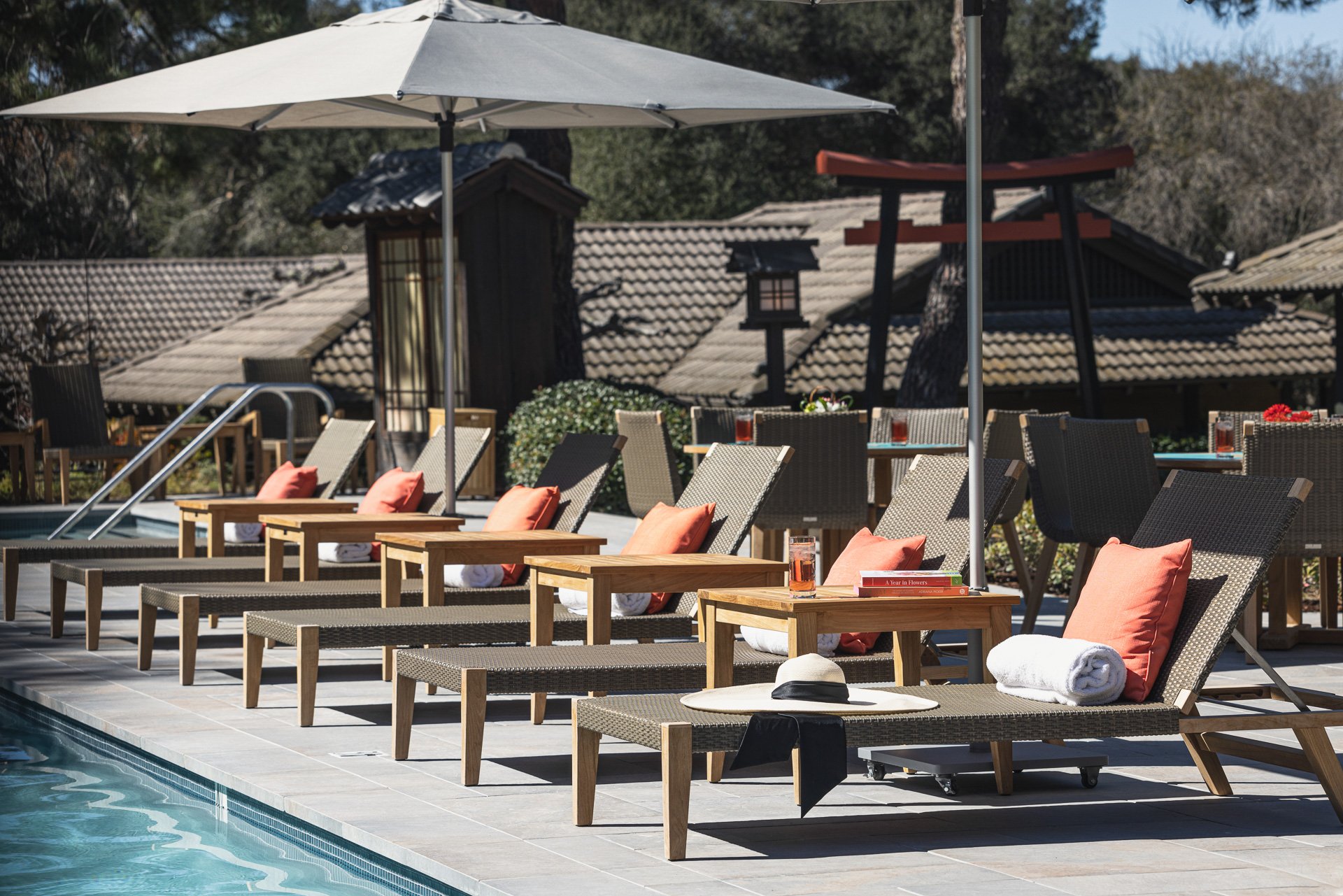 The new wet room houses a seven-hose Vichy shower, which can be experienced with Golden Door's body scrubs and signature body treatments; and a LightStim LED experience room offering a full-body treatment to promote overall wellness and peak physiological function, which helps to accelerate recovery, relieve pain, increase blood circulation and energize and restore balance for optimal skin function, along with anti-aging benefits.
"We know in today's hectic high-stress world, the benefits of reducing stress and the elimination of toxins is the key to longevity, said Kathy Van Ness, Golden Door's COO/GM. "Our bathhouse in an integral part of our wellness programming. Reimagining the look and feel, and bringing in new technologies will enhance our guests' experience."
"Based on your goals," a typical day at Golden Door might include a morning hike, afternoon water aerobics, guided meditation, an anti-aging facial, a pedicure, customized workout, yoga, water polo, archery, and organic meals custom created by Executive Chef Greg Frey, formerly of the famed Bernardus Lodge in Carmel Valley, CA.
The gregarious Frey creates healthy, delicious meals—you select the portion size—with almost all ingredients grown or produced on site. Golden Door's acreage allows it to have a full bakery, on-site chicken coops for heirloom breeds, biodynamic gardens, certified organic citrus orchards and even an ancient transplanted olive grove.
All of which goes a long way towards "proving that Golden Door remains singular—the one and only—offering an experience that is exclusive, highly-personalized and a welcome throwback to quieter, unplugged times," as the property puts it.
"The Golden Door experience empowers each guest to achieve a healthy mind, body, and spirit." There are no TVs in the Japanese-style rooms, and while cell phones are not banned they are expected to remain out of sight in public.
Some guests return to Men's Week three times a year, racking up dozens of repeat visits (and sky-high bills). "I needed a break, a time for me, a time to refocus," notes Ludo Lefebvre, a chef, restaurateur and author.
"I've now been back to Golden Door year after year, as it's the one rare time in our modern time that you can spend time solely focused on 'you.' A little forced self-love is great for you anyway and I have told my wife it's just something that needs to be in the budget every year."
The Golden Door attracts not only famous names, but movers and shakers in various industries, with perhaps the most coming from California's entertainment and tech sectors. These types especially appreciate the guaranteed anonymity on property, as a confidentiality agreement prevails and no one is allowed to take photographs without prior consent.
The $11,950 per week tab includes various treatments/services, classes, meals, and private car transportation from the airport. Specialized consultations, including sleep and nutrition, are available for an extra charge, and you are expected to tip the entire staff generously at the end of your stay, which can easily add another $1,000-plus to the total cost. To say that it's well worth it might be the understatement of the century.