Tulum Finally Has a True Five-Star Luxury Resort
With eleven bars and restaurants and a world-class spa, the Conrad Tulum Riviera Maya is a top-shelf Mexican getaway.
While Tulum in Mexico is an undeniably gorgeous locale, with its beach-meets-jungle vibe, haute bohemian style and achingly beautiful beaches, visiting can at times be an expensive, inconvenient and even annoying proposition, what with the distance, traffic, crowds, constant partying, inflated prices, and security concerns—not to mention the basic lack of amenities and services even at hotels charging $1,000 or more per night for a room.
Some discerning travelers just aren't willing to forego reliable A/C and wifi and endure the frequent power interruptions that come with being in the thick of things on Tulum Beach. So it's no surprise that Conrad Tulum Riviera Maya, the immediate area's very first true five-star beachfront resort, located on several extremely private and secure acres, less than 20 minutes up the coast from Tulum's famed Mayan ruins.
Marking the debut of Conrad—the hippest brand in the Hilton luxury portfolio—in the Mexican Riviera, the 349-key Tulum property features five swimming pools, a spa complex ,five restaurants and six bars, spread along a huge swath of pristine beachfront within its own protected bay on the bright blue Caribbean.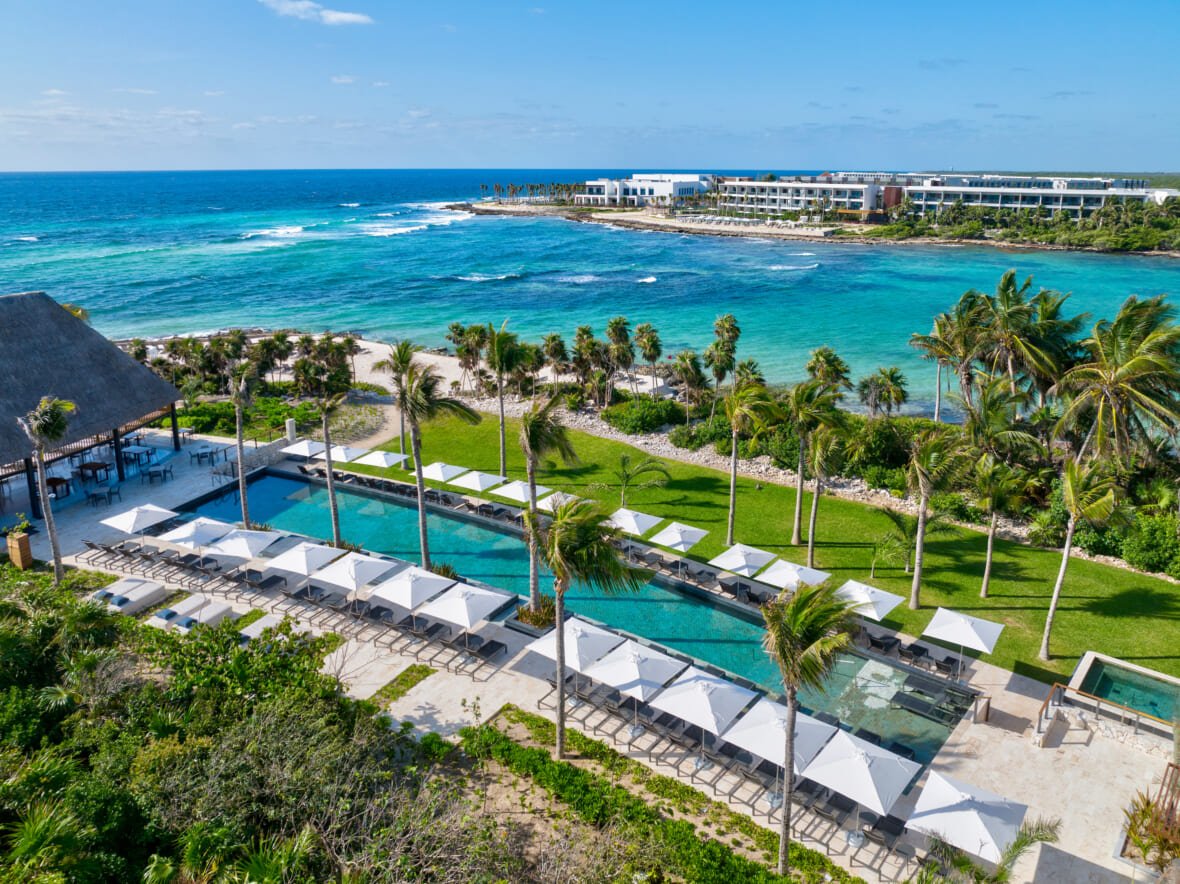 Guests also have access to the adjacent Riviera Maya Golf Club. "Conrad Tulum Riviera Maya represents so much of what we strive for in our ever-expanding brand portfolio," as Hilton's chief brand officer Matt Schuyler puts it. "Bold and locally-inspired design, innovative culinary offerings and fulfilling, meaningful experiences for our guests."
Upon entering the lobby, guests pass through massive, ornate wooden doors, "engraved by local artisans, and are immediately greeted by sweeping ocean views and an immersive art installation, a nod to ancient Mayan architecture and Tulum's surroundings," the property notes.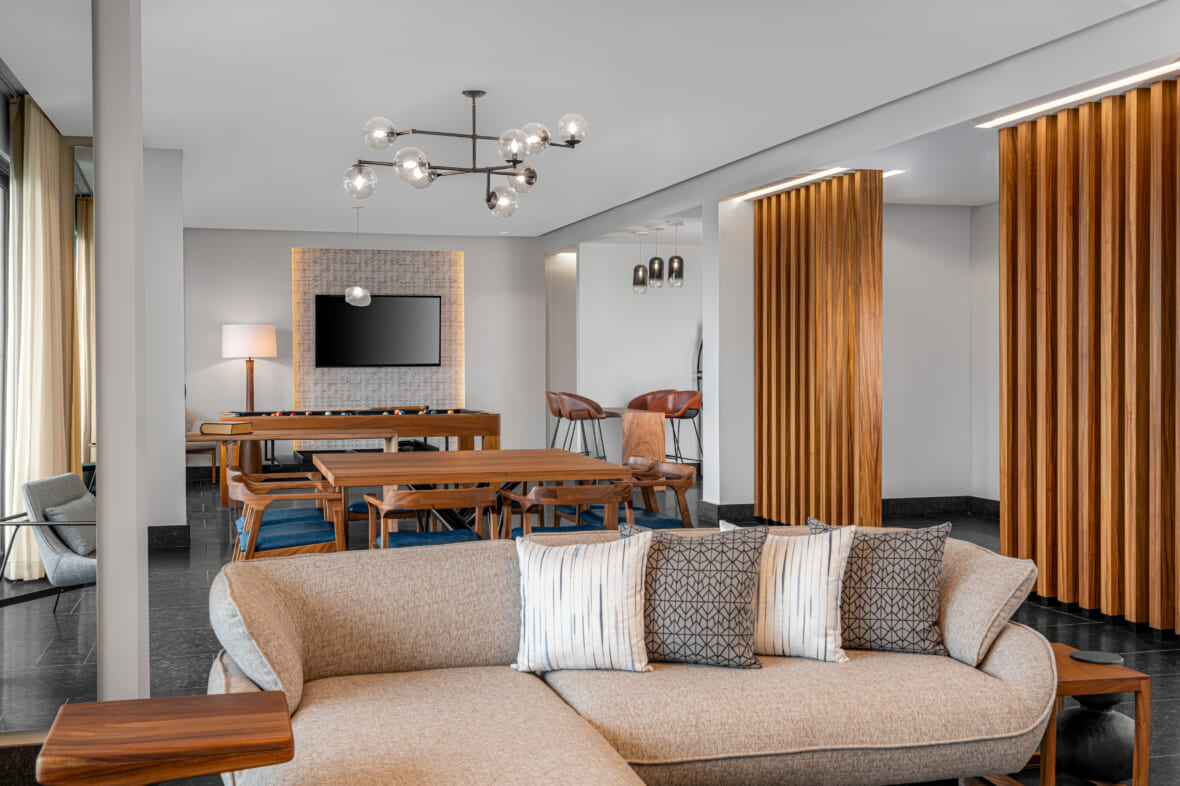 The nature-loving theme continues in the hotel's elegant guest rooms, "incorporating organic elements such as stone, wood and metal." Floor-to-ceiling windows with sweeping ocean views, private balconies—ground floor rooms have plunge pools—and signature touches like Mexican Day of the Dead-inspired design elements abound.
Those opting for more spacious, higher-end suites enjoy penthouse-sized living rooms and adjacent dining area for up to eight people, and pool tables in the highest-end accommodations, as well as a spa-inspired master bathroom complete with soaking tub and rainfall shower.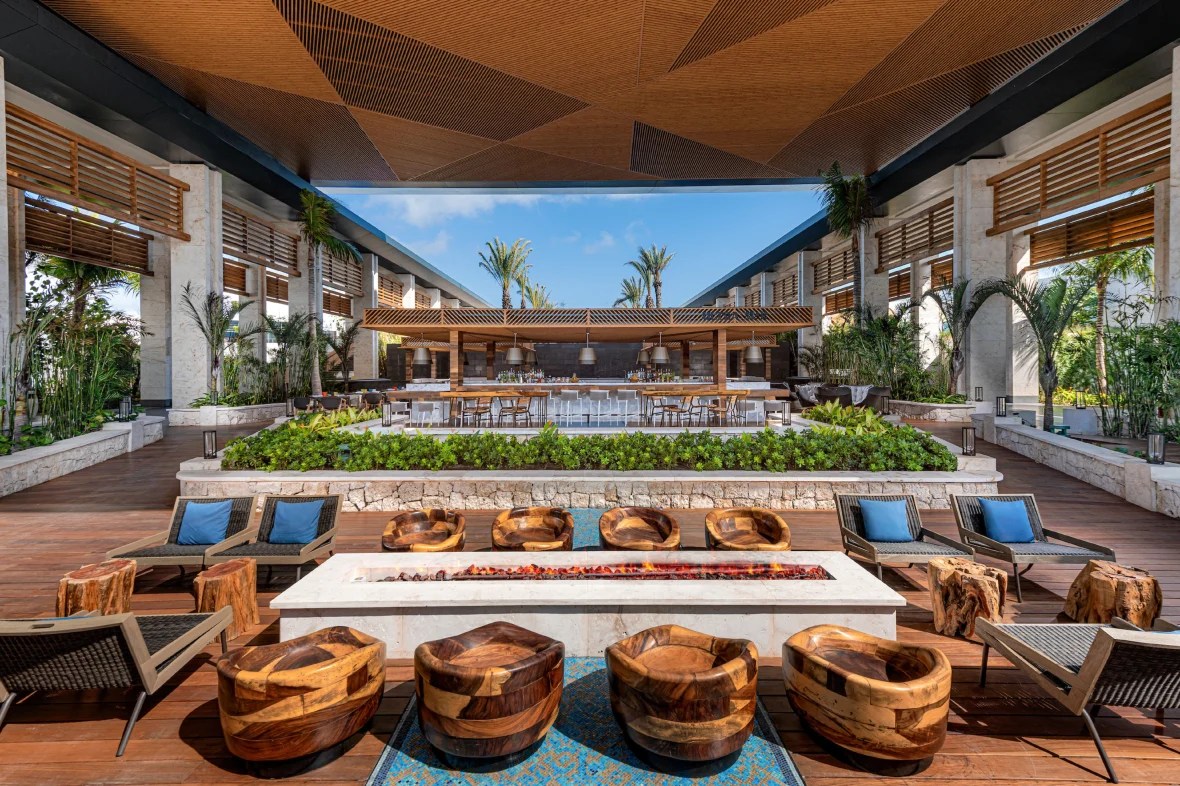 The property notes that its eleven exquisite restaurants and bars are a "destination unto themself," with globally inspired fare ranging from casual poolside snacks to world-class cuisine, accompanied by regional wines and spirits and refreshing tropical cocktails. The stunning Ultramar pool bar complete with fire pits sets the tone at the heart of the resort.
Adjacent to Ultramar is the Chaak Bar, named after the Mayan rain god and inspired by the sacred Mayan cenotes (water-filled sinkholes), with an emphasis on agave spirits and a Moët & Chandon champagne vending machine; and Cafetal, an upscale café and market is inspired by the traditional Mexican open-air Tianguis.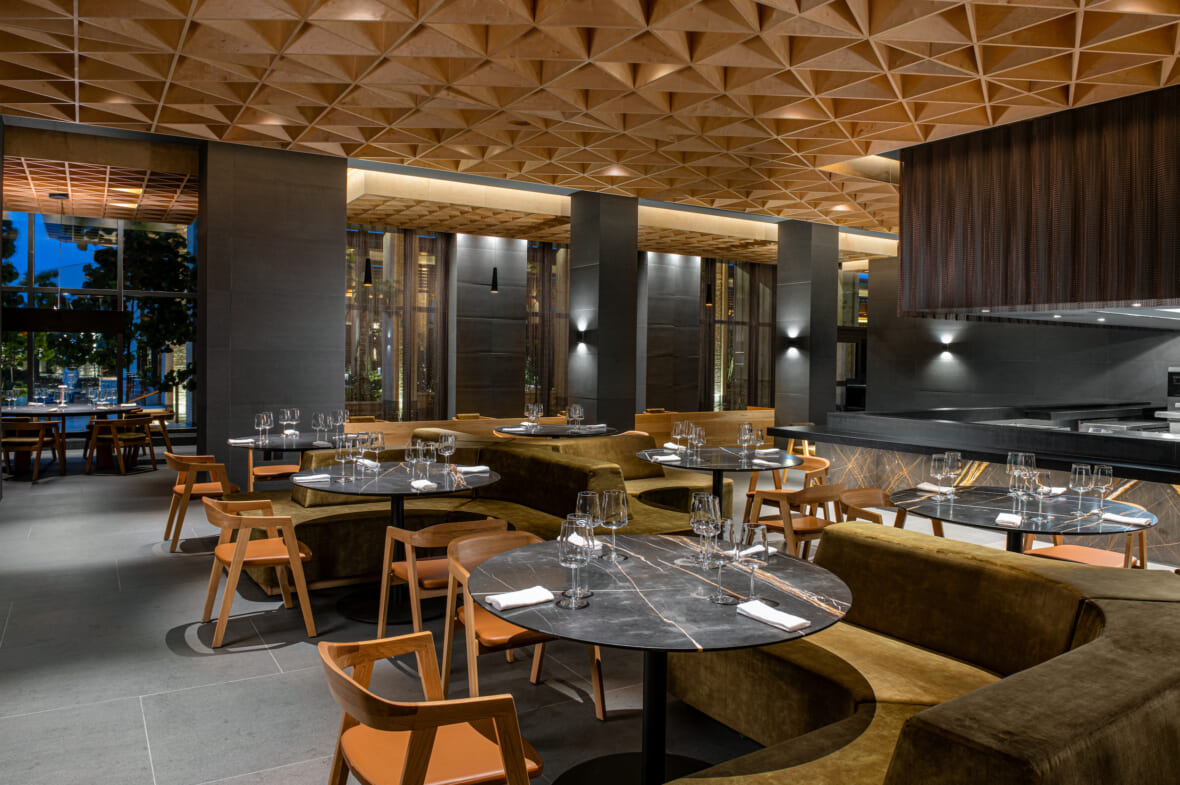 Autor is the resort's most sophisticated dining experience—we'd even call it Michelin-worthy—an ode to its chef or 'author', currently the talented young culinary star Jersaí Miranda, who takes guests on a curated journey that represents his history, heritage, and approach to cooking in a series of stupendous dishes.
Ukai is one of our personal favorites, a stunning sushi bar "dedicated to traditional Japanese fishing methods" and brought to life as a contemporary sushi restaurant committed to sustainable fishing. It also has a great selection of Japanese spirits, sake and beer to go along with the world-class dishes.
The there's Maratea, featuring a fresh take on cuisine inspired by the Mediterranean Basin from southern Spain to North Africa, Greece and Turkey; and Kengai, a Teppanyaki restaurant that "merges classic Japanese and Southeast Asian techniques with local ingredients and styles," whose name is inspired by the Jacaranda tree, brought to Mexico by Japanese immigrants in the 20th century.
No less a draw than the array of fine dining is the spectacular Conrad Spa Tulum, nestled within lush mangroves and purposefully designed as a standalone wellness refuge rather than just an addendum to the property's other buildings. A wide range of spa services "inspired by the legends of the Mayan gods and traditional Mexican herbalism are individual treatment rooms or "casitas."
Spa offerings include an extensive menu of body rituals, and a sensory Water Ritual including a beautiful outdoor pool and thermal facilities. And for guests looking for "an enlightened sense of well-being and tranquility," there's even an in-house Shaman who performs ancient rituals including purifying and sacred cenote ceremonies.
The resort is dedicated to preserving the local ecosystem which lends the property its aura of natural splendor. Initiatives include rescue and relocation programs for its mangroves, wildlife, and coastal tropical forest. The hotel also "puts an emphasis on meticulous preservation and sustainability" through its sea turtle protection program, which reduces the impact of the hotel's activities during the turtles' nesting season and guarantees the conservation of the protected species.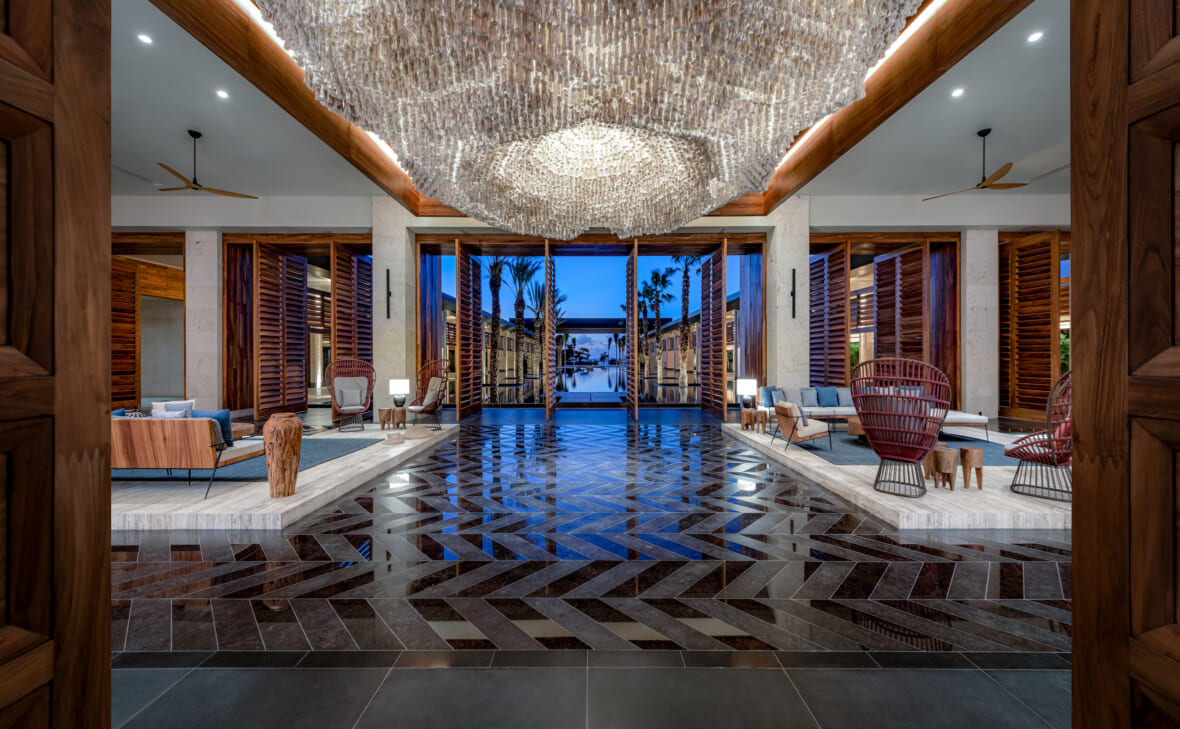 Now spanning five continents with 40 properties, Conrad Hotels & Resorts aims to "create a seamless connection between contemporary design, leading innovation and curated art to inspire the entrepreneurial spirit of the globally connected traveler"—nowhere more in evidence than at the A-list worthy Conrad Tulum. Book now and see for yourself is our advice.