Vacation Like James Bond At This Legendary Hotel in Sardinia
From "The Spy Who Loved Me" to the newest Aston Martin, Cala di Volpe is 007-worthy to the extreme.
On our recent trip to Sardinia for the launch of the Aston Martin DBX707, aka the world's fastest SUV (more on that to come), we stayed at one of the Mediterranean's most legendary luxury hotels that has fittingly played host to everyone James Bond to Jay-Z: Hotel Cala di Volpe, on the famous Costa Smeralda.
Now part of Marriott International's five-star The Luxury Collection brand, Cala di Volpe is perhaps best known as a key location in 1977's The Spy Who Loved Me, starring Roger Moore as James Bond. And we can attest that it is still extremely 007-worthy.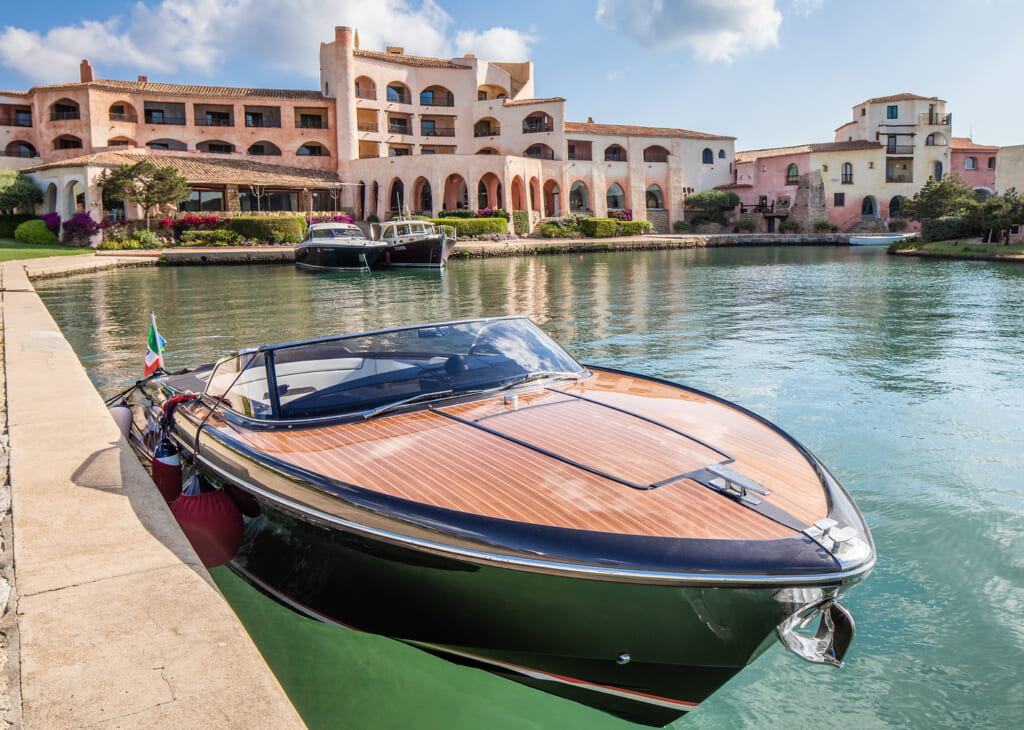 In addition to Bond, Beyoncé, and Jay-Z, Cala di Volpe has also hosted the likes of Grace Kelly, Jacqueline Onassis, Elton John, Bill Gates, various royals and heads of state, and Princess Diana and Dodi al Fayed, who anchored their yacht in front of the hotel in one of their last vacations before Diana's tragic demise.
The legend of Cala di Volpe began in 1962 when a group of Sardinian landowners including the Aga Khan formed the Consorzio Costa Smeralda in order to develop it as a world-class destination for the aristocracy and jet set. Cala di Volpe, aka the Bay of the Fox, was selected as the site of a luxury hotel as it is one of the most picturesque spots on the island, complete with a private beach.
Jacques Couëlle, a French architect who was chief proponent of a movement known as "architecture-sculpture" was brought on to create something truly unique, that has indeed stood the test of time as Cala di Volpe looks to be formed from living rock with its graceful arches and neo-ancient appearance. It quickly helped establish Sardinia as the place to see and be seen.
Including by James Bond. According to FamousHotels.org, for filming on The Spy Who Loved Me, producer Cubby Broccoli had one of the Cala di Volpe's bars transformed into 007's suite. Roger Moore and Bond Girl Barbara Bach spent over 20 days at the hotel in all, and in the movie his iconic "amphibious" white Lotus Esprit took part in a thrilling car chase in the hills above the property.
In the years since, Jacques Couëlle's masterpiece has been tastefully expanded upon with new rooms and suites, public spaces, and restaurants. These days 007 would not have to take over the bar, as the hotel is home to the Harrods Suite, one of the poshest accommodations in the whole of the Mediterranean.
Designed in collaboration with the legendary London luxury store, the Harrods Suite rents for around $40,000 per night according to Elite Traveler. The 2,690-sq.-ft. multilevel space has three bedrooms and four bathrooms, a massive two-level terrace with a dining area and bar, and a private rooftop pool, with butler and chauffeur service available by special arrangement.
Cala di Volpe is justly famous for its bars and restaurants as well, including Le Grand, it's flagship fine dining venue; the poolside alfresco Barbecue, with its beach club vibes; Matsuhisa, from famed Nobu founder Nobuyuki Matsuhisa, which occupies renovated quarters in the oldest part of the hotel; and Beefbar, featuring innovative cuisine created by Riccardo Giraudi based on choice meats and "luxury street food."
The hotel has long been seasonal, as summer is when the swells arrive on their yachts and private jets. This year however, Cala di Volpe opened for the very first time in March, in order to host the high-end Aston Martin events, and it's hoped this can be established as a new tradition. The hotel is also debuting some renovations and upgrades, as well as the second year of a new partnership with Dolce&Gabbana.
The Aga Khan's companies owned Cala di Volpe well into the 1990s; these days it is owned by Smeralda Holding and managed by Marriott International. Cala di Volpe is one of the luxury hospitality conglomerate's flagship properties as part of The Luxury Collection, which includes some of the most iconic hotels and resorts in the world.
Whoever gets tapped to be the new 007 will surely want to book his suite here well in advance.