W South Beach Gets $30 Million Revamp Just In Time For F1 Miami Grand Prix
From a Mr. Chow eatery to its stunning $100 million art collection, this newly-renovated South Beach hotel has never been better.
Fresh off a property-wide $30-Million renovation, and just in time for the 2022 Formula 1 Miami Grand Prix on May 6-8, the W South Beach has assumed pole position as the coolest hotel in the Art Deco District.
Part of the unparalleled Marriott International portfolio, the five-star W South Beach represents the pinnacle of the W Hotels brand in North America, and shines as a flagship for the famous letter worldwide.
The list of celebrities who have been guests at the hip hotel include the likes of Justin Bieber, Leonardo DiCaprio, Steven Tyler, Bono, Lizzo, Pharrell, Mark Walhberg and Tom Cruise. If they haven't been back in to check out the impressive upgrades, you can bet it's only a matter of time.
The impressive revamp extended to all of the property's 357 guest suites, a new, 9,000-sq.-ft., world-class spa, and a $100 million collection of contemporary art, that makes it a sort of mini-museum to boot. The art, comprised mainly of Warhols with a few Basquiats and other iconic artists thrown in for good measure, comes courtesy of Aby Rosen, the billionaire real estate tycoon who is part of the property's ownership group.
Rosen, known for his incredible art collection and real estate portfolio, will also now be able to resume throwing his legendary Art Basel Miami parties at the hotel, adding to its luster. The massive pieces adorn the W South Beach's lobby, Living Room bar, and other public spaces, while the famous Mr. Chow restaurant has its own impressive collection of art.
Each guest is assigned a personal 24/7 concierge, known as a W Insider, upon check-in, and at the W South Beach this role is not taken lightly. From impossible-to-score dinner reservations, to arranging a private party in your suite, to a thoroughly-knowledgable tour of the art collection, this is like having a cooler version of Jarvis, Tony Stary's AI assistant in Iron Man, at your beck and call.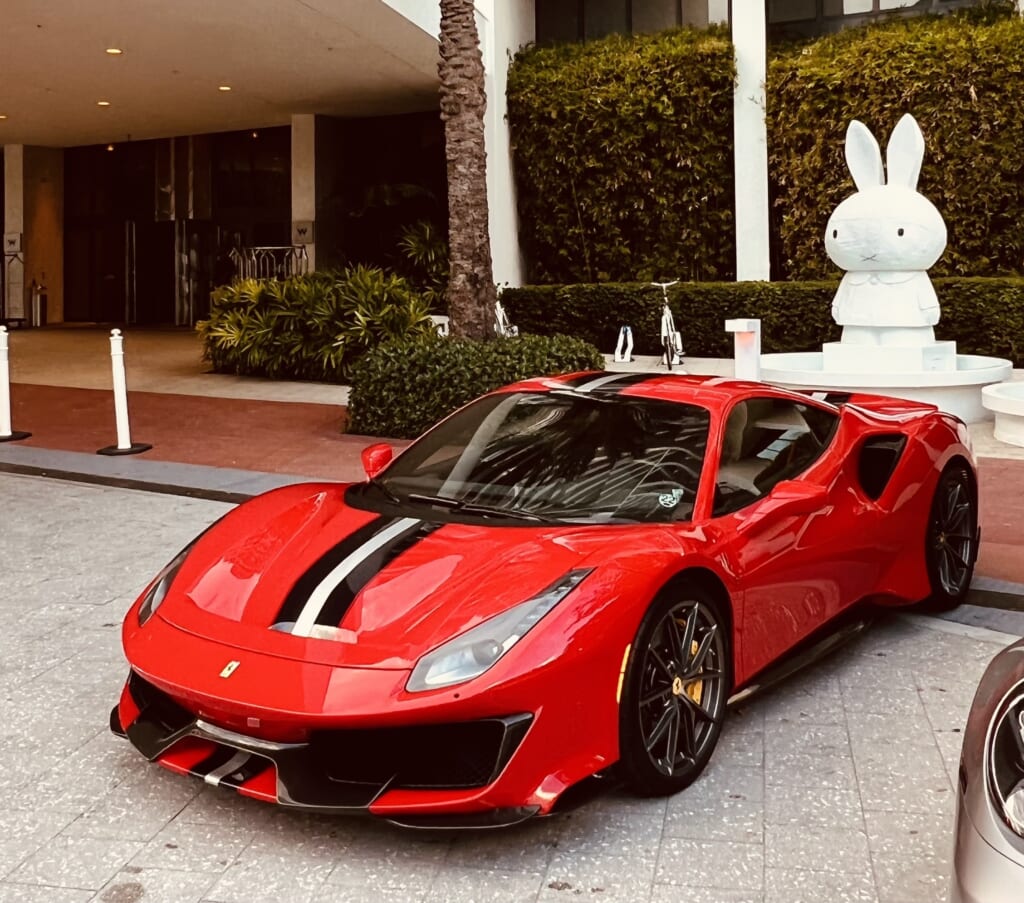 From the minute you arrive at the hotel, which benefits from an entrance that's set back from Collins Ave. on 22nd St., it's obvious that this is the place to see and be seen—just look at the lineup of limited-edition Ferraris, McLarens and Rolls-Royces parked out front. Most are guests, but some are here for a drink in one of the bars, a spa treatment, or dinner at Mr. Chow, the property's signature restaurant.
The suites and spa were designed by Urban Robot Associates with a contemporary beach retreat feel. It's a definite upgrade from when the hotel first opened in 2009, later closing for the reno in 2020. The hotel has the largest guest rooms in South Beach, with balconies boasting extensive ocean views, and the higher-category rooms feel like private penthouses.
"The ask was to reimagine the hotel for the new Miami—cultured and sophisticated—without abandoning the edge factor," as Urban Robot's Justine Velez told Surface magazine. "It has always attracted celebrities and fashionistas, but the beauty of the new W South Beach is that it suits every guest and still maintains the panache that it always had." She adds that the new design is "an expression of where Miami is headed, enriched with refined art and culture."
Urban Robot's design process "married beach house-style millwork, natural oaks, airy and plush neutral textures with a beige color palette with accents of soft corals and shaded teals." Bedrooms are set up as a "sleep haven" while the contemporary living rooms are designed for entertaining. Suite features include circadian lighting, 24-hour music playlists, seaside-inspired art photography, and wood-paneled walls, and some also have full kitchens and media rooms.
Urban Robot's concept for the expansive Away Spa meanwhile is "dedicated to wellness and detoxifying spa experiences," with light oak, limestone, and loads of natural light "primed with neutral colors, white fabrics, and fine brass finishes." It features and seven treatment rooms, a couple's suite, spa lounge, a sun-drenched outdoor terrace, and eucalyptus-infused limestone steam showers.
Of course there's also a fully-equipped fitness center, and in a first for South Beach and yet another sybaritic touch that sets the W apart, a rooftop tennis and basketball court for the ultimate "Swish and Swing" experience. This perk is also enjoyed by the numerous well-heeled types who have purchased one of the W South Beach's private residences, some of which go for several million dollars.
Rounding out the reno upgrades, the pool deck, which has its own bar and opens onto the beach boardwalk at the back, and from there to the famous beach itself, has been installed with new striped cabanas for those who want a private sanctuary during their stay in the sun. Various outdoor spaces around the pool can also be configured for high-end private events.
The hotel's reopening also ushered in the long-awaited next chapter for Mr. Chow, the South Beach outpost of the iconic group of restaurants founded by tastemaker Michael Chow in London in 1968, followed by Beverly Hills (1974) and Manhattan (1978). Mr. Chow Miami is one of the very most elegant dining spaces in town, with a 123-foot gold-leaf and Swarovski crystal chandelier designed by Michael Chow himself presiding over the main room.
There are also private dining rooms, a plush bar, and outdoor patio. Following in the Mr. Chow tradition, the restaurant serves Michael Chow's signature takes on Beijing cuisine, courtesy of Executive Chef Hing Fung Matt Chan, with classics like green prawns, satay chicken, shark fin soup, and Beijing duck. The overall experience is a heady mix of art, fashion, music and cuisine.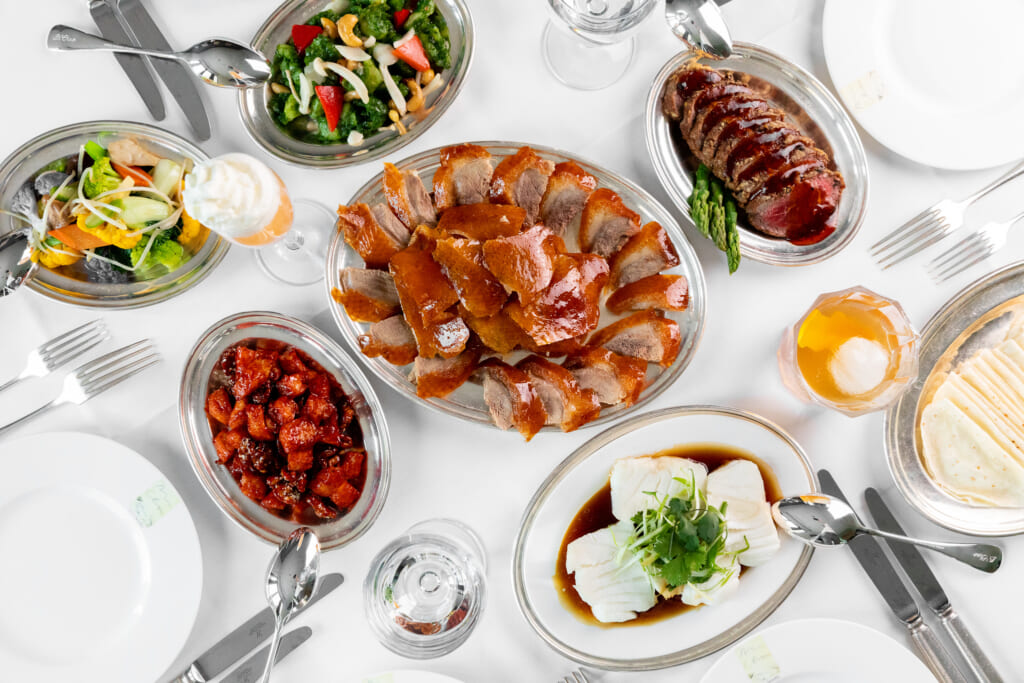 With its art world provenance—Andy Warhol, Keith Haring and Michel Basquiat were regulars at the New York location in their heyday, along with numerous other famous artists in the years since at all locations, the restaurant is a hot ticket during Art Basel, with tables in any case hard to come by in high season or low. The service is exquisite and elegant yet puts you at your ease—as does the champagne cart brought round before every meal.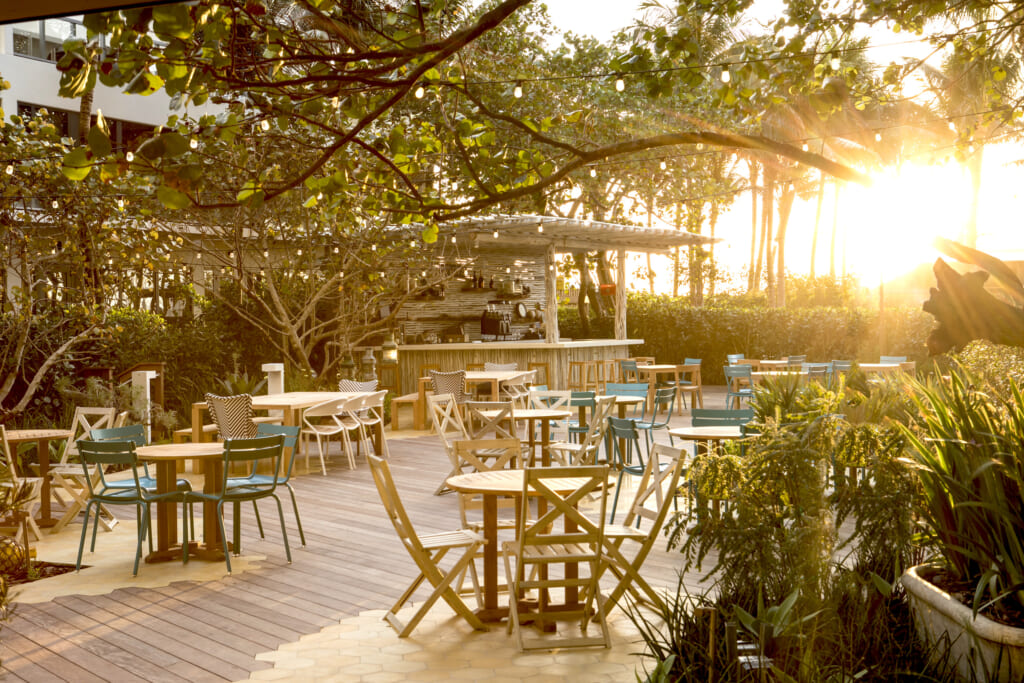 The W South Beach is also home to RWSB, a casual indoor-outdoor eatery with Riviera beach vibes serving up American and Italian cuisine led by Chef Vincenzo Scarmiglia, as well as an outdoor garden bar, Irma's, which Urban Robot renovated in 2017 with reclaimed materials left in the wake of Hurricane Irma. RWSB is where we began our day at breakfast each morning in the care of the delightful staff.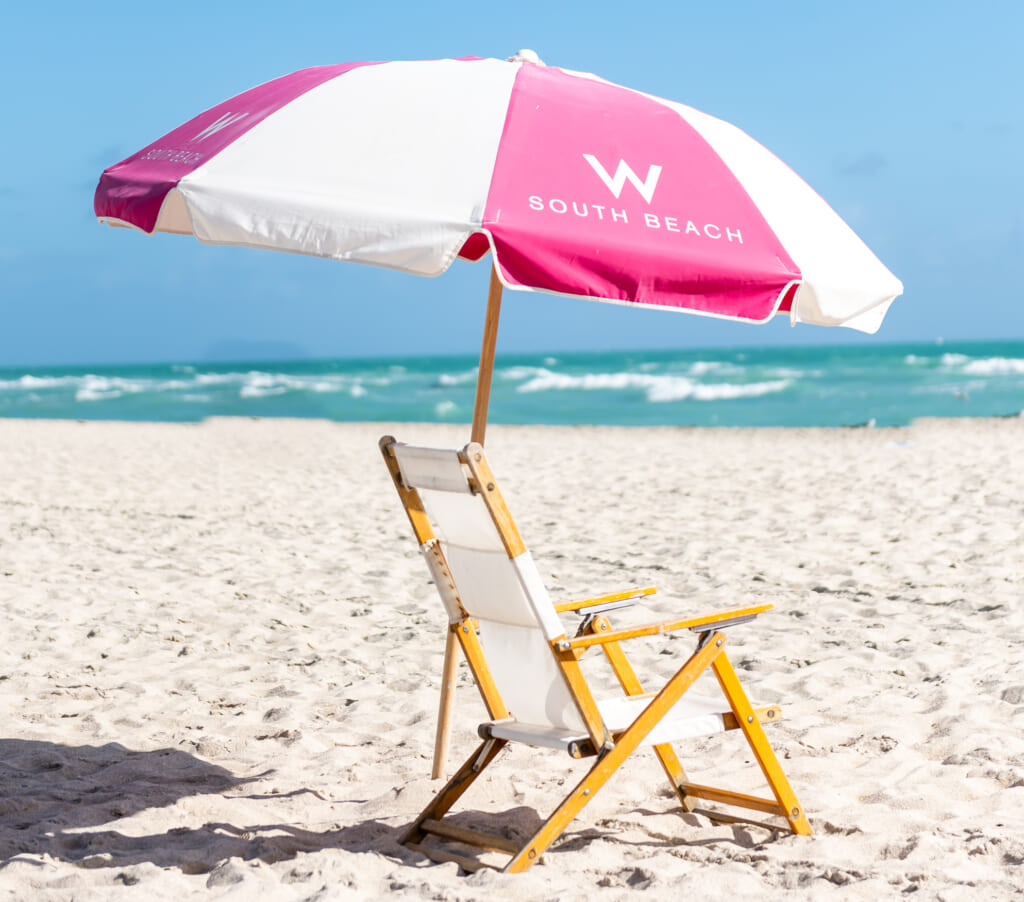 Art Basel is just one of the occasions when the W South Beach is always at capacity. The South Beach Wine & Food Festival, Miami Swim Week, and now F1 weekend are also major draws, as is New Year's Eve, which saw Drake perform there one year.
"When you walk into the [new] W, you feel a combination of South Beach and New York City," as Aby Rosen told Surface. With so many hedge fund types having moved from Manhattan to Miami during the pandemic, that's especially true, but with Rosen and co. ensuring everything is done to perfection, that only makes things better.