Where To Stay, Play & Dine In The Hamptons
The greatest summertime spots on New York's East End.
Gurney's (Gurney's Montauk & Saltwater Spa)
Nothing says summer like a Hamptons travel guide, but most of them forget to mention that this much-desired, moneyed vacation spot is stretched out across 600 square miles. Throw in the North Fork—the latest location attracting hordes of summer travelers—and that number more than doubles.
To help navigate your options, here's a definitive, enclave-by-enclave guide on where to stay, play and dine. Filled with beloved Hamptons standbys and notable newcomers, we've done the hard work for you—no matter where you're headed for your Hamptons summer.
North Fork
Stay: The Menhaden
207 Front St, Greenport, NY
On the former site of one of Long Island's first inns, The Menhaden is a 16-room boutique hotel that feels like an elevated guest house. Unlike many of the charming-yet-outdated hotels in the North Fork, The Menhaden, which was purchased and overhauled in 2018, possesses a clean, sleek design that complements the property's history.
For a small hotel, The Menhaden prides itself on its amenities and bespoke luxury experience. As soon as a reservation is made, the concierge team immediately contacts the guest via text to begin building an exclusive, custom itinerary for their trip.
Play: The Beach Club at Duryea's Orient Point
40200 Main Rd Suite 1, Orient, NY
The Mediterranean comes to the Hamptons with the Beach Club at Duryea's Orient Point. A multi-lounge club and restaurant which leans into the "dock and dine" aspect (a marina is available for customers who arrive by vessels up to 75 feet), Duryea's Orient Point hasn't received half the fanfare it deserves since opening in 2020. 
Overlooking Gardiners Bay, Duryea's Orient Point sports the same moniker as its sister restaurant in Montauk. It also boasts some of the same menu favorites, including the lobster cobb salad and an impressive raw bar selection. The interior of the 3,000-square-foot space, however, has a rustic decor that feels like a nod to Club 55 with a rotating DJ line-up on weekends that's evocative of a trip to Scorpios Mykonos. 
Dine: The Halyard Restaurant at the Sound View
58775 County Rd 48, Greenport, NY
Wishing you were on the West Coast? Halyard Restaurant, located in the Sound View Greenport, channels the charming simplicity and classic elegance of a beachside Malibu motel. The restaurant, complete with a piano player every evening, celebrates the North Fork by bringing produce and seafood direct from local foragers, farmers and fishermen.  Dishes like Shinnecock Sea Scallops and Peconic Bay Fluke are sourced directly from the Atlantic Seaboard and served up in a dining room jutting out over the Long Island Sound. 
Shelter Island
Stay: The Pridwin Hotel & Cottages
81 Shore Rd, Shelter Island, NY
The Pridwin Hotel has been a mainstay on Shelter Island since 1927 but has just recently started garnering the attention of the high-end Hamptons crowd. This is due to an extensive two-year renovation which resulted from a partnership between Cape Resorts and the Petry family, the owners of the property since 1961.
Nestled on more than seven acres overlooking Shelter Island's Crescent Beach, the 49-room whimsical waterfront resort feels like a glamorous summer camp for adults and families alike. And while the property has been updated with every amenity and luxury imaginable, designer Colleen Bashaw maintained the feeling of a quintessential seaside hotel by preserving details of the property's initial design—from original wainscoting to 96-year-old chandeliers salvaged from the hotel's first dining room.
Play: Sunset Beach Hotel
35 Shore Rd, Shelter Island Heights, NY
Purchased by legendary hotelier André Balazs in 1997, the main draw of Sunset Beach Hotel is the location. Propped right up next to the ocean, with a beach that is west-facing, the motel-cum-beach club is an idealized place to watch the sunset.
A (mostly) open-air two-story European-style restaurant and bar area fills with an attractive and fashionable crowd on weekends and offers some of the area's best DJs. And easy access to the beach means a fair share of patrons arrive by boat, which makes a pretty sight for those who like their Aperol spritz with a side of yacht-watching.
Dine: Léon 1909
29 W Neck Rd, Shelter Island, NY
Léon 1909, a rustic-looking eatery in a former bank complete with a 14-foot hearth, made a quiet debut during the middle of the season in 2022. Despite the lack of pomp around its opening, it's now nearly impossible to snag a seat at the first venture from Valerie Mnuchin, the sister of former Treasury Secretary Steven Mnuchin, with Chef Mason Lindahl, formerly of The Monkey Bar and Diner. The restaurant, named for Mnuchin's grandfather, has attracted a loyal following by serving up Provençal-style fare with local ingredients in a romantic and unfussy atmosphere.  
Montauk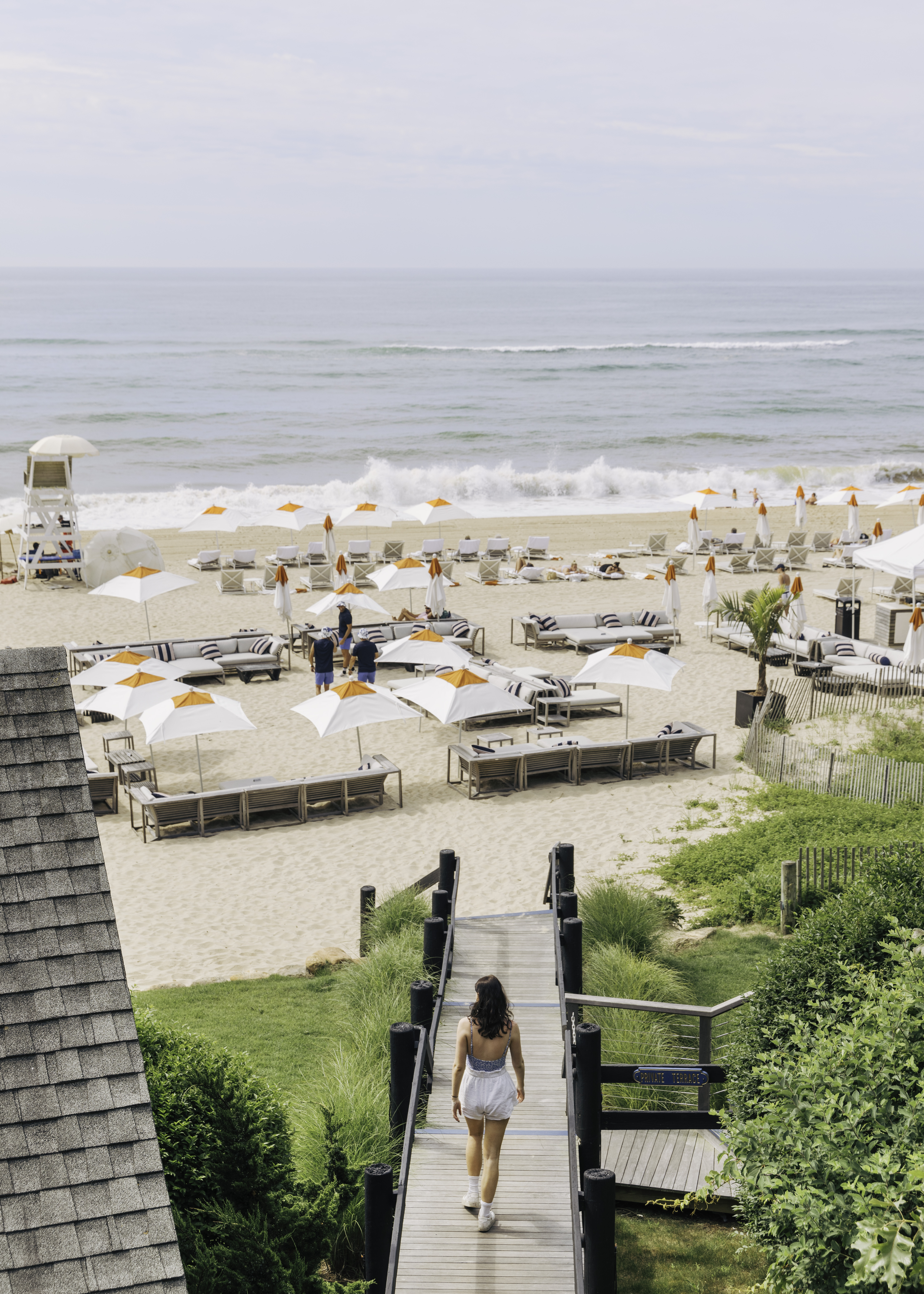 Stay: Gurney's
290 Old Montauk Hwy, Montauk, NY
For those who want to leave home and stay put upon arrival, there's Gurney's Montauk Resort & Seawater Spa. The 158-room resort has everything one could ask for in an East End vacation, complete with a private beach club, a state-of-the-art fitness center, seawater-fed indoor pool, and multiple oceanfront dining options.
As if these amenities weren't enough of a draw, in 2022 Gurney's Montauk unveiled a $20-million renovation for the Seawater Spa, a 30,000-square foot wellness destination that channels the property's seaside location. Gurney's Montauk is the only year-round resort in the Hamptons situation directly on the beach, but the property's programming—which includes wine pairing dinners and exclusive beach-side bonfires—really ramps up come summer.
Play: Surf Lodge
183 Edgemere St, Montauk, NY
The famed motel, restaurant and music venue that revolutionized Montauk is celebrating its 15th anniversary this year, and a decade and a half later it is still the hardest door on the East End. The pull for the property includes performances by Busta Rhymes and St. Lucia on a lakeside deck, but Brazilian-born owner Jayma Cardoso is really what keeps the Surf Lodge from becoming stale.
The well-connected proprietor dives into her own personal Rolodex to bring in the biggest musical acts on the East End every summer, along with innovative wellness programming and brand partnerships. 
Dine: Crow's Nest 
4 Old West Lake Dr, Montauk, NY
The divey-yet-glamorous restaurant and was re-opened by prolific hotelier Sean MacPherson in 2010 and has seen numerous expansions since. This, in part, is due to the eatery's inability to keep up with demand: The Crow's Nest is so popular that no matter how many new tables seem to be added, the no-reservations restaurant is booked for the night before sundown.
For those waiting for a table, Celine Valensi, the grand dame of the Crow's Nest, directs them towards the lakeside bar, which offers a limited selection of cocktails and a breathtaking sunset on Lake Montauk. As for the menu, the Crow's Nest has become something of a trendsetter: The crab pasta became such a hit that half the eateries on the East End adopted their own version of the buttery dish.
Sag Harbor
Stay: Baron's Cove
31 W Water St, Sag Harbor, NY
History meets the harbor at Baron's Cove. The 67-room hotel, which originally opened on Memorial Day in 1958 as The Sag Harbor Motel and Inn, underwent an extensive renovation by Cape Resorts and re-opened in 2015.
The property sits on one of the town's most coveted inlets complete with sweeping harbor views from the restaurant, guestrooms and pool. Having played host to a litany of notable guests throughout its history, including Jackson Pollock, Truman Capote, Kurt Vonnegut and Sag Harbor sweetheart John Steinbeck, the resort has specifically made sure to honor the property's long-running past in its design and programming. The hotel bar even serves up Steinbeck's favorite cocktail, the "Jack Rose," to this day.
Play: Le Bilboquet
1 Long Wharf, Sag Harbor, NY
While it may be a restaurant, the bar scene at Le Bilboquet has become the buzziest spot in town. What do you expect, with owners that include Ron Perelman, Eric Clapton, real estate magnate Steve Witkoff and restaurateur Philippe Delgrange?
An offshoot of the original eatery on the Upper East Side, which became just as famous for encouraging patrons to dance mid-dining as for their le poulet cajun, the Sag Harbor location attracts a similar clientele. Starting around sunset, a throng of well-coiffed men and women compete for seats and the bartender's attention while flirting over glasses of $25 white wine. 
Dine: Tutto Il Giorno Sag
16 Main St, Sag Harbor, NY
When Tutto il Giorno opened in Sag Harbor in 2008, it made such a splash that it wasn't long before wife-and-husband team Gabby Karan and Gianpaolo de Felice introduced two more locations.
But the Sag Harbor eatery, with its inviting-but-sophisticated ambience and meticulously crafted menu of Southern Italian dishes, has resonated strongest with locals and visitors alike. The decor is worth a visit alone, as Gabby, the daughter of designer Donna Karan, has crafted a polished interior with outdoor seating that is as comfortable as it is chic. 
Water Mill 
Stay: Shou Sugi Ban House
337 Montauk Hwy, Water Mill, NY
Named for the Japanese wood-burning technique used to create a charred finish that was utilized in the building of the property, the Shou Sugi Ban House is best known as an upscale spa. But the gated compound, which opened in 2019 and sits on five acres of evergreen trees and lush grasses, also has an intimate bed and breakfast for overnight stays and two standalone luxury residences for short-term rentals that are just as zen-like as the rest of the property.
The 13 guest cottages, adorned in a monochromatic color palette, include white-oak Kobe-style beds with organic mattresses and bedding and are enhanced with lighting designed around circadian rhythms. As an added bonus for guests, the cuisine at Shou Sugi Ban House, served in the Main Barn, is under the direction of chef Mads Refslund, best known as the cofounder of the two-time Michelin-star winner Noma in Copenhagen.
Play: Calissa
1020 Montauk Hwy, Water Mill, NY
This Mykonos-inspired Calissa restaurant is known just as much for its musical series as it is for its local fish and Greek dishes. The clubstaurant, which boasts a dancing and lounge area to complement the restaurant, hosts Calissa Sounds on summer Fridays throughout the season, which includes a variety of up-and-coming artists and established musicians. For a front row seat for the likes of Wyclef Jean and Fat Joe, snag a Friday night dinner reservation or purchase a ticket on the eatery's website. 
Dine: Bistro Ete 
760 Montauk Hwy, Water Mill, NY
The unpretentious French Bistro in The Mill Center attracts a lot of regulars, as the large outdoor patio is perfect for dining al fresco. But it's Bistro Ete's menu from Cypriot-born Chef Arie Pavlou that brings in tourists and locals alike: the Le Cordon Bleu-trained chef worked under two star Michelin Chef Philippe Da Silva in Provence before finding his way to the quaint eatery, where he presents coastal Mediterranean cuisine and classic French dishes that aren't fussy, including escargot and striped bass with champagne truffle sauce.
East Hampton
Stay: EHP Resort & Marina
295 Three Mile Harbor Hog Creek Rd, East Hampton, NY
If you have been impressed by the one-of-a-kind sunset views at Si Si, the open-air Mediterranean restaurant along East Hampton's marina, then you'll be blown away by the resort it accompanies. After a multimillion-dollar renovation that focused on preserving the building's historic exterior while updating it with modern interiors, EHP Hospitality Group unveiled EHP Resort & Marina—a striking nine-acre property, which includes accommodations that range from one- to three-bedroom suites and standalone cottages.
Each room features a private balcony, backyard or deck to capitalize on the resort's stunning harborside location, along with Acqua di Parma bath products, Frette bedding and Vitruvi Aromatherapy diffusers.
Play: Moby's
341 Pantigo Rd, East Hampton, NY
At Moby's, forgo the more formal dining room up front and head towards the open-air patio out back. There, guests will find scattered picnic benches and lounge areas with yard games, as well as an on-site wood-burning pizza oven.
Situated between East Hampton and Amagansett, this outdoor oasis that started as a summer-only pop-up has become a go-to gathering spot in the area, with a mix of guests killing time over cocktails as they wait for a table, groups stopping in for a final nightcap, and kids and pets running across the lawn beneath the twinkling lights. 
Dine: 1770 House Restaurant & Inn
143 Main St, East Hampton, NY
Housed in an 18th century colonial home on Main Street in East Hampton's historic district, the restaurant at 1770 House offers up multiple ways to enjoy their award-winning fare. Presented by Executive Chef Michael Rozzi, guests can choose to dine on 1770 House's "New American" cuisine in a more formal dining room, al fresco on the accompanying patio, or opt for more casual pub-style fare in the inn's downstairs Tavern.
And if you're looking for a good bottle of wine to accompany your meal, the 250-bottle wine list, overseen by Wine Director Michael Cohen, is a year-to-year Wine Spectator Award of Excellent recipient since 2007.
Southampton
Stay: 1708 House
126 Main Street, Southampton NY
For those who are looking for the quintessential embodiment of a classic East End inn, 1708 House fits the bill. Built in the same year as its moniker, the property has been restored and now features eight guest rooms, three separate two-bedroom cottages, a dining room, library, sun terrace and garden.
Many of the rooms have private fireplaces and all are decorated in the same traditional style as what is seen throughout the rest of the property. While 1708 House is a historic treat, it's the location that really makes the property sing: in the heart of Southampton village, guests are able to walk to a plethora of shopping and dining options.
Play: Southampton Social Club
256 Elm St, Southampton, NY
Once known as a hub for East End nightlife (Dune, Pink Elephant), Southampton now offers little in terms of after-dinner activity. The Southampton Social Club has stepped up to fill the void the legendary clubs of yesteryear have left behind.
In fact, the State Liquor Authority stepped in this year to instruct that the "clubstaurant" no longer operate as a club, but strictly as an event venue and restaurant. With a dancefloor, regular rotation of DJs, and 3,000 square feet of outdoor space, it's unsurprising the Southampton Social Club has become the go-to late-night venue in the area.
Dine: Enchanté
210 Hampton Rd, Southampton, NY
Filling the former Red Bar space this year is Enchanté, a modern French-inspired bistro by EHP Hospitality Group, which owns a portfolio of premier waterfront resorts, marinas and restaurants across the East End.
Combining the cinematic experiences of both Parisian brasseries and long, leisurely meals in the South of France, expect the same brand of upscale-but-easy-going vibes found in the brand's other venues. While Southampton has no shortage of restaurants along its main drag, Enchanté, which literally translates to "nice to meet you," will be a welcome reprieve for locals and tourists who need a break from the area's steady stream of boutique chain restaurants and long-standing eateries.
Bridgehampton
Stay: A Room at the Beach
2668 Montauk Hwy, Bridgehampton, NY
Once the home of Martha Stewart, A Room at the Beach still has a touch leftover from when the queen of domesticity resided on the property. A plethora of towering redwoods that were planted by Stewart when her family lived there twenty-plus years ago. Combined with the bountiful surrounding gardens, it's surprising that the owners didn't name the location "A Room in a Garden" instead.
The ten-room cedarwood bungalow, which is just a short stroll away form the Atlantic Ocean, features vine-covered pergolas, twinkling lights after sundown, and a long patio for cocktails or catnapping. Spacious guest rooms are overflowing with natural fabrics in neutral tones to maintain the serenity of the property throughout.
Play: Almond
1 Ocean Rd, Bridgehampton, NY
This farm-to-table restaurant owned by Eric Ripert and Jeffrey Chodorow is a popular eatery on the main drag of Bridgehampton, but it's equally known for its lively bar scene. Every Thursday night throughout the summer, Almond hosts karaoke starting at 9:30 p.m., and every Friday, the bar becomes an unofficial gathering place for the chicest gay men on the East End.
The eatery and watering hole also has a series of rotating art exhibitions, focusing on local and emerging artists, with a gallery space on the second floor, which is open the public during regular business hours.
Dine: Armin & Judy's
1970 Montauk Hwy, Bridgehampton, NY
This unassuming roadside restaurant from two pioneers of the New York restaurant scene is open from morning to night, with an accompanying retail bakery to boot. Inspired by the local eateries of Basque coastal towns and 1960s Parisian bistros, expect to find artisanal breads, homemade pizza and pastas, and local and sustainably-sourced seafood and produce at Armin & Judy's.
Table service is available in the main dining room or in a sunroom that overlooks a pond. Casual outdoor seating and corkage fee options make it feel like you're dining in the home of a close friend—one with superbly impressive cooking skills.
Amagansett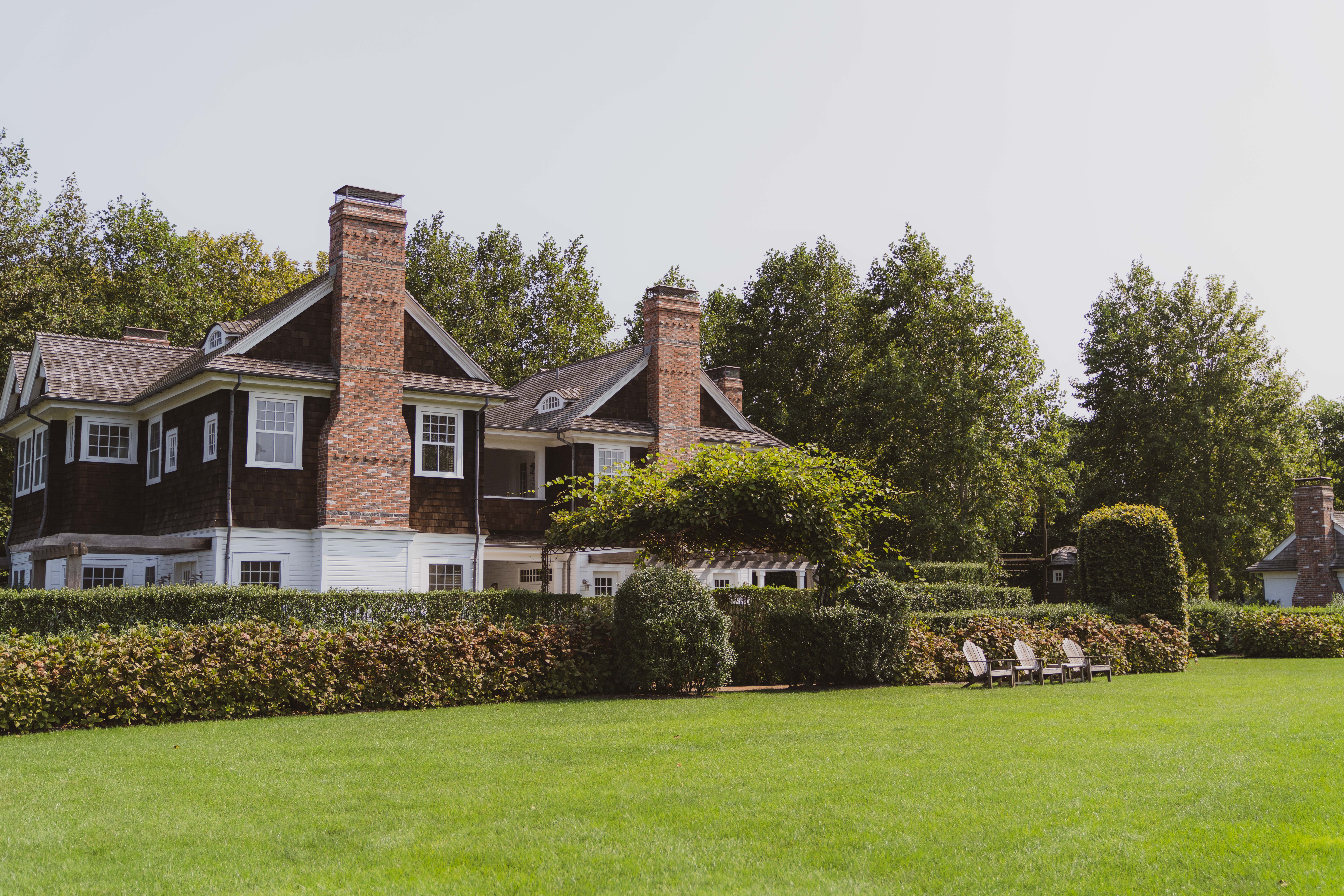 Stay: The Reform Club
23 Windmill Ln, Amagansett, NY
Spread out across five acres, The Reform Club is a former single-covered bed and breakfast that underwent an extensive renovation and re-opened summer 2009. The result: an elegant but easygoing destination, made up of seven suites, three cottages and one private four-bedroom home called 21 House.
The decor of the resort puts an emphasis on art, with a mix of contemporary, oil paintings, sculpture and abstract in each suite and cottage. The Reform Club's collection includes pieces from MoMA-recognized artist Dan Rizzie and British artist Humphrey Ocean. While the design is impressive, the space is an anomaly: each room has an oversized bathroom and working fireplace, and most boast terraces as well.
Play: The Stephen Talkhouse
161 Main St, Amagansett, NY
For a quintessential Hamptons dive bar experience, head to Stephen Talkhouse on Amagansett's Main Street. Since 1970, the 200-person venue has been featuring internationally known performers alongside local East End talent.
The Talkhouse has been a staple of East End nightlife for more than half a century, and while the crowds have changed over the years, the interest never wanes: The average nightly wait is about an hour on summer weekends but can be longer for a big-name music act.
Dine: Rosie's Amagansett 
195 Main St, Amagansett, NY
Both the menu and ambience at Rosie's is thoughtful and considered. Co-owners Frank Trentacoste, who owns Bhumi Farms, and Christina Isaly, who named the restaurant after her late mother, input their own philosophy on sustainability into the eatery.
The meat is sourced from Happy Valley, north of New York City, where only one cow at a time is slaughtered, and some of the ingredients used in Rosie's kitchen come straight from Trentacoste's own farm. In the kitchen, the owners have instilled industry veterans and co-chefs Leo Mamaril, who worked at Stone Barns with Dan Barber, and Josh Cohen, the former sous chef at Flower Shop in downtown Manhattan.
More From The South Fork
Stay: Canoe Place
295 E Montauk Hwy, Hampton Bays, NY
The site of America's oldest inn, Canoe Place offers the feel of a full-service resort in an area that has previously lacked that level of luxury. Originally opened as a trading station in the 17th century and later converted into an inn which hosted Revolutionary War soldiers, presidents, and other bold-faced names throughout its more than 300-year-old history, the elegant Canoe Place Inn & Cottages is now once again welcoming overnight visitors.
Coined the "first stop out east" for those driving out to the Hamptons, Canoe Place sits adjacent to the Shinnecock Canal and features 13 rooms, seven suites, and five cottages. Across the canal sit 37 residential-style boathouses, serviced by luxury membership club Inspirato.
Play: Dune Deck Beach Club
379 Dune Rd, Westhampton Beach, NY
Created in 2017 by Mike Meldman, the real estate mogul behind Discovery Land Company and Casamigos Tequila, Dune Deck is a $2 million buy-in that gets members access to the property's 33-suites, pool, water sports and a splashy beachfront restaurant.
Those not looking to shell out a couple of million for membership can still gain entry onto the 275 members-only venue via a series of musical performances: Ticket sales for certain shows, like The Chainsmokers and Como Brothers, are open to the public, with performances overlooking the Atlantic Ocean.
Dine: The Quogue Club at Haddock House
47 Quogue St, Quogue, NY
When it comes to The Quogue Club, becoming a member or becoming friends with one should be on your summer agenda. Outside of staying in one of the property's 14 guest rooms or two cottages, that's the only way to gain access to the private dining club.
But the effort is worth it: a tastefully appointed dining room, accompanied by an outdoor patio and wide veranda porch, gives this restaurant designed by decorator Alexa Hampton the feeling of a polished New England inn. And the founding executive chef, Matt Birnstill, is a Long Island native who uses his regional knowledge to source ingredients for dishes that pair with the restaurant's extensive wine menu.