Why The Rosewood Is The Swankiest Hotel at Bahamian Resort Baha Mar
The Rosewood is the crown jewel of the $4.2 billion, 1,000-acre luxury resort complex.
We recently traveled to Nassau in the Bahamas for a star-studded weekend of epic food, entertainment and sport at Baha Mar, the $4.2 billion, 1,000-acre luxury resort complex that's home to three high-end hotels— SLS Baha Mar, Rosewood Baha Mar, and Grand Hyatt Baha Mar; ten swimming pools; a water park; 3,000 feet of white-sand beach; the Caribbean's biggest casino; an 18-hole Jack Nicklaus-designed golf course; more than 30 restaurants, bars and lounges; and nine championship tennis courts.
And while it was difficult to select from amongst all the A-list offerings, after reviewing the options Rosewood Baha Mar, the property's poshest resort, came out a clear winner. We were in town thanks to two events: the Baha Mar Cup tennis tournament, and the Taste of SLS Baha Mar epicurean extravaganza capped by a performance by Grammy and Oscar winner John Legend.
Rosewood Baha Mar is where the tennis aces were also holding court, off the court, and we eagerly sampled all that the truly impressive complex has to offer. We kicked off our downtime with a drink at the Rosewood's mahogany-paneled Manor Bar, with its gentlemanly air of sophistication and emphasis on classic cocktails, the most beautiful watering hole in the luxe complex; and made a ritual of it for the rest of our stay.
The Rosewood has Instagram fodder for days. Of equally genteel appeal, located across the marble lobby from the Manor Bar, is The Library, which feels like the drawing room of a posh private estate, a theme that carries through all of the Rosewood's public spaces. Here one can take afternoon tea or a Martini as the mood strikes you, and sample from a curated menu of snacks and more satisfying dishes.
The weekend marked the second annual Baha Mar Cup, a fundraising event benefiting the Baha Mar Resort Foundation charity, which supports (among many other worthy causes) the local Mark Knowles Children's Tennis Initiative, benefiting the Bahamian youth tennis community, enhancing public tennis facilities and providing opportunities for at-risk children.
A trio of former World No. 1's were front and center at this year's tournament, which raised over $50,000: the USA's Andy Roddick, Belarussian Victoria Azarenka, both singles legends, and the event's organizer Knowles, a Bahamian and former World No. 1 in doubles.
Also on hand were legends of the sport from over the years including James Blake, former World No. 4; Patrick McEnroe, former World No. 3; and Cliff Drysdale, former World No. 4. ESPN's Chris McKendry emceed the event, while a number of local Baha Mar personalities participated in the Pro-Am portion of the Cup—most notably celebrity chef, cookbook author and community benefactor Marcus Samuelsson, six-time James Beard award-winner and the man behind Baha Mar's newest restaurant, Marcus at Baha Mar Fish + Chop House.
Turns out Samuelsson is an avid tennis player when not flying around the world tending to his numerous and much-celebrated restaurants, and he gave the pros a run for their money. Graeme Davis, President of Baha Mar, presented Knowles with an oversized check at the end of the tennis portion of the event—which was by no means the finale, as that evening there was an invitation-only dinner specially prepared by Samuelsson at Marcus Up Top, the stylish rooftop bar at Marcus at Baha Mar Fish + Chop House.
"The Bahamian people, the culture and, of course, the access to fantastic Caribbean ingredients is extremely exciting to be around," as Samuelsson has said. It's "all about creating experiences that match the beautiful location [here at Baha Mar]…. It was very important for us to respect the island and build something that adds value to the island." Plus having all those tennis courts on the property is a major bonus.
Yet another tennis celebrity, former World No. 3 Milos Raonic, who has a home in the Bahamas, arrived in time for the dinner and a spirited discussion about the sport, hosted by Knowles. Knowles, a multiple Grand Slam Champion who is also a five-time Olympian, asked Raonic, known for his wickedly fast serves, about the secret to sending up aces. "I guess the best motivator for trying to hit a serve hard is hoping that it doesn't come back. And then if you're motivated enough, and maybe tall enough, and strong enough, you can put the rest together."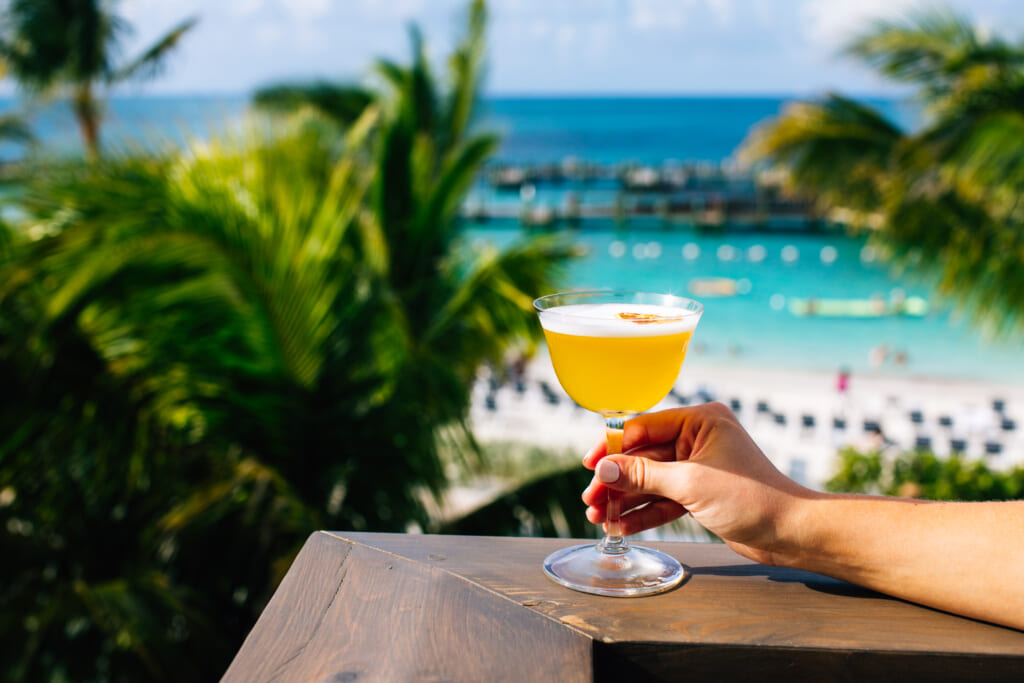 Milos further enlightened the select crowd to the effect that, "The beauty of tennis is you have a goal to strive for every day, however big or small. Whether it be to have a good training, to get better, to want to play well in a tournament a week away, a month away, to have a goal at the end of the year," which seemed to resonate with everyone present.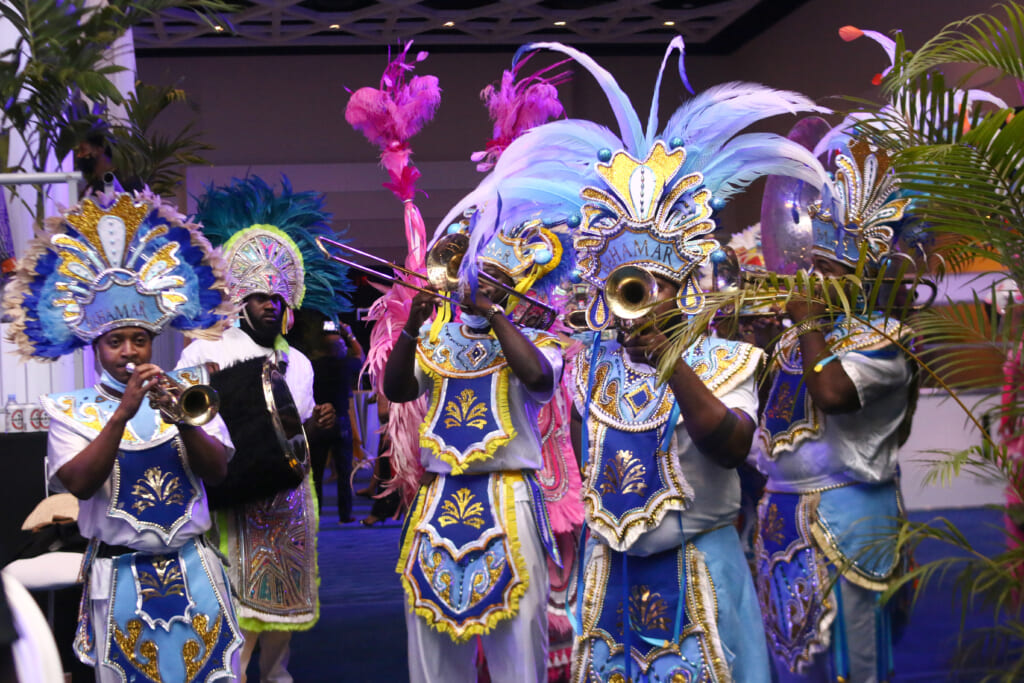 And then just as the delectable dinner seemed to be drawing to a close, the exclusive event erupted into a surprise birthday party for Samuelsson, complete with a traditional Bahamian Junkanoo, a parade of a music, dance, and extremely vidi costumes that left the humble chef speechless with gratitude. A true gentleman in all senses of the word.
It was quite something, especially as the previous night had not exactly been short on entertainment either, of both the culinary and auditory variety. This was the Taste of SLS Baha Mar, a gala showcasing the SLS' award-winning chefs and their teams from Cleo, Carna by Dario Cecchini, Fi'lia, and Katsuya by Starck, as well as several other concepts under the direction of SLS Baha Mar's Culinary Director, Wayne Brown.
As mentioned, the intimate evening ended with a special performance by John Legend, who in addition to his musical accomplishments also has his own brand of rosé from Provence, LVE by John Legend—which was flowing freely throughout the event—and is a noted humanitarian and philanthropist. Legend looked genuinely moved by the outpouring of emotion from the invited guests.
When all was said and done, we were glad to get back to the Manor Bar, and thence to the Rosewood's glorious garden / swimming pool; and there you'll find yet another celebrated chef in residence at Café Boulud, from the famous French culinary master Daniel Boulud. As well as offering the most elegant evening dining experience on the property, Café Boulud is also where privileged Rosewood guests take their breakfast, on the lushly landscaped patio.
From there it's a short stroll through the sinuous series of swimming pools and enticing cabanas that lead down to the Rosewood's gorgeous stretch of beach. It's all set up to be as relaxing as possible. The landscaping and pool design makes you feel like you're on a small private island, no easy feat in the middle of Nassau.
Featuring the "modern charm of British colonial architecture with luxury amenities" and a contemporary beach cottage feel, the rooms and suites at Rosewood Baha Mar epitomize Bahamian refinement and sophistication. Rosewood guests have exclusive access to private pools, Sense, a Rosewood Spa, and even private gaming salons at the casino.
Occupying a prime pool and oceanside position, the massive 6,200-sq.-ft. Oceanside Six-Bedroom Villa is the celebrity stay of choice at Rosewood. It sits on Cable Beach with direct access to the powder-soft sand, and has an expansive private deck complete with al fresco dining area. In addition to the main residence, there are two separate guesthouses, each with a master bedroom and two additional bedrooms, living and dining rooms, and full kitchens.
Of course private pools, infinity pools no less, are a hallmark of Rosewood Baha Mar's villa collection. The posh beach-and-pool-front villas are designed for "incomparable toes-in-the-sand luxury," with sophisticated indoor-outdoor living spaces and elevated interior design flourishes. And of course butlers are on hand to see to your every need.
Rosewood Baha Mar occupies the quiet end of Cable Beach, with a more intimate feel than the sand-side setups the other adjacent resorts. Again the private island vibe is in evidence. As is the indisputable fact that this is one of the most beautiful beaches in the Caribbean, so be prepared to burn up your IG feed.
Of course there's plenty more to explore within the impressive Baha Mar complex. One must-see is Monkey Bar at the SLS Baha Mar, a signature of the famed hotel brand, interpreted here in luxe Bahamian style. The cocktails are impeccably crafted as are the signature snacks.
And no visit to Baha Mar would be complete without a nightcap and a smoke at the acclaimed T2 Cigar Bar. The Caribbean Journal and other publications have lauded its selection of premium cigars, including Cubans and locally-rolled varieties, as well as its amazing selection of fine whiskies and rums—best enjoyed together, of course. As often as you please….