10 Quick and Dirty Facts About Kim Kardashian's Sex Tape on Its 10th Anniversary
This is the footage that started it all.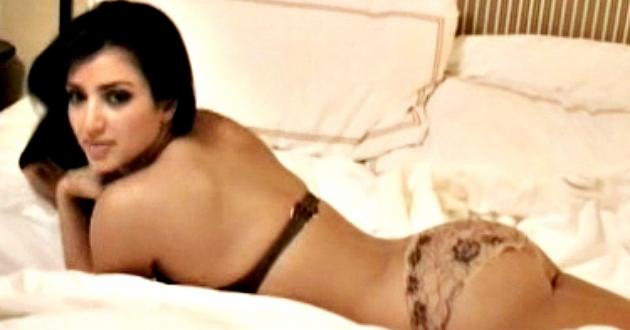 Image: Vivid Entertainment
As of last March, it's been 10 years since news of Kim Kardashian's infamous sex tape with R&B singer Ray J broke.
" tml-render-layout="inline
Dubbed "Kim Kardashian, Superstar" by Vivid Entertainment, the company that ultimately acquired rights to the tape, it will forever be associated with the pop culture icon's name, for better or worse. 
To mark the occasion, we've compiled a list of 10 facts from TMZ and the New York Post that you probably didn't know about what's undeniably the most famous celebrity sex tape in the sordid history of that genre. Enjoy! 
" tml-render-layout="inline
1. It's been watched over 200 million times. 
210 million times, to be exact, across online, DVD and VividTV platforms, according to TMZ. 
2. Someone starts watching the tape every 1.5 seconds, on average. 
Yep—someone somewhere will have started watching Kim K and Ray J get it on it by the time you finish reading this sentence.
" tml-render-layout="inline
3. It's made an estimated $100 million since its release.
Fuckin' A. 
4. People love to watch it when Kim K is in the news. 
Unsurprisingly, spikes in views have coincided with the following events: Kim's marriage to NBA player Kris Humphries, her divorce from Humphries, rumors she started dating Kanye, her Paper Magazine cover and the Paris robbery.
" tml-render-layout="inline
5. It's largely regarded as what made Kim famous. 
Most everyone pretty much agrees. UFC commentator, podcaster and stand-up comedian Joe Rogan has a particularly hysterical take on explaining Kim K's fame to an alien life form.

6. Despite rumors, there are no bedroom "water sports." 
His name is Ray J, not R. Kelly. 

7. Ray J released a song about his and Kim's sexcapades called "I Hit It First." 
He doesn't name drop, but with lyrics like, "I had her head going north and her ass going south, but now baby chose to go West," it's pretty obvious. 

8. Kim was totally against its release… 
She was reportedly crying when she first got wind that tabloids had picked up the sex tape story. Vivid Entertainment founder and chairman Robert Hirsch told the New York Post that "Kim did not want [the deal] to happen."

9. …but she ultimately agreed to sell Vivid Entertainment the footage.
Reports initially claimed that she was paid $5 million. While Hirsch says he's never disputed that sum, other sources have said that figure is inflated. 
" tml-render-layout="inline
10. A native Australian first broke news of the sex tape to the New York Daily News.
Ben Widdicombe, a longtime New York journalist, first wrote about it in his "Gatecrasher" column in March of 2007.  
" tml-render-layout="inline