UFC Ring Girl Arianny Celeste Sizzles In Behind-the-Scenes Calendar Video
What a knockout.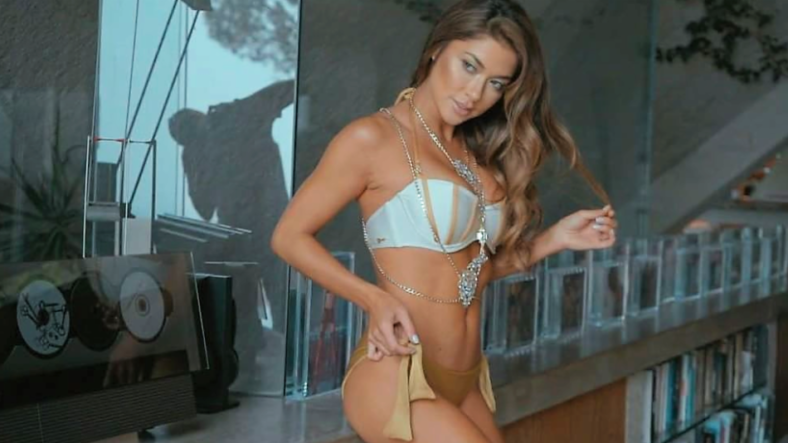 (Photo: Instagram/@ariannyceleste)
https://www.instagram.com/p/BY_UczEAMe_
If you were considering picking up a copy of Arianny Celesete's 2018 pin-up calendar, the smoldering behind-the-scenes video she just dropped from the shoot might just might push you over the edge. 
Our favorite UFC octagon girl lights up the set as she dons a variety of eye-popping swimwear.  
Somehow, she even makes having "two tickets to the gun show" look sexy. 
She officially became a millionaire months ago, but the enterprising beauty isn't slacking off. The smokeshow did a fantastic job revving up her 3 million Instagram followers in the weeks prior to the calendar's release by posting these stunning sneak peaks. 
https://www.instagram.com/p/BYty8N5g9-5https://www.instagram.com/p/BY9PJhtAYAvhttps://www.instagram.com/p/BY9qL4lgvf9
You can purchase an autographed copy for $30 from her website. Kick in an extra $10, and Arianny will even write a personal message for you. 
Who wouldn't want to look at this hottie all year long? 
https://www.instagram.com/p/BY3pkMZAswahttps://www.instagram.com/p/BX8Dwrqlknmhttps://www.instagram.com/p/BYyvxk6ARsIhttps://www.instagram.com/p/BYjPi-EFxkdhttps://www.instagram.com/p/BYH1Zg1FAgohttps://www.instagram.com/p/BYbtPLJlOoPhttps://www.instagram.com/p/BXbLrMtll6Vhttps://www.instagram.com/p/BYT0GYCFHIBhttps://www.instagram.com/p/BXzrumtliV8https://www.instagram.com/p/BW_VBkPlKY7