Ashley Graham Is Maxim's April Cover Model
How bombshell Ashley Graham set her sights on the $18 billion plus-size fashion industry.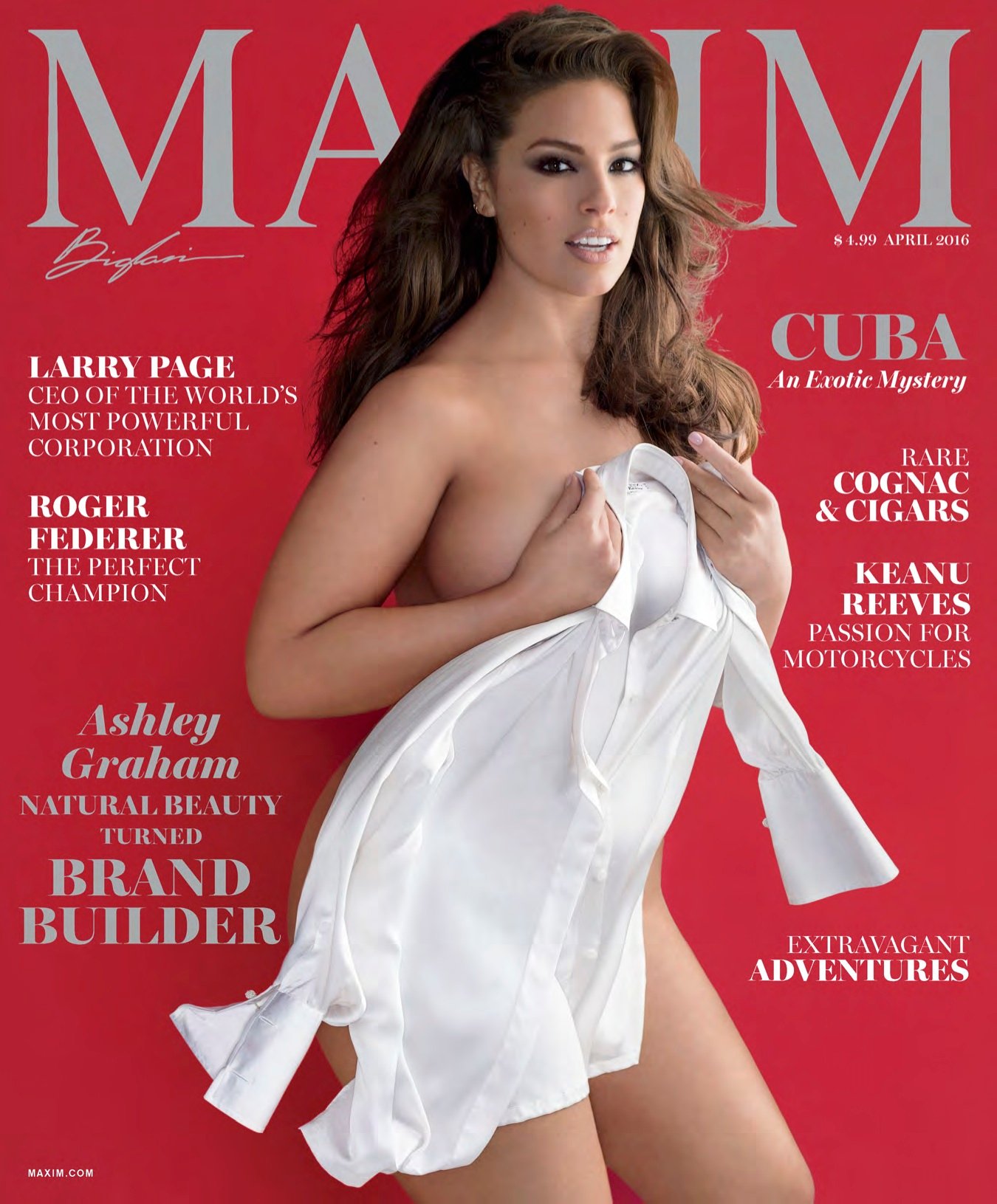 Spend a few hours with glamazon Ashley Graham and you'll notice not just high-fashion editorials and major ad coups that have made her a a few things.

The first is her face: nothing short of arresting, with serious cheekbones, flawless olive skin, and impossibly full lips. It's as though Eva Mendes, Cindy Crawford, and Brooke Shields had melded into one woman, and then someone turned up the volume. Everything from her charcoal-rimmed eyes and extra-long eyelashes to her tousled brown hair seems to have been amplified. 
The second thing is her voice: husky and smooth; like an Oprah or Tyra, she's a fan of affirmations. "You are bold, you are brilliant, you are beautiful" is a personal mantra. The lingerie model and entrepreneur is prone to deep laughter and public displays of self-assurance. Her Instagram (1.4 million followers) is one barely clad shot after another, whether she's wearing a lacy black push-up bra or a skimpy bikini. "My life, lately, is naked," she laughs. 
Of course, she has the curves and the presence to pull it off. And in spite of her unassailable sex appeal, Graham exudes an approachability that's put her on the fast track to a one-woman brand. The 28-year-old is perhaps best known for appearing on billboards and buses as part of Lane Bryant's 2015 "I'm No Angel" campaign, but it's not just high-fashion editorials and major ad coups that have made her a burgeoning household name. This winter Graham launched her eighth collection of namesake lingerie for the label Addition Elle, now at Nordstrom and online shops like Bare Necessities; her clothing line for Dressbarn dropped in March, and in May she'll debut her first collection for the popular online retailer Swimsuitsforall. 
 After 16 years in the fashion industry, Graham is seizing her moment, and she has her sights set on mogul-dom, citing enterprising gazillionaires like Jessica Simpson, Jessica Alba, and former model Kathy Ireland, who made a fortune in home furnishings, as her inspirations. Graham is determined to expand her apparel and accessories lines and plans on developing a fitness program and becoming an author. Yes, she even has visions of taking on the likes of Tyra with her very own Ashley Graham Show. 
 "I know these celebrity entrepreneurs are just people," she says. "They've just been given the right opportunities and have soared with them. And that's what I'm trying to do." When she landed a certain major swimsuit cover in February, Graham's raw reaction at the televised unveiling was emotional and infectious. "I'm gonna take over," she laughed, gripping the microphone with tears in her eyes.       
Read the full interview with Ashley Graham in Maxim's April issue, on newsstands April 5th, and be sure to subscribe so you never miss an issue.