Gorgeous Ashley Graham Reveals She Still Struggles With Body Image Issues, And That's Just Nuts
"I think I am the fattest woman alive."
At first glance, Ashley Graham seems like a goddess who walks among us. Not only is the former Maxim cover girl earth-shatteringly gorgeous, but she has boldly forged through the size-ism of the bizarro fashion industry to become the world's most preeminent "plus-sized" model.
https://www.instagram.com/p/BRVoKkIBxbX
But even our wonderfully curvaceous, body-positive heroes have their off-days. While being honored at the Urban Arts Partnership 25th Anniversary Benefit on Thursday night, Graham spoke about the ebbs and flows of her trademark confidence.
https://www.instagram.com/p/BRPFsJeByRO
"You can eat a whole bowl of pasta and then you can go and do a lingerie shoot the next day, and I say to myself, 'What the hell was I thinking?' I am just like any other woman and I think I am the fattest woman alive — but it is really about how you handle your situation."

"I look in the mirror and do affirmations . . . 'You are bold. You are brilliant. You are beautiful.' If my lower pooch is really popping out that day, I look at it and say, 'Pooch, you are cute!' . . . Words have power, and if you are going to use your words negatively, then that is exactly what is going to happen in your life."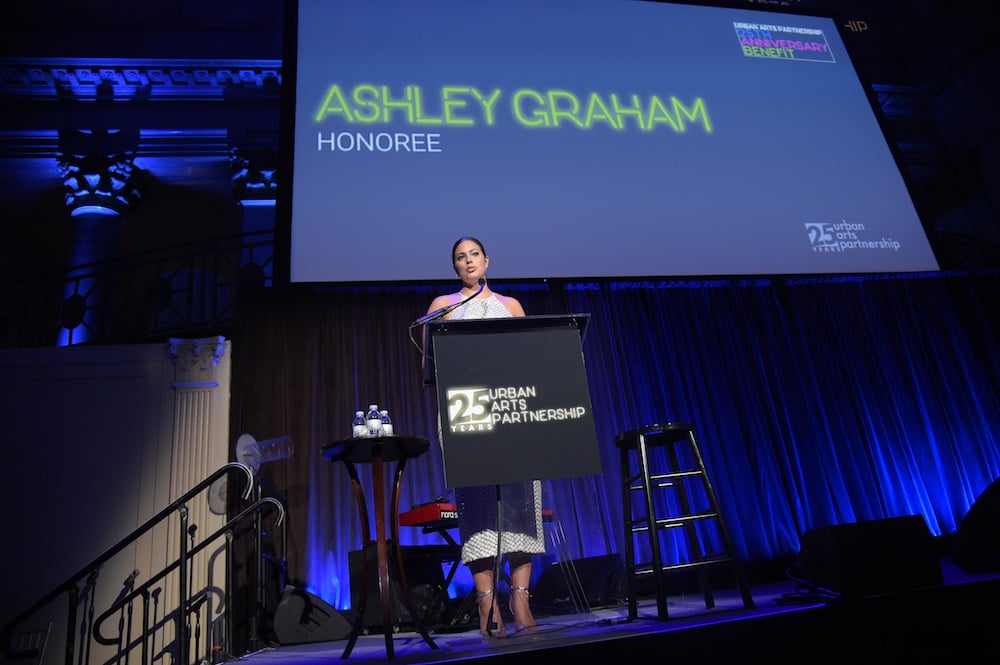 No one should have to feel this way, but things may be getting better. Graham's says that her career, is a "huge testament to how the industry has changed."
As far as we're concerned Ashley, you're pretty much perfect.