'Babes For Trump' Wants To Make America Sexy Again
It's the tempting Twitter account you never knew you needed.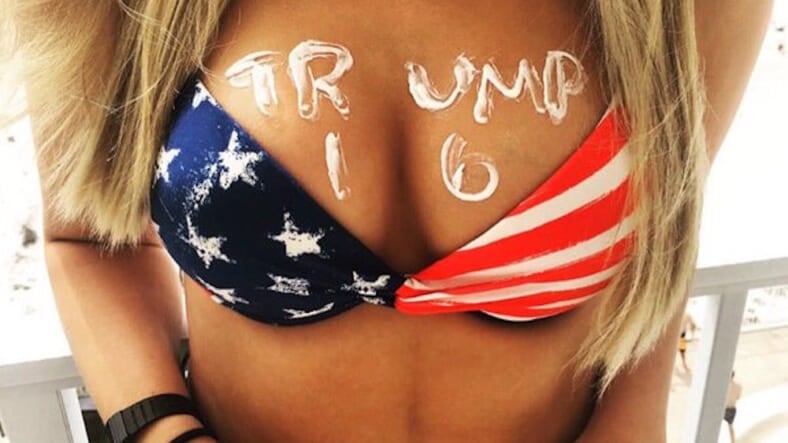 Step aside, Melania Trump—there's a bevy of other babes who want to Make America Great Again with scantily-clad shots in support of controversial GOP presidential nominee Donald Trump.
The Babes For Trump Twitter account is teeming with pro-Trump hotties posing in skimpily patriotic attire, sporting Trump signs and, yes, wearing those signature red trucker hats. 
We picked out the top five hottest babes for Trump—check them out in the gallery above.  
Or, if you'd rather, take a look at some of the account's most tantalizing tweets. Whether you love or loathe Trump, some of these eye-popping pics are bound to make you smile, or at least shake your head in awestruck wonder:
https://twitter.com/BabesForTrump/status/715548990285152256https://twitter.com/BabesForTrump/status/768901090922360836https://twitter.com/BabesForTrump/status/716750589846233088https://twitter.com/BabesForTrump/status/717025165830406144https://twitter.com/BabesForTrump/status/781967793579253760https://twitter.com/BabesForTrump/status/760263054638583812https://twitter.com/BabesForTrump/status/716670731782905856https://twitter.com/BabesForTrump/status/750525741067014144https://twitter.com/BabesForTrump/status/767083639746232324https://twitter.com/BabesForTrump/status/760263054638583812https://twitter.com/BabesForTrump/status/716832890437439488https://twitter.com/BabesForTrump/status/747582415909027840https://twitter.com/BabesForTrump/status/716731228691566592https://twitter.com/BabesForTrump/status/715350790299320321