Bregje Heinen Is Maxim's September Cover Girl
Meet the Dutch supermodel who's heating up our magazine this month.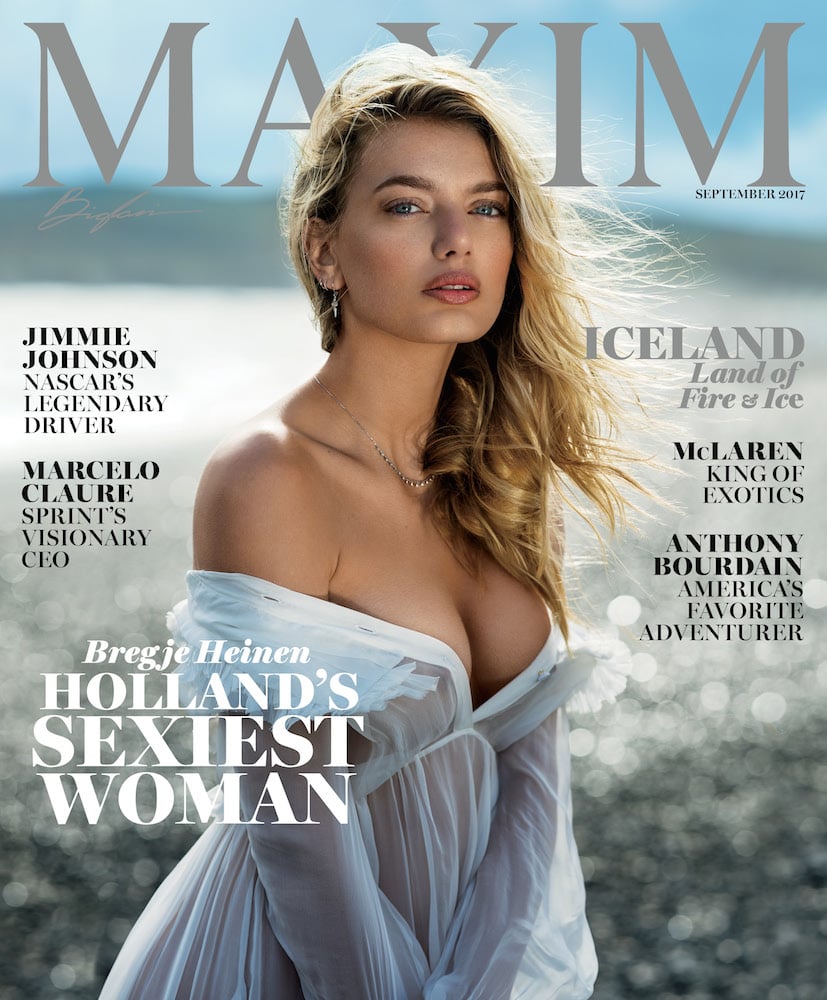 When supermodel Bregje Heinen glides
into Rudy's, a bar in New York City's
Hell's Kitchen, heads turn, not surprisingly. 
Heinen is only 24, but she exudes
a quiet elegance that somehow recalls
the movie stars of Old Hollywood. At
the same time, she's also down-to-earth
enough that she doesn't seem out of
place in a barroom full of daytime revelers.
Heinen was born in Borculo, a sleepy burg of 10,000 in the eastern
Netherlands. She broke into the business at the tender age of 14 after being
discovered by a Dutch modeling agency on Hyves, a now-defunct Dutch
social media platform. 
"I had been asked before, but I never took it seriously,"
Heinen says, forgoing the Budweiser in front of her for a glass of ice
water. "My mom and dad looked into it, and it looked okay."
Her first job was a shoot for Elle Girl when she was 15. Heinen says
she thought she would model for a few years, then move on to a "real" career. 
It's been nine years now, and she has walked the runway for
Victoria's Secret, Prada, and Topshop and graced the pages of the
Sports Illustrated swimsuit issue, shot on location in Brazil. In fact, these
days she's one of the most coveted faces in modeling, having appeared in
campaigns for DKNY and Topshop.
Heinen lives in Brooklyn with three French bulldogs, Harry,
Winston, and Norma. She may boast over a half-million Instagram
followers, but Heinen is a homebody for the most part. "Clubbing? No,"
she says with a laugh.
Heinen's career has taken her "all over Europe, the Maldives,
Mauritius," and it's obvious that she loves the work. Indeed, travel is one of
the perks of what is already a very bright career. She'd like to go to Japan
sometime, "but for fun, not for work."
https://www.instagram.com/p/BNZsit9hF2C
For this month's cover, she traveled
to Iceland with Maxim photographer Gilles Bensimon. Their workdays
began at 5 p.m., and shooting took place from 8 p.m. till about three the next
morning. 
https://www.instagram.com/p/BPX4aIYBLdm
Iceland wasn't the easiest location for a shoot; it was freezing even
in early summer, when the light lasts well into the night. Heinen wore next
to nothing all day while the others bulked up. "The best light is at 10 p.m.,"
she says. "It was so cold, and I was in a bikini, but everyone was so nice."
https://www.instagram.com/p/BN0ATcxhixY
The hectic schedule meant Heinen didn't get to do much sightseeing,
but the "office" was admittedly spectacular. (Prospective visitors, take note:
One of her favorite spots was the famous black sand beach Reynisfjara,
near the village of Vik on Iceland's south coast.)
https://www.instagram.com/p/BRHPC-wFM1Y
When not on the road, Heinen loves to paint. (She's got talent, too;
select works are for sale at bheinenart.com.) In the future, she'd like to
explore her artistic side more, possibly even making the leap into acting. 
https://www.instagram.com/p/BXGNrFQl2-F
Or perhaps she'll become an interior designer, another of her passions.
But for now, she's happy right where she is—which, these days, seems to be
just about everywhere.
https://www.instagram.com/p/BS8uReqDiTC
Pick up the September issue, on sale August 22, for all of Bregje Heinen's glorious Maxim photos, and be sure to subscribe so you never miss an issue.