Watch Top Model Bryana Holly Get Weird With Whipped Cream in This Sweet New Clip
Good Lord.

Instagram/Chris Applebaum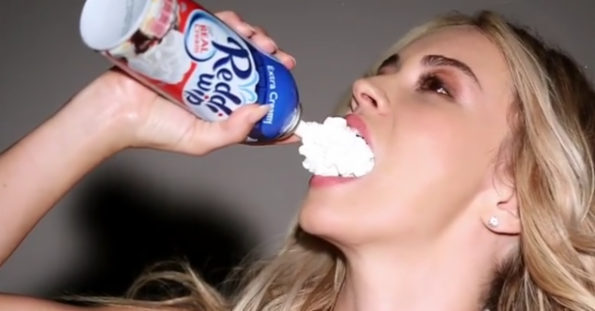 The "food porn" Instagram videos director Chris Applebaum continues to grace us with all have two key components—seriously stunning models and gloriously messy junk foods.
While all of them are clearly suggestive in nature—that's why we love them so much—this three-part series featuring top model Bryana Holly pushes the sex-factor to the max, and then smothers it in whipped cream. 
There's just something about the way she shakes up that can of Reddi-Wip in that tight white one-piece and then smiles at the camera, all to the rocking riffage of Led Zeppelin's "Whole Lotta Love"…does it get any hotter than that? 
" tml-render-layout="inline
The answer is no. It doesn't. 
" tml-render-layout="inlinehttps://www.instagram.com/p/BNsqM2ZAeBp
While we await the next calorie-packed post to Applebaum's account, we'll be busy poring over Bryana's sizzling Instagram. In case you weren't already one of her 1.5 million followers, here's a sampling that should make you a believer. 
" tml-render-layout="inline
" tml-render-layout="inline
" tml-render-layout="inline
" tml-render-layout="inline
" tml-render-layout="inline