Dita Von Teese and Friends Frolic in Sexy Throwback Motel Photos
Peep the pin-up queen and other lingerie lovelies in this saucy NSFW gallery.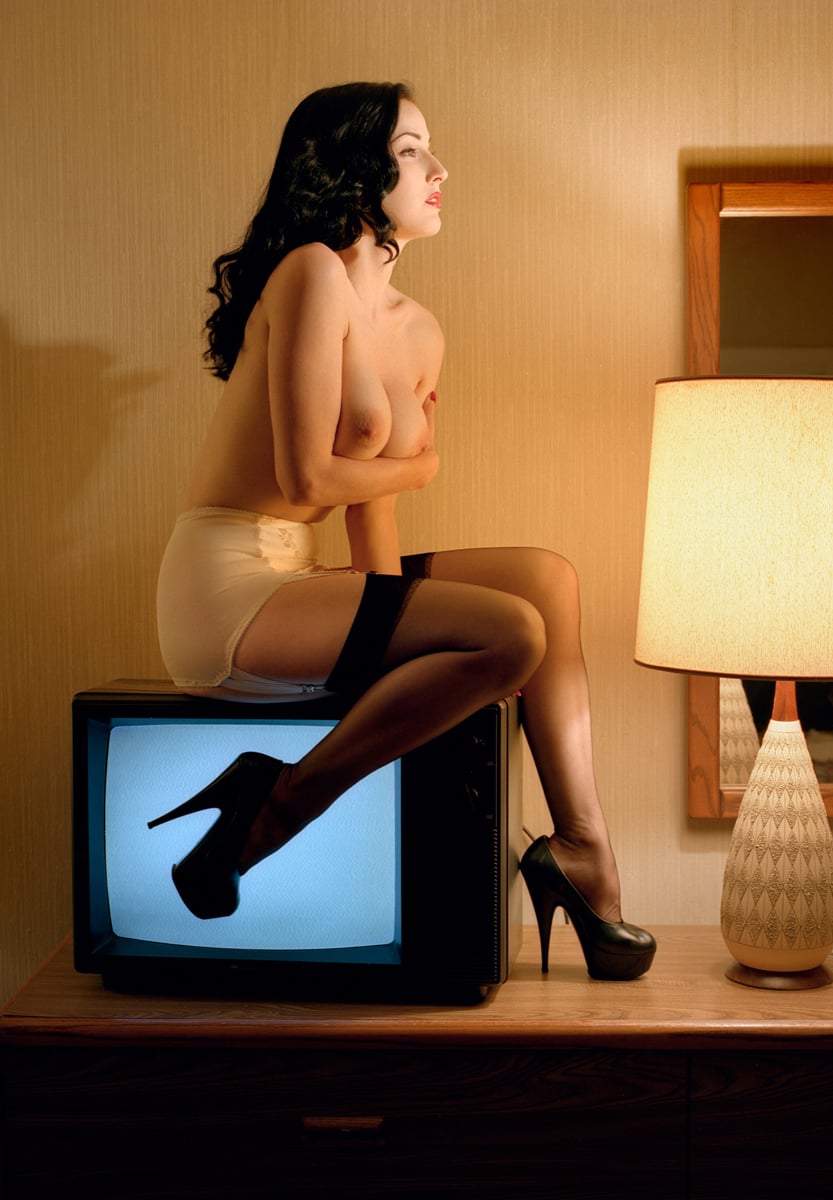 Chas Ray Krider has probably done more to eroticize retro motels than those coin-operated vibrating beds from the '60s and '70s. 
The Columbus, Ohio-based photographer is best known for a trio of books — Motel Fetish, Do Not Disturb and Dirty Rendezvous — which feature models wearing vintage lingerie in stylized noir settings that meld racy erotica with arty weirdness.
In addition to his motel-centric books, Krider has shot for fashion magazines, re-issues of Charles Bukowski novels, album covers and, yes, even fetish gear catalogues. 
Maxim spoke to Rider about working with his most famous model, Dita Von Teese, his attraction to motels and the subjects he wants to tackle next. 
You've done three motel-themed books. Why is that setting so compelling to you?
It started out as a narrative in a motel room. It's just sort of an iconic American place where things happen. Everybody has been in a motel room, and is familiar with that kind of lighting. It's a way to suspend their disbelief and see a known reality. It's a working motif I could string out over an extended period of time.
How are the three books different? 
They're different because each publisher treats the material different. With the first book, Motel Fetish through Taschen, I was fortunate enough to have control over the edit and the sequence of the images. When I got to the second one, it was published by a small book publisher in Paris. The narrative didn't really work because they edit had their own concept of how it should be sequenced. With the third book, published by Goliath in Berlin, I just let it go. As long as it had solid images, I didn't worry about the narrative motif any longer.
And what was the narrative you were exploring? 
You've got this guy who's trying to find something out about himself. He takes a couple of sexy photos of a woman in a hotel room and then begins to repeat it, with different women in different locales, into an interior place in his consciousness that he wasn't really aware of. There's an amateur aesthetic. He doesn't know a lot about photography, he buys the wrong film, and all the colors get wacked out. He starts using the lamp as the main light source, tilting the shade and laying on the floor. He's just a guy, not a photographer per se. I became that guy. I was trying to explore what was really driving me.
How did you come to work with Dita Von Teese?
I have a friend who was an art director for Larry Flynt Publications who did two magazines, a fetish magazine called Taboo, and Leg World. She knew my work and said come out to la and shoot for us. There were seven models, one of them was Dita.
And that led to you including her in your 2002 book, Motel Fetish. 
The photos of her in Motel Fetish started when I shot her in L.A., then she was in a motel room in Indianapolis, and then she came to Columbus. I shot her in my studio and on location.
Where do you shoot your motel photos? 
90 percent are sets that I build in my studio in Columbus. When I was doing that project, I went out to photograph the signage of motels in town and included that in the book, which triggered the belief that this was actually happening in these motels. I have the carpeting and the fixtures and a whole basement full of props that I can keep rotating. 
Where there any actual motels you liked? 
I went over to Indianapolis, where Dita was staying at a Quality Inn. I called it the "less-than Quality Inn." It had mismatched drapes and a bad floral bedspread. It just looked so awful that it was perfect. The more wrong it became, the more it was right.
Are you planning on putting out more motel books? 
I have the material for a couple more motel books. But I also built a set that looks like a trailer or old cabin. It's all wood paneling. It began as "Trailer Trash", but that seemed a bit derogatory so now I'm just calling it "The Cabin." The models aren't wearing period or fetish gear, they're drinking Pabst Blue Ribbon and wearing old rock and roll t-shirts. I have a enough that I could do a nice, solid book on that. I'm just kind of shifting the locale a bit. 
What else are you working on?
I do some fashion editorial, some fetish stuff that has crossed over into commercial usage. My work was used by Virgin Books in the UK for a reissue of Bukowski's novels. In France I have publisher that uses my photos for the covers of erotic pulp novels. I also want to do "The Art of Chaz Ray." It won't just be the sexy stuff. It could be a collage, my street photography, just for my own personal gratification.
For more, visit Krider's website and his online store.