Meet Dutch Supermodel Romee Strijd, Maxim's October Cover Girl
This stunning Victoria's Secret Angel is heaven sent.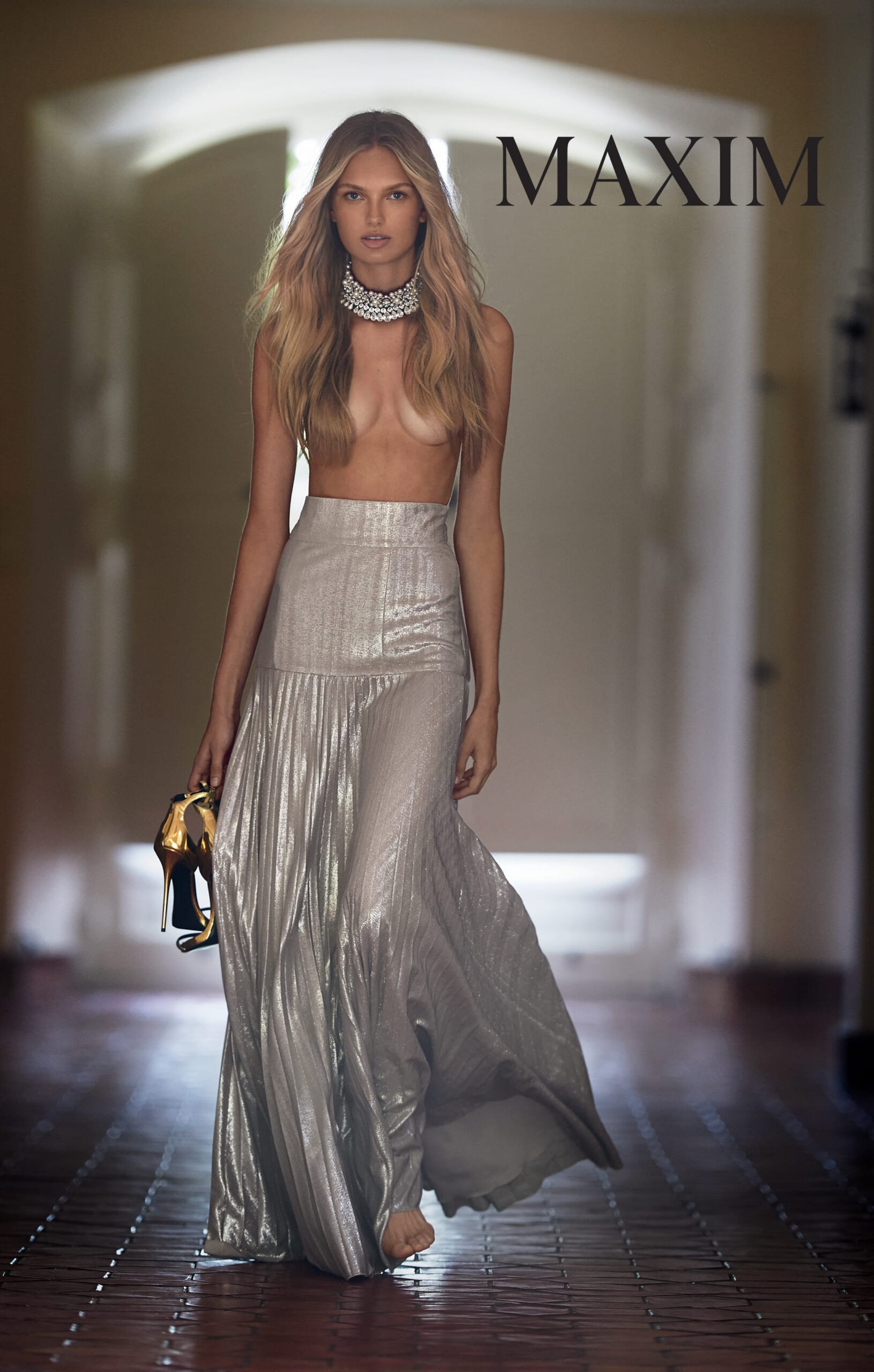 That smile. It's the first thing you notice about Romee Strijd. There's something about it that puts you at ease, makes you forget you're chatting with a six-foot-tall Victoria's Secret Angel. A bona fide supermodel. As she sips an iced latte in a blissfully air-conditioned coffee shop in Chelsea on a sweltering New York day, there's something about the 21-year-old's enormous, effortless smile that tells you none of this has gone to her head—not the jet-setting to Europe and the Caribbean, not the Michael Bay commercials, not the rubbing shoulders with celebrities.
There's something about it that says, in a lovely Dutch accent, I could take it or leave it. There's something about it that says that despite being one of the hottest models on the planet—in both senses—she's still just a girl from Holland.
Strijd was only 13 years old when she was discovered in Amsterdam on the street with her mom. Tall and slim with hair the color of a Dutch wheat field, even at that age she was a star in the making. But she was too young, too nervous, and she turned down the offer. 
Over the next two years, Strijd couldn't get the idea out of her mind, watching modeling reality shows and endlessly looping Victoria's Secret fashion specials on her laptop. She'd get so excited she would sashay up and down the hallway of her family's home in the Hague, with her mother looking on and saying, "Keep dreaming."
And that's what she did. At 15, she felt confident enough to call the modeling agency back. They signed her on sight. Then it all happened so fast. Paris. Milan. New York. Shows for Burberry, Prada and Louis Vuitton. The latter featured the models dressed as Barbie dolls on a carousel, wearing enormous fake lashes. There were horses, and Kate Moss. It was all so surreal.
Strijd was rising fast, but she also missed home. She had been working and traveling so much, back and forth across the Atlantic, that it became overwhelming; at 17, she decided to return home to finish school. It was the right decision, and it also gave her enough distance to realize that she actually loved modeling. After graduation, she moved to New York for good.
The Big Apple has a way of swallowing young models whole, and finding her place in the city wasn't easy. She hung out with other Dutch models and stuck to the same neighborhoods. She didn't explore much beyond the catwalks—and the star-studded nightclubs of Manhattan. "I did go out a lot in the beginning. You're in the city. It's cool to say, 'I'm going out in New York,'" she says. "But I have to say, I was over it pretty quickly."
Meanwhile, her career was booming. She was featured in shows for designers like Isabel Marant, Emanuel Ungaro, and Carolina Herrera. In 2014, she was chosen to be a newcomer at the Victoria's Secret Fashion Show. Then, one day last year, her agent called her into the office. There was a contract waiting: Victoria's Secret wanted to sign her as an Angel.
Strijd, then just 19, remembered watching those videos on her laptop, strutting down the hallway back home. "It was a dream come true," she says.
Oddly, becoming a Victoria's Secret Angel led to a more grounded life. She became close friends with other Angels and started spending more time in New York, which now feels like home. She lives with her boyfriend, who is from her hometown and whom she's been dating since before she started modeling. She works out like crazy—intense group classes with other models, yoga—and likes to stay home and cook when she's not working.
While she's managed to retain a sense of normalcy in her life despite dizzying success, Strijd says it still feels unreal at times. She was recently in Saint-Tropez, attending the Leonardo DiCaprio Foundation gala, where she helped raise $200,000 for model and actress Doutzen Kroes' Never Forget Elephants campaign, for which Strijd is an official ambassador. 
In a week she'll be flying to an undisclosed location to film the annual Victoria's Secret holiday commercial with Transformers director Michael Bay. It's her second shoot with Bay, and last time was a learning experience. It was in Rome, under bright lights on a massive soundstage, wearing wings and very little else, with fake snow on the ground. "It feels like a movie. There are so many people on set, and they're all watching you. Cameras moving around, from the sides and front, everywhere. It was really cool," she says.
Strijd still gets nervous before shoots. She does the best she can to prepare—eat well, exercise, rest—but there's only so much you can do when Michael Bay is barking directions through a megaphone. "At the end of the day, you have to walk the catwalk in your lingerie," she says, flashing that huge smile one more time, in a way that suggests, It'll all be fine.
For more stunning photos of Romee Strijd, pick up the October Maxim now.