Meet Eiza González, the Sexy Actress Who Totally Won the Oscars Red Carpet
Check out the sexiest photos of the 'Baby Driver' beauty that everyone is talking about.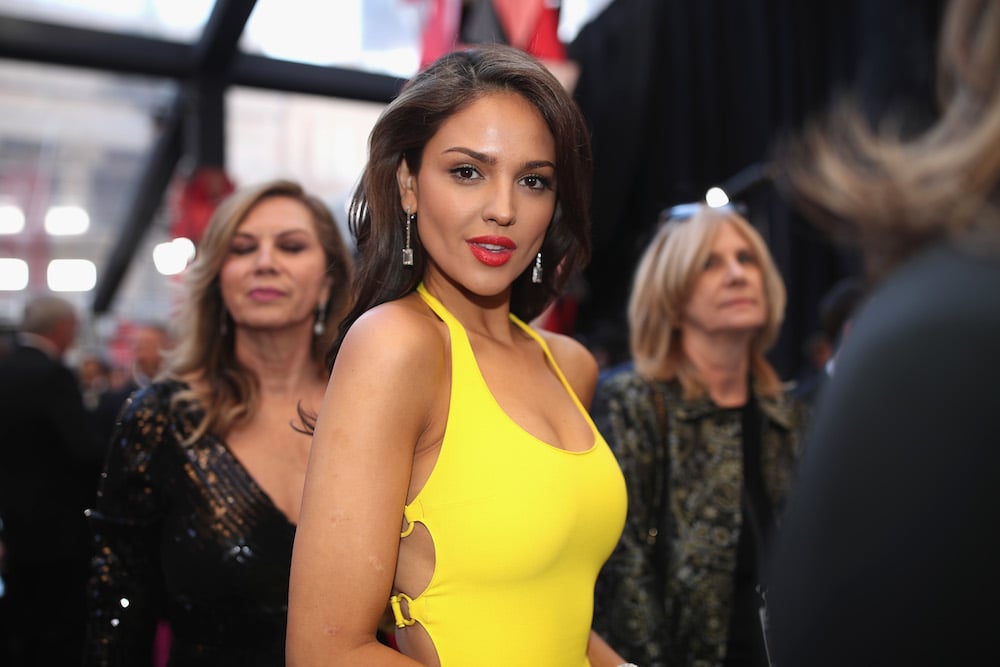 Mexican actress Eiza González isn't a well-known star in America, despite making the move to Hollywood a few years back and nabbing Salma Hayek's old role in the From Dusk till Dawn TV reboot. 
That all changed last night when the 28-year-old bombshell, who had a small role in the Oscar-nominated movie Baby Driver, had the most star-making red carpet appearance of all time at the 2018 Academy Awards.
The Baby Driver beauty moved down the red carpet like a seasoned pro in an eye-catching Ralph Lauren yellow dress, landing on every Best Dressed list and leaving everyone in her vicinity (and those watching back home) to wonder, "Who is that girl in the yellow dress?"
She later presented the awards for Best Sound Editing and Best Sound Mixing alongside Baby Driver co-star Ansel Elgort, forcing viewers to stop tuning out from one of the more snooze-inducing categories and again frantically ask, "Who is she?"
https://www.youtube.com/watch?v=29pLAso9Cmo
Buenas noches, indeed.
Holy yellow dress woman who was just on TV at the oscars you have stolen my heart.

— Francis James (@piscofj) March 5, 2018
Yellow dress who just gave out Dunkirk…

— Mike Missanelli (@MikeMiss25) March 5, 2018
You have seen her before. Eiza González was a big soap star in her native Mexico, before relocating to the United States in 2013.

Apart from her roles in From Dusk Till Dawn: The Series and Baby Driver, she appeared in the most recent Justin Timberlake video, for "Supplies."
Little known fact: Eiza has been on Maxim's radar for some time. Back in 2015, she spoke with us about adjusting to dating culture in the U.S.
"Latin America is more religious, old school and conservative than the United States. People in the States are a lot more open-minded and casual when it comes to dating," she said, while promoting From Dusk till Dawn: The Series.
"For example, in Mexico, it's a huge tradition that guys ask girls to be their girlfriends with a big event. In the States, dating is more relaxed. It's really different, but I love both! It's diverse, and I enjoy it. Different experience for sure…"
She also told us about her ideal date: "For me, creativity is key. It doesn't have to be very elaborate! It's all really about having fun. It can go from an amazing dinner to a casual movie date. It's all about how I get along with the person I go out with."
And what she looks for in a man: "I'm a sucker for presence and personality. If I see a confident man, I am sold. And beautiful eyes never hurt anyone."
https://www.instagram.com/p/Bf4E3iWApo5
She also let us know how she'll let a man know she's interested: "I've become very simple when it comes to dating. If I like you, I'll let you know. I'm Latin. We are straightforward."
America has certainly been straightforward about suddenly falling in love with the gorgeous but little-known Mexican actress. Expect that last part to change soon… as everyone definitely knows who she is now.
See more on her smoldering Instagram account, here:
https://www.instagram.com/p/BbC5OdzArWB
https://www.instagram.com/p/BW3JPovA1UR
https://www.instagram.com/p/BfoOluGAb6p
https://www.instagram.com/p/BJd6qcKgJHbhttps://www.instagram.com/p/BGZ88ILvdQq