Check Out the Hottest Looks From the 2018 Grammy Awards
Anna Kendrick, Rita Ora and Cardi B were among those who heated up music's biggest night.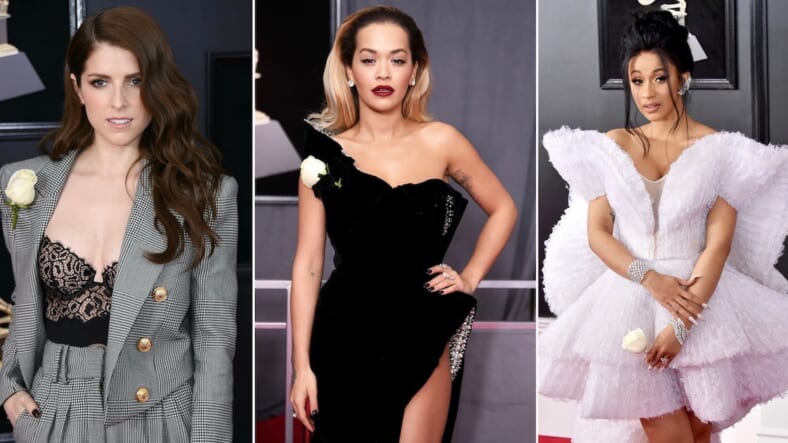 Pop superstar Bruno Mars and hip-hop royal Kendrick Lamar weren't the only huge winners at the 2018 Grammy Awards. There were also plenty of red hot red carpet looks that showed that the biggest night in music still knows how to put on a show. Check out 14 memorable outfits from Sunday night's festivities here:
There was nothing that could quite match Jennifer Lopez's plunging Versace dress from 2000 or Lady Gaga hiding out inside a giant egg from 2011, but Cardi B, nominated for Best Rap Performance and Best Rap Song, looked like a hip-hop swan, and Anna Kendrick rocked a men's-style suit jacket over just a bralette. (We can't wait to see what Cardi wears at the 2018 Maxim Party next weekend in Minneapolis.)
Cardi B gave one of the most memorable red-carpet interviews in recent memory, telling E! host Giuliana Rancic that she was so nervous, she had "butterflies in her vagina."
Kendrick Lamar won Best Rap Album and Best Music Video for "Humble," which also won Best Rap Song and Best Rap Performance. The Compton rapper also won Best Rap/Sung Performance for "Loyalty" featuring Rihanna. "She gassed me on my own song," said Lamar. "This really belongs to her." Added Rihanna: "I'm honored. Congrats, you deserve this, man."
Lamar was lauded for his politically-charged opening performance, which featured a musical cameo from U2 as well as several intentional interruptions from the great Dave Chappelle, who later won Best Comedy Album.
It wasn't the Miley Cyrus and Elton John duet of "Tiny Dancer" that everyone was talking about, although that was pretty sweet, too.
https://twitter.com/Stav_Per/status/957813764434415616
Bruno Mars and Cardi B's performance of their '90s-inspired hit "Finesse" was arguably the night's hottest highlight.
That solo rap from Cardi B was fire in every sense.
https://twitter.com/Stav_Per/status/957796263126339586
The biggest award winner of the night was Bruno Mars, who clinched Album and Record of the Year for "24K Magic" and Song of the Year for "That's What I Like." Mars also got Best R&B Performance and Best R&B Song for "That's What I Like." "24K Magic" was awarded Best Engineered Album (Non-Classical) as well.
 Ed Sheeran also had reason to celebrate, winning Best Pop Solo Performance for "Shape of You" and Best Pop Vocal Album.
Check out a whole bunch of other winners here, courtesy of the New York Times:
Record of the Year: "24K Magic" — Bruno Mars
Album of the Year: "24K Magic" — Bruno Mars
Song of the Year: "That's What I Like" — Christopher Brody Brown, James Fauntleroy, Philip Lawrence, Bruno Mars, Ray Charles McCullough II, Jeremy Reeves, Ray Romulus and Jonathan Yip, songwriters (Bruno Mars)
Best New Artist: Alessia Cara
Best Pop Solo Performance: "Shape of You" — Ed Sheeran
Best Pop Duo/Group Performance: "Feel It Still" — Portugal. The Man
Best Traditional Pop Vocal Album: "Tony Bennett Celebrates 90" — Various Artists; Dae Bennett, producer
Best Pop Vocal Album: "÷" — Ed Sheeran
Best Dance Recording: "Tonite" — LCD Soundsystem
Best Dance/Electronic Album: "3-D The Catalogue" — Kraftwerk
Best Contemporary Instrumental Album: "Prototype" — Jeff Lorber Fusion
Best Rock Performance: "You Want It Darker" — Leonard Cohen
Best Metal Performance: "Sultan's Curse" — Mastodon
Best Rock Song: "Run" — Foo Fighters, songwriters
Best Rock Album: "A Deeper Understanding" — The War on Drugs
Best Alternative Music Album: "Sleep Well Beast" — The National
Best R&B Performance: "That's What I Like" — Bruno Mars
Best Traditional R&B Performance: "Redbone" — Childish Gambino
Best R&B Song: "That's What I Like" — Christopher Brody Brown, James Fauntleroy, Philip Lawrence, Bruno Mars, Ray Charles McCullough II, Jeremy Reeves, Ray Romulus and Jonathan Yip, songwriters (Bruno Mars)
Best Urban Contemporary Album: "Starboy" — The Weeknd
Best R&B Album: "24K Magic" — Bruno Mars
Best Rap Performance: "HUMBLE." — Kendrick Lamar
Best Rap/Sung Performance: "LOYALTY." — Kendrick Lamar featuring Rihanna
Best Rap Song: "HUMBLE." — K. Duckworth, Asheton Hogan and M. Williams II, songwriters (Kendrick Lamar)
Best Rap Album: "DAMN." — Kendrick Lamar
Best Country Solo Performance: "Either Way" — Chris Stapleton
Best Country Duo/Group Performance: "Better Man" — Little Big Town
Best Country Song: "Broken Halos" — Mike Henderson and Chris Stapleton, songwriters (Chris Stapleton)
Best Country Album: "From a Room: Volume 1" — Chris Stapleton
Best American Roots Performance: "Killer Diller Blues" — Alabama Shakes
Best American Roots Song: "If We Were Vampires" — Jason Isbell, songwriter (Jason Isbell and the 400 Unit)