Hot 10: Dana DeLorenzo
You don't want to mess with this 'Ash v. Evil Dead' actress.
The gruesome Evil Dead franchise has touched the lives of millions across the world, turning regular horror movie buffs into extremely devout deadite fans — and Dana DeLorenzo is no exception. 
The 33-year old starlet, whose talents range all the way from working on the big screen to Amy Winehouse tribute bands, first bore witness to the third horror installment, Army of Darkness, after listening to her friends obsess over the film. "I saw it in high school and became aware of the impact the franchise had on the horror genre and its cult following," Dana told Maxim. "Since then, I've had the pleasure to meet fans of the films and am blown away by their passion. I love hearing stories of when fans popped their Evil Dead cherry."
Dana has had the pleasure of utilizing her comedic background while playing Kelly Maxwell on STARZ's Ash vs. Evil Dead, a show she says "is not only heavy on scares, but on good old fashioned slapstick laughs, with nothing else like it." Kelly is a woman on the run from her past who joins up with our favorite one-handed buffoon, Ash Williams, to defeat the destructive forces of darkness, all while getting doused with gallons upon gallons of blood.
It comes as no surprise that the critically acclaimed series has been picked up for a second season (three days before the first even premiered), with the spirit of the 1981 classic as strong as ever. More episodes of Ash v. Evil Dead also means plenty more time spent with the always gorgeous DeLorenzo. "Season 2 is FULL ON," she said. "I'm psyched to pick up where Kelly left off — she's been through the wringer and is like a racehorse out of the gate. Everyone, dead or alive, better stay out of her way. Hoo-ah!"
Dana spoke with Maxim about making her laugh, the worst pick-up line she's ever heard, and what's next. 
1. If you weren't an actress and you could do anything else (no training required), what would you be doing?
I've fantasized about being a maestro— a conductor. I'm naturally very expressive and gesture with my hands a lot anyway… so, that, coupled with my love for orchestral suites makes me a perfect fit for the job, amiright? 
2. What's your favorite curse word to use?
Muthafuck. My friend Paul started saying it and it always makes me guffaw. It has many delightful variations and uses: this muthafuck, muthafuck I'm late, traffic is a muthafuck. I may or may not have found a way to incorporate it into Kelly's dialogue in Season 2.
3. What do you wear to feel your sexiest?
Generally something that I'm happy to put on and isn't a pain in the ass to wear. Sometimes it's my perfectly fitted pair of Frame jeans which feel like a second skin, other times it's more elegant like the BCBG dress I wore for my first premiere; it showed skin in all the right places. But my old stand-by is a soft oversized v-neck white t-shirt. With or without the jeans. 
4. Are there any movies you can repeatedly watch without ever getting bored of?
Even though I own these movies (DVD and VHS) and even when the edited versions play on TV, I will stop what I'm doing and watch and laugh at all the same parts: My Cousin Vinny, Moonstruck, Mrs. Doubtfire, and Speed. POP QUIZ HOT SHOT!
5. How can a man go about getting your attention?
Make me laugh. If you make me laugh I will be your barnacle. Bonus points if you have a passion, can have a conversation with strangers, can carry a tune, play an instrument, dance to Marvin Gaye or pretend like my long-winded stories are fascinating. (If you fit this description, please call.)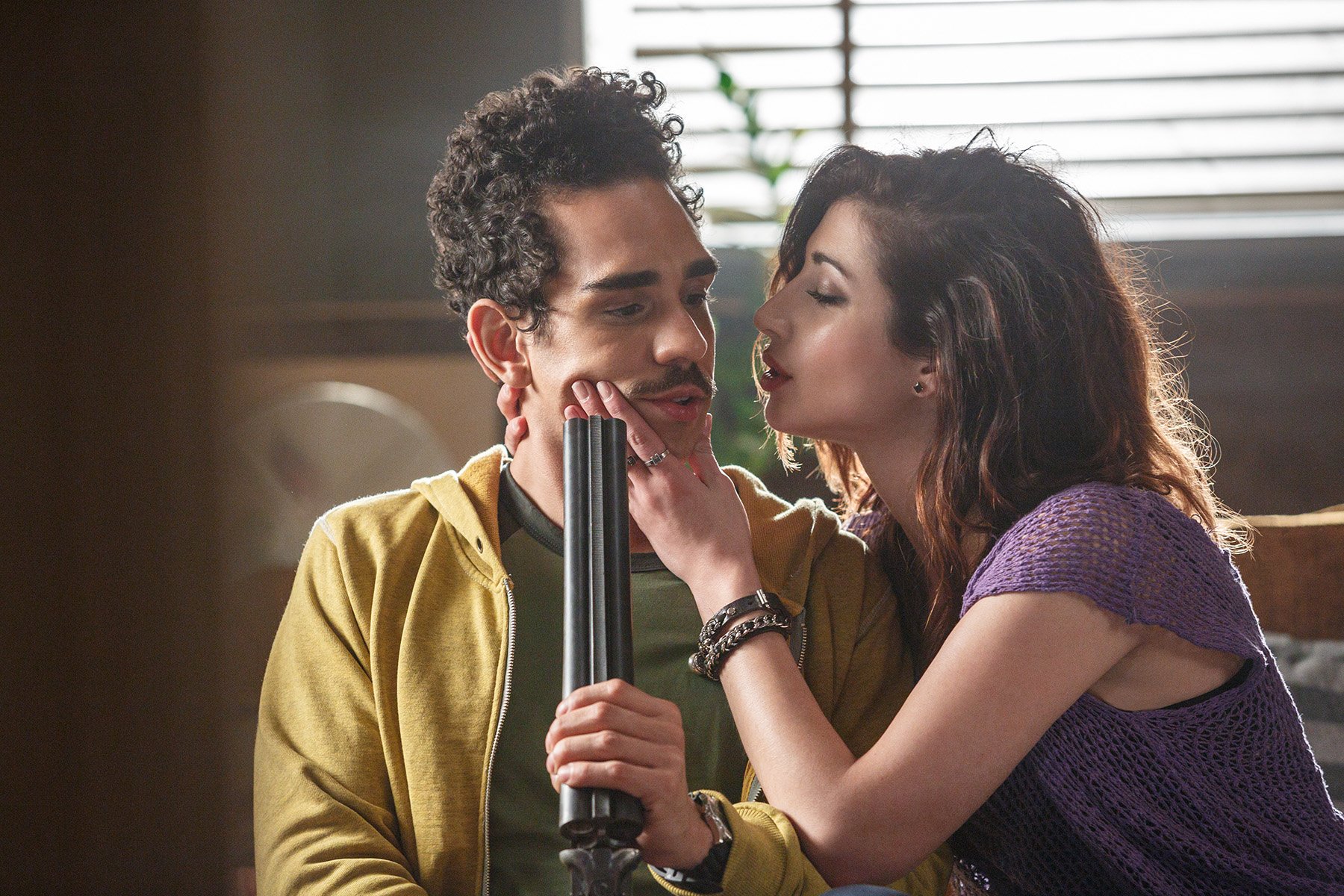 6. Do you have any girl crushes right now?
Lizzy Caplan, Emma Stone, Lola Kirke and Pamela Adlon. 
7. What would you do on an ideal date?
Dinner at a restaurant with good lighting and real food that doesn't leave me needing a burger after dinner. We talk and laugh and blame the uneven table when I inevitably knock over my Pinot Noir. You share dessert with me because you also love chocolate. Then we go see some live music. And we never check our phones once. 
8. What's the worst pick-up line you've ever heard?
This wins for originality but it's the longest pick up line ever, ergo it's the worst. It went on for 10 minutes. Here's a much shorter recap of the "pick-up line":
Guy: Hey, do you live here in Chicago?
Me: Yes.
Guy: Did you go to Columbia?
Me: No, I went to DePaul.
Guy: What dorm did you live in freshman year?
Me: Munroe.
Guy: Did you know Joe Smith?
Me: No.
Guy: Did you ever date a guy name Joe?
Me. No.
Guy: Hm. I guess I don't know you. Why don't you give me your number so I can get to know you better?
(Insert: slow clap)
9. How do you prefer a man to be styled?
Always good to start with a clean face and deodorant. Beyond that, since my father is a haberdasher, I'm a sucker for a man in a well-tailored suit. But there's also something eternally sexy about a fitted t-shirt and a great pair of jeans. 
10. So what's next for you?
I have a leading role in this fantastic little indie film that I'm very proud of called The Mad Ones— which I believe is coming out later this year. Just recently I was in a short film called Three Women with a stellar cast, including my pals Alex Beh and Anna Camp. Finally, my biggest honor this year was voicing a character for an episode of Teenage Mutant Ninja Turtles on Nickelodeon. Booyakasha!
All fired up? Check out the other sexy ladies to grace our 'Hot 10' column.