Hot 10: Danielle Moinet
This WWE Superstar is very, very good with her legs.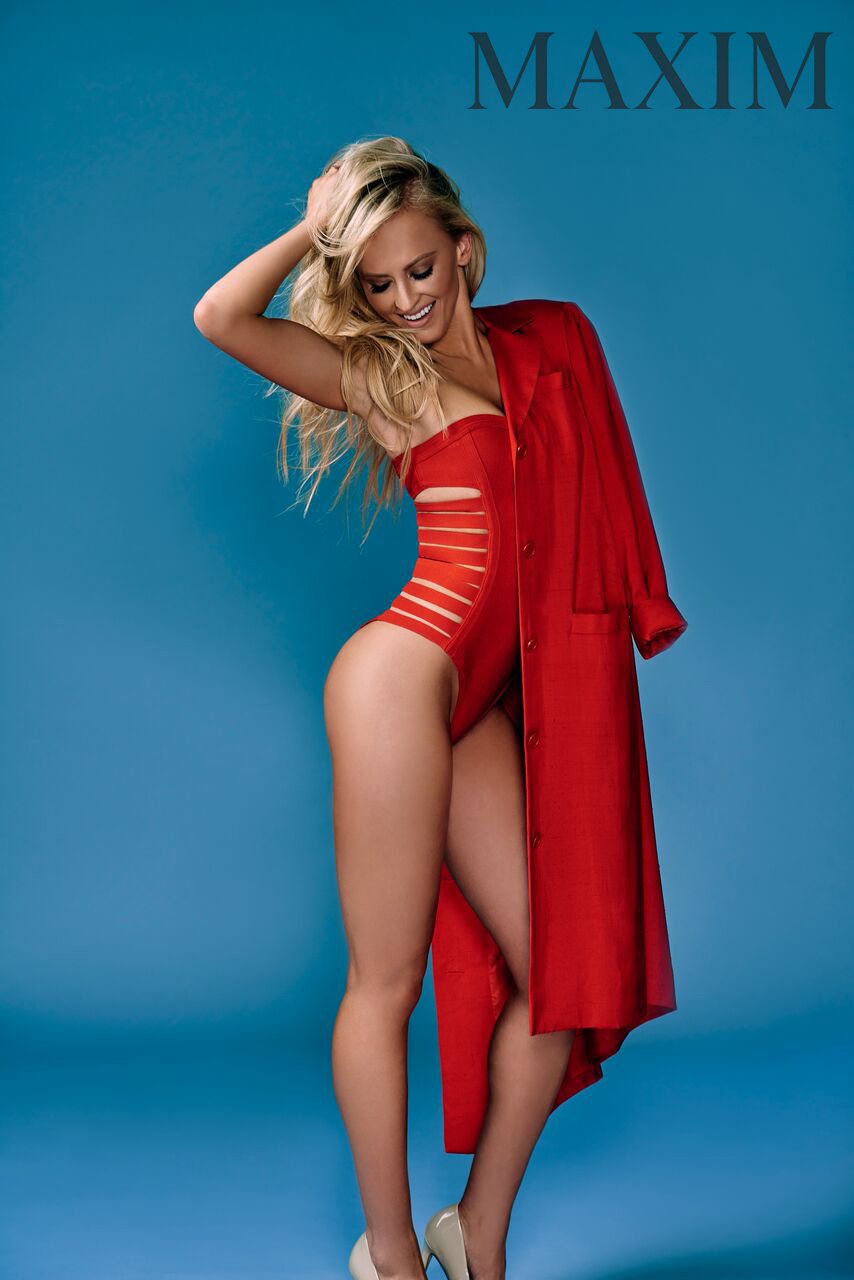 Danielle Moinet is a force to be reckoned with. Growing up in a family with only daughters, the North Carolina native found herself couch-side with her father for WWE every Saturday morning. That was all the inspiration she needed to morph her body into a WWE Superstar.
Equipped with the ring name "Summer Rae," Moinet has become a household name in the wrestling industry and has helped to break down barriers for women in the technical sport. While racking up victory after victory in multiple sets of alliances and rosters, this badass blonde has set herself apart with brutal signature suplexs, submissions, and spin kicks.
https://www.instagram.com/p/BJjrxaZBZ_W
In between DDTs, Danielle talked to Maxim all about girl crushes, rap songs, and being a superhero.
https://www.instagram.com/p/BJtjRkphMUK
1. If you weren't a pro-wrestler and you could do anything else (no training required), what would you be doing? I would love to be a Marvel or DC Comics superhero movie star—that is my dream roll. It helps that I can do my own stunts!
2. What do you wear to feel your sexiest?
I feel my best any time anyone is dolling me up. This summer at the ESPYS, I had a great stylist and a great glam team. I felt so sexy in my Bao Tranchi gown.
3. What's something on your bucket list that you've yet to accomplish?
I would love to do the coin toss at the Superbowl. I'm always working during the Superbowl, so I never get to go.
4. What is your favorite part of your body?
My legs. I use them as a weapon in the ring.
5. Is there a song that you can recite most (if not, all) of the lines to?
"I'll Be Missing You," by Puff Daddy. It was the first rap song I ever learned. 
https://www.instagram.com/p/BJ_7F1vhxR5
6. How can a man go about getting your attention?
Humor is a great opener. Girls always have their guard up when they are out, and if you can make a girl laugh, you can make her do anything. 
7. Crushing on any girls right now?
For sure. I have girl crushes on Kendall Jenner, Emily Ratajkowski, and Gigi Hadid.
8. What would you do on an ideal date?
My ideal date, now, is anything that someone has taken the time to plan out, that is unique and exciting. That is NOT dinner and a movie. Showing initiative is sexy. Don't get me wrong, I love a good dinner and movie, but not in the beginning.
9. If you could work with any pro-athlete, who would it be and what would you be doing?
I love the Williams Sisters. I think they embody strong and sexy, and are amazing female role models who have dominated their fields.
10. So what's next for you?
The sky's the limit for me. I have an amazing fan base that are super supportive of everything I do. The best is yet to come! 
All fired up? Check out the other talented beauties who have graced our 'Hot 10' column.