Kaitlin Olson Spills the Dirt on Her New Hit Show 'The Mick' and Season 12 of 'Always Sunny'
TV's favorite foul-mouthed blonde is back with two shows.
With the recent reboots of Full House, Gilmore Girls and One Day at a Time, it seems that the tidy, cookie-cutter family sitcom formula is fresher than ever. Well, take whatever perceptions you have of pristine suburbatopia, smash them with a sledgehammer and douse them in lighter fuel and Mountain Dew because the new TV series from Kaitlin Olson, The Mick, will do for the family sitcom what It's Always Sunny in Philadelphia did for Cheers.
In her first star vehicle since rising to fame as the relentlessly ridiculed and downtrodden barkeep "Sweet Dee" on It's Always Sunny in Philadelphia, Kaitlin Olson now brings her brand of crap-talking and shit-starting to network television. "My sensibility is much more cable," Olson told us about switching to FXX's parent channel FOX. "I was a little nervous, but John and Dave Chernin [the creators] told me they wrote this character for me, and it was so funny, and I felt like I had this opportunity to bring something completely different to a network."
That she has. In the widely-viewed pilot episode, Olson's boozing, vagabond character "Aunt Mickey" is suddenly saddled with caring for her privileged niece and nephews after her billionaire sister and brother-in-law are forced to flee the country on fraud charges. Posted up in a posh Greenwich, Connecticut mansion, Mickey must care for the children and begrudgingly get her act together, but not before accidentally tasering a Martha Stewart-esque neighbor and taking psychedelics with the maid. The series has certainly pushed network boundaries so far, although critics hope it only goes further.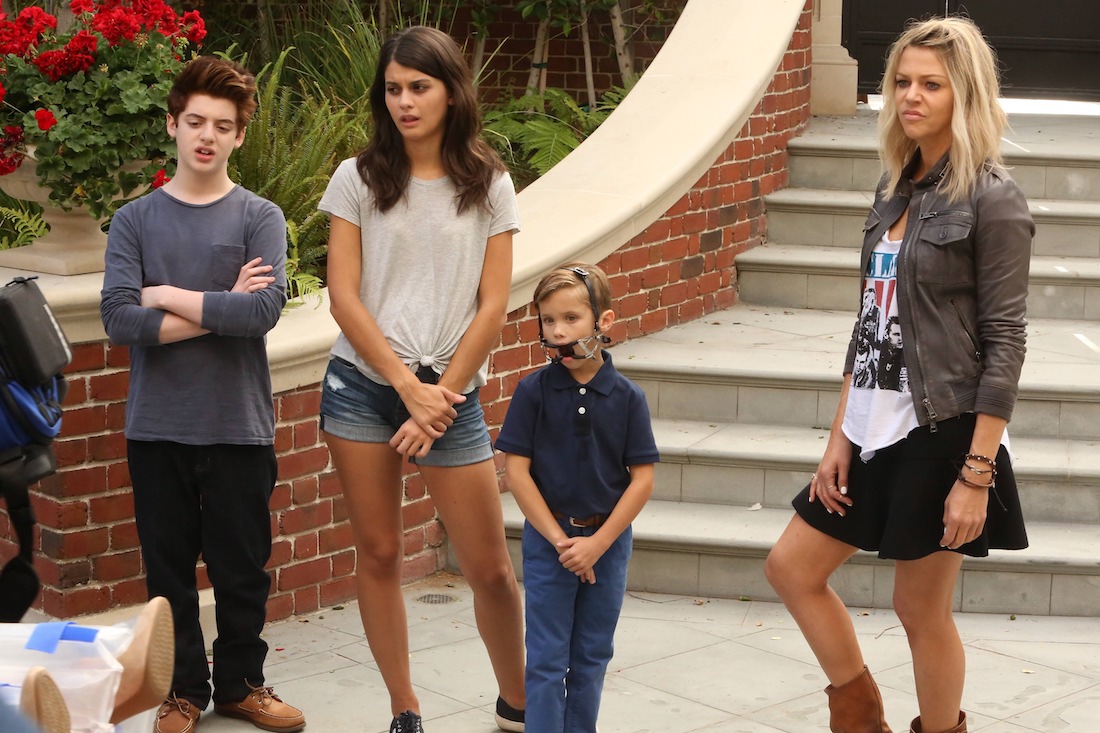 While Aunt Mickey is as much of a scowl-faced shit-show as Dee is on Sunny, she's now the one calling the shots rather than serving as the pitiable punchline to the guys' jokes. "She is bolder and more comfortable in her own skin and confident in her choices. I definitely wanted to make sure I was doing a different character than Dee," Olson said. "But I love being the butt of jokes too, and I love that they're always calling Dee a bird because it means absolutely nothing."
Seeing that The Mick is crushing it in the ratings and that the recent Season 12 premiere of It's Always Sunny in Philadelphia broke records, we knew there was no better time to catch up with the uproariously hilarious Kaitlin Olson, who is kind and ebullient in real life despite the grueling schedule of two hit shows. She talked about what Aunt Mickey has in store, adding a raunchy twist to the family sitcom formula, why you should be watching The Mick with your kids and what disasters Dee will stumble into during Season 12 of Sunny.
Are you as freewheeling as Dee and Mickey in real life?
I love that is the impression that I'm giving off, because it's actually the opposite. I'm better now, but I spent most of my life being really shy and taking inventory of whether or not people liked me and thinking, "OK, don't say this and do say this, and you'll be fine." That's sort of who I was growing up. So I must have just swung wildly in the opposite direction once I realized that is a horrible way to live. These characters are really cathartic for me.
It seems like Aunt Mickey has a beating heart while Dee might just be a terrible person.
Absolutely. Ultimately for this to work, Mickey is going to have to care at some point. Otherwise she would just leave. This is a major difference between her and Sweet Dee—I don't think Dee would care at all. Mickey has a little bit of heart, and it bugs her, and she doesn't want to, but she sympathizes with their situation a little bit. We're never going to beat you over the head with it, but she's gotta care.
What hijinks does Aunt Mickey have in store?
There is an episode where I take Ben, the little one, to the doctor, and I find out at the doctor's office that we have missed his birthday so we attempt to throw him a birthday party, and terrible things happen. It really goes awry and completely turns upside down. I can't say what happens, but it involves blood and drugs and stuff like that.
How has it been producing in addition to starring?
It's just a lot more work. I care very, very deeply so there's some inherent stress involved there, but I love it. If this show fails, at least it fails with me making it the show I wanted to make, and I could only do that if I were producing it. I wanted to be in the editing room; I wanted to be reading scripts and giving notes; I want to be doing all of that stuff. And it was so important for me to cast it.
I love your chemistry with Sofia Black D'Elia, who plays your niece Sabrina. How did you cast her?
She was the first character we cast. That day there was a room full of blonde, beautiful teenagers, and we had some amazing actors audition for it. They were all really wonderful, but I knew that angsty, bitchy teenage girl character would get so irritating after two or three episodes. Then Sofia walked in and played it so straight and cool, like she knew she was just way better than Mickey, and I instantly knew it would be her. It's not something I would get tired of watching, and I felt like it would be a good nemesis for Mickey.
Has it been difficult to work within the parameters of network TV?
I don't always love being restricted, but it's a good challenge to have an idea about what you wanna do and then have some push-back and then find a way to do it where everyone's happy. I feel like you can be edgy and explore topics that people don't normally like to talk about on networks, and do all that in a palatable way.
Have any other family-type sitcoms inspired you?
A big, huge one for me when I was little was Golden Girls, and we all sat down as a family and watched it together. The jokes that were supposed to go over my head went over my head, and my parents laughed, and we loved it for different reasons. I have great memories of my childhood sitting down and watching shows with my family, and that was a goal of John, Dave and me from the beginning.
So you have watched The Mick with your kids?
I actually did watch this with my kids, and it was exactly like I thought. My little one would laugh at my big physical comedy things and get bored and tune out during the other stuff. Every family is different, but there's nothing that is too awful for me and my family. I have a six-year-old son, and we're working on not saying "Shut up!" and "Idiot!" So I need to make sure that if I'm saying that in the show, we have to have a talk first so that he recognizes I'm acting and that it's not okay to say that, and that it's a horrible character I play, but he gets it.
Have you ever let them watch Sunny?
Absolutely not.
What's the most messed up thing you and the guys on Sunny ever did?
For me, mine are just moments, like when they lit Dee on fire or when we got addicted to crack so we could apply for welfare. Eating human meat was really fun, and then the one where we went to the Jersey Shore and saw what really happens under the boardwalk… that was insane. There are definitely a lot of things that I do not want my kids to see from that show.
What will happen to Dee this season? Any character arcs for her?
No, no, no. There's never any character arc. It's just ridiculous stuff she finds herself in. I do get stuck in a water slide for an entire day pretty soon…
New episodes of The Mick premiere on FOX every Tuesday while new episodes of It's Always Sunny in Philadelphia premiere on FXX every Wednesday.