Kaley Cuoco Reveals the One Deal-Breaker That Caused Her to Dump a Famous Boyfriend
Gentlemen, listen up.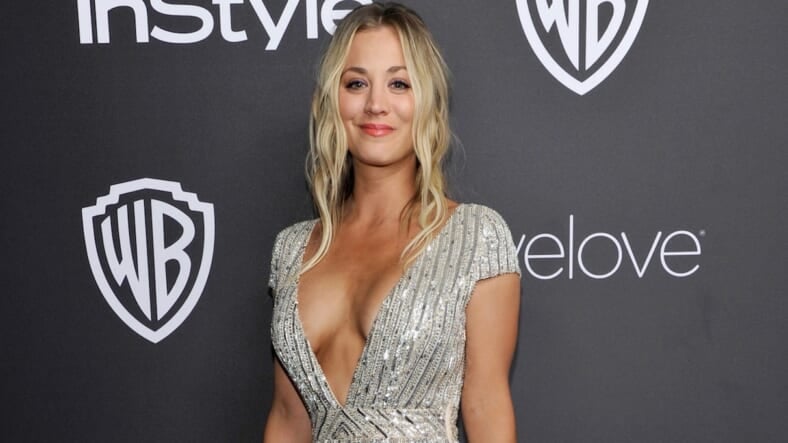 Getty Images
In a video short from Vogue magazine, Kaley Cuoco revealed her biggest deal breaker in a relationship, one that caused her to split with a mystery famous boyfriend before she hit it big on The Big Bang Theory.
Being cheap.
Cuoco recounted how when she was just 19, she fell for a recognizable actor. "Let's call him… 'John,' because if I told you his name you'd know who he is," she said.
She thought he was The One, before he left an eight percent tip on a swanky dinner date (despite being famous and therefore definitely rich).
"Oh my god, he's cheap!" she said. "My dad… he was like this known big tipper. If we had a driver or someone helping us, he always had cash for him, always always. And I knew I had to be with a guy in the future who was the same."
It could be anyone. Her earlier actor boyfriends include Kevin Zegers (Air Bud), Thad Luckinbill (The Young and the Restless) and Johnny Galecki (Roseanne, The Big Bang Theory).  
https://www.instagram.com/p/BcJamsBla_D
Alas, any big tippers looking to score with Cuoco will be saddened to know the actress is recently engaged, to a guy who presumably tips at least 20 percent every time.
https://www.instagram.com/p/BhE1loAhSPGhttps://www.instagram.com/p/BhHJuvMlEvWhttps://www.instagram.com/p/Bd1Wg4alBwwhttps://www.instagram.com/p/BM6yCzOgb58https://www.instagram.com/p/BhGskG-FwYEhttps://www.instagram.com/p/BhHLGggHygqhttps://www.instagram.com/p/BZm3QrojwOZhttps://www.instagram.com/p/BhEyujulQa8https://www.instagram.com/p/BhEPbe8ASfkhttps://www.instagram.com/p/BhEAsx6FTll