Meet the Stunning Woman Who Can Crush Watermelons With Her Legs
Move over, Gallagher.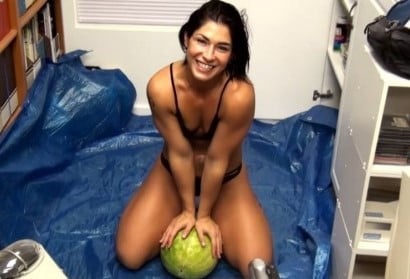 https://www.youtube.com/watch?v=Ao0mij7EHUA
If Kortney Olson looks familiar to you, it's probably because you've seen one of many viral videos of her crushing the shit out of watermelons between her massive, powerful legs.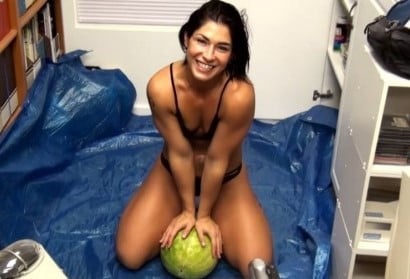 As a former professional bodybuilder with an apparent disdain for large oblong fruit, Olson posted her first video of the incredible feat back in 2009, and quickly became an internet sensation.
https://www.youtube.com/watch?v=pQIoQiVre1U
Speaking to the New York Post, Olson noted how the videos' meaning has changed over the years.  

"The first [watermelon video] I did I was high as shit," she told The Post. "I had a painkiller addiction. I thought it was OK because my name was on the bottle. Before, [the videos] were a fun thing … Now it's a statement of, 'yes, women are fierce,' and because I got the support of women it's all I care about."
She ditched the addiction for sobriety over 6 years ago, but continued to weight train and crush watermelons for the camera regularly. Her internet fame has steadily continued to rise, and she now has over 100K Instagram followers. 
Olson even landed a spot on History's Stan Lee's Superhumans, in which she performed her superhero-like feat for the famed comic book author. You can watch it in the clip above.
" tml-render-layout="inline
Aside from curating her Instagram page, Olson strives to empower women as CEO of her own clothing line called GRRRL, which offers outfits that for girls who don't wear conventional sizes. "GRRRL exists to change the game and our scenery to start seeing women doing badass shit," she told the Post. 
Since launching the clothing line in November of 2015, the company has continued to grow. According to the Post, they even bucked up 95% of their available budget to sponsor UFC bantamweight fighter Holly Holm, who went on to strip Ronda Rousey of her championship belt. 
" tml-render-layout="inline
If you're looking for a pick-me-up, check out and one of her 'grams for some enlightening thoughts. If there's one more thing to note about Olson, it's that she definitely uses that watermelon emoji better than anyone.