This Belgian Beauty Got Naked in the Congo to Raise Awareness for Disappearing Wildlife
Marisa Papen's NSFW calendar has some truly wild shots.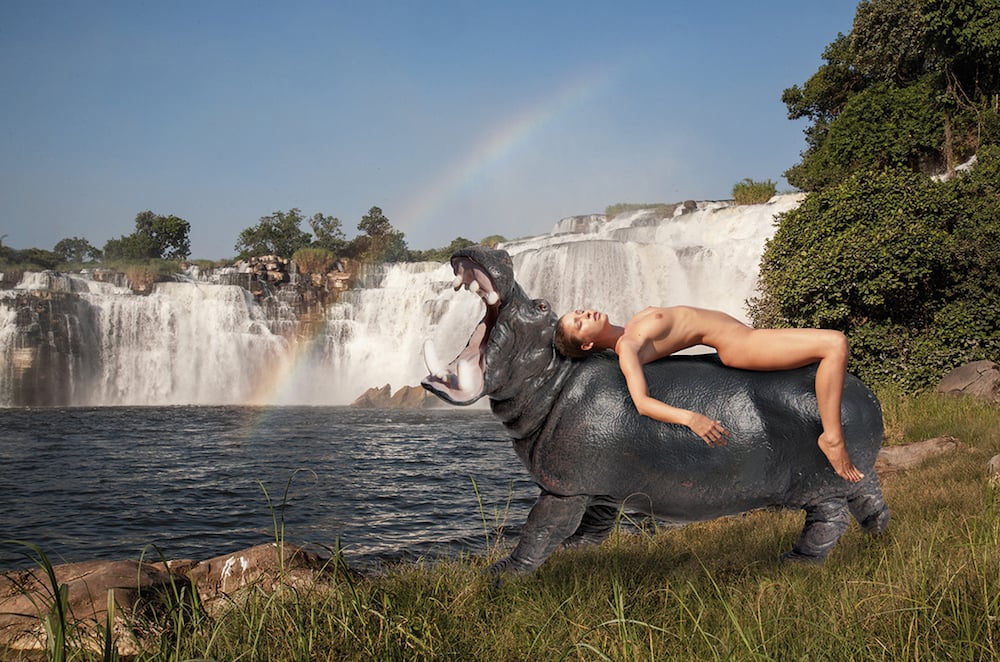 At the start of 2017, Belgian wildlife champion and occasional nude model Marisa Papen fought beach and ocean pollution with her NSFW #PlanetSushi calendar.
A year later, Papen returns with a new mission… and more of her trademark bottom-baring bravado. For her 2018 calendar #PlanetPlastic, she visited the Congo with legendary photographer Uwe Ommer.
Her mission: draw attention to rapidly disappearing wildlife. Her strategy: once again strip down in the wild, to remind us all of Mother Nature's precarious beauty.
"The Earth has been through several major catastrophes and mass extinctions before, but this is the first one in human history—and yes, all thanks to… Ourselves," Marisa writes in the calendar's manifesto.
She cites some alarming statistics caused by deforestation, climate change and poaching. In just 30 years, 32.000 elephants have been reduced to 180 and 1,000 zebras have dwindled to 78. The last lion was seen in 1973, the last buffalo in 1991 and the last rhino in 1954.
"Because there were no real animals to actually run in between, we had to take our creativity up a notch," Marisa told us, revealing she had to result to Photoshop to produce some of these wild images.
"I do know it would have been very tricky to actually lay on the back of a hippo or to touch a lion's head." 
Let's all make sure she one day gets the chance to ride a rhino in the nude. 
Help save Central Africa's rapidly disappearing wildlife by picking up a copy of #PlanetPlastic, whose proceeds go out to the nonprofit Forgotten Parks.