Maxim Loves…Megan Fox Shaking Her Head
This former Maxim cover girl still has us wrapped around her finger.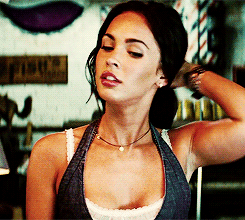 It's easy to see why Megan Fox is universally deemed to be one of the sexiest women alive. With her long, dark hair, sultry stare, and badass attitude, this gorgeous starlet is still making us swoon nearly seven years after our first encounter with her. After making a name for herself in Jennifer's Body, and then ensuring we would never forget her name with her role in Transformers, Megan took a brief hiatus from acting following the 2012 Judd Apatow comedy This Is 40. Now, she's set to return to the big screen later this year as April in Teenage Mutant Ninja Turtles, and we couldn't be more excited. Until then, we'll be studying these sexy Megan Fox gifs – which, as luck would have it, already play on a loop.