Rita Ora Wrote Her Controversial Song 'Girls' About Hooking Up With Cara Delevingne
It all makes sense now.
(Photos: Tezenis & Jimmy Choo)
We might have just found out what Rita Ora's "Girls," the sexy yet controversial bisexual anthem featuring Cardi B, Bebe Rexha and Charli XCX, was actually inspired by.
According to the U.K. Sun, Ora penned the provocative track about her fling with supermodel Cara Delevingne, confirming years of speculation that the two beauties were more than just friends.
"She has been honest with pals about what went on with her and Cara and, during the recording process in the studio, she was happy to discuss the model being the main influence behind the track," an unidentified source told The Sun.
Now, some of those lyrics suddenly make sense in hindsight.
Featured singer Bebe Rexha says in her section of the song, "You know I tamed it, and then I named it. I put the lion in the cage and then I laid with her." 
The line may be a difference to the lion tattoo that Delevingne has on her index finger, even though Ora refers to her as "Lara" on the track.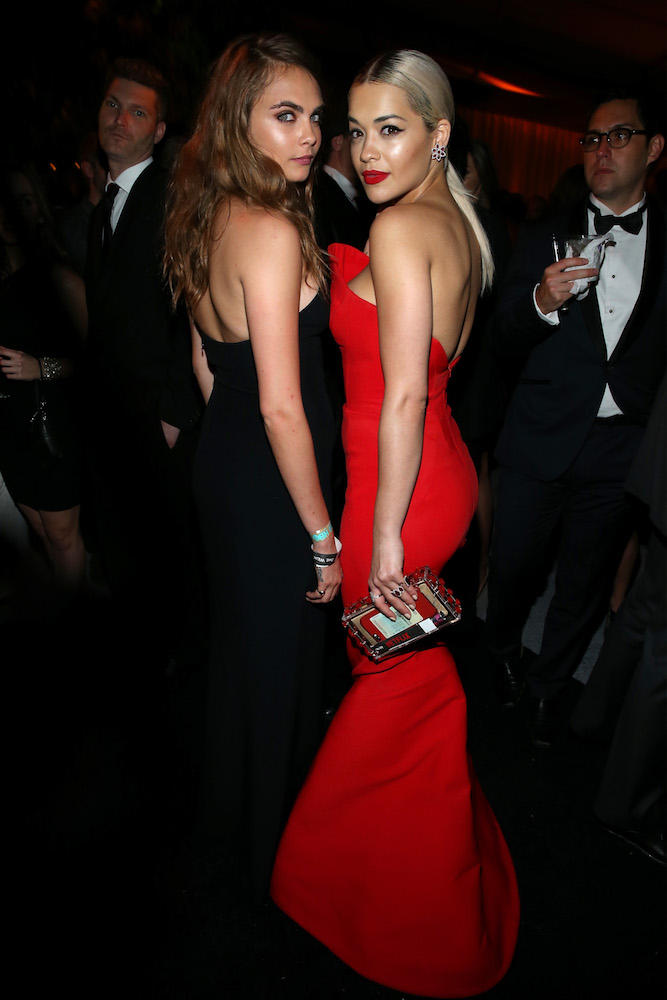 Ora effectively announced herself as bisexual by releasing the song. Still, she was not met with praise… but instead faced criticisms that she "fueling the male gaze" by over-sexualizing female relationships. 
The 27-year-old pop star later issued an apology, claiming she did not "intentionally cause harm to other LGBTQ+ people."
Delevingne, who is openly bisexual, defended the song, before it was made known she had inspired it. 
"I don't think it's right to say her experience and her words are wrong," Delevingne told Paper magazine. "If she hadn't ever felt that way and it wasn't true then that would be weird. She's being proud of something and saying it."
https://www.instagram.com/p/BgOsyDBHNRthttps://www.instagram.com/p/BjHOlIRn672https://www.instagram.com/p/Bi4SoqLHAsHhttps://www.instagram.com/p/Bi29jMwHxJahttps://www.instagram.com/p/BiLyY1InUAQhttps://www.instagram.com/p/Bhm7DczHW7Nhttps://www.instagram.com/p/BhiOaEjHs8Phttps://www.instagram.com/p/BghmBJMnRkJ
Where do you stand?