Romanian Weather Girl Roxana Vancea Raises Our Temperature
Behold the best of wardrobe malfunctions.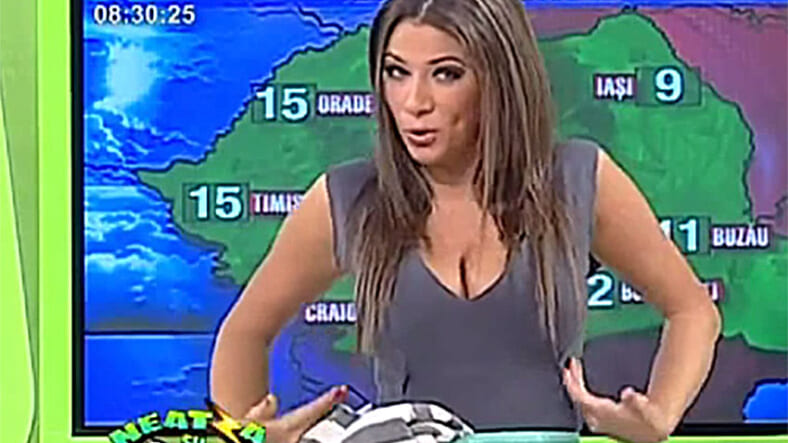 Romania's weather is akin to New England's, with long, cold, and snow-filled winters. We imagine there was a rapid snow melt when Roxana Vancea—one of the hottest weather forecasters we've ever seen— had an unexpected "free the nipple" moment on live TV.
" tml-embed-width="640″ tml-embed-height="360″ tml-render-layout="inline
We don't speak Romanian so we've relied on various Youtube explanations of what was happening during Roxana's segment that led to her breasts briefly bursting their earthly bonds. Most accounts agree she was simply demonstrating the kind of exercise you could get out and do as the weather warmed. 
Of course certain publications addressed the incident as if it was shocking—and Roxana's co-hosts seemed a little taken aback—but Roxana Vancea is obviously pretty comfortable with revealing her assets during weather broadcasts, as this older video (from 2011) demonstrates:
" tml-embed-width="640″ tml-embed-height="480″ tml-render-layout="inline
Roxana's nip-slip may have been completely unintended, but her Instagram account provides further evidence she's proud of her fit and fantastic physique–and maybe some evidence the nip-slip clip is actually pretty old, since she's acquired some tats not evident in the TV spot. Whatever the case, Roxana's Insta could end up a fave, and here are some examples as to why.
" tml-render-layout="inline
It appears, based on the emoticon, Roxana wasn't pleased that Carmen Electra took notice of her viral boob boo-boo.
" tml-render-layout="inline
Roxana turns out to be a gym rat, with impeccable form in the forward lunge.
" tml-render-layout="inline
She could probably change that pull-up grip, but we'll take it.
" tml-render-layout="inline
Always a good idea to rest up after a workout. 
We suspect further fascinating Roxana Vancea footage might go viral again in the future because, well—just look at her. We'll be channel-surfing in hopes of seeing her next time we're in Bucharest.
h/t The Sun