New Photo Book Goes Backstage at the Victoria's Secret Fashion Show
Get an insider's look at the greatest show on Earth.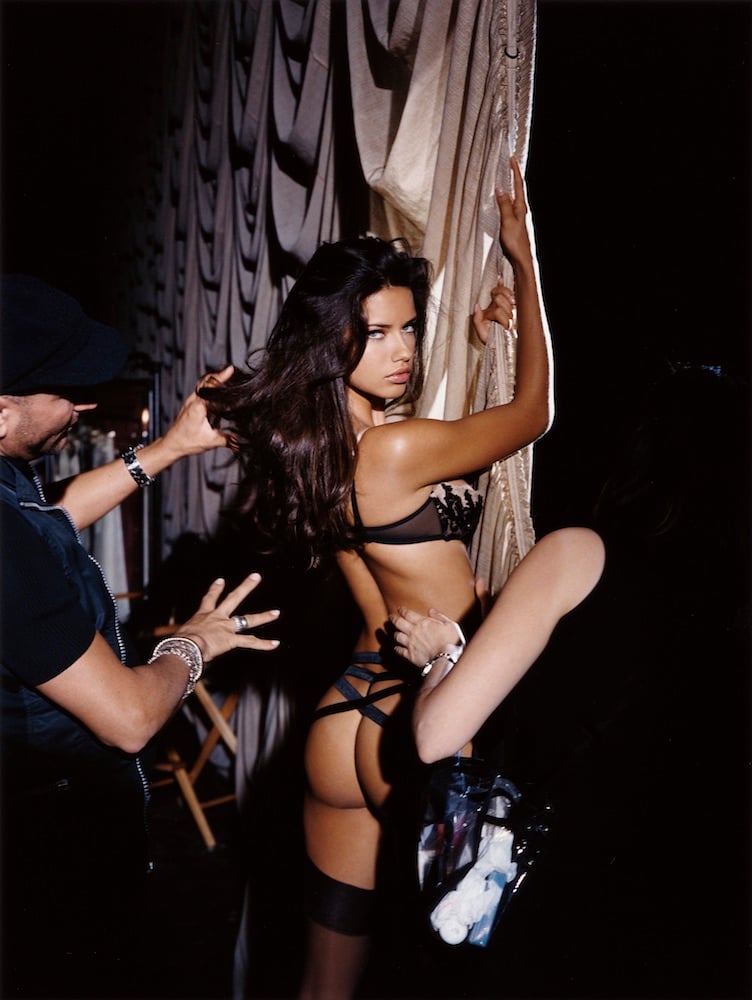 (Photo: Russell James)
For nearly two decades, photographer Russell James has been given a privilege that makes him unassailably the luckiest man on the planet: unfettered access to the angels as they prepare backstage for the annual Victoria's Secret Fashion Show.
Even after being named the official photographer of the lingerie giant (shooting all its campaigns and catalogue shots), he still pinches himself.
"If you had told me when I was 15 making trash cans on an assembly line in a factory in Australia that I would be shooting photographs for one of the world's most significant brands I would have looked at you blankly," James told us. "Fast-forward to the year 2017 and I have had almost 17 years of the most extraordinary access."
We are downright green with envy.
Thankfully, James is showing us some generosity. The Australian photographer has a photo book coming out in December—Backstage Secrets: A Decade Behind the Scenes at the Victoria's Secret Fashion Show—that reveals all that goes down behind closed curtains during the "Super Bowl of Fashion." 
There are unseen photos of iconic angels like Gisele Bündchen, Alessandra Ambrosio, Adriana Lima and Candice Swanepoel pampering and preening before being thrust onto the runway before thousands. The behind-the-scenes antics of newcomers like Martha Hunt, Stella Maxwell, Elsa Hosk and Sara Sampaio are just as wild… and rival anything that makes it on the CBS broadcast, watched by millions.
"In many ways, I'm more comfortable barefoot backstage than any other place. I love to see the action but not be the action," James said. "Observing these extraordinary people experience some of the best days of life has given me photographic treasure."
"It has been incredible watching the VS show go from something curious and new to becoming the most astonishing fashion event in the world gaining an audience of more than a billion people each year."
Below, see some of his most memorable backstage shots from over the years… and read some wild anecdotes from his time with the angels.
Adriana Lima in New York, 2003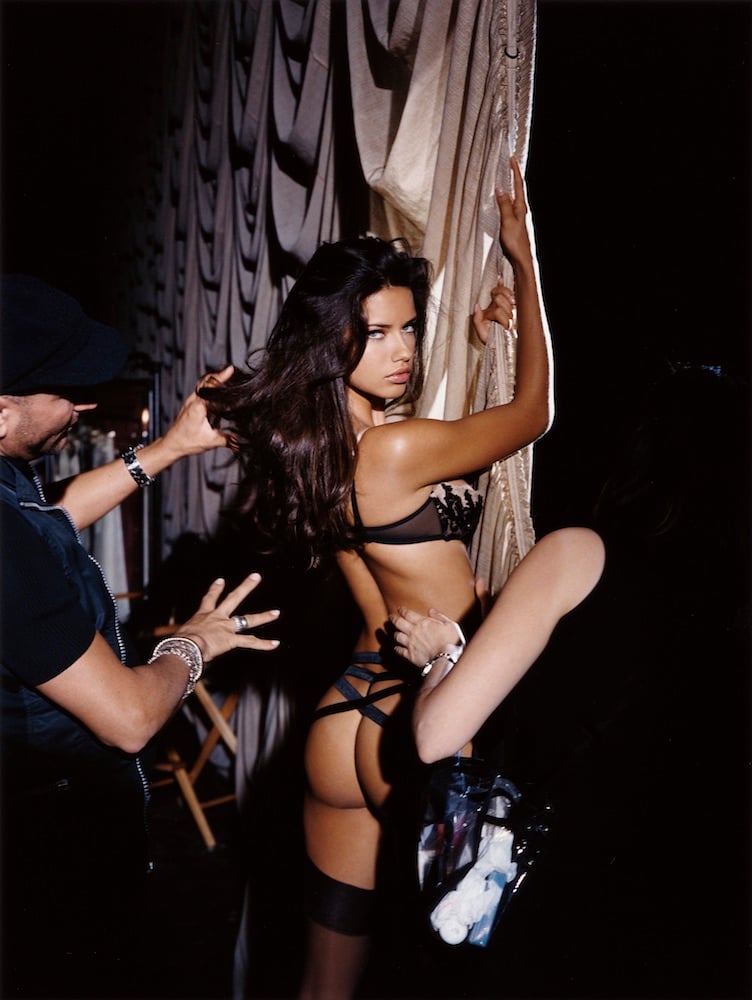 "Often referred to as 'The Queen' by her fellow models, Adriana represents the strongest woman everywhere. Her workout regime in the months before the show is equal to any athlete, and it shows."
Heidi Klum in Miami, 2008
"Still to this day one of the sexiest and funnest people to walk the planet, Heidi brought her unique personality into the show. Backstage and on stage, Heidi is always playful and in her fun German way very provocative. A true icon who left her mark on the show."
Behati Prinsloo in New York, 2012
"Funniest, smartest and most gorgeous Namibian Angel ever. Karlie Kloss is out of frame camera right, and Behati is clearly giving a lesson in something. Coolest, funniest person to be around during very high stress production."
Candice Swanepoel in New York, 2012
"There is something about Candy. One of the great beauties of our time with a hippy spirit, Candice has a way of just looking at the camera that is hard to beat. And it has been great to see her back now in 2017 as the happiest mom."
Alessandra Ambrosio in New York, 2015
"Alessandra has always brought an incredible energy to the stage and is forever young. This year in Shanghai, Ale announced that this was the last show she would ever walk. She has walked 17 shows. That is just remarkable and I'd say she could walk 17 more at least; however, she has always been in control of her destiny."
Kendall Jenner and Taylor Hill in Paris, 2016
"The two 'new kids on the block.' This was the second show for each, and both were at the beginning of an extraordinary career. The fun part about shooting them candidly is they just seem to have no idea how amazing they are. This shot was moments before walking on stage in Paris at the Grand Palaise and they are as cool and relaxed as Formula One drivers."
Elsa Hosk and Sara Sampaio in Paris, 2016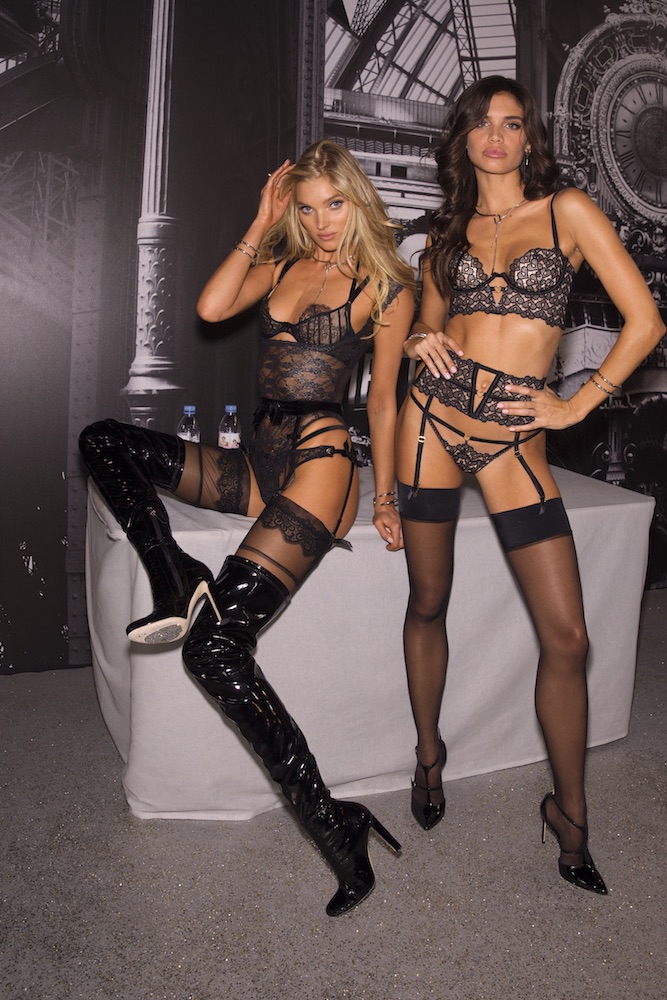 "Paris 2016 was probably the most provocative show VS has ever produced. Elsa and Sara are the coolest free spirits and both at home on European turf in this shot."
Stella Maxwell in Paris, 2016
"One of the newest angels, Stella is just fearless. This moment of squatting down is between outfit changes during the show. Cool as a cucumber, Stella sees the camera and lets me shoot, taking the time to pause and play. We have so many great shots because of this special attitude. Fearless, fun and kind. A pretty great combo!"
Sara Sampaio in Paris, 2016
"Sara is as playful a human as one could hope to meet photographically. A fierce advocate for her homeland of Portugal, Sara brings her own vibe to the show."
Martha Hunt, Stella Maxwell, Josephine Skriver and Jasmine Tookes in Paris, 2016
"Almost a tradition, at some stage in hair and makeup I ask some of the models to shake things up and get up on the makeup tables. It always brings a frenzy into the hair and makeup room where we spend many hours, one of the longest days of our working year. It's fun to see the true friendship these girls have."
The 2017 Victoria's Secret Fashion Show, which was filmed in Shanghai, airs Tuesday, November 28. Check out some highlights from the show, below.
Backstage Secrets will be available early December. It is now available through pre-sale for $76.50.