'Pretty Little Liars' Star Shay Mitchell Talks Keeping Fit, Sexy Date Nights, and Not Labelling Her Sexuality
"I fall in love with the spirit of somebody. Love is love."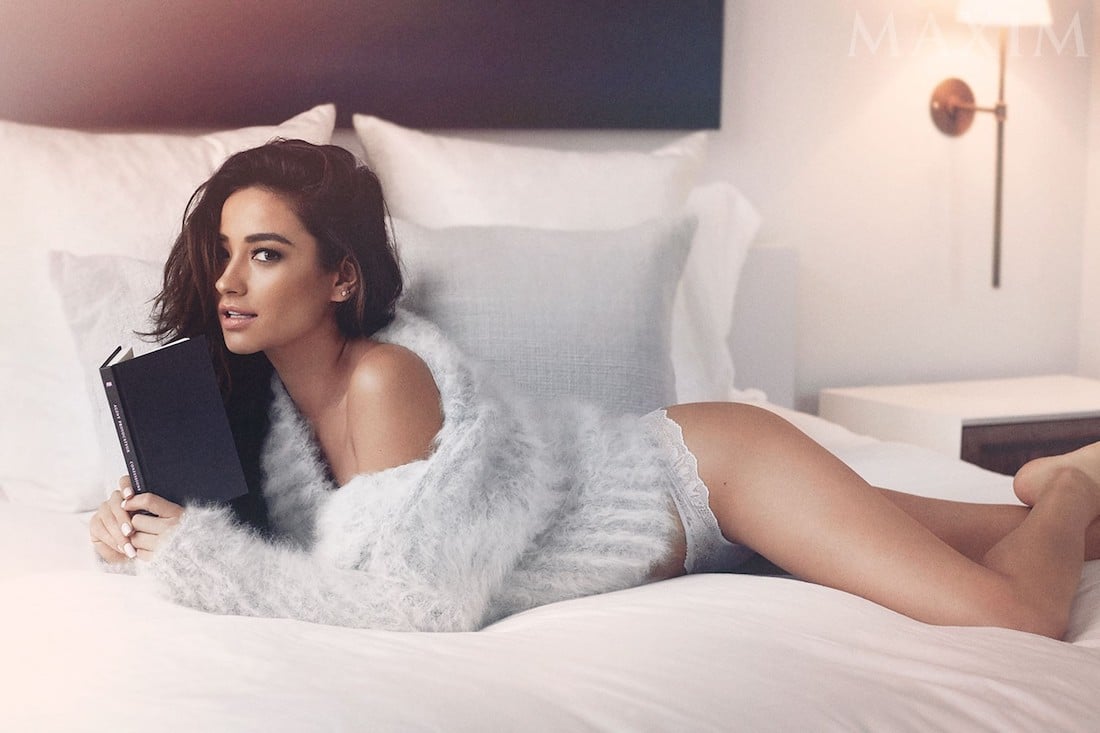 Midway through a phone call with Shay Mitchell, who played sapphic sleuth Emily Fields on Pretty Little Liars for seven seasons, I hit a realization: she is a goddamn delight… and not just visually.
For instance, about turning 30 (a dreaded milestone for most), the sunny Filipina-Canadian beauty told me, "It's super exciting! Just the timing of everything works so well: the show [Pretty Little Liars] ended, and it's been cool transitioning into this who new chapter, which I'm excited for."
As she drops exclamations like "excited!" and "super fun!" with such elation, I envision her life as an endless parade of professional achievements and Valencia-filtered pool parties. Instinctively, I wonder, "What is she taking, and where can I get a prescription?"
That infectious positivity explains why Shay has become a quintessential millennial lifestyle guru, sharing her life-affirming "Shaycations" across social media, releasing culinary collaboration videos on YouTube and serving straight #fitnessgoals to her over 17 million followers (or "Mitchies") on Instagram.
Propel Electrolyte Water fittingly asked Shay to co-host a workout with celebrity trainer Harley Pasternak at the Propel Co:Labs Fitness Festival, where a variety of fitness classes were offered to visitors from August 12th to 13th.
"I'm a pretty avid 'worker-outer,' as I like to call it," Shay told us about her admittedly strong fitness game. "I think it's important to get people motivated and to inspire people to get moving."
Ahead of the big day, Maxim caught up with the prettiest little liar about saying goodbye to Emily Fields, her anything-goes sexuality, her badass next role and just how she came to be so goddamn cool and confident.
What challenges did playing a bisexual character on Pretty Little Liars present?
At the beginning of shooting PLL, I would get asked all the time, "What's it like to kiss a girl? What's it like to kiss a girl?" And I was like, "Not much different than a guy." At the end of Season 7, I didn't get asked that anymore. It wasn't that exciting of a question to people anymore, which I think is so great. It was actually really refreshing.
I've heard you don't define your sexuality. Is that just hearsay?
People always ask me, "You play a gay character? Are you gay? Are you straight? Are you this? Are you that?" Look, Emily doesn't label herself, and I don't label myself either. I fall in love with the spirit of somebody. Love is love, and that's something that I'll keep saying. 
What sort of roles are you looking to play next?
Strong female characters… whether it's from a great script or on show I really love. Hey Narcos, whaddup?
Are there any female roles that blew you away this year?
Yeah, Wonder Woman! That was awesome. I haven't seen Atomic Blonde yet but… Charlize Theron, it doesn't get any hotter than that.
Charlize did her own stunts for Atomic Blonde. Would you be up for something like that?
Oh, hell yeah! I love doing my own stunts. On PLL, I was always trying to do my own stunts, and sometimes I got away with it… with a lot of bruises and gashes, but it made it so much more real. I remember before I shot the Nick Jonas music video I did, I had a whole action scene I chose to do myself. I was completely—thigh to ankle—covered in bruises after. I watch that music video, and I'm like, "Wow! My makeup artist is great." 
It sounds like you're ready to be an action star.
In Cadaver, which comes out next year, I play an ex-cop, and her thing is boxing. The opening of the movie is literally me hitting a bag and also running outside on one of the coldest days Boston had. So it was a little Rocky.
That seems fairly different from your fabulous "Shaycations." Where is the most romantic place you've travelled?
I would have to say my most recent—to Greece. Santorini is extremely romantic, the complete opposite of Mykonos. It's just the tranquility to it. There isn't a nightlife there; you have dinner, and you go to bed. It kinda just forces you to take it easy. So you better love the person you're with…
Speaking of which, what is your ideal date night?
I like staying home so either ordering in awesome Thai food or heating up one of those frozen pizzas and catching up on a really great Netflix show.
Sounds good to us. What do you look for in a man… or woman?
Confidence. I've seen the most beautiful people walk into a room, and you can just tell they're not confident. It's just like… ehh… it takes it down for me.
Judging from your sexy Instagram shots, you seem fairly confident yourself.
It's just about being confident in my body. It's not perfect; I'm not perfect. When you see sexier photos of me, I'm not doing it for anybody else. I'm doing it truly because I like the photo or how it was captured. And why not? This is what I have; I'm gonna work it.
Gotta ask: How did you get this great outlook on life?
I would have to say it was the environment I grew up in. My dad was extremely positive, and I carried that along into my adolescence and into now. I just think you can be one of two ways, and I would choose to be more positive than negative. I'm really fortunate for what I have and where I'm about to go so, yeah… why not look at the world with a positive outlook?
Follow Shay Mitchell on Instagram and YouTube for more.