Go Under the Hood With Virginia Gardner
The 20-year-old starlet is about to take off.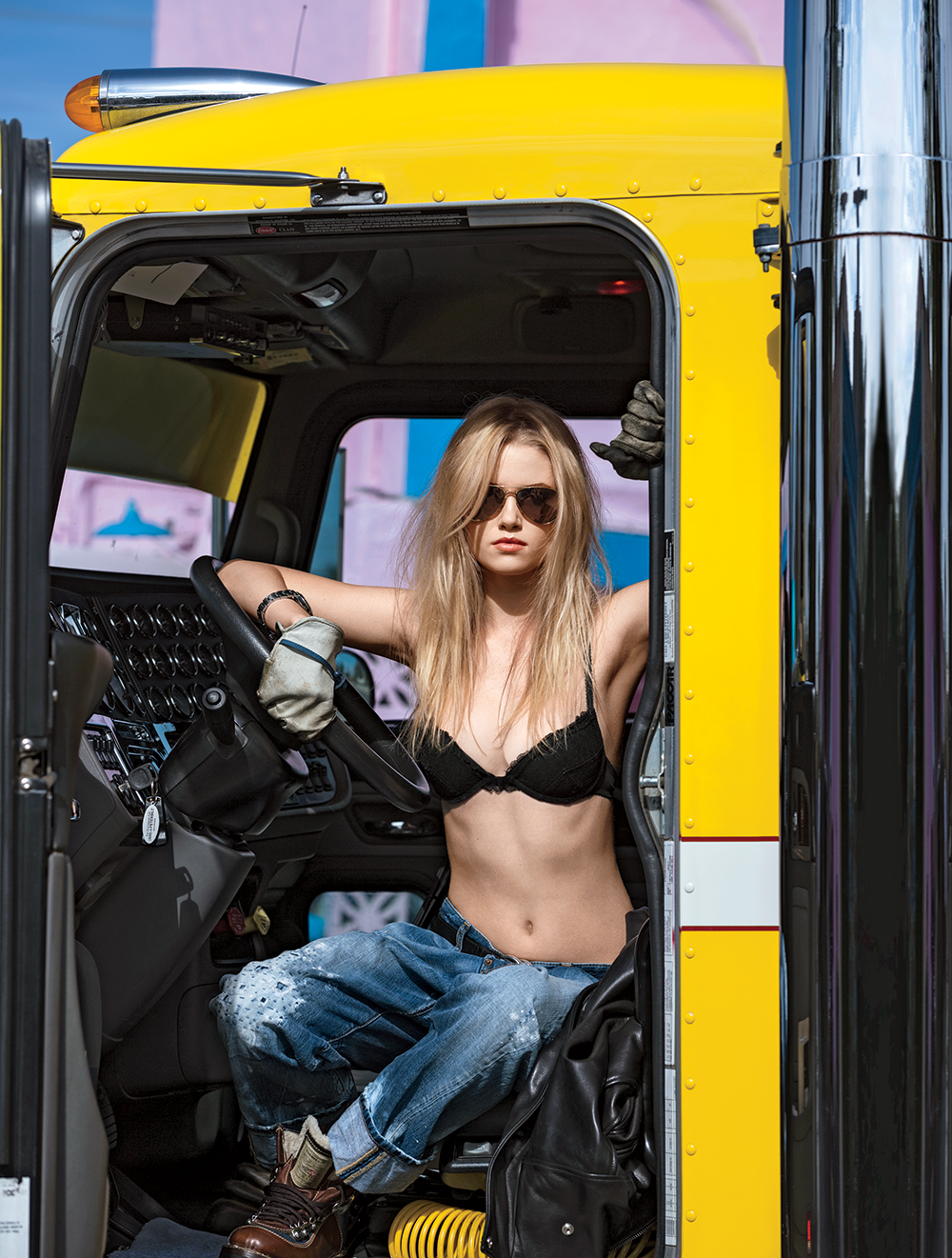 Stop Virginia Gardner at your own peril. No longer the teenage girl who got her start in Hollywood at age 16 playing wholesome characters in TV shows like Glee, Hart of Dixie, and The Goldbergs, Gardner, now 20, is all grown up, with a career that's gaining major momentum. Her movie debut in the Michael Bay-produced 2015 time-travel thriller Project Almanac will soon be followed by back-to-back leading roles in three more films: the psychological thriller Tell Me How I Die, a teen comedy called Little Bitches, and the indie drama Goat, which deals with the brutality of fraternity hazing. 
What did you learn about frat culture while filming Goat? 

I never went to college, and I don't know much about fraternities other than what I've read and seen on the news. One article related hazing to Darwin's theory about survival of the fittest—in order to succeed and fit in, people feel the need to assert dominance, and become overly aggressive. I think there's probably a lot of pressure on guys, especially now with social media, to be hyper-masculine.

What kind of acting career would you like to have in the future? 

I just did this psychological thriller, Tell Me How I Die, where I got to be really strong and do my first fight scene, which was really fun. I enjoy doing movies where I get to be physical. I got my black belt in tae kwon do when I was really young, so I love doing anything where I get to be active. Playing a superhero would be a dream.
What kind of superhero would you like to be? 

I've always loved Catwoman's costume. I don't know if it gets more badass than that, or sexier. It would also be cool to try a female version of Iron Man.

How often do you train?

I box all the time. I like to hit things and get out all my aggression and feel really strong when I leave. I don't look like the strongest person, and quite honestly I'm a klutz, but I leave boxing and feel like I can kick ass. Whether or not you look like you can kick ass, if you feel like you can kick ass, you probably can.

You left Sacramento and moved to L.A. when you were 16 to start your career.

People are so taken aback when I tell them that, but it wasn't like I had free rein. I had a tracker on my phone. My parents checked in on me. I knew that if I screwed up I would be back home in four seconds flat. If anything, it made me independent and helped me grow up a little faster.

What's it like being a young actress on the rise in Hollywood?

I had to grow into being assertive. When I was younger, I was the most quiet and shy little girl that you would ever meet. In high school I came into myself, and when guys started to be into me I got more confident and was like, "I'm the same girl you've known since I was nine, I just look a little more attractive now. Take me seriously." When you're a pretty blonde, it's hard to get the same respect, and I think sometimes you have to compensate by being more assertive and confident. Otherwise you're not going to be taken seriously.