What a Beautiful Girl Wants: CJ Franco
"One time I saw this really cute guy at Disneyland. He didn't notice me, so I took off my sandal and threw it at him."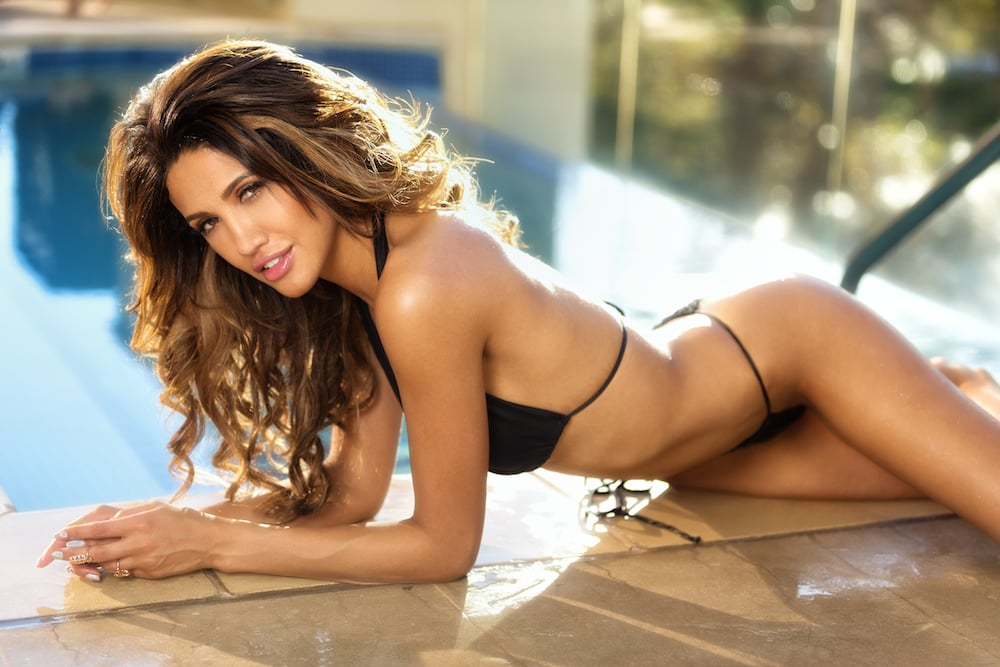 Sadly, most models will never blossom into bonafide "triple threats." Most settle on being a mere double threats: a model/DJ, model/actress or model/personal trainer, for instance.
Not CJ Franco. The gorgeous native of Santa Cruz, California is currently juggling the burden of three titles: model/CEO/comedian.
In addition to be featured in Maxim France, FHM and more prominent publications, CJ heads up her own athletic wear company called Neon Beige and even dabbles in comedy on the side.
"Comedy is something I always wanted to do. I guess my life is a little bit different than most people's, and I have the craziest stories, so stand-up comedy has become my outlet (or therapist)," she explains on her website.
"I take comedy classes at Upright Citizens Brigade, and produce sketches weekly called 'Champagne Problems.' I absolutely love going to comedy shows, and hope to one day become a stand-up comedian."
For now, she's bringing a humorous bent to our weekly sex and dating Q&A. Here, her unusual ways of getting mens' attention, her wacky ideal first date and her guiltiest pleasure (you'd never guess it):
https://www.instagram.com/p/Bc_F07CBEFg
How can a man catch your attention?
I like undivided attention. You have to listen to my ramblings in all their entirety.
What's the worst pick-up line you've ever heard?
"I'm not a photographer, but I can picture us together."
https://www.instagram.com/p/BdEC8zXhsCN
So lame. How do you let a man know you're interested?
One time I saw this really cute guy at Disneyland. He didn't notice me, so I took off my sandal and threw it at him. He graciously retrieved my sandal and struck up a conversation with me. When it's meant to be, it's meant to be.
Love is real. What's your ideal date?
Riding a tandem bicycle, like we're in a romantic movie montage (and he's pulling all the weight).
https://www.instagram.com/p/BZy3YJ3hbm4
You're worth it. What about a man turns you on the most?
I like to do an unexpected "Hollywood damsel faint," and I want to be caught mid-fall. Nothing turns me on more than being saved from myself… or a potential head injury
We can dig it. When do you feel sexiest?
Right after a photo shoot.
https://www.instagram.com/p/BTAte9shTby
Which part of your body do you like to show off most on Instagram?
All my bikini parts!
Have you ever met a man in your Instagram DMs?
Absolutely. When I'm traveling I'm always getting tips on the best restaurants and where to go out in new cities, and I love making new friends.
https://www.instagram.com/p/BQFlc55AIuo
Got any DM-sliding tips?
Send me your funniest joke.
What's your favorite thing to do in the bedroom?
I'm really good at cuddling. Just ask my dogs.
https://www.instagram.com/p/BPCujqxg7Am
What should a man never do in the bedroom?
Unplug my phone while its charging.
We'd never. Lastly, what's your guiltiest pleasure?
I like to hang out at the courthouse, show up to public trials, raise my hand in the back and say "Guilty!"
https://www.instagram.com/p/BEBsiMAsk68
For more, follow CJ Franco on Instagram. Over 37,800 followers can't be wrong.