What a Beautiful Woman Wants: Desiree Schlotz
"If I can please you in any way—even if it's not physical—it makes me feel satisfied and sexy."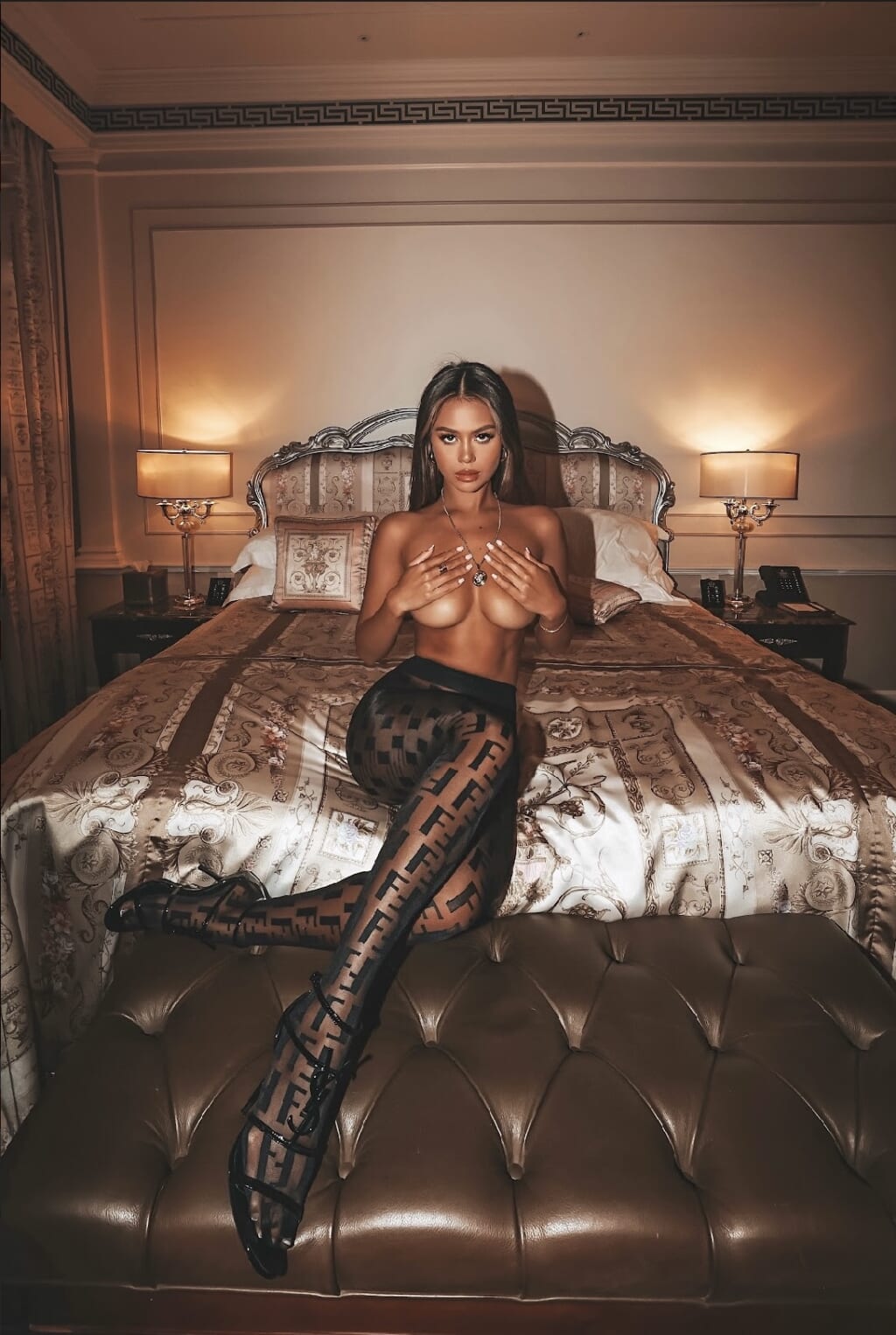 Desiree Schlotz's star is just beginning to rise. The small-town Minnesota native got a big break when she signed as an official model for Ignite, Dan Bilzerian's cannabis and CBD venture.
In just a couple of years, her Instagram following skyrocketed from 375,000 to 1 million, and she's landed covers of Influent and Element beauty mags along the way.
Read more on Schlotz's A-list crush, unusual guilty pleasure, and why you should always be wearing a great cologne in her presence below:
How can someone catch your attention?

I feed off energy. I love good energy. If you can make me laugh, you already have an upper hand. Looks are important but are just a bonus in my book. If I can vibe with you and your soul, then you're a winner. This goes for girls too, even if I am just making girlfriends.

What's the worst pick-up line you've ever heard?

I get some pretty crazy pick-up lines in my DMs, but if I had to choose it would be, "Your breasts remind me of Mount Rushmore, my face should be among them." They are quite funny but so cheesy.

How do you let someone know you're interested?

If I am interested you will know immediately. I become totally engrossed and obsessed. I am not one to show affection that much, but if I like you I will be ALL OVER YOU.
Tell us about your dream date.

My dream date would be with anyone who put serious thought into it, or somehow incorporated things I like to do. It doesn't have to be super fancy. It's the thought that counts more than anything to me. Right now on my list would be a trip to the French Alps. I love to snowboard. I love be cozy and jam to some frank Sinatra.
Just more reasons to cuddle and eat cookies.

What turns you on the most?

If we are talking physically, I love when a guy smells good. I LIVE for good scents. I am like 150 percent more attracted to someone if they smell amazing. I also love when a guy has a really good smile and also takes care of their body. Working
out and eating healthy is so important to me and when you do it, it for sure shows. I also love when a man has his shit together. He can make a living for himself and has set goals on wants to achieve. This is why I tend to date older men.

When do you feel sexiest?

I feel the sexiest when I am pleasing someone I love/like. I am such a selfless lover when it comes to relationships. If I can please you in anyway—even if it's not physical—it makes me feel satisfied and sexy.

Who's your biggest celebrity crush?

My biggest celebrity crush at the moment is Michael B. Jordan.

What's on your fave music playlist?

My fave song at the moment is "You Stay" by DJ Khaled. I love to listen to R&B, but I listen to so many varieties. I can't live without music. It feeds my soul.

Do you have a favorite athlete or sports team?

I don't really watch sports, but if I were to choose, I would choose hockey or football.

What fashion brands do you like to rock?

I love shopping at boutiques. I always find myself buying from Australian brands like Tiger Mist or Meshki. I also love Revolve. But you can never go wrong with a trip to Melrose.

What's your absolute favorite food or meal?

If anyone knows me they know my favorite food is pasta, specifically spaghetti and meatballs. I also love all Asian food. I may be biased because I am half-Asian.

Favorite travel destination?

So far, my fave travel destination would have had to been either Italy or Thailand. I absolutely fell in love with both places and the food is to die for. I am definitely planning to go back.

What's your guiltiest pleasure?

My guiltiest pleasure would be watching Autonomous Sensory Meridian Response, or ASMR, videos. I found out that I have weird obsession after spending
hours of watching them.
For more, follow Desiree Schlotz on Instagram.