What a Beautiful Girl Wants: Meagan Brody
"Give compliments but don't be creepy."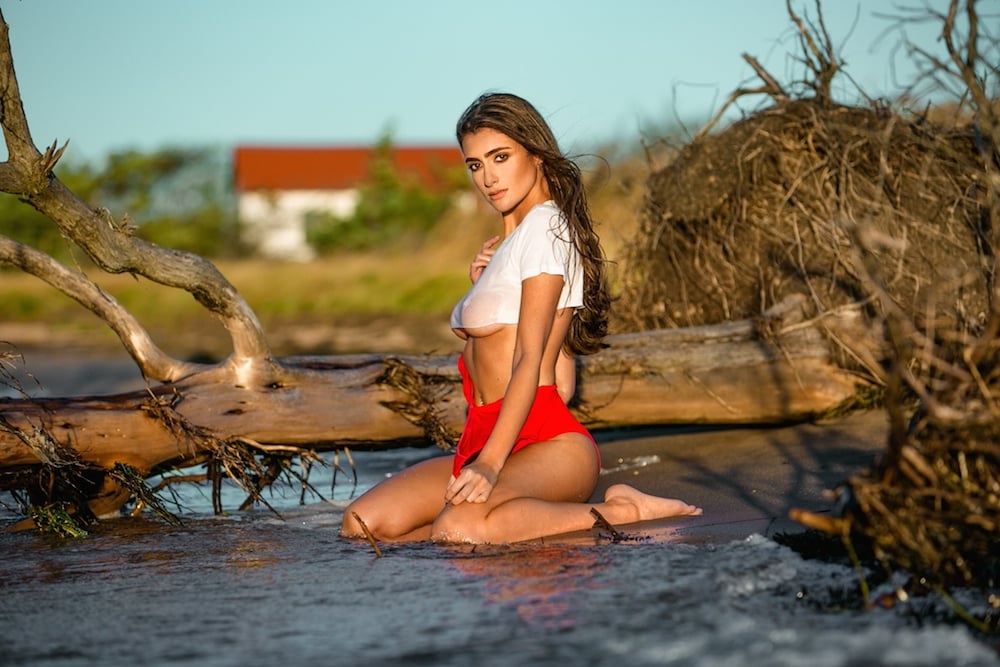 Call her the accidental bombshell.
Connecticut-born stunner Meagan Brody dabbled in modeling in high school but put on the breaks during college… until she couldn't ignore her absurdly good looks any longer.
"After college I was working as a wardrobe stylist in New York, and every time I was on set someone would think I was the model," she told Maxim.
"Eventually I was scouted by my agency, Click Model Management. Every time I thought to drop it more jobs would pop up, so I guess it was always in the cards."
Now, she's been featured by Sports Illustrated and even been in a music video.
Here, she tells all about her sex and dating preferences, like what turns her on, why the DMs are the best place to hustle and her ultimate guilty pleasure.
How can a man catch your attention?
If he has an accent. Anyone who knows me knows I have a thing for foreigners.
What's the worst pick-up line you've ever heard?
A guy came onto me at a bar once bragging about all of this stuff he owned—his car, his house, his boat… total buzzkill. I'm not interested in your material things.
https://www.instagram.com/p/BfQ3BP5lTM3
How do you let a man know you're interested?
I think if the energy is right, then it's pretty obvious. I'm not afraid to make the first move, but it's definitely nice to know that a guy is confident enough to approach you.
What's your ideal date?
A quiet dinner. Even a stay-in dinner is nice because then you can cuddle up and be comfy. I love a good burger, so I'm happy to stuff my face as long as he is happy to join me.
https://www.instagram.com/p/Bdp5Cpbl4aQ
Definitely. What about a man turns you on the most?
A guy with a sense of humor. I love to laugh. Also someone who is as spontaneous and adventurous as I am. "Not giving a damn" is an awful vibe. I could never date someone who is seemingly careless.
When do you feel sexiest?
When people realize I have a college degree and a paying job. It's proof that I'm more than a good photo, and that makes me feel good.
https://www.instagram.com/p/BaroNsCls1S
Which part of your body do you like to show off most on Instagram?
My legs.
Have you ever met a man in your Instagram DMs?
I meet a lot of people through DMs, actually—mostly people in the industry who want to collaborate. It's always good to network.
https://www.instagram.com/p/Ba9zeU_lceR
Got any DM-sliding tips?
Give compliments but don't be creepy. Dick pictures are not going to make a girl want to talk to you.
What's your favorite thing to do in the bedroom?
I'll never complain about a good massage.
https://www.instagram.com/p/BZ_pTiYF2l6
What should a man never do in the bedroom?
Accidentally call you his ex girlfriend's name. It has never happened to me, but I can imagine that would be pretty damaging.
Any sexy fantasies?
Of course, but I cant share those.
https://www.instagram.com/p/BRoMJTElAJe
Shucks! Lastly, what's your guiltiest pleasure?
Any version of a potato—home fries, baked potato, potato salad, french fries…
For more, follow Meagan Brody on Instagram.